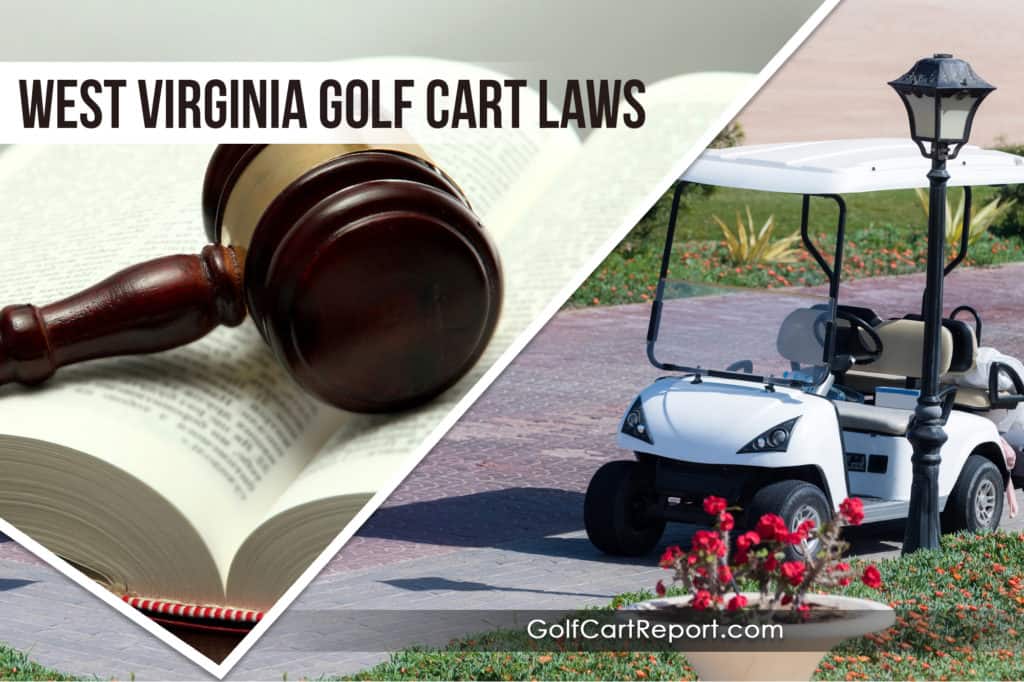 West Virginia Golf Cart Laws
West Virginia has a unique geographical position that makes it feel simultaneously midwestern, a little northern, and close to the east coast.
Therefore, it is a great place to visit or live, mainly if you enjoy riding golf carts or low-speed vehicles.
Fully understanding the laws and guidelines behind the use of these vehicles in West Virginia will ensure that you follow all rules.
Federal Laws Dictate Cart Use
West Virginia follows the federal guidelines put in place for golf carts and low-speed vehicles.
These help to dictate not only how these carts are used in the state but also what types are considered low-speed vehicles.
First, you need to understand that golf carts are not considered motor vehicles by federal law.
That's because they are incapable of speeds over 20 miles per hour.
Therefore, the federal government allows states to create their laws for golf cart use.
This fact means that they don't set safety standards for golf carts but allow states to decide how they need to be operated and on what roads they can ride.
Remember, though: golf carts are banned from federal and international highways due to their low rate of speed and should not be taken on them at any time.
However, the federal government does make states follow their guidelines for low-speed vehicles to ensure that there is a coherent and safe set of laws for their operation.
In some cases, these rules may be more strict in individual states, depending on their legislature.
They can never ignore or simplify the federal laws, though, and must follow them to ensure proper safety levels.
The only thing that they can do is add extra guidelines that are strict than federal ones but must otherwise follow these rules.
For example, all low-speed vehicles must be capable of speeds over 20 miles per hour but cannot top 25 miles per hour.
They must also have safety upgrades that include headlamps, stop lamps, turn signal lamps, taillamps, reflex reflectors, parking brakes, rearview mirrors, windshields, seat belts, and a vehicle identification number or VIN.
Once in possession of these upgrades, a cart is no longer a golf cart and is, instead, considered a low-speed vehicle.
West Virginia Laws on Golf Carts
Currently, West Virginia state law does not allow golf carts on public roads.
This law is set to control all streets owned by the state.
However, the state does have an amendment to this rule that allows municipalities or cities to recognize golf carts on public streets in their jurisdiction.
However, this amendment does not apply to state roads that may pass through a town.
Therefore, you need to talk to local government officials about their rules and regulations.
Some areas in West Virginia allow golf carts, while others do not.
Some have relatively simple laws that dictate where carts can and cannot go, such as restricting them to back alleys or roads near golf courses.
Likewise, others only restrict based on the speed of the road, such as speed limits of up to 25 miles per hour.
And usage times are also restricted in different ways.
Some cities allow golf carts to operate only between sunrise and sunset – otherwise known as daylight time.
Others may allow night use if the cart receives appropriate light upgrades, such as enhanced headlights and brake lights.
Again, make sure to talk to the appropriate city officials to learn more about what to expect in this way.
State Laws for Low-Speed Vehicles
In West Virginia, carts that have been upgraded to follow federal guidelines for low-speed vehicles fall under different laws.
For example, the state does allow low-speed vehicle use on state and municipal roads.
These roads must have a maximum speed limit of 25 miles per hour.
Low-speed vehicles can also ride on roads with speeds below this rate, as well, and are considered legally safe.
All drivers of low-speed vehicles must have a valid driver's license, as well.
This license requirement varies for non-upgraded golf carts, typically changing based on the city in which you drive.
Importantly, all low-speed vehicles must be registered and receive a proper license plate.
Remember: your cart is no longer a cart but a valid motor vehicle.
As a result, it must be licensed as one and will fall under all federal and state laws controlling its use on roads and motorways.
Another element of this use restriction is the fact that you must buy insurance policies for your low-speed vehicle as well.
These policies include Personal Injury Protection and Property Damage Liability.
These are the minimum requirements set by the federal government, and West Virginia does not demand higher restrictions.
That said, you can always buy more comprehensive policies for your low-speed vehicle, should you be so inclined to do so.
Federal Golf Cart Laws
Helpful Links
https://transportation.wv.gov/dmv/Pages/default.aspx
Disclaimer
Even though our guides are thorough and researched, it is highly recommended that you perform your own research and check with your local municipality on rules as well.