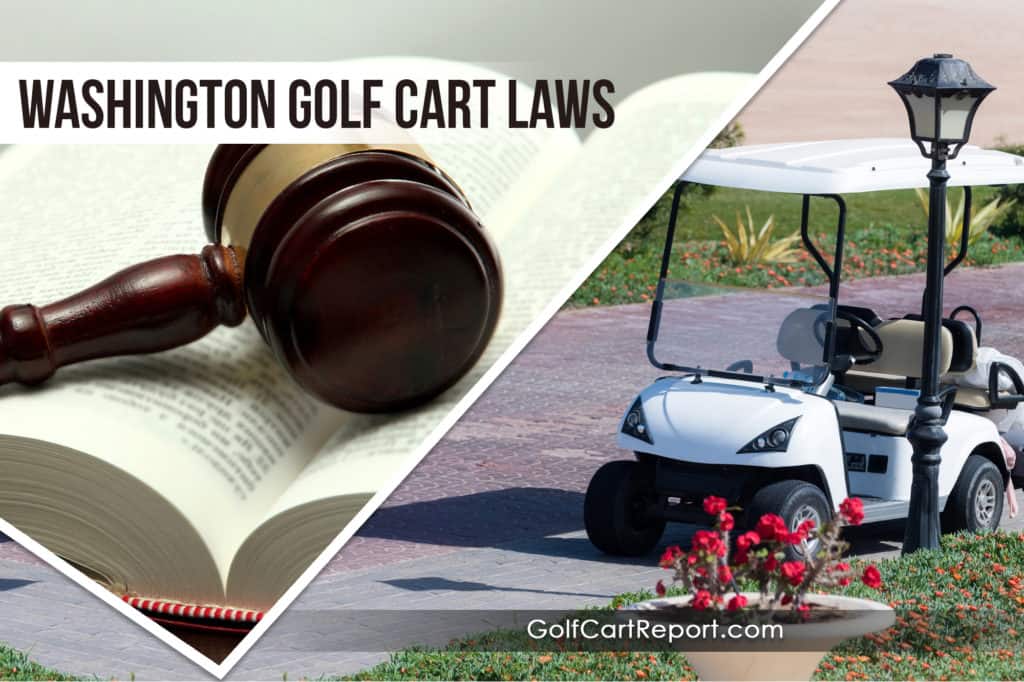 Washington Golf Cart Laws
Washington's unique northwest location gives it access to some stunning scenery and landscape.
Those who visit or travel here often get the chance to see many beautiful parts of the world and can travel through many of these roads on golf carts and low-speed vehicles.
Therefore, you must understand the rules and regulations that dictate their use to keep your operation fully legal.
The Federal Laws for Golf Carts and Low-Speed Vehicles
Anybody who wants to ride golf carts or low-speed vehicles in Washington must first thoroughly understand the federal rules.
These guidelines help to make it easier for you to avoid any legal complications while you drive.
All states must follow federal regulations and cannot change them to meet their needs.
However, they can add new laws and can control cart use on their roads, as well.
First of all, you must understand that the federal government does not legally consider golf carts to be motor vehicles.
That's because they are incapable of reaching speeds over 20 miles per hour.
Therefore, they do not set safety standards that all states must follow.
Instead, they let states set their own rules.
Make sure that you read through the rules, as defined below, to avoid any complications.
However, the moment that your cart is capable of speeds between 20 miles per hour and 25 miles per hour, the federal government considers it a low-speed vehicle.
At this point, they must follow all federal guidelines for motor vehicles to keep them legal and safe.
These rules include adding a variety of safety upgrades that make them capable of enhanced protection on the road.
These upgrades include headlights, stop lights, taillights, turn signals, reflex reflectors, parking brakes, rearview mirrors, windshields, seat belts, and a vehicle identification number or VIN.
The last item is necessary for when you register your low-speed vehicle.
Typically, they either come with a VIN after manufacture or can be granted one later by your state's local DMV groups.
Golf Cart Laws in Washington
As defined by Washington state law, a golf cart is a "…gas-powered or electric-powered four-wheeled vehicle originally designed and manufactured for operation on a golf course for sporting purposes and has a speed attainable in one mile of not more than twenty miles per hour."
Current law states that they are not a non-highway or off-road vehicle, which means you do not need a driver's license to take one out.
However, you must be at least 16 years old and have completed a driver's education course or have previous experience as a licensed driver.
And all golf cart use can only be done on roads with a speed limit of up to 25 miles per hour or less and has to be done in an area defined as a golf cart zone.
These zones are created by cities and counties and are strictly limited in a variety of ways.
First of all, each zone must have signage at the beginning and end of the region on the street or road that is part of the territory.
This signage helps to make cart use legal and safe within this defined area.
Often, these areas are defined very specifically around golf courses but may extend throughout a whole city.
Therefore, you must pay attention to your local rules to ensure full legality.
Other prohibitions include limiting your usage between sunrise and sunset.
You may ride a half-hour before sunrise or a half-hour after sunset, though, so pay attention to these times when riding.
You also cannot ride on bicycle lanes within a golf cart zone and must display decals identifying your cart correctly.
And you also need reflectors, seat belts, and rearview mirrors on your carts as well.
State Rules for Low-Speed Vehicles
Washington follows all rules and regulations set forth by the federal government.
They also define a low-speed vehicle as having four wheels – three-wheel versions do exist in some states – and electrically-powered.
Currently, they do not allow gas-powered low-speed vehicles within their limits.
They also ask that all drivers have a license and valid license plates on the cart as well.
Remember: your cart is now considered a low-speed vehicle and not a golf cart anymore.
So you must register it at a local DMV to keep it legal and licensed. You also can only travel on roads of up to 35 miles per hour in speed.
These regulations will vary on a city-by-city basis, as some may restrict your use of low-speed vehicles or make it impossible to drive them at all on their roads.
Washington also has rules for medium-speed vehicles, stating that they are allowed on roads with speed limits of up to 35 miles per hour – though some counties do enable faster speeds in this state.
They must also possess every upgrade necessary for a low-speed vehicle and a roll cage or crush-proof body.
Like with low-speed vehicles, use may be restricted by some cities, do talk to your local officials before driving.
Federal Golf Cart Laws
Helpful Links
https://www.dmvusa.com/state.php?id=48
https://app.leg.wa.gov/RCW/dispo.aspx?cite=46.09.020
https://app.leg.wa.gov/rcw/default.aspx?cite=46.08.175
Disclaimer
Even though our guides are thorough and researched, it is highly recommended that you perform your own research and check with your local municipality on rules as well.