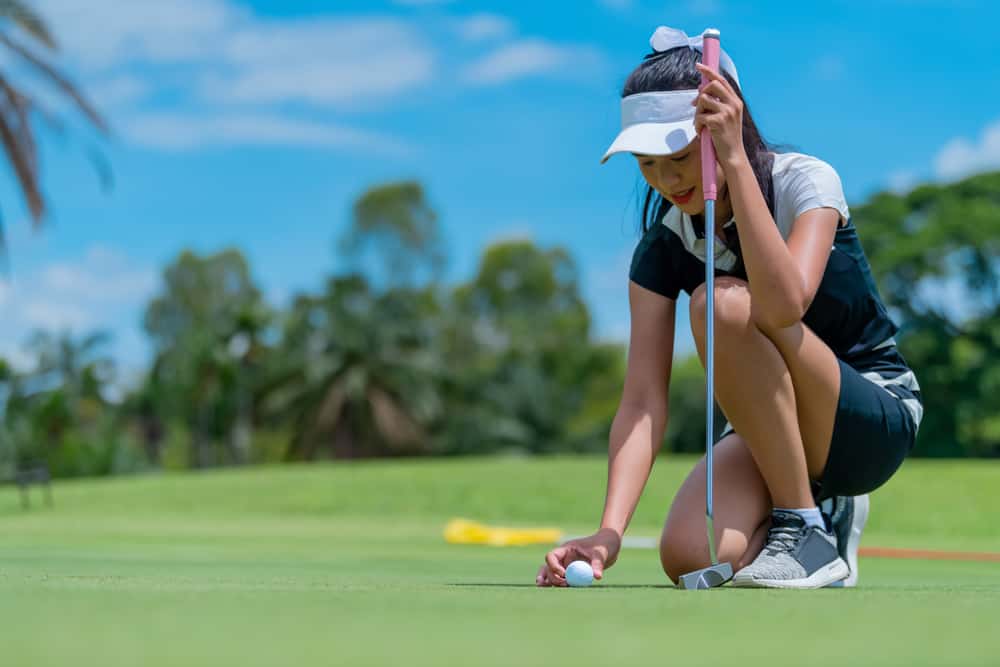 Golfers are always questioning whether or not they need to wear golf shoes when they are out on the course.
As great as golf shoes can be, there are so many other options out there.
One of the most recent trends in golf is to wear trail running shoes.
Trail running shoes tend to have a very stable bottom, and it helps when golfers are playing courses that have a bit of difficult turf or wet conditions.
Trail running shoes are priced about the same as most golf shoes, but they often seem to be more comfortable for many players.
If you have thought about trail running shoes for golf, we have the top ten best options on the market.

Trail Running Shoes For Golf (Top 10 Options)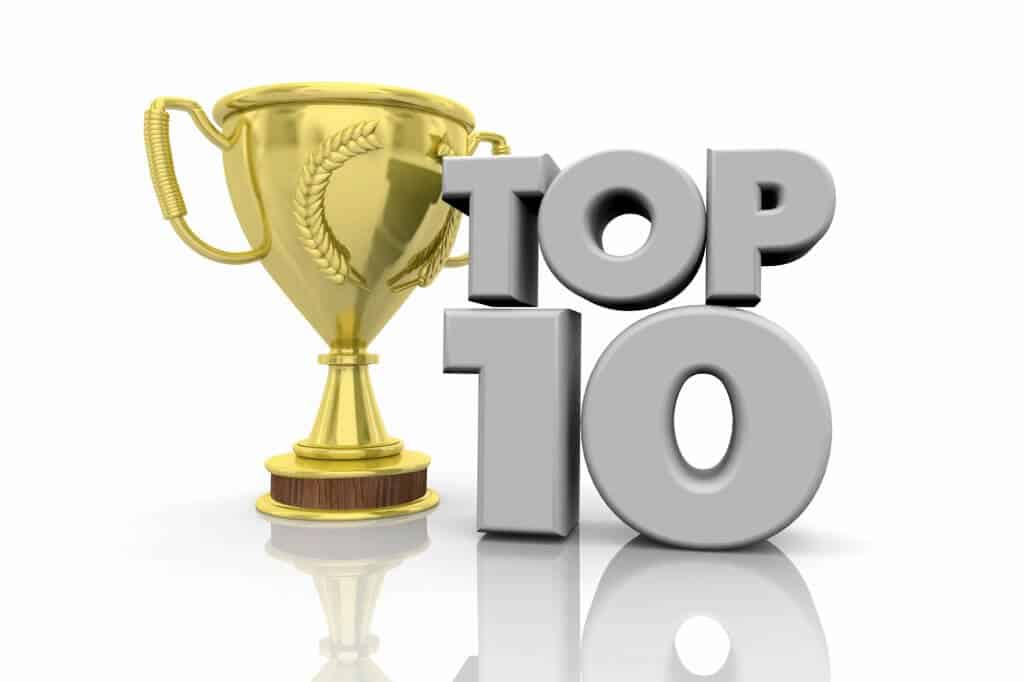 1. Adidas Men's Rockadia Trail 3.0 Running Shoe
Key Features
Built for running trails
Rugged design will hold up a long time
Very good bottom traction
Adidas makes some of the best golf shoes on the market.
If you are thinking of getting away from golf shoes and moving towards trail running shoes, the Adidas Rockadia could be a great choice to consider.
The Rockadia Trail 3.0 has a boot opening that makes it quite easy to get on, but it will not allow any debris to get down into your shoe.
One of the things that you will notice right away about the trail running shoes is that they are very comfortable.
In order to run on the hard surface that you typically find on trails, lots of cushioning must be built into the shoe.
The Rockadia has lots of extra cushioning, and if you are a player who enjoys walking the golf course, this is a pair of shoes that will work quite well for you.
Pros
Great durability
The dark color won't show the dirt
Nonslip will help on wet golf courses
Cons
Not available in more than one color
2. New Balance Men's Fresh Foam Roav Trail V1 Trail Running Shoe
Key Features
Comfortable
Made for playing on all different types of surfaces
Lightweight cushioning
New Balance is known for taking their technology to a completely different level than other companies.
Comfort and cushioning are very important in a golf shoe.
Even if you don't walk the golf course, keeping your feet comfortable and dry is essential.
In addition, the New Balance Fresh Foam is a good-looking shoe that will bring a sporty type look to your golf game.
If you are a person who likes to do more than one thing with your golf shoes, you can also run and play tennis with a shoe like this.
In addition to the comfort that the shoe offers, they are also very lightweight.
With a lightweight shoe, you will find that your feet feel less fatigued as you make your way through your round.
Golf shoes are known for being heavy, but they do not always need to be heavy to be effective.
Having the proper traction in a lightweight shoe can help you score lower on the golf course.
Pros
Comfortable
Lots of cushioning
Lightweight materials
Stylish looking golf shoe
Cons
Some sizes are quite expensive.
3. Saucony Men's Mad River TR Trail Running Shoe
Key Features
Rubber sole
PWRFOAM midsole
Tacky bottom
The Saucony shoes have always been known for being relatively high-end.
Since Saucony is a premium brand, you will notice that their shoes are typically priced a bit higher, but they are going to last quite some time.
The Saucony trail running shoe has a tacky rubber bottom, and it is a perfect choice to wear on a golf course with some slick turf.
Sometimes after a little bit of morning dew, a golf course can be very slippery.
When you are playing on a course that is wet, you need to be extra cautious about the way you are moving around.
The underfoot cushioning and anti-slip are going to make the Saucony a great trail running shoe to play golf in.
Saucony incorporates all types of high-performance technology like PWRFOAM and EVERUN to provide extra cushioning and support.
Overall, this is a shoe that will change your mind about what works on a golf course and what doesn't.
Pros
Combination of synthetic and mesh
Plenty of underfoot cushioning
Lots of lace configuration for a custom fit
Cons
Color patterns are a bit bright for some traditional golfers
4. Salomon Men's Speedcross 5 Trail Running Shoe
Key Features
Aggressive grip
Lots of stability
Good for wet and dry terrain
The Salomon Men's Speedcross 5 Trail Running Shoe is something that is built for stability and dynamic performance.
Whether you are a runner who is interested in taking on the most difficult trails or a golfer who likes to play challenging tracks in the rough weather, the Salomon is a great choice.
One of the things you will notice about this shoe is that it is very versatile.
You can play on any course in any condition and still get the performance that you need from the shoe.
The Salomon running shoe is also available in a wide range of colors, making it a popular choice for younger players who enjoy the game.
Salomon has been in the sports gear industry for more than 70 years.
In this time, they have certainly learned how to create options that will work for a wide range of sports and activities.
Although these shoes are not specifically made for playing golf, they have everything you need to enjoy your day.
Pros
Very versatile shoe
Good for a variety of courses and conditions
It can be used for running as well
It comes in a variety of colors
Cons
Have to be careful not to drag your feet on the greens with the bottoms of the shoes
5. QAUPPE Men's Air Running Shoes Athletic Trail Tennis Sneaker
Key Features
Breathable and flexible
Durable traction
Air cushion technology
The Qauppe Men's Air Running Shoes are our favorite choice for the golfer who is interested in a value-priced trail running shoe for the golf course.
These Qauppe Running Athletic trail shoes will work on the golf course as well as walking or running around the neighborhood.
The shoes are comfortable, and they are going to have plenty of style and durability.
The Qauppe is available in a number of different colors and is one of those shoes that you can really get to look like a golf shoe.
If you don't mind the more athletic style golf shoes, the Qauppe could be the perfect choice for your game.
In addition to the wide range of technology and features in the shoe, the air running is probably the most beneficial.
Essentially, you will feel as though you are running on air.
Pros
Comfortable and durable
Available in a wide range of colors
Removable insole
Very soft
Fair pricing
Cons
Longevity won't be as good with this lower priced shoe
6. The North Face Men's Ultra 109 Waterproof Trail Shoe
Key Features
Waterproof shoe
Ortholite cushioning
Durable lacing system for a stable fit
The North Face company has been creating high quality shoes and gear for many years.
With the North Face shoe, you will find out just how important a waterproof shoe is in golf.
Keeping your feet dry while on the course is very important to prevent blisters and for the overall comfort of your foot.
The Ortholite cushioning on the North Face Trail shoe is built to keep your foot cooler and drier.
In addition, you will be plenty comfortable with this trail shoe on.
If you are going for a hike, playing golf on a hilly course, or worried about a round of golf on a muddy and wet golf course, the North Face trail running shoes are a good choice for golf.
Pros
Durable and high-quality shoe
Ortholite cushioning for lighter weight performance
DryVent membrane for getting through difficult conditions
Cons
It can be a bit of a bulky golf shoe
7. ASICS Men's Frequent Trail Running Shoes
Key Features
Very stable shoe
Protective material
Mesh material for cooler temperature control
The Asics trail running shoe is an excellent choice for the player who needs stability in their shoe while playing golf.
The Asics shoe has a mix of synthetic material and mesh.
The mesh is supposed to make the shoe a bit more breathable if you are playing the course on a warm day.
One of the things that you will notice about trail running shoes for golf is that sometimes they will be a bit heavy.
Many trail runners have to worry about stepping on a rock or a stone, and because of that, they need a bulkier shoe base.
If you don't have protection while trail running, your foot could get hurt.
However, for golf, you don't necessarily need something that is so large and bulky.
Luckily, the mesh material on the Asics makes it lighter and easier to manage when you are playing golf with it on.
The reinforced toe cap won't really be necessary for golfing except that it can help with wear and tear.
If you look at golfers' shoes, the toe cap tends to be one of the places where the shoe starts to wear down first.
Pros
Combination of materials
Rubber sole
Outsole built for any type of condition
Cons
All shoes have the Asics styling, no blank or more plain color options
8. ALTRA Men's AL0A4PE5 Lone Peak 4.5 Trail Running Shoe
Key Features
Plenty of cushioning
Flexible
Unique traction pattern
One of the many reasons golfers have been starting to go towards the trail running shoes is the traction that they provide.
The Altra trail running shoe has this unique bottom that makes it much easier for players who struggle with turning and control in their swing.
If you have tons of swing speed and you can't get yourself to maintain balance in your golf shots, then the Altra is the shoe for you.
Of course, with a trail running shoe like this, you are going to need to be careful around the greens on the course.
The shoes tend to have quite a bit of rubber padding on the bottom, and if you step the wrong way on the green, it could do some damage.
These shoes look very cool, and they are going to look good on the course as well as on your way home.
With Altra being known as one of the premium brands, you are going to need to be prepared to spend a bit extra on this shoe.
Regardless of whether you are playing cart golf or walking, this could be a good choice for your long term.
Pros
High quality shoe
Available in several colors
Durable traction pattern on the bottom of the shoe
Cons
Tend to be priced a little higher
9. ASICS Women's Gel-Sonoma 5 Trail Running Shoes
Key Features
Manages moisture
GEL Cushioning
Durable
Men golfers aren't the only ones who will need a trail running shoe at times.
For women golfers who play golf on more mountainous or rough golf courses, the Asics Women's Gel Sonoma could be a great choice.
If you are heading downhill on the way to one of your golf shots, you must make sure that you don't slip on the way down.
With these trail running shoes on your feet, you will have plenty of traction and a much lower chance of slipping on your way down the hill.
Women golfers need to get as much balance and stability as they can in their game.
Since they are trying to generate more clubhead speed whenever possible, the shoes that women golfers wear are quite important.
Don't wear something that doesn't feel comfortable.
Find something that makes your feet feel good while giving you the stability you need to succeed in your game.
Pros
Built specifically for a woman's foot
Keeps moisture out
Sock liner for extra comfort
Cons
Not very many color choices
10. Nike Men's Air Zoom Wildhorse 5 Trail Running Shoes
Key Features
Protects your foot
Cushions on the bottom part of the shoe
Multi-layer mesh
The Nike Men's Air Zoom Wildhorse 5 Trail Running Shoes are a great choice to consider if you are looking for quality, durability, and style.
Some of the designs on these Nike Air Zoom are a bit funky for a golf course, but there are a few styles that can look almost like a spikeless golf shoe.
Nike is known for making shoes that last a long time and have a lightweight feel on your foot.
The Nike Men's Air Zoom is a shoe that you could wear on and off the golf course, and you will have no issues with its performance over the long term.
If you are tired of what your current golf shoes are providing from a traction and durability standpoint, take a look at these trail running shoes as a replacement.
Pros
Zoom Heel Air unit to provide extra cushioning
Enhanced durability,
Great for muddy and wet conditions
Cons
Some of the color choices are not ideal for a golf course
Conclusion
Hopefully, these trail running shoes have helped you think differently about your options on the golf course.
The more time you spend walking and playing, the greater need you may have for some alternative gear.
Don't count the trail running shoes out the next time you need some golf gear built for stability and traction.