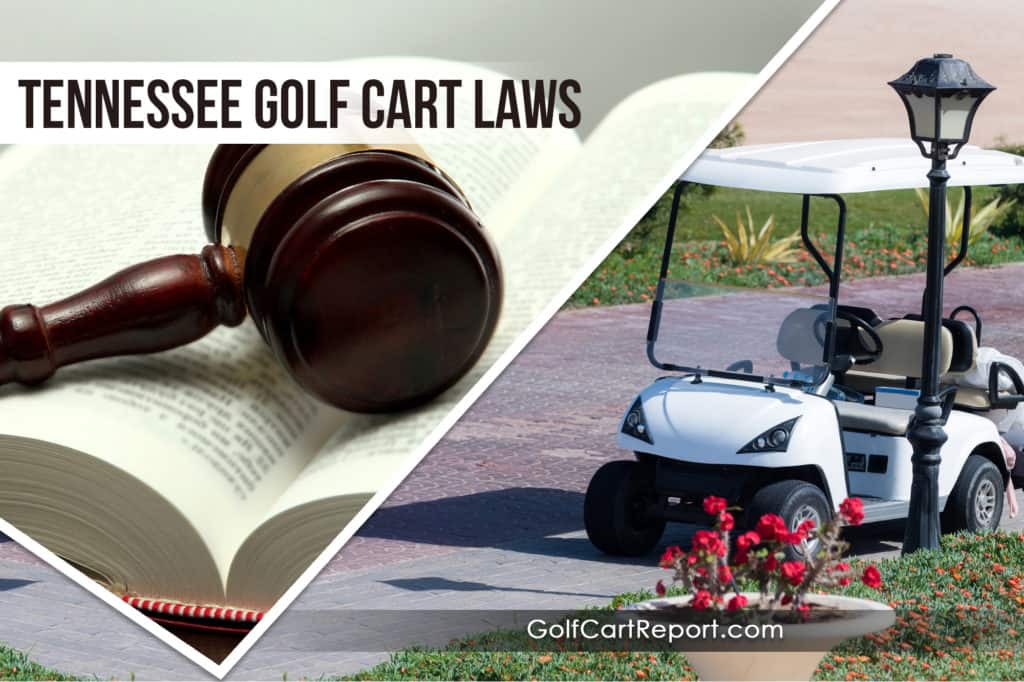 Tennessee Golf Cart Laws
Tennessee is a unique state because it is positioned in a fairly central area.
As a result, it has many influences of the south, the east, and even the north in its culture.
And it has many beautiful rural places to visit and large cities.
Therefore, if you plan on visiting Tennessee or moving there and want to ride golf carts or low-speed vehicles, you must understand their laws and regulations.
Federal Guidelines on Golf Cart Usage
Currently, the federal government does not dictate how states or local municipalities manufacture or manage golf cart use.
Their only laws state that golf carts cannot travel on national or international highways, as carts are not fast enough to ride on them safely.
Therefore, most states have detailed rules and guidelines that dictate how golf carts are used.
Those that don't often allow the cities within their borders to make up the rules for using carts throughout a city.
This limitation is because golf carts cannot travel over 20 miles per hour, as manufactured.
Therefore, the federal government does not treat them as motor vehicles.
If you upgrade your cart to become a low-speed vehicle, though, you must follow all federal regulations.
That's because your golf cart is now considered a low-speed vehicle. In this situation, the state can also dictate how they are used on their roads but must also follow all federal rules.
Upgrades for golf carts necessary for low-speed status include headlamps, stop lamps, turn signal lamps, taillamps, reflex reflectors, parking brakes, rearview mirrors, windshields, seat belts, and a vehicle identification number or VIN.
Typically, these upgrades must be carefully inspected by state officials to receive proper safety classification.
Read on to learn more about this factor to ensure that your cart is legal and safe to use.
Golf Cart Laws in Tennessee
Current Tennessee laws state that golf carts are "… a motor vehicle that is designed and manufactured for operation on a golf course for sporting or recreational purposes and that is not capable of exceeding speeds of twenty miles per hour (20 mph)."
This information is critical because it will dictate whether or not you can take your cart out on the road in this state.
In most cases, you will not be able to take your cart out on roads in Tennessee.
That's because Tennessee is one of the stricter states when it comes to golf cart use.
They do not classify golf carts as motor vehicles.
Therefore, they do not allow their use on state highways.
That said, they do seem to allow cities to make rules dictating golf cart use.
This practice is usually standard for most states, and Tennessee is no different in this way.
They still ask that golf carts not be used on their roads or any federal or international roads that pass through the state.
For example, Knoxville passed a law in 2018 that allowed golf carts to drive on their city streets.
This act required the use of a permit – which costs $25 – and to be at least 18 years of age.
Drivers also need to have the vehicle inspected and to have insurance on the cart.
All carts on Knoxville highways must also have a visible safety triangle on the front and back.
The Knoxville Police Department does these inspections.
Other cities in Tennessee may have similar laws, to make sure to talk to your officials about them to learn more.
Low-Speed Vehicle Use in Tennessee
If you are upgrading your golf cart to become a low-speed vehicle in Tennessee, you need to find a low-speed affidavit from your local officials and have the cart inspected by the proper authorities.
These officials will check your cart to ensure that it has been modified to meet all of these requirements.
Then, you can get your cart registered and titled to ensure that it operates as smoothly as possible.
By Tennessee law, all low-speed vehicles are those that have passed federal safety guidelines and which are either electric or gasoline.
They must be capable of hitting speeds of 20 miles per hour but no more than 25 miles per hour.
And they also ask that any windshields installed to meet the safety standards of 49 CFR 571.205.
And all drivers must have a Class D driver's license and cannot travel on streets of over 35 miles per hour unless crossing them at an appropriate intersection.
Before ending, you should also know that Tennessee allows medium-speed vehicle use.
These are any carts that can top 30 miles per hour but not 35 miles per hour.
They must be appropriately titled, can only travel on roads of speed limits up to and including 40 miles per hour, and must contain all of the upgrades necessary for low-speed vehicles.
In this way, they are very similar to their slower vehicular cousins.
Federal Golf Cart Laws
Helpful Links
https://secure.tncountyclerk.com/forms/Low_Speed_Vehicle_Affidavit.pdf
Disclaimer
Even though our guides are thorough and researched, it is highly recommended that you perform your own research and check with your local municipality on rules as well.