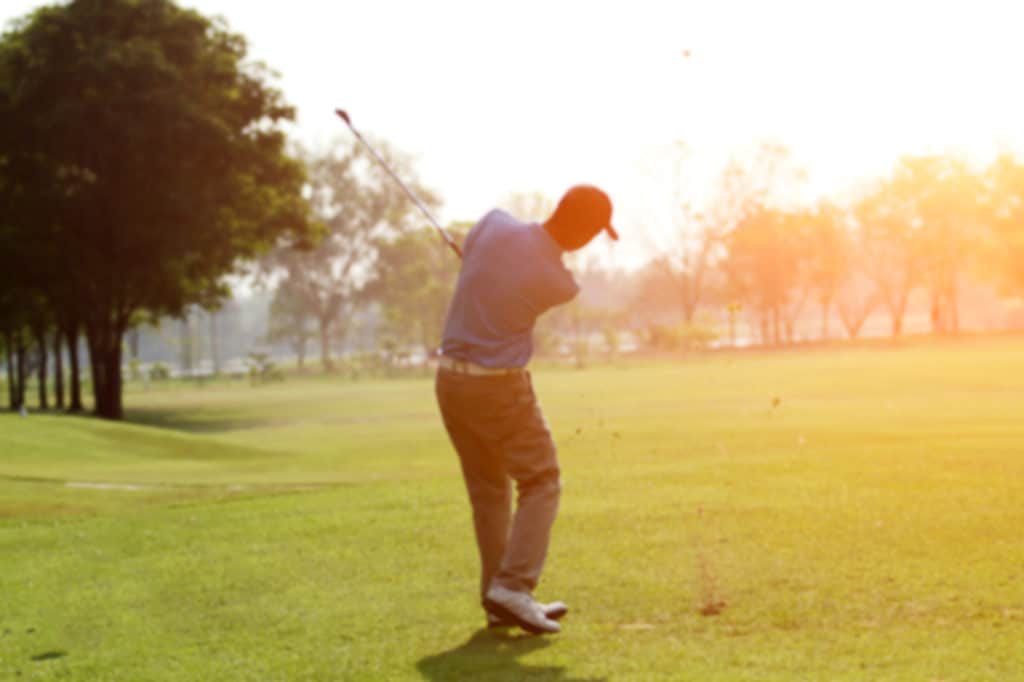 Chipping can make or break your round of golf.
A few good chips can quickly turn a 92 into an 87.
There are no two golfers with the same chipping stroke.
Since there are so many ways to become a great chipper, many people wonder if you must use the same club to dial in your chipping game.
We have put together a little guide to help you understand what clubs to use when chipping.

Should You Chip With Multiple Clubs?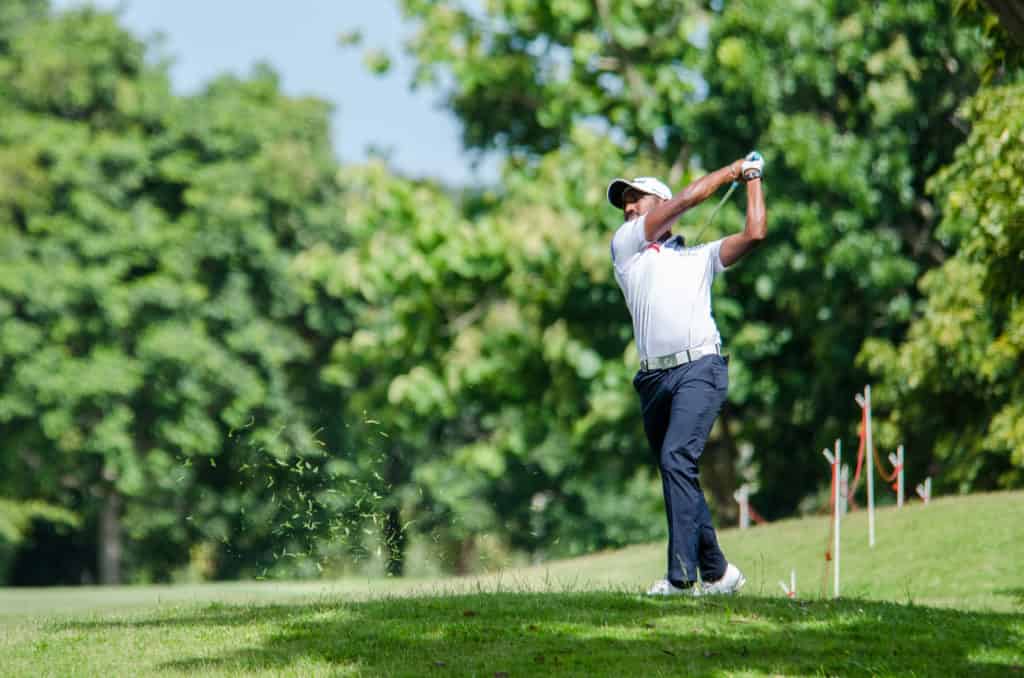 Chipping with multiple clubs is very important.
The more clubs you use, the more different types of shots you can hit, and that will make a huge difference in your scores.
Think about only using one club to play the golf course.
Although this is a fun experience to try, you end up not having the right shots for many of the areas where you land.
When it comes to chipping, you will have so many different lies going to a wide range of pins and hole locations.
Since the shot is going to change so often, how can you expect one club to handle all of these shots?
The answer is, you can't.
It is knowing which club to hit and from where is the key to becoming a great chipper.
What Clubs Are Best To Chip With?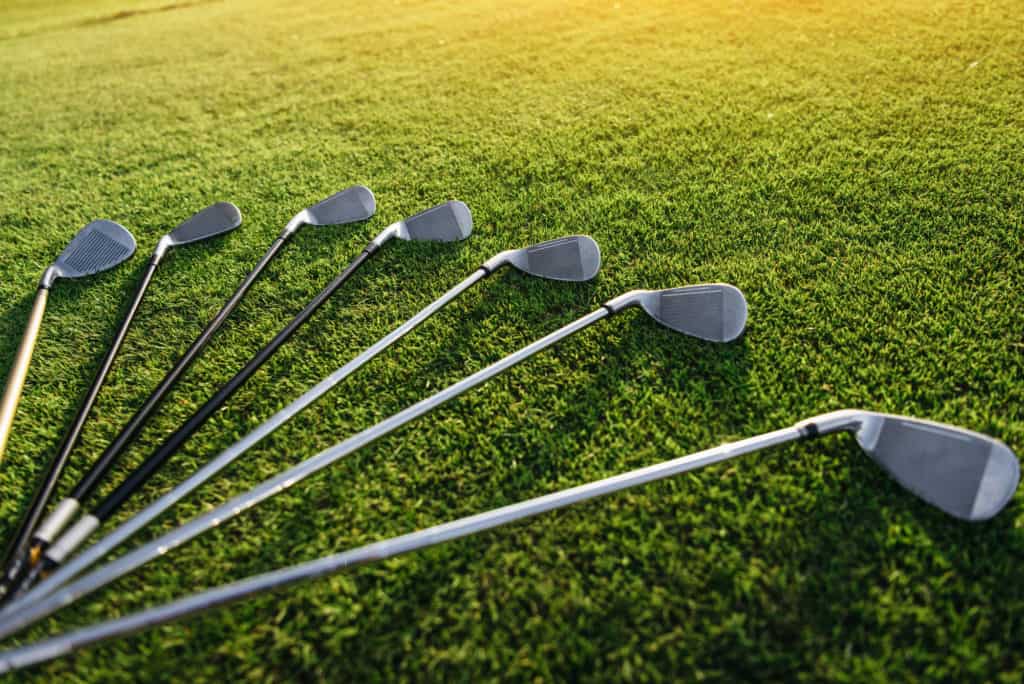 Most golf club sets will have three to four wedges in them.
When you think of the number of clubs and the number of shots available should you want to use them, the possibilities are almost endless.
If your pitching wedge is your only club in the bag to chip with, then you may need to make some adjustments to your set.
Ideally, it is best to have four wedges.
You will want a pitching wedge, an approach or gap wedge a sand wedge and a lob wedge.
If you have all of these wedges, you will have all of the different loft and launch combinations that you could need to succeed.
The lofts on these clubs can vary, and that is completely fine.
Here are some general ideas of what the loft should be.
Pitching Wedge 43-46
Gap Wedge 48-54
Sand Wedge 54-58
Lob Wedge 58-64
What Types Of Shots Are There To Hit Around A Green?
When it comes to shots around the greens, there are three basic shots you will have.
You can hit a high lofted shot that flies high and lands soft and stops.
You can hit a mid lofted shot that stops and then releases a few feet.
Then there are the low lofted shots that hit the ground and then roll most of the way to the hole.
Each shot will take practice using all of the different clubs.
One of the best ways to work on this is to pick a target about 15 yards away and take one club with you.
Try hitting your pitching wedge to this hole using a high, medium, and low lofted shot.
Then switch to your gap wedge, sand wedge, etc.
Learn to hit each of your clubs high, medium, and low.
You never want to get stuck in a rut where you can only hit your 56-degree wedge a certain way.
Is There An Ideal Club To Use For Chipping?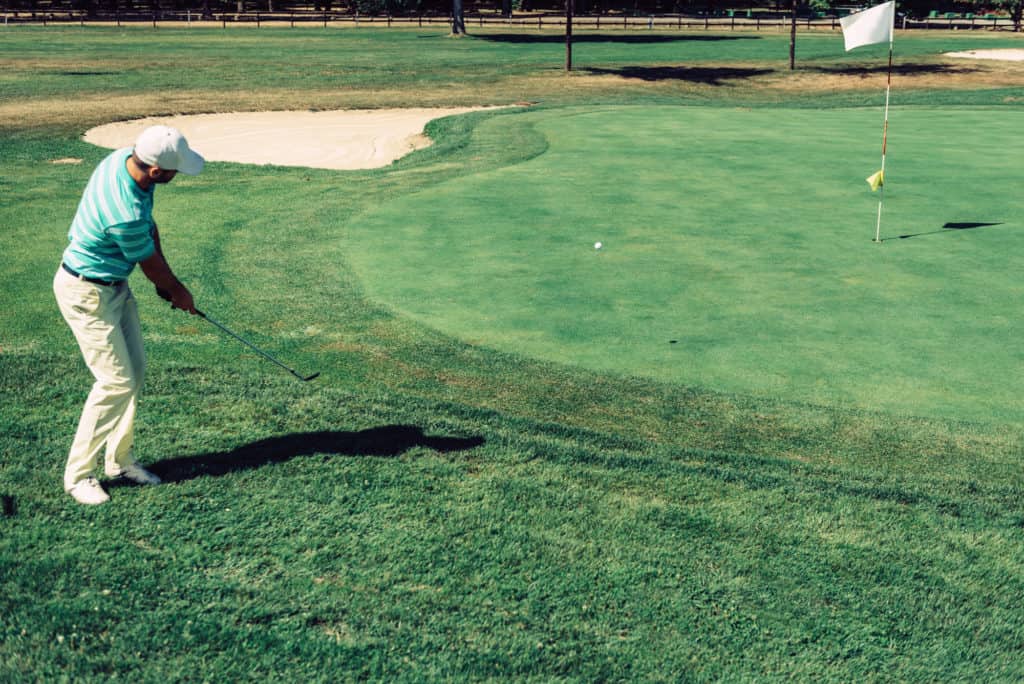 Most people find that their sand wedge or the fifty-six-degree wedge is the best for chipping.
The loft is a mid-level loft, and the spin is usually a mid-spin.
The wedge works excellent when you need to get out of a bunker and when you are in the rough around the greens.
IF you have a perfectly good fairway lie and you want to use the 56 degrees, you absolutely can.
It is versatile and easy to use a club that most golfers say they could not live without.
What Is The Difference Between A Pitch and A Chip?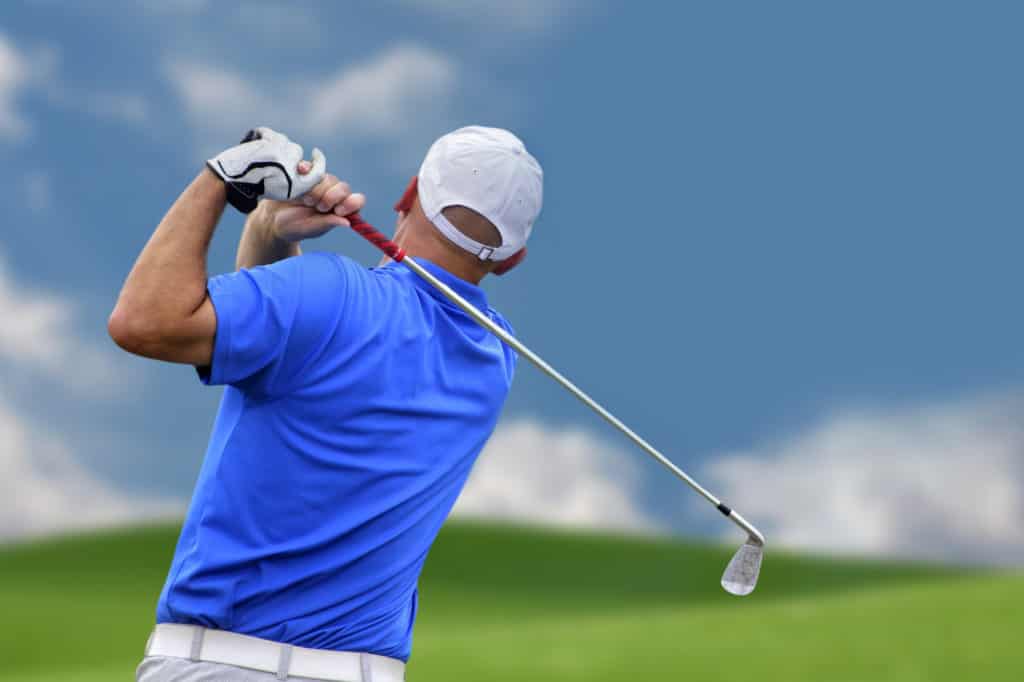 Many people use the term chip and pitch interchangeably.
Some refer to chipping as the overall short game, and that is generally accepted in golf.
However, there is technically a difference between a chip and a pitch shot.
A pitch shot flies far and then lands and stops
A chip shot does not fly very far, but it will roll for a while
Generally speaking, the lower lofted clubs are more beneficial when you are hitting a chip shot.
Some people will even work with a nine or eight iron to hit pitch shots because it is easier to get something to run for a while.
For the chip shots, it is usually best to use the higher lofted clubs like the sand and lob wedge.
The good thing about all of the wedges in your bag is that they can be manipulated to change the loft and the flight.
Can You Chip With A Hybrid?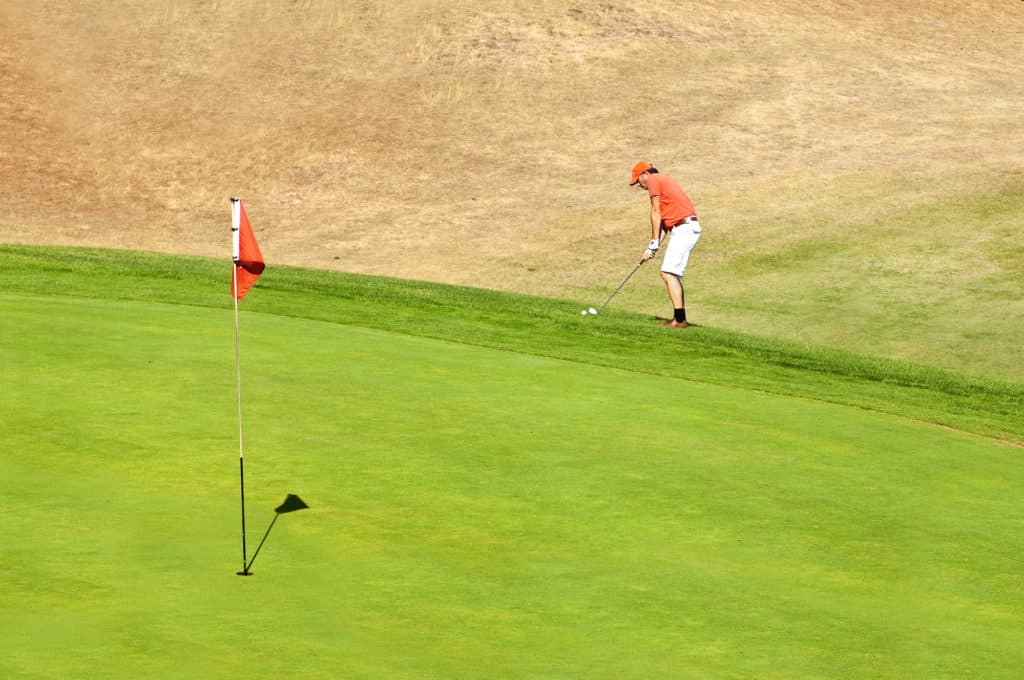 If your shot lands on the fringe of the green, you may be questioning whether or not it makes sense to just putt it.
Although putting from the fringe is popular, it can be challenging at times.
If the fringe is not in perfect condition or even sometimes when it is, the ball can take big hops or bounces and get off track very quickly.
One way to keep the ball on a more straight and true line is to chip with your hybrid.
When you hit this type of a shot, you should think of it almost like a putting stroke.
You don't need a big swing, and you won't want too much motion as it could cause you to hit behind the golf ball.
This type of shot will barely leave the ground, and it will roll most of the way to the hole.
If you watch golf on the television, you will notice that there are certain golf courses where the pros are using this type of shot as well.
Shot Planning and Chipping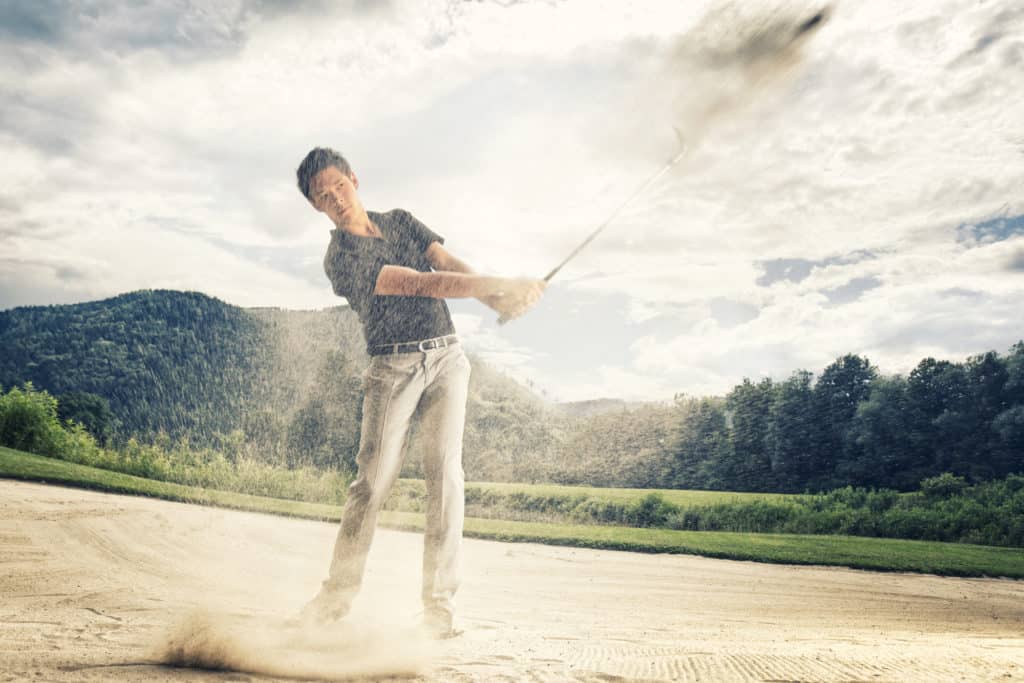 As you can see from our guide, there are many different ways you can chip and pitch the ball around the green.
One of the most important things you can do to get better at chipping is to plan your shot.
If you stand up to a ball and have no idea where you want it to land, and you don't picture how far it will roll, then you won't have great results.
You need to visualize your chip shots.
Pick a spot where you want them to land and then visualize what the ball will do once it gets on the green.
Grabbing a club, hitting it, and wishing is not going to get you anywhere.
This is where short game practice becomes so critical.
If you are going to spend time working on hitting those 300 yard drives, try to spend equal time on the chipping green.
Conclusion
A landscaper with a pair of scissors is not going to get too many repeat customers.
However, a landscaper with all of the equipment, a crew, flowers, and fertilizer will be well-liked.
This same thing applies to chipping.
If you only have one tool, your results are not going to be as good as you would like them to be.
If you have a variety of tools and you can use them to help improve your game and hit a variety of shots, then you are well on your way to becoming a lower handicap player.