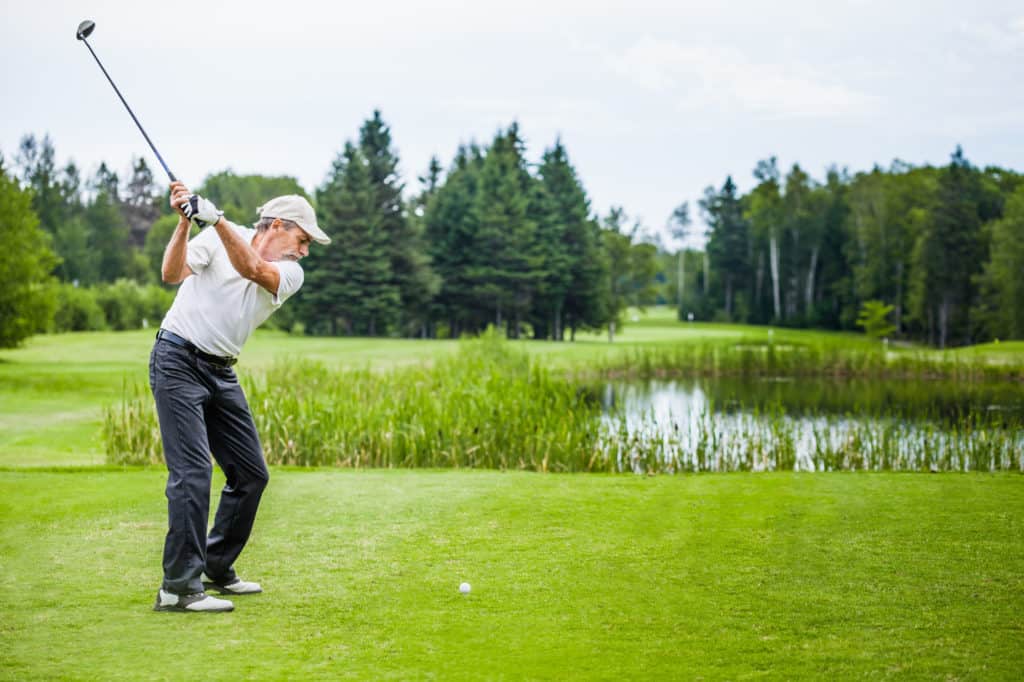 Slower swing speed golfers need a performance golf ball even more than a higher swinging player.
If your golf ball is working against you, then you will lose even more distance.
Slow swing speed golfers need all the distance they can get.
They need a low compression golf ball that is high launching, low spinning, and has low drag.
We have put together our favorite options for the slow swing speed player.
We tried to mix performance, price, and feel to choose the best options out there.

Top 10 Best Golf Balls For Slow Swing Speed

1. Titleist Velocity Golf Balls
Key Features
Lower compression
Low spin
Medium iron spin
The most important thing about a golf ball for a slow swing speed golfer is the distance.
The more speed you have, the further you can hit a golf ball.
If you don't have the right amount of speed, you are going to need a golf ball that helps you out as much as possible.
Titleist is the leading golf ball manufacturer, and although they make golf balls for the best golfers in the world, they also have an option for the slow swing speed player.
If you can't tell by the name of this product, the Velocity is all about speed.
This is a distance golf ball that has a very low spin on the driver.
When you hit your driver, you do not want it to plug in its ball mark and stop.
You want this ball to roll for yards after it lands.
Luckily the Titleist Velocity is designed to allow that.
In addition to the low spin on the driver, you get a decent amount of short game and short iron spin.
This is important as you don't want your nine iron to run right through a green because of a lack of spin.
Another great thing about the Velocity is the overall feel.
Titleist knows how to make a golf ball that feels good and performs well.
You should be able to get plenty of launch with the Velocity regardless of your swing speed.
Overall this is a fair price and high performing golf ball for the slower swing speed player.
Just because your swing speed is slower does not mean you need to sacrifice performance and feel on the golf ball you choose.
Pros
Higher launch
Great feel
Low driver spin
Available in many colors
Cons
Greenside spin is not as high as other Titleist golf balls
2. Callaway Superhot Bold Golf Balls
Key Features
The bright green color is easy to see
Distance golf ball
Hex Aerodynamic pattern
If you have not yet tried a Callaway golf ball with the Hex Aerodynamic pattern, then it may be time to give it a shot.
Each of the dimples on the Superhot Bold is shaped like a hexagon.
The hexagon shape allows for reduced drag and more time spent in the air.
The longer the ball stays in the air, the further it is going to fly.
We love that the Superhot is a distance golf ball, but it still provides plenty of spin around the greens.
If you are tired of not being able to spin a distance golf ball when you get near the greens, you will enjoy the performance of this golf ball.
When hitting off the tee, the Superhot is a low spinning choice that will run for many yards.
It is offered in a few different colors, but we like the Matte Green option.
This golf ball is easy to track while it is flying through the sky, and you can find it should you happen to hit in the rough as well.
The Superhot Bold is considered a value golf balls so you can get them in a pack of fifteen.
As we mentioned earlier, sometimes it is assumed that the slower swinging player is also a higher handicap player.
This is not necessarily the case, but if you are, the Superhot is a great deal with excellent performance attributes to help you along your way.
Pros
Easy to see
Long-distance off the tee
Increased short game control
Great value golf ball
Cons
Does not feel that soft around the greens
3. Callaway Supersoft Golf Balls
Key Features
Very low compression
Reduced drag
Long and straight
Since the Callaway Superhot is a great golf ball for distance but lacks a little bit of feel around the greens, we found the Callaway Supersoft as an alternative.
The Supersoft is one of the best selling golf balls for Callaway.
It has a great soft feel but still has low spin coming off the tee.
Just like the Superhot the Supersoft features the Hex aerodynamic pattern that helps it stay on track and fly through the air with ease
Most of the time, distance golf balls that have lots of speed and low spin off the tee will not feel as good around the greens.
The Supersoft feels excellent around the greens.
The Supersoft gives the player a soft and responsive feel coming off of wedges and the putter as well.
The reason the Supersoft can feel so good while still performing at the level it does is that it has a new cover.
The cover is a Trigonometry cover formulation for low compression but increased control around the greens.
The Supersoft is available in many colors, and it will work well for golfers of all handicaps.
Pros
Easy to spot with different colors available
Great greenside control
Reasonable distance off the tee
Easy to compress
Cons
Might not be quite as long as the Superhot
4. Bridgestone e12 Soft Golf Balls
Key Features
Low compression
Good feel
Delta Wing Dimple Pattern
As we mentioned early on in our guide, the low compression rating is significant for a slow swing speed player.
If you cannot swing the golf club fast, you cannot compress a hard golf ball.
Luckily there are tons of golf balls out there with very low compression ratings; the e12 by Bridgestone has a compression of 50.
One of the things that allow the Bridgestone to be a distance golf ball still is the new active acceleration mantle.
This is basically the combination of some higher quality materials and a high energy core to help get higher initial ball speed.
You will notice this extra ball speed almost immediately upon hitting the e12.
With the extra speed and the combination of the Delta Wing Dimple Pattern, this golf ball will fly a long way and then roll as well.
This is precisely what you need to help make up for the lost distance with a slower speed.
If you are unsure of what Bridgestone golf ball works best for your game, you can do a Bridgestone ball fitting.
They will analyze your swing speed and your spin rates and help you determine the golf ball that suits your game.
If you can't do it in person, there are some options to get more information on their website, including a golf ball selector tool.
Pros
Very high energy and responsive core
Easy to compress
Long-distance off the tee
Cons
Three-piece golf ball so it is priced a little higher
5. TaylorMade Project (s) Golf Balls
Key Features
New release
Soft feel with distance
Large core
The TaylorMade Project (s) Golf Balls are a new release this year.
This golf ball is all about speed, which comes as no surprise as it is manufactured and produced by TaylorMade.
TaylorMade keeps producing golf equipment that helps golf balls fly further.
Now they have a golf ball designed to fly further as well.
This Project (s) has a two-layer core that helps reduce the spin on your driver and get lots of extra ball speed.
These are two features that the slow swing speed player will benefit from.
Pros
Larger core for more distance
Soft feel golf ball
Reduced drag
Lots more ball speed
Fairly priced
Cons
Does not feel as soft around the greens as some other options
6. Vice Pro Soft Golf Balls
Key Features
Three-piece golf ball
Low compression
Amazing feel
If you are a slower swinging player that also appreciates feel and performance from a golf ball, the Vice Pro Soft is a great choice.
You will notice that this golf ball is low compression so that it will appeal to the slow swing speed player, but it has tremendous responsiveness around the greens.
The 336 dimple design is exceptionally durable and will not cut the first time you hit a bunker shot with it.
Honestly, this is a players golf ball designed for a player with lower swing speed.
You can get the Vice Pro Soft in various colors; all are the matte finish and very easy to spot as you make your way around the golf course.
The three-piece golf ball is always going to cost a little more than the two-piece, but you get much more out of it.
With the visibility, low compression, and great feel on this ball, we could see this one becoming your new favorite.
Pros
Easy to see
Great feel around the green
Three-piece design
Durable cover
Cons
Pro-level type golf ball, so it is more expensive
7. TaylorMade Noodle Golf Ball
Key Features
Higher performing for many years
Easy to hit long
Soft feel around the greens
The TaylorMade Noodle has been a top producer for the slower swinging player for many years.
The Noodle gives a golfer lots of distance off the tee but plenty of feel around the greens.
This golf ball won't spin quite like a Titleist when you get near the greens, but it has some great feel and control to it.
The Noodle has always been one of the more reasonably priced golf balls on the market.
If you are not sure which golf ball would work well for your game, the Noodle is a great starting point.
Pros
Durable cover
Soft feel
Long off the tee
Cons
Not great with greenside spin
8. Strata VooDoo Golf Balls
Key Features
Lots of distance
Good feel
Alignment aide
The Strata is not a new release, but it is low compression and long-distance golf ball.
If you want to change up the golf ball you are playing, but you don't want to break the bank, the Strata is a great choice.
This is purely a distance golf ball.
It is low compression and very easy to hit.
The ball will roll a long way even when it hits the ground.
An interesting thing about the Strat is the alignment aide that comes stamped on the golf ball.
Although this is not our favorite golf ball for greenside performance, the alignment aide is a nice feature to have.
Pros
Easy to line up
Good distance
Very fast core
Cons
The greenside feel is not great
9. Wilson Staff Duo Golf Balls
Key Features
One of the lowest compression golf balls out there
Low driver spin rate
Ionomer blend cover
It's going to be hard to find a golf ball with a compression rating lower than the Wilson Staff Duo Golf Balls.
The compression on this ball is 29.
To help you compare this, many of the golf balls on the market have a compression of 80 or more.
So clearly, if you struggle with slower swing speed, the Wilson Staff Duo has the compression rating to help your game.
This is a two-piece golf ball which helps its price stay down.
The feel around the greens is not bad, but the spin won't be great.
However, when you talk about the spin off the tee, this golf ball has some of the lowest rates out there.
Pros
Improved dimple pattern for aerodynamic flight
Low driver spin
Long-distance
Cons
Greenside spin and control is not the best
10. TaylorMade Soft Response
Key Features
Soft Feel
Great distance
Low compression golf ball
Last on our list is a newer release from TaylorMade.
The Soft response golf ball gives you the distance you need without the golf ball feeling like a rock.
We love that the TaylorMade Soft response is available in several different colors.
In fact, one of their best selling colors is a red golf ball.
If you thought that red would be a difficult color to see on the golf course, think again.
They stand out well against the green grass and are surprisingly easy to find.
The Soft Response has more dimples on it than previous models, and it is a 322 dimple pattern.
The increased dimple coverage helps to make sure there is less drag as your ball flies towards the target.
The dimples themselves are u shape, and there are no seams on the golf ball.
Overall for the performance you get, this is a reasonably priced and responsive golf ball.
Pros
Easy to see
High performing
Quality dimple pattern
Cons
Priced higher than other similar golf balls
Iron spin is not ideal
Choosing a golf ball for a slow swing player should come down to feel, distance, and overall performance.
If you choose a golf ball with high compression, you will struggle to get the distance that you need.