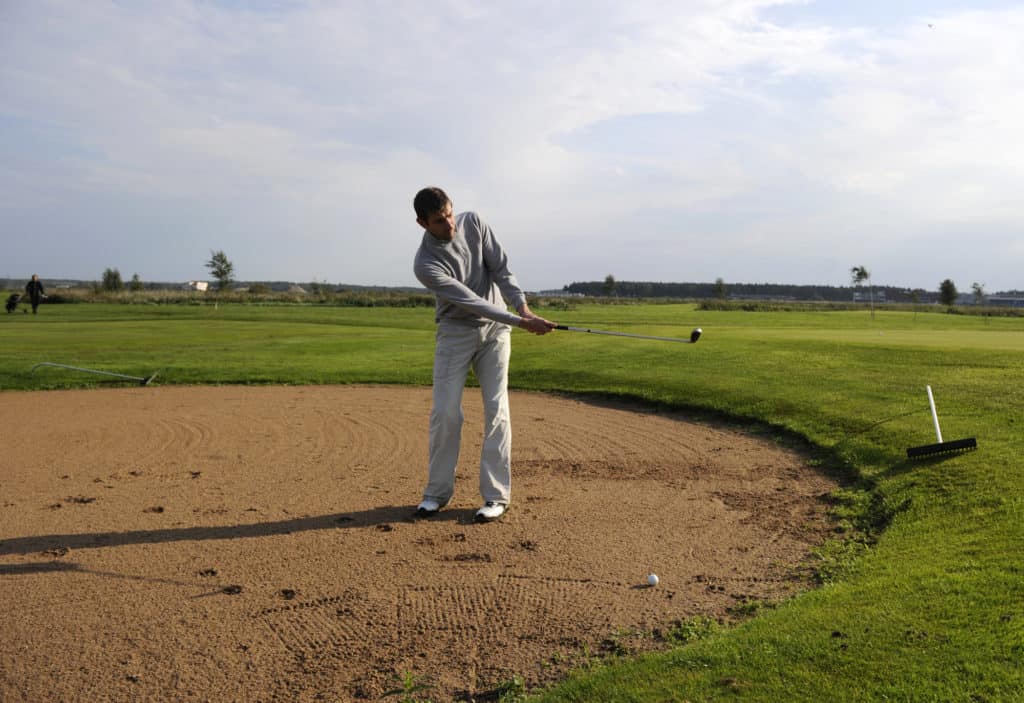 A sand wedge is a tool that most golfers would admit they could not live without.
Each sand wedge has both a loft and a bounce.
Choosing the exact loft and bounce for your wedge can be a little tricky.
The good news is that we have put together a guide to help you figure out which is best for your game.

Sand Wedge Bounce 10 or 14?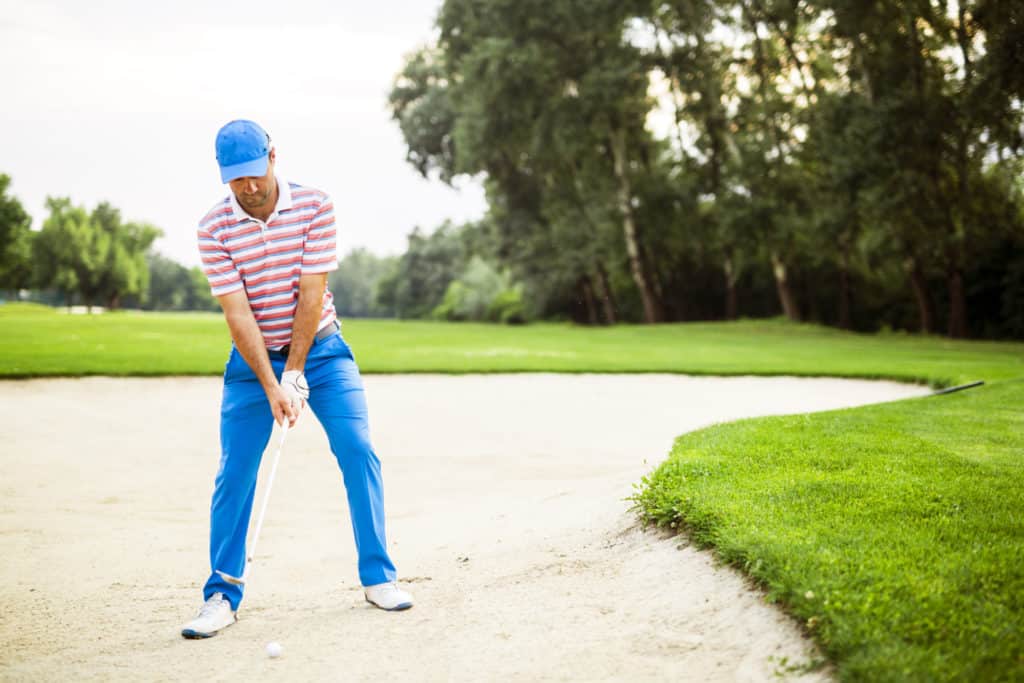 A sand wedge can have a bounce of as low as six degrees and as high as fourteen degrees.
Deciding between ten and fourteen degrees of bounce takes some understanding of your own golf game.
If you are a golfer who likes to pick the ball clean and not take a large divot, the ten degrees of bounce would be better suited for you.
If you are a player that takes a large divot, you will do much better with the higher levels of bounce.
A sand wedge with ten degrees of bounce is considered to have medium bounce, and the fourteen degrees is a high bounce wedge.
There are a few other factors that will go into which bounce you should play with.
Golf Wedges: How To Choose The Correct Bounce (Video)
Golfers that Should Use A Low-Mid Bounce Wedge
A low or mid bounce wedge is not going to be as forgiving as the high bounce.
However, there are specific course conditions and play types that will require this low to mid bounce wedge.
Golfers With A Shallow Swing
Do you tend to take the club back a little low and inside?
Is your angle of attack one that produces more of a pick then a dig?
Golfers with a shallow swing will do better with a lower bounce wedge.
If the wedge starts to skip over the grass as it is designed to do, it could end up hitting the ball half of the actual ball.
This is what results in those bladed type shots that you see people make with their wedges.
Sometimes it is just a matter of matching the equipment to the swing type of the player.
Your wedge game may not be strong simply because you are playing with the wrong wedge configuration for your swing.
Hard Golf Courses
Do you play a golf course that hardly has any sand left in the bunkers?
Do people often refer to the golf course as having a lot of hardpan?
If this is the case, then a low bounce sand wedge is going to be a better fit.
When you play on golf courses with hard conditions, the club will skip over the hard grass and cause you to hit the ball with the bottom edge of the club.
In soft conditions, the bounce on a wedge allows it to dig through the turf and get to the ball with the clubface square.
Golf courses with lots of hard areas are played much better with lower lofted shots that roll and take advantage of the hard surfaces.
When trying to use a high bounce sand wedge out of a hard bunker, you may find that you don't have enough launch angle to get the ball out of the bunker.
If the golf courses you play have varied conditions, then it is best to choose a sand wedge with a mid-level of bounce.
Manipulate the Club Face
If you are a golfer who likes to manipulate the clubface and open and close it, go fo a low bounce wedge.
The low bounce allows you to make changes to the club without it causing issues in your game.
When you get near a green, and you like to be creative with your shots, the low bounce wedge will help allow you do do this.
Golfers that Should Use A High Bounce Wedge
Some people think that a high level of bounce in a wedge is a bad thing.
This is not true.
Bounce is there to help you hit the types of shots you need to around the greens.
Bounce can be used to help the club bounce off the ground.
When hitting an iron shot, you do not have this same amount of help and forgiveness that you do with a wedge with lots of bounce on it.
Steep Swinging Player
Golfers that have a steep swing tend to take deeper divots when they swing through their shot.
This makes it much better for them to use a wedge with quite a bit of bounce.
Another golfer that will benefit from a high bounce wedge is someone that tends to hit behind the ball.
Golfers that Hit Behind The Ball
When you hit behind the ball, the club will dig in and get stuck.
Many golfers will call this hitting the ball fat or a chunk.
These shots are very frustrating when you are around the greens.
You work so hard to get up close to the green, and then when you hit behind it, and the ball goes three feet, it is infuriating.
A high bounce wedge will help your wedge travel through the dirt and grass and get to the ball.
The bounce helps it to "bounce" over the turf and get to the golf ball.
Soft Golf Course Conditions
Some golfers play a different course every week; however, others will have a home course.
If your home course is one that has softer playing conditions like soft sand, soft turf, higher rough, then the higher bounce wedge is a better choice.
The high bounce helps the wedge to move through these types of playing conditions and make good contact with the ball.
Play it Like It Is
Are you a player that likes to manipulate the face of your wedge?
Do you see a different type of lie and know how to turn your wedge face to get the best results?
Or are you someone that wants to use your equipment precisely as it is designed.
If you don't like to manipulate the clubface when you are working on shots around the green, then you should go with the high bounce wedge.
A high bounce wedge is not the best when you try and turn and angle a club to hit different types of shots.
But if you like to use the club exactly how it was built, you will do well with the high bounce option.
What Is Bounce?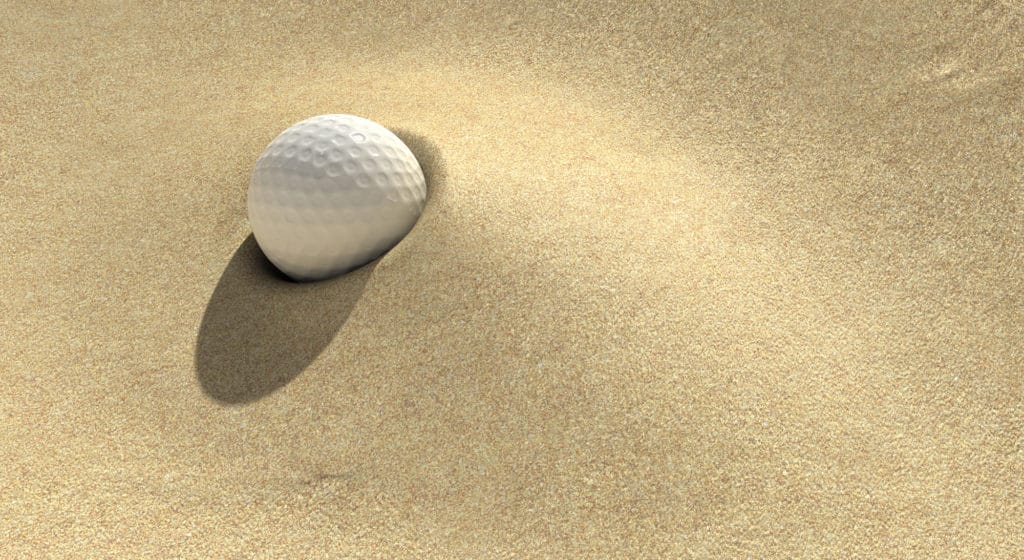 A wedge bounce is an angle on the bottom of your golf club.
The angle is created between the leading edge and the lowest point of the sole of the trailing edge.
The bounce is the part of the club that hits through the ground when you hit the ball.
If your wedge has more bounce, the leading edge of your club will sit up higher off the ground.
With lower bounce, your wedge will sit almost flat on the ground at the address position.
Your wedge should be listed on your wedge, but if it is not, you can usually research it to find the exact amount of bounce it has.
What Bounce Can You Get in a Sand Wedge?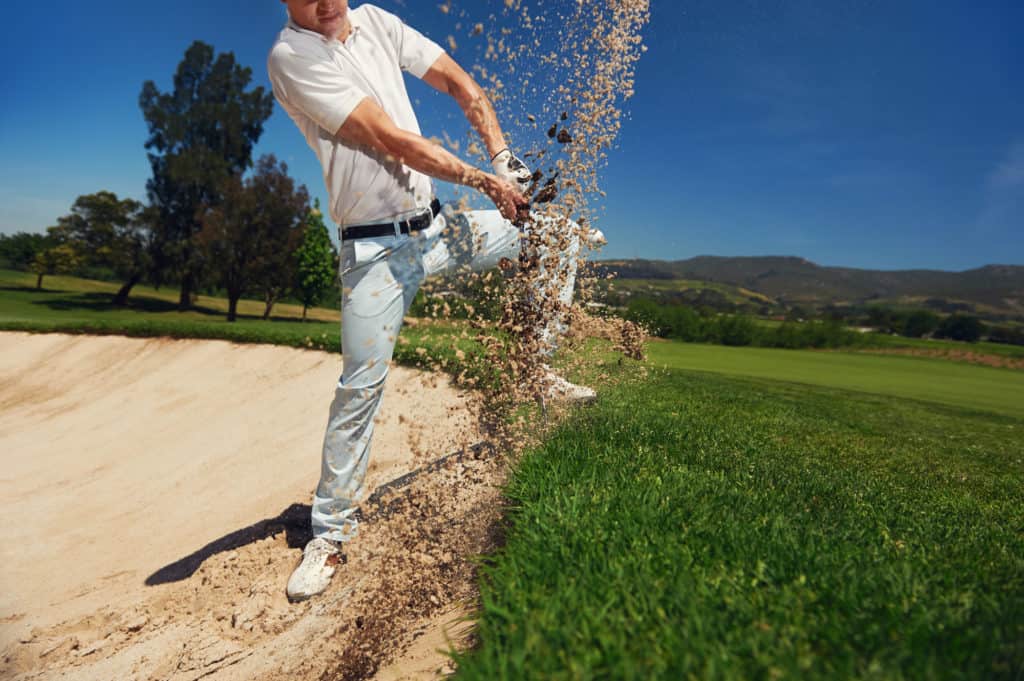 The bounce that you can get out of your sand wedge will vary depending on the brand and the type of club.
Some golf companies will just put "mid bounce" or "high bounce" on the club and not give the exact degree.
Most of the time, the range of bounce that you will see will be between eight and fourteen.
Most golfers will choose between ten and twelve as those are considered to be mid bounce and provide some extra versatility.
What is Wedge Grind?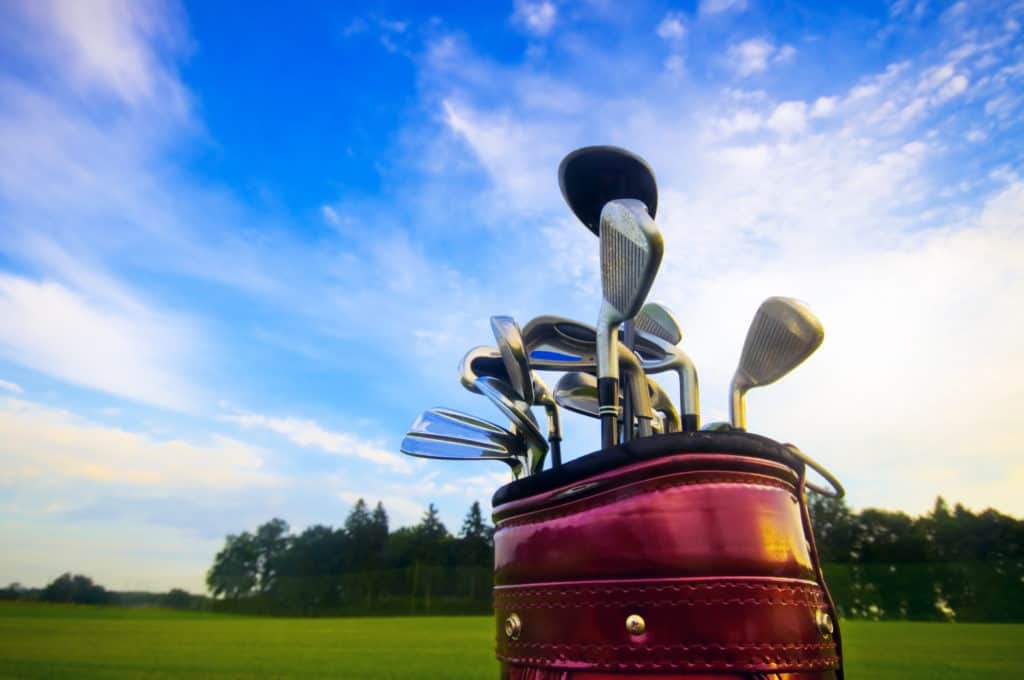 Some wedges also come to an option for a grind in addition to the bounce.
This is very popular in the Titleist and Callaway wedges.
A wedge grind is the removal of material from the sole of the club.
Changing the wedge grind will affect the interaction with the turf.
Each company has different names and features with its wedge grinds.
The wedge grind is not something that will be universal across all manufacturers like bounce and loft is.
With the different types of wedge grinds available, you can change ball spin, launch, flight power, and more.
What Is The Best Loft For A Sand Wedge?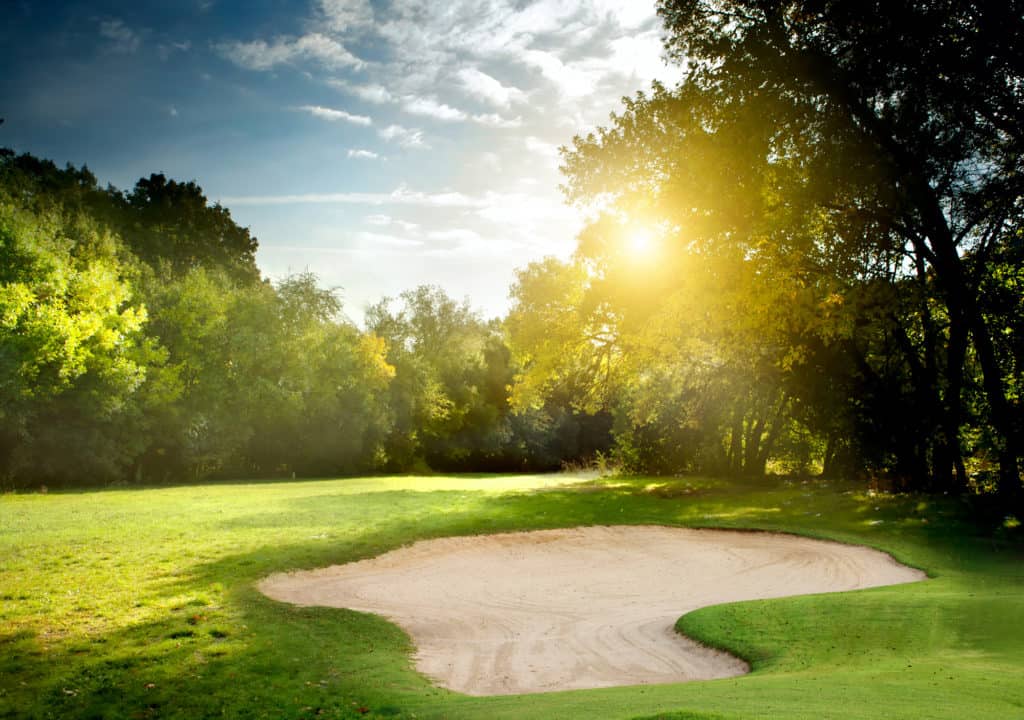 The loft on a sand wedge is traditionally 56 degrees.
Depending on the set makeup a golfer has, the loft can vary from 52 to 58-degrees.
You should base the lofts of your sand wedge off the loft of your other golf clubs.
Ideally, you want only to have about four degrees of loft between your wedges.
This will help make sure that you don't have any significant gaps in your set of golf clubs.
If your pitching wedge is 46 degrees than having a 52 gap wedge and a 56 sand wedge is a great set makeup.
However, in the last few years, the lofts on the golf clubs have changed considerably.
The pitching wedge now tends to have more like 43 degrees of loft.
If the next wedge in your bag is the 52, this creates a huge gap.
Many golfers have been switching to a 50-degree gap and then a 54-degree sand wedge.
A 54-degree sand wedge is still an excellent tool to keep in your bag.
You should get plenty of lofts and not have much trouble getting this club out of bunkers.
If you do have a 54-degree sand wedge, then you really should consider a lob wedge as well.
Something that is either 58 or 60 degrees is going to be necessary for those high spin, high loft shots.
This will be especially important out of bunkers.
Can You Change The Bounce On Your Wedge?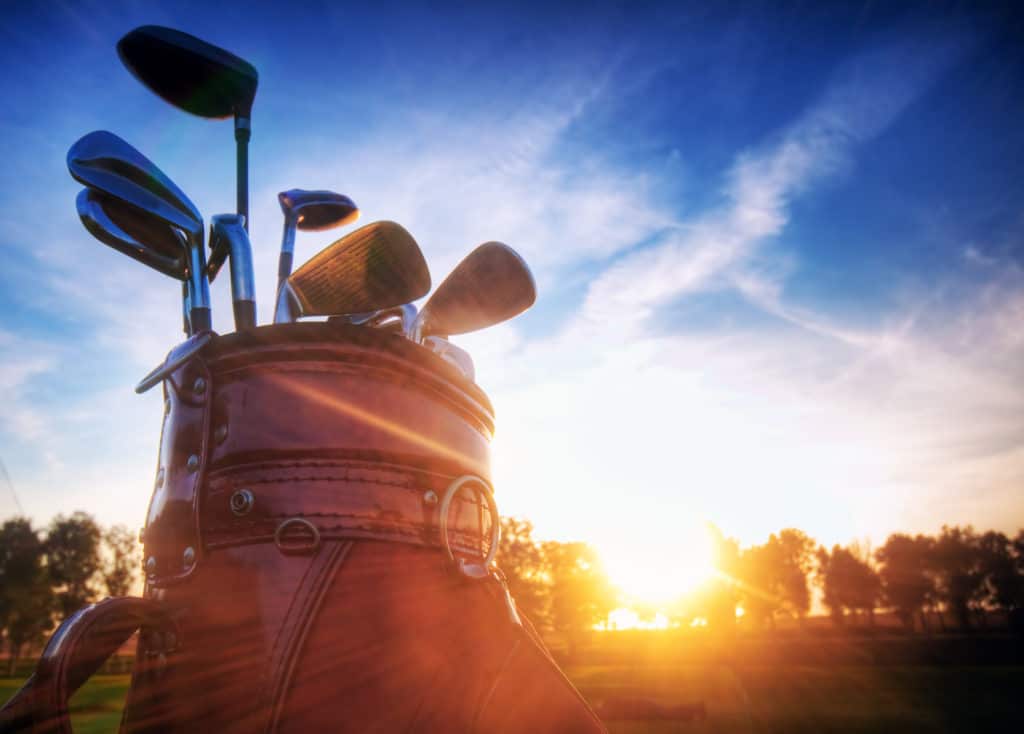 Now that we have taught you so much about wedges and their bounce, you may be interested in learning what the bounce is on your club.
If you find that your bounce is too low or too high for you, you may wonder if it is possible to change the bounce.
If your wedge has too much bounce, it can potentially be changed to help you.
Many professional golfers will have the bounce on their wedges ground down to give them some more options around the green.
For the amateur golfer, it is probably not the best idea to do this to your wedges.
Most of the time, it will be just as cost-effective to go and buy a new wedge.
Most golf wedges cost between $80 and $150 per wedge.
They are not nearly as expensive as some other golf clubs in the bag.
If you find that the bounce on your wedges is not going to work for your game, we highly recommend replacing your wedge entirely.
Conclusion
There is no right or wrong answer when it comes to a bounce of 10 or 14 in your sand wedge.
Make sure you consider what type of golfer you are and the strengths and weaknesses of your game before you make your final decisions.