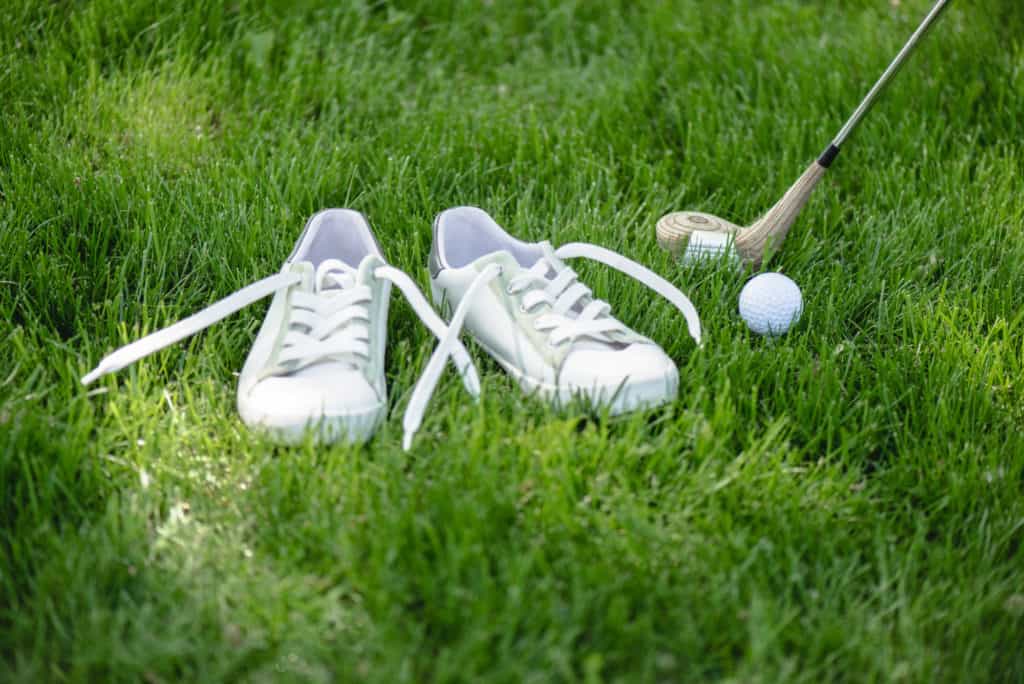 Have you ever looked at the price of a waterproof golf shoe compared to a regular shoe?
Golf shoes can get very expensive.
The good news is that, even if your shoe does not come directly from the manufacturer in a waterproof design, you can do some things to keep your feet dry.
There are steps you can take to make your golf shoes more waterproof.
Sometimes this process will help them hold up much longer than a shoe that is not waterproof.

Steps to Waterproof Golf Shoes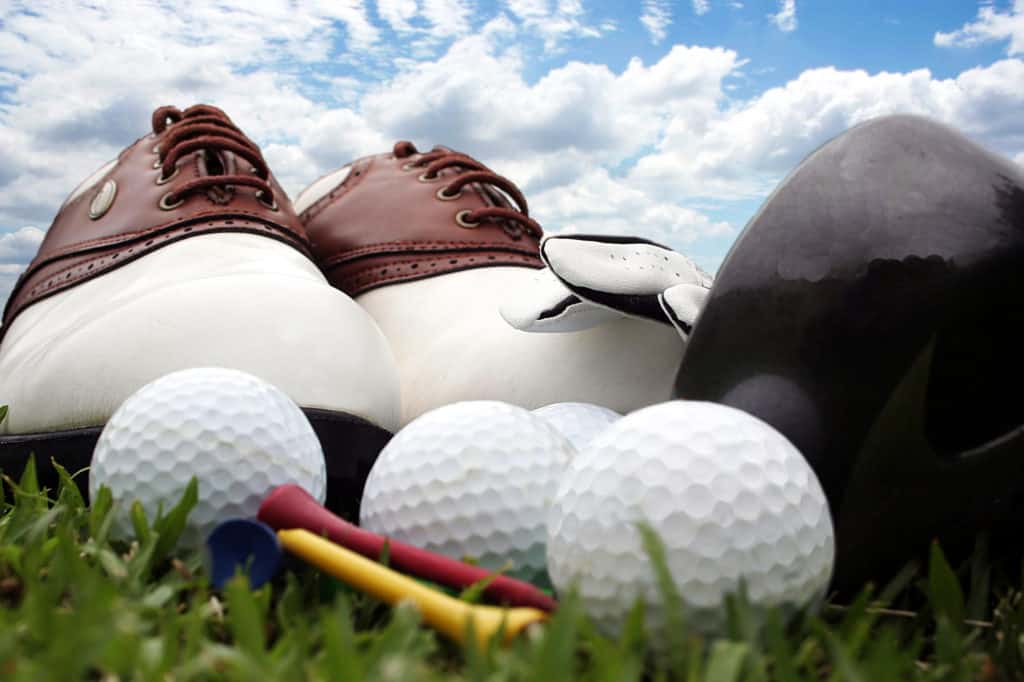 Step 1: Gather Supplies
The first step is to gather the supplies you will need to waterproof your golf shoes.
You will need some cleaning cloths, water, and saddle soap.
Also, you are going to need the waterproofing spray to apply.
This process is going to be for a leather golf shoe.
If you don't have a leather golf shoe, make sure you choose the appropriate soap and waterproofing spray for your shoes.
Step 2: Initial Cleaning
Before you start the process of waterproofing your golf shoes, they must be clean.
If you were to take the spray and start applying it to your shoes without cleaning them first, the process would not be worth it.
Putting a waterproofing spray over a bunch of dirt and dust on your shoes will not help your shoes be waterproofed.
When you do the initial cleaning, use a little bit of water and saddle soap on the shoe.
Do not soak a leather golf shoe when cleaning it.
This could damage the leather, and it will make this entire process much longer for you.
Clean and detail all areas of the shoe to make sure it looks as though it were new.
Let your shoes sit outside for a few hours after the cleaning.
This will ensure they are completely dry before moving to the next step.
Step 3: Polish
Once your golf shoes are clean, it is essential to polish them.
Use the polish you are accustomed to using with your golf shoes.
Apply it liberally, and make sure you buff it all off before moving to the next step.
When you get to the step of waterproofing spray, the shoes should be immaculate, polished, and dried as well.
Step 4: Use Waterproofing Spray
The last step is to apply the waterproofing spray to your golf shoes.
The waterproofing spray usually comes in a small canister, and it is just sprayed on and allowed to dry.
You will have to follow the specific directions on the spray you purchase.
Some will tell you to wipe off excess, and others will say to let it dry.
Check the recommendations for how often you should reapply the waterproofing spray.
It might make sense to do it every few months, or it may be a treatment you only need to do once a year.
Follow the instructions that come with the spray to see the best results.
What Product Should I Use to Waterproof Golf Shoes?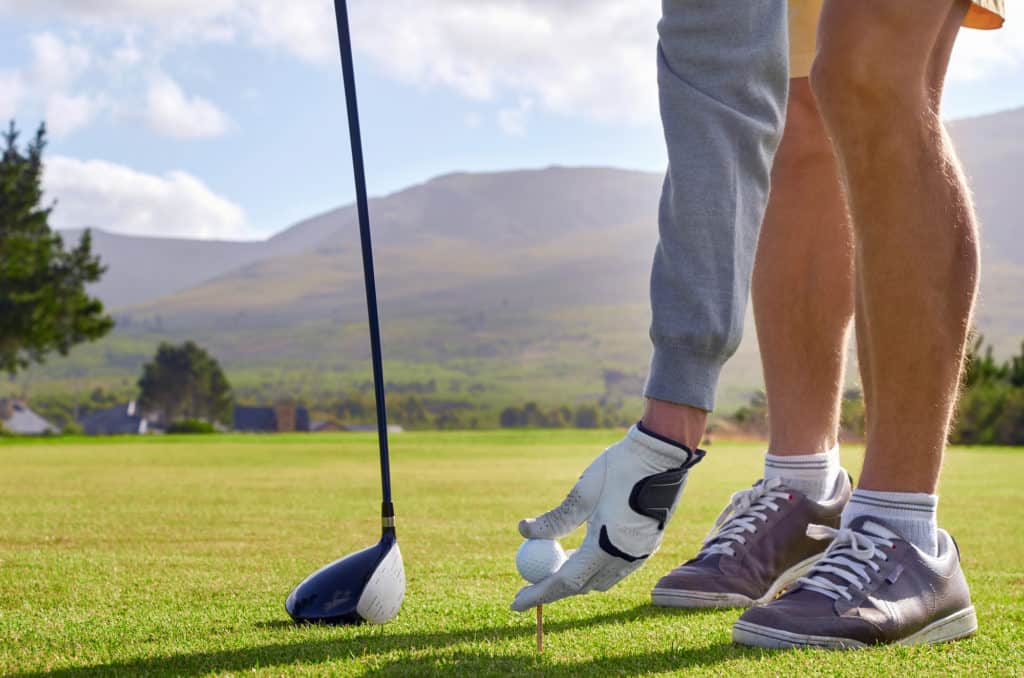 Many products on the market will work for waterproofing your golf shoes.
The most important thing is to consider the material of your shoe.
If you have a leather golf shoe, you must use a product that will waterproof leather.
If you have a shoe with any mesh coating on it, make sure you are aware that these shoes will never be completely waterproof.
One product we have had success with in the past is the Nikwax Fabric and Leather Proof Waterproofing.
Nikwax Fabric and Leather Proof Waterproofing
Nikwax Fabric and Leather Proof Waterproofing (Spray-On) 14.61 x 4.45 x 4.45 cm; 113.4 g
Adds water-repellency to synthetic or leather footwear
Clean first with Nikwax Footwear Cleaning Gel for best results
Spray-on application. NON-AEROSOL spray application to avoid negative environmental impact
Recommended use on smooth leather, fabric, or GORE-TEX shoes, boots, and gloves
Water based, non-persistent, and contains no PFAS, optical brighteners, or added scent
The Nikwax helps add water repellency to a leather golf shoe.
As we mentioned in our step-by-step guide, it is essential to clean the golf shoe thoroughly before you spray the Nikwax on the shoe.
If you decide to use this type of method to waterproof your golf shoes, you should be aware that it is not the same as a waterproof finish from the manufacturer.
The other great thing about the Nikwax is that it does not have an odor, and the smell of the product will not linger on your shoes.
What Is the Difference Between Waterproof and Water Resistant Golf Shoes?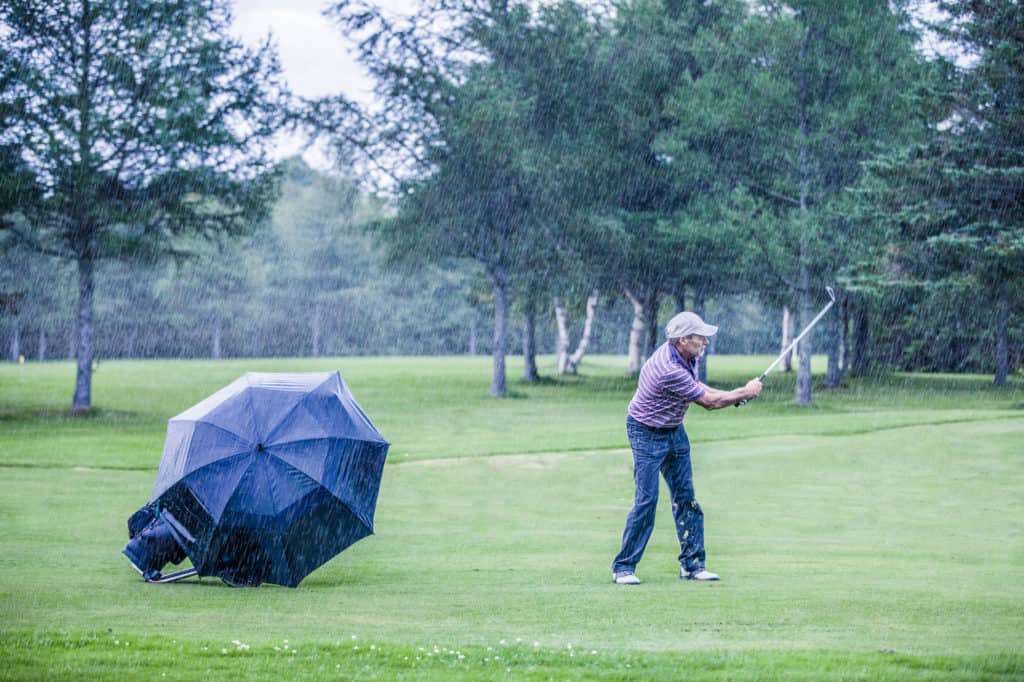 When shopping for golf shoes, you may notice that there are options for both water-resistant and waterproof golf shoes.
The waterproof golf shoes are the more expensive kind, and they are genuinely supposed to keep your feet dry in normal conditions.
Water-resistant golf shoes work to keep water away from your foot, but they don't guarantee it.
The difference between the water-resistant and the waterproof is going to be reflected in the price.
If you play a lot of golf in the early morning hours, you are going to want to choose a waterproof golf shoe.
This is the time of day your feet are most subject to getting wet from walking and playing the golf course.
If you only play in dry conditions, then a water-resistant golf shoe should be more than fine.
Do Golf Shoes Come With a Waterproof Warranty?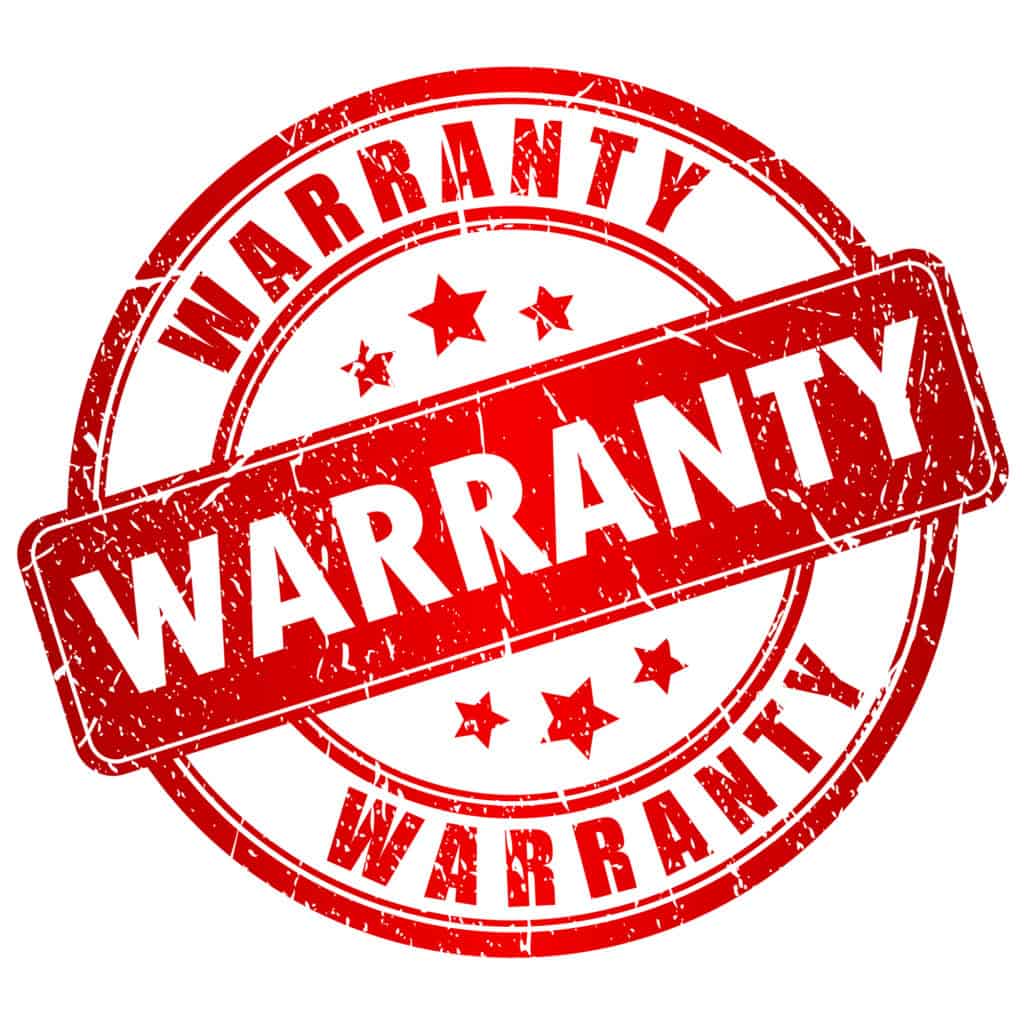 Some golf companies like Footjoy will sell their golf shoes with a waterproof warranty.
This will only apply to their more premium shoes, and it will help to make sure the foot stays mostly dry while playing golf.
If you happen to get caught out on the golf course in a tropical storm, this is not considered normal conditions.
Indeed, your feet will get a little wet, and that is through no fault of the manufacturer.
If, however, you are playing early one morning and you walk through some wet grass and all of a sudden your socks are soaked, then you may have a claim with Footjoy.
Overall, golf shoes do an excellent job of keeping your feet dry during a round.
Are Waterproof Golf Shoes Worth It?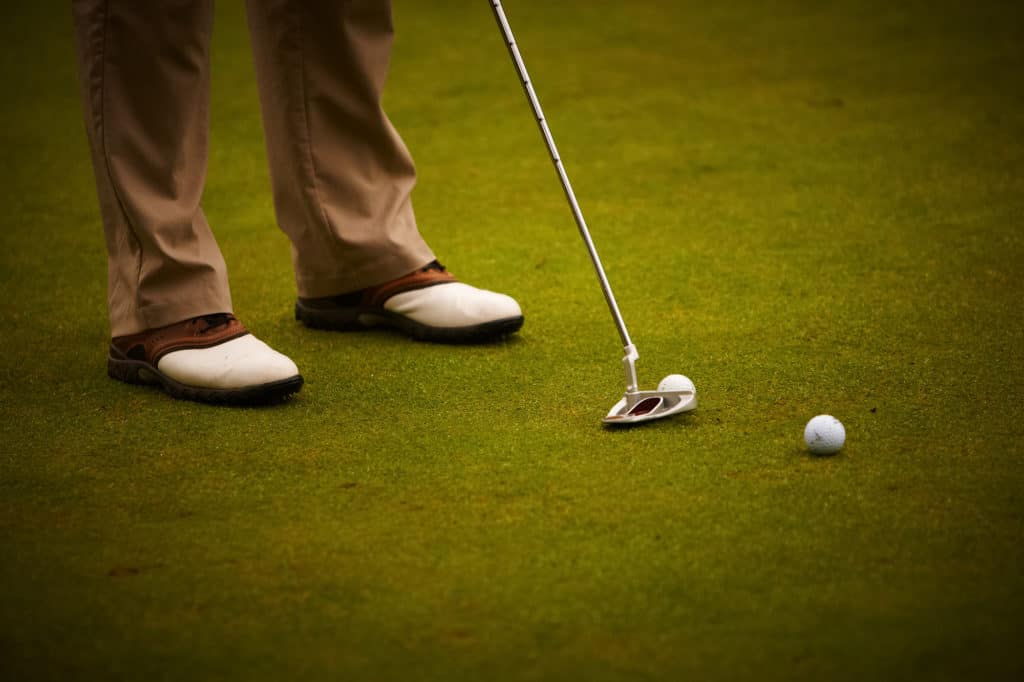 If you are on a budget, it makes a lot more sense to buy a cheaper shoe and spray it with a waterproof spray.
You will likely save yourself a great deal of money, and you should get very similar functionality.
The newer your golf shoes are, the better they will be at keeping water out.
If you have an old pair of shoes that are letting water in, it may be worth trying to use the waterproof spray on them to try and get them to keep water out.
Some golfers are having a hard time deciding if they would like the lightweight mesh shoes that keep feet more cool and comfortable or the more heavy leather waterproof shoes.
The styling and the performance in golf equipment is an ever-changing thing, and you will see many more changes as the game continues to get more athletic.
Conclusion
Waterproofing a golf shoe is very similar to waterproofing any other leather shoe you might have.
The most important thing to remember is that the shoe needs to be completely clean before waterproofing it.
If you are worried about what type of waterproofing spray to purchase, you need to make sure the material of your shoe matches the kind of spray you are buying.
A leather waterproofing spray needs to be used on leather golf shoes.