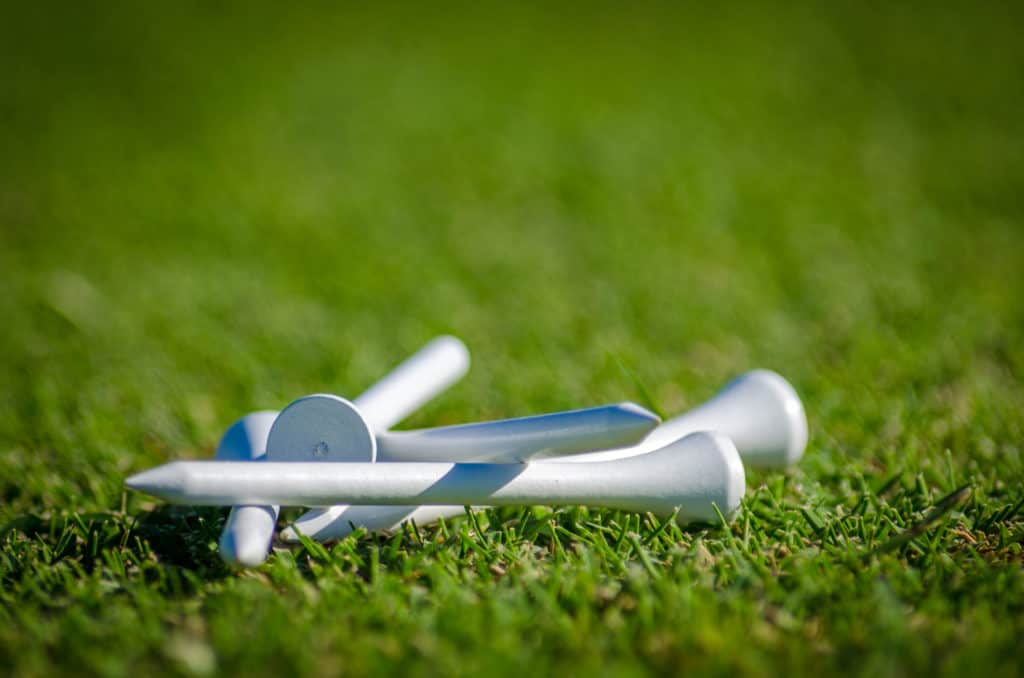 You may think that golf tees are an insignificant part of the golf game.
What many amateur players don't realize is that if you don't tee a golf ball properly, you may end up wasting a perfectly good golf swing.
Teeing a golf ball up the right way allows the golf club to hit the ball in the right spot.
With all different types of tees out there, why not choose something that allows you to easily tee the ball up right in the center of the clubhead.
We have pulled together our top ten best golf tees.
There are options on this list for all budgets and all skill levels.


Top 10 Best Golf Tees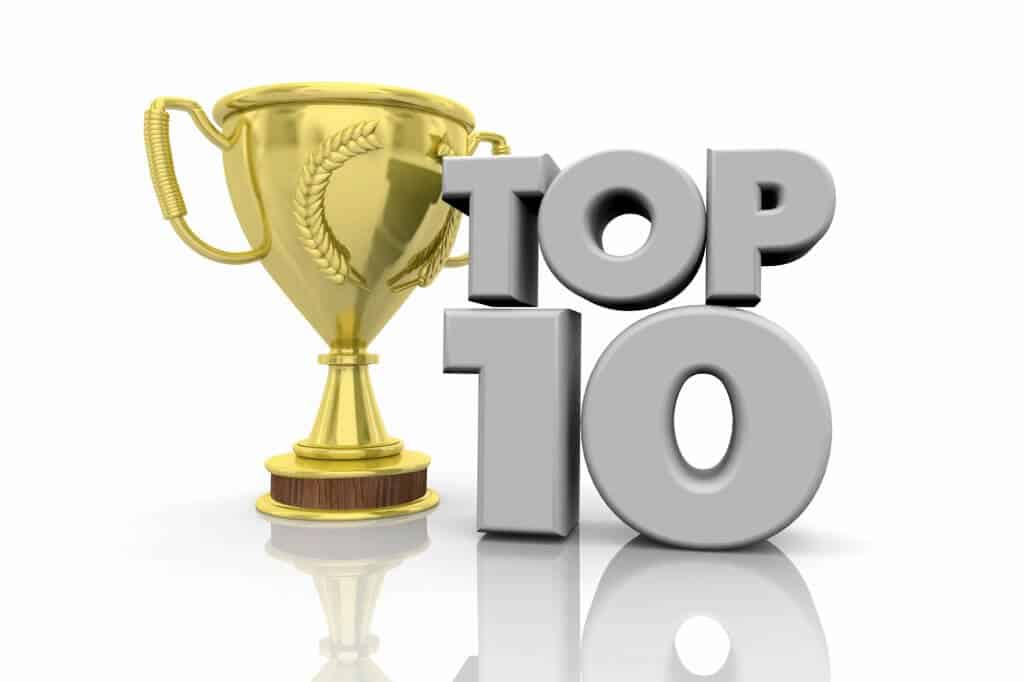 1. Zero Friction Victory- 5 Prong Golf Tees
Key Features
Five prong top
Easy to tee up
Made with biocomposite materials
At the top of our list, we have the Zero Friction Victory 5 Prong Golf Tees.
There are a few reasons that the Zero Friction makes it to the top.
The first is that the five-prong top makes it very easy to tee the golf ball up.
If you think about wooden tees from years ago where you may have to stop and put your golf ball back on the tee a few times, this is much different.
The Zero Friction tees are best known for not stealing any of your ball speed.
When you hit the golf ball, the last thing you want is for the golf tee to slow down your impact and initial golf ball speed.
Zero friction did tons of testing on their tees and created a unique formula that indeed provides a much better impact than a wooden tee.
When using the Zero Friction tees, it is recommended to place one of the prongs directly facing your target and then put the ball on.
The bottom of these tees is slim and easy to get into any turf.
You may also notice that the Zero Friction tees are made with bio-composite material.
One issue that was happening in the golf world for many years is that golf tees were creating adverse environmental effects.
Plastic pieces were being broken up and just sitting on the tees.
People don't always pick up a broken golf tee after they hit it.
Plastic takes a very long time to decompose, and this raised some issues with environmental groups.
Luckily the zero friction tees are not bad for the environment, and they are great for your golf game.
With all these great benefits, you probably don't need any more positives to go give these tees a try.
If you do, the one last thing we will add-in is that they are a great bright green color and easy to find if you shot end up hitting one off the tee box.
Pros
Less contact area with the golf club
Five prong design
Holds golf ball firmly
Does not slow down the speed
Cons
These are all 2 ¾ inches, not a mixed pack with various sizes
2. Pride Professional Tee System- 3 ¼ inches Pro Length Plus
Key Features
Very long
Hardwood
Color bar with indicators
Coming up just behind the Zero Friction tees are the Pride Professionals.
This is a hardwood tee that will naturally deteriorate over time.
The reason these tees have become so popular is because of the colored indicators on the tee itself.
If you have trouble knowing exactly how far to put your tee into the ground, the Pride Professional does the work for you.
Find a tee that matches the height you need for your driver and stick with that color.
Many professionals and lower handicap players love the extra-long tees that Pride Professional makes.
This is a three ¼ inch tee that is considered to be a pro length option.
The Pride Professional is a very well known and respected golf tee manufacturer.
These tees are used on the P.G.A. Tour, and players love their features.
The tee itself is made in the U.S.A. and although this package is a bit more expensive, it is because of the length.
The shorter tees tend to cost quite a bit less money simply because of manufacturing procedures.
The other benefit of these Pride Professional tees is that they work well for the massive drivers on the market today.
Almost every new driver sold is 460 cc, and the longer tee is necessary to hit the driver precisely in the sweet spot.
Pros
Easy to get the right height
Wooden tee
Number one tee on tour
Cons
These are a little long for some golfers
3. Champ 86513 Zarma Flytee My Hite 3-1/4″
Key Features
6 Prong design
Shallow cup
Great distance
Next on our list is the Champ Zarma Flytee.
This tee is a bit similar to the Pride Professional in the sense that it is going to give you some help when it comes to tee height.
If you struggle with finding that exact spot, there are several black lines on the Zarma Flytee that help you determine the best height.
Take a lesson with your golf professional and ask them about how high you should be teeing the golf ball for optimal launch.
When you are out on the course, you can make sure the tee is set to the perfect height.
The head of the Flytee is a six-prong design.
The six prong design is to help make sure the ball stays sturdy on the tee but that it also provides the least amount of friction when hit.
The Champ is an excellent combination of value, color, and functionality.
Pros
Less friction
Adjustable height
Various colors
Cons
Priced a little higher than other golf tee choices
4. Green Keepers 4 Yards More Golf Tee, 3 1/4 Inch, Blue
Key Features
Less ball spin and more control
Durable and built to last
Different style than traditional tees
The Green Keepers tees are much different than a standard golf tee.
If you look at the top of this tee, you will notice that it has a much different look to it.
This is a six-prong design, but the prongs themselves are essentially what holds the golf ball up.
Most other tees still have a center that the ball sits on, and the prong assist.
The idea behind the Green Keepers tee is to have the golf ball almost sitting in the air as you come through to strike it with your driver.
When this tee is effective for golfers, it helps them to reduce ball spin and increase control over their shots.
Overall, players that use this tee feel as though it gives them some extra distance.
Since these Green Keepers tees are a little different than other models, you will get about four to a pack, and each one should last for over 100 drives.
This is undoubtedly a tee you are going to want to pick up when you finish playing a hole.
Pros
Less friction than a standard tee
Holds golf ball well
Will last a long time
Cons
They only come with a few in a pack
Not biodegradable
5. ProActive Sports 2 ¾ Inch Tees
Key Features
2 ¾ inches long
High quality
Wood
Next on our list is the ProActive Sports 2 ¾ inch tees.
These tees are very basic, they are standard height, and they are offered in a large variety of colors.
The reason they made our list is that these are the standard and typical golf tees, and they should still have a place in the game of golf.
These tees have worked for many years for many people, and they still work quite well today.
We love these tees for teeing up shots on a par three.
We also love the pricing on these traditional wooden tees.
With how expensive golf products start to get, it's hard to continue spending more and more on things that almost seem like gadgets.
These are not gimmicky, they are quality, and this large package should last you for quite some time.
Pros
Choose the color you want
Standard length tee
Wood design
Will last a long time
Cons
Potentially have more friction than other options
6. Maxfli Performance Series Low Resistance
Key Features
Comes with two sizes
Optimal Launch System
Height recommendations
The Maxfli Performance Series, Low Resistance tees, is an excellent choice if you are serious about both technology and tee height.
This packaged comes with forty tees that are 3 ¼ inch and ten tees that are 1 ½ inch.
If you are tired of having to put a tee a few inches into the ground for a par three, this mixed pack is perfect for you.
On the longer tees, you will notice that several lines are indicating the different launch options.
You can set it to the lower line if you want a higher launch or the upper line if you want a lower launch.
The colors on these Maxfli Performance series are high visibility so that you will be able to find the tee after you hit it.
The four-pronged design at the top of the tee is in place just to keep the ball steady, but it will not slow down your swing speed.
Although we think the technology and the look of these tees are great, they are a bit expensive so you will have to consider that.
Pros
Easy to see
Different height lines
Comes with two different sizes
Very low drag
Cons
7. Callaway Par-Tee Combo Pack
Key Features
Rubber cupped top
Low spin and extra distance
Has a few sizes
The Callaway Par-Tee's are a unique concept.
This is a virtually unbreakable golf tee that will last you a very long time as long as you can find it after all of your tee shots.
The top of the Par-Tee is a rubber design, so that there is very little friction with the golf ball.
This pack comes with four large tees and two small tees.
You can use the smaller tees on the par threes.
The tees do not have any indicators as far as golf ball height, but they do a great job of making sure that your ball has very little drag when it is hit.
The tip on these tees is quite sharp, so you will have no trouble getting it into the ground, and they work as an excellent divot repair tool as well.
Pros
Combo pack
Very long-lasting
Rubber top
Cons
Not biodegradable if you lose one
8. Stixx Biodegradable Tees
Key Features
Biodegradable
Combo pack
Easy to see
If the fact that the Callaway Golf tees were not biodegradable was a problem for you than the Stixx could be a good choice.
This is an excellent option if you are concerned about the future of our golf courses.
They are reasonably priced, and you get a large pack that contains sixty longer tees and forty shorter tees.
The long tees are plenty long enough to work well for a 460 cc driver.
The bright colors on the Stixx tees make them easy to find and give you a chance to use them over and over again.
Overall the Stixx tees have low friction as they are made from durable bamboo material.
Many golfers that are lower handicap like the classic look and feel of this tee with the modern low friction performance.
The fact that this set comes as a combo pack is significant for not having to waste a long tee on par three-shot.
Pros
Fairly price
Biodegradable
Easy to find
Cons
Friction is slightly higher than some other options
9. JETEHO 60 pcs Golf Step Down Tees 2 3/4 inch Plastic Golf Tees
Key Features
Step down design
Mixed colors
Lightweight
The Jetheho tees are what golfers refer to as step down tees.
These tees will not allow you to push them in the ground further than needed.
Since they essentially stop before they go too far down, you won't have to question how far you need to push your tee in.
This design was quite popular for some time with wooden tees, but the friction seemed to be too high.
The Jeteho tees are made from plastic, which significantly reduces the amount of friction and drag.
The problem that golfers will run into with the Jeteho is the fact that they are not biodegradable.
This is a plastic tee which makes it very lightweight and suitable for your game; it is not so great for the golf course.
When you hit one of these tees, it is best if you can find it before leaving the tee box.
The particular set comes with sixty tees in mixed colors.
These tees last a long time and the sixty tees should quickly get you through your season.
Pros
Forces you to tee to the exact height
Comes in a variety of colors
Makes teeing simple
Cons
Would need to get several sizes for par threes as well
10. Finger Ten Golf Tees Unbreakable
No products found.
Key Features
Almost unbreakable
Strong Rubber top
The ball stays on easily
If you liked the concept of the Callaway Par-Tee, but you want something a little more affordable and longer-lasting, the Finger Ten could be a great choice.
This is a 50 pack of golf tees.
They are plastic tees that come in a mixed back of four different sizes.
Each tee has a rubber cushion on top that your golf ball will sit on.
The concept is that the ball sitting on rubber will fly off much easier than one sitting on wood.
All of the heights of these tees conform to the USGA rules, and these are great tees to add to your golf game.
The package of tees will be multiple colors, and these tees are designed to last for a long time.
They are not biodegradable and should be picked up after every hit when you can find them.
Since these tees last for so long, you may only need one or two to get through a round, and you could potentially use them for many rounds.
This is a bag of tees that you will not have to replace for quite some time.
Pros
Multiple colors
Rubber top for less drag
Long-lasting
Cons
Not great for the environment