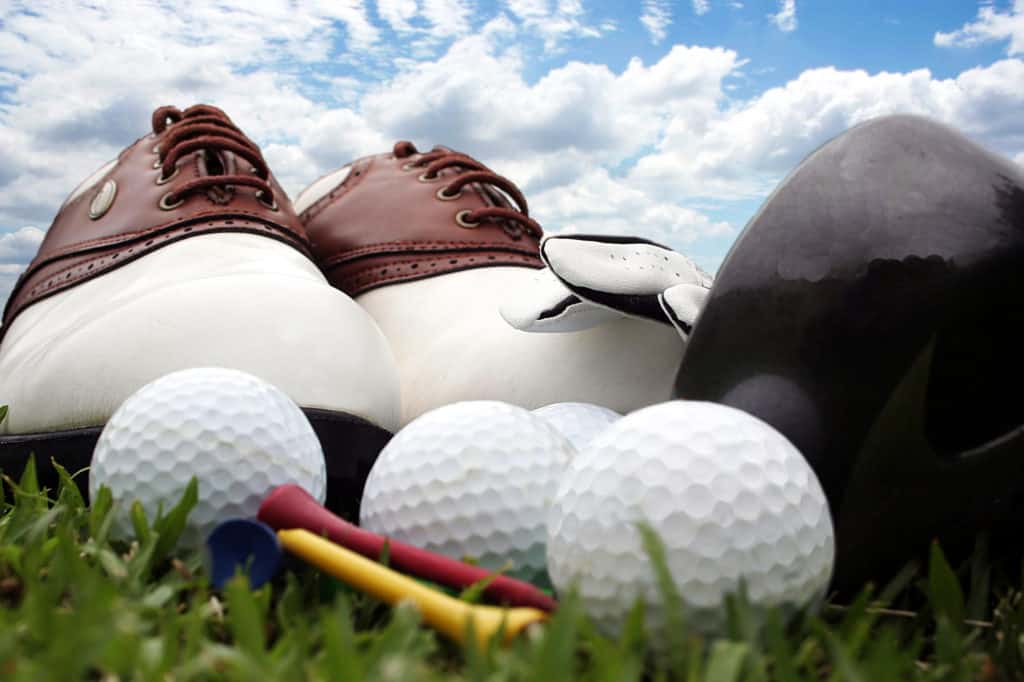 Do you golf on a regular basis?
If so, you might be wondering how much life you can get out of your golf shoes.
We take a look at everything to know.

How Long Do Golf Shoes Last?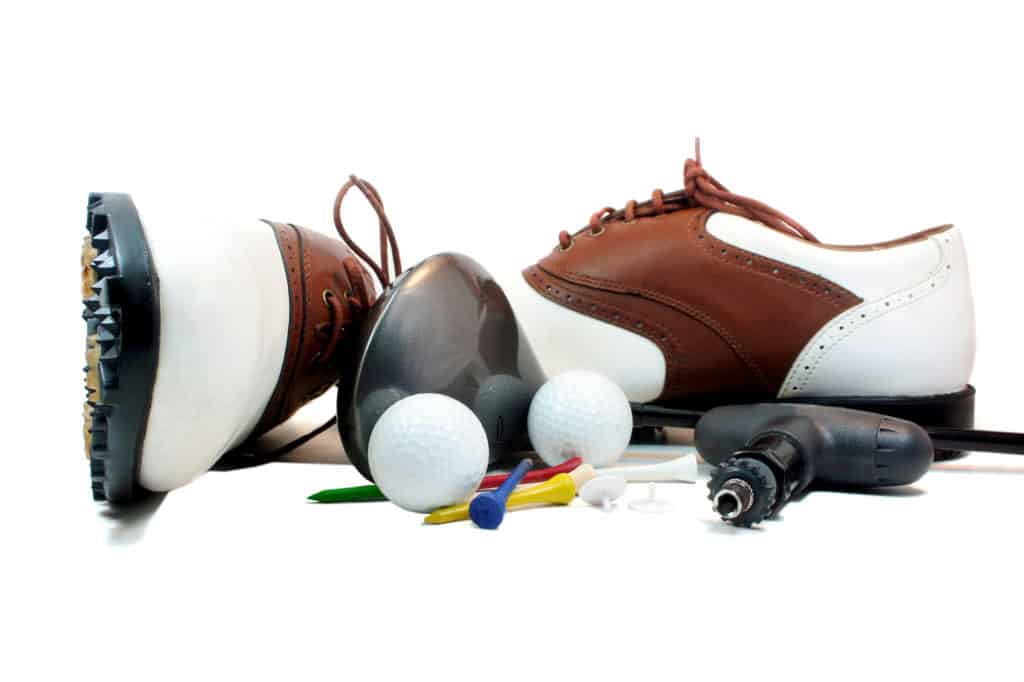 Golf shoes are just another expense that golfers are faced with.
It seems like every time you turn around, the game of golf will cost you more money.
Golf shoes are usually a bit expensive, and they do make a difference in the game of some golfers.
On average, golf shoes will last anywhere from two to four years, but there are a lot of factors that will affect this.
How long golf shoes last is mainly dependent on how they are treated.
This is no different when you look at golf equipment as well.
The best takeaway you can have is to keep your golf shoes for golf.
If you do this, you should get plenty of years in the same pair of shoes.
When that shoe is done, keep it in the garage for those awful weather days and to help prolong the life of your newer shoes.
How Long Do Spikeless Golf Shoes Last?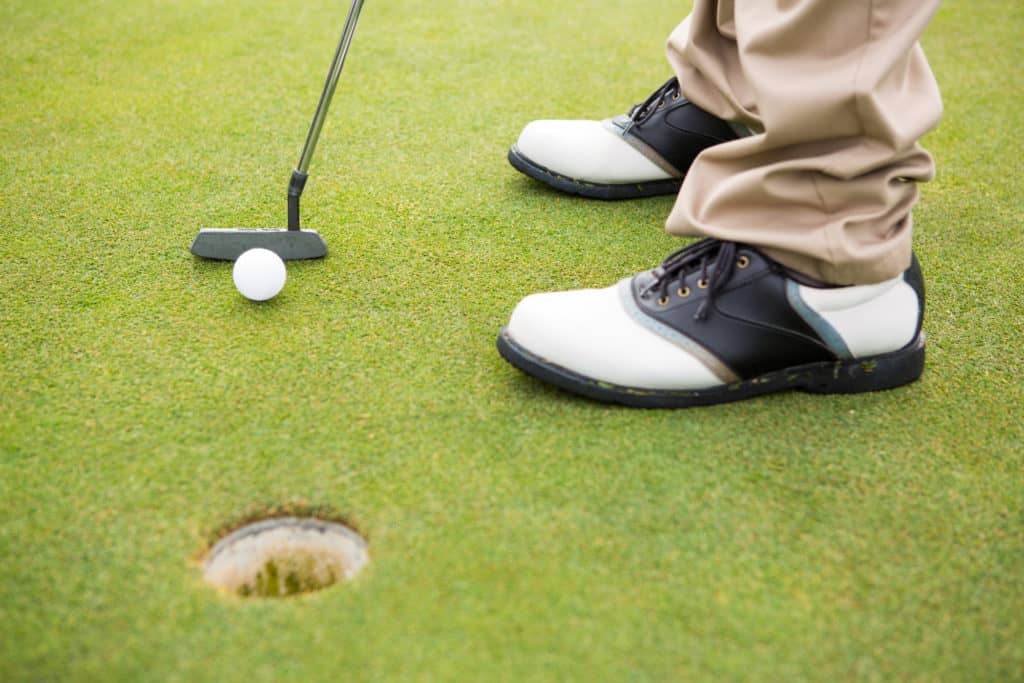 Spikeless golf shoes should last about two to three years, depending on how often and for what purposes you use them.
If you are playing golf twice a week and that is all you do with your spikeless shoes, they should last several years.
If your spikeless golf shoes are your favorite shoes and you wear them for all occasions, you will probably only get a year out of them.
The bottoms of these shoes will start to wear, and they can become slippery and ineffective while on the golf course.
At this point, you could potentially still wear them around town, but they not be effective on the course.
Lifespan of Golf Shoes by Brand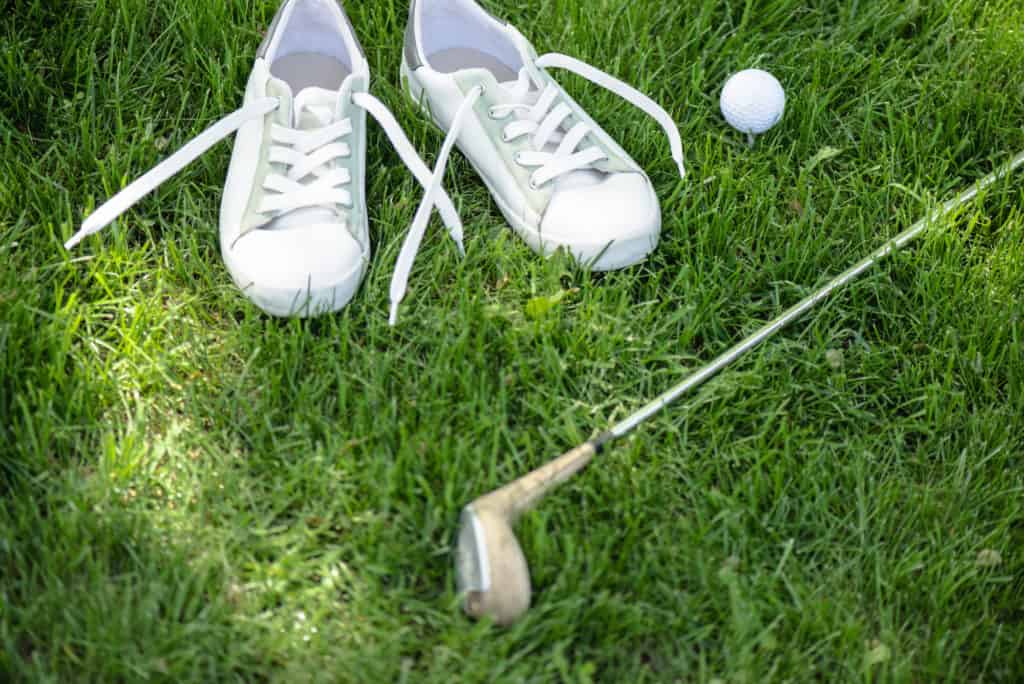 Many manufacturers make golf shoes.
Some are produced by golf companies, and some are produced by shoe companies.
Golf shoes come in a wide range of styles.
Just as golf clubs are available in premium or value choices, so are golf shoes.
Here are a few examples of golf shoes and how long you can expect them to last.
We will assume that you are using these shoes for golf only, and you play two times per week.
How Often Should You Replace Golf Shoes?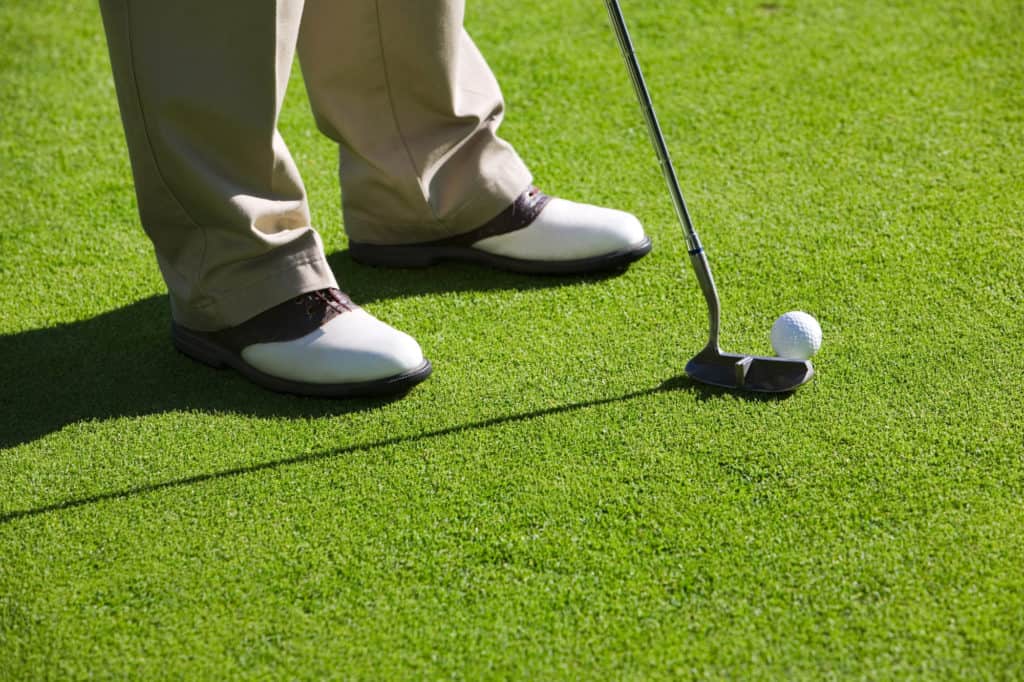 You should replace your golf shoes very often if you are playing a lot of golf.
If you play three or four times a week, you need new shoes every year.
If you think about how every time you play golf you are walking about five miles, over the year this is a lot of miles in your shoes.
For a golfer that plays golf just once a week, they may be able to get a few years out of a pair of shoes.
One of the best things to do is to keep a few pairs of golf shoes.
Have a nice pair for those days when you are playing a high-end golf course.
Keep a sporty pair that is good for those rounds where you are going to walk.
And keep a junky pair for days where there may be mud or rain while you play.
There is no sense in ruining your good golf shoes on a day where the golf course is flooded.
Can You Wear Golf Shoes Everyday?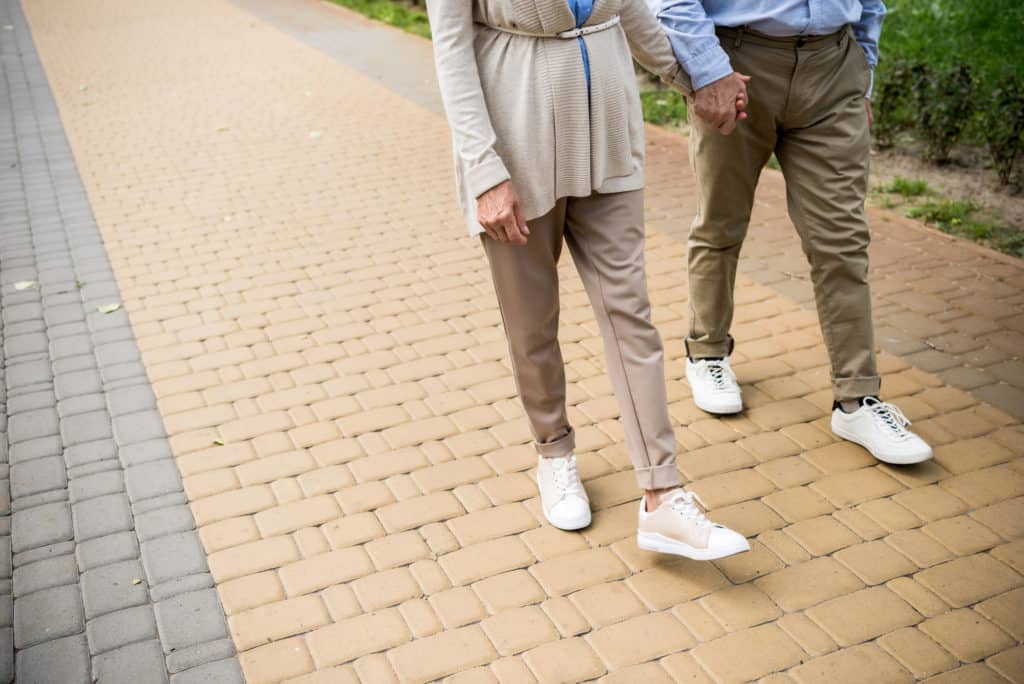 With the introduction of the spikeless shoe, people have been wearing golf shoes more often.
When you see a man wearing a stylish pair of everyday shoes, they may be spikeless golf shoes.
Spikeless golf shoes are acceptable for work, the golf course, and a barbeque with friends.
These shoes are often made to be incredibly comfortable, as well.
The only problem with wearing these spikeless types of golf shoes every day is that they wear out much quicker.
Walking on concrete as opposed to grass, is going to wear out any shoe.
When a spikeless shoe is worn on the golf course only, it is much more likely to last a long period.
If you love your spikeless golf shoe, you should still change it right before a round.
Don't wear them for a walk around the block with your dog or to work every day.
You will eventually wear out the bottoms of your shoe, and they won't give you any of the support you need while on the course.
As far as wearing a soft spike shoe every day, you will very quickly wear out the spikes.
Each time you walk even from your car to the clubhouse on the concrete, you wear out your soft spikes.
When the spikes become damaged, they are less effective.
In addition to losing their ability to help you get around the golf course, you may do more damage to the course itself.
A broken spike is much more likely to scratch the green that you are walking on and cause some damage.
Is It Bad To Wear Golf Shoes On Concrete?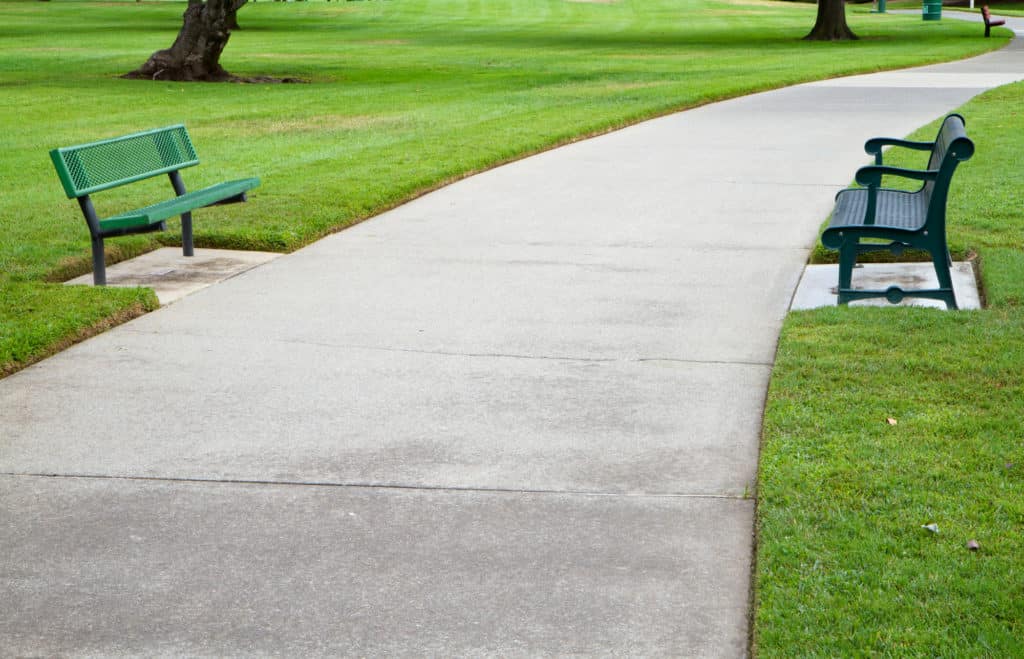 It is terrible to wear golf shoes on concrete for two reasons.
The first reason is that the spikes will wear out very quickly.
The second reason is that soft spikes can be very slippery when on any hard surface.
If the driveway you are walking on gets a little wet, you can easily take a fall while wearing golf shoes.
Spikeless golf shoes hold up better on concrete, but you will eventually need to replace them if you use them on concrete often.
Aside from being an etiquette thing, many golfers change shoes in the clubhouse so that they are not walking across the parking lot with their shoes on.
Types Of Golf Shoes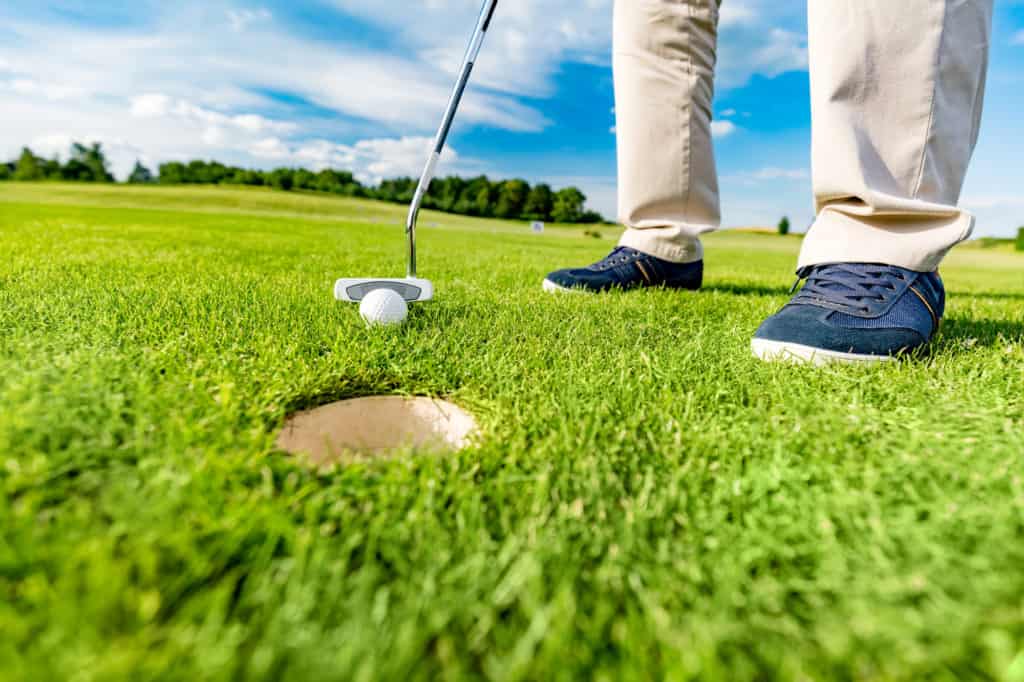 Years ago, golf shoes had actual spikes on them.
These spikes were intended to give the golfers lots of traction and support whey they swung a golf club.
The problem with the real metal spikes is that they were tearing up the golf course.
If a golfer happened to drag their foot on a putting green, it would make a mark and kill the grass.
Professionals were conscientious about this, but for the amateur golfer just trying to get around the course, this led to some issues.
Eventually, soft spike golf shoes were developed.
These shoes claimed to offer support and traction without doing the same amount of damage.
Soft spikes were easier to work with, easier to walk with, and they were generally quite a bit cheaper as well.
Soft spike golf shoes have rubber spikes that tend to deteriorate over time.
You will need to replace them using a special wrench.
The process itself is not complicated, but it costs money and takes time.
The most recent type of golf shoe to be released is the spikeless shoe.
Many people think that the spikeless shoe is the same as a traditional sneaker or walking shoe.
This is not the case.
Even though the spikeless shoe does not have spikes on the bottom, it does have very distinct and clear patterns that will help a golfer with stability and traction.
The main benefit of spikeless golf shoes is that you never have to change the spikes, and you can wear them from the golf course, to work or the grocery store.
Golfers have always been instructed to change their shoes in the locker room, or at home before you get to the course.
The spikeless shoe eliminates having to do this.
Just like all things in life, there are still a few downsides to the spikeless shoe.
The spikeless golf shoe will wear out much faster because it is likely to be worn much more often.
Some players don't feel as though it gives them as much stability and grip as a traditional golf shoe.
Whichever type of shoe you decide on, there are some things you should know about the lifespan and longevity of a golf shoe.
How Can I Make Golf Shoes Last Longer?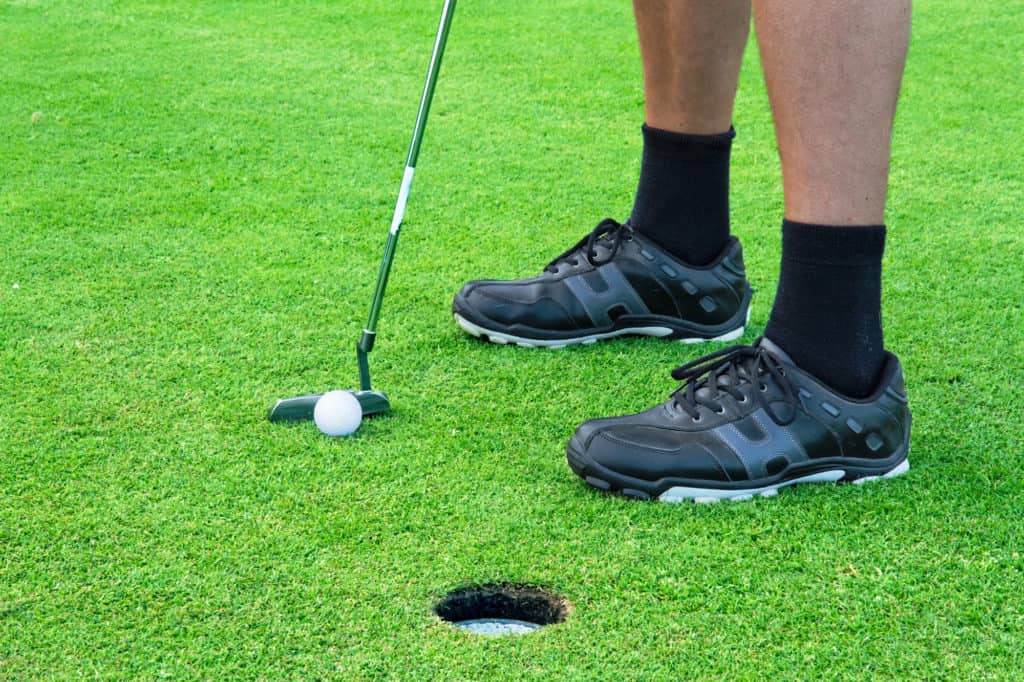 If you don't want to be replacing your golf shoes every few months, there are a few things you can do to keep your golf shoes lasting longer.
Cleaning
For starters, you should clean your golf shoes.
Depending on the type of shoe you have, you may be able to put it in the washing machine.
Make sure you carefully check and follow directions if this is something you plan on doing.
If you can't put your shoe in the wash, you can still use a brush to clean it.
Some golf courses will have shoe cleaners outside the pro shop or clubhouse to help you get the grass off your shoes.
This is an excellent habit to get into.
The more often you clean them, the less dirt and mud will get caked inside and around the spikes.
Keeping your shoes clean helps prolong the life of the shoe.
Activity
If you want your golf shoes to last a long time be careful what you do while you have them on.
Change your shoes in the locker room when possible.
Don't wear your golf shoes to drive to the golf course.
If all the guys want to go to lunch after golf, change your shoes first, and then meet up with them.
The more you keep your shoes off of non-turf surfaces, the longer your shoes will last.
Maintenance
If you have soft spike shoes, chances are your golf shoes can last quite some time as long as you change the spikes.
Some golfers don't pay attention to the bottom of their shoes to realize that they need to replace those spikes from time to time.
If you don't change the spikes, you may as well be wearing sneakers as you won't be getting any extra grip.
Changing the spikes on your golf shoes should not cost very much money, and it is undoubtedly less expensive than completely replacing your shoe.
Weather
We are golfers to so we understand sometimes you will play in some terrible weather conditions.
When you have an important match or a tee time at a golf course that is hard to get one, rain or shine, you are likely going to play.
Try to keep an old pair of golf shoes in your house for these occasions.
If you wear your favorite golf shoes, they can get some water damage, and it can ruin your shoe.
Not all golf shoes are waterproof, some are just water-resistant, and some don't claim to offer many benefits when it comes to water.
Don't wear your good golf shoes on those terrible weather days or keep them stored in your golf cart.