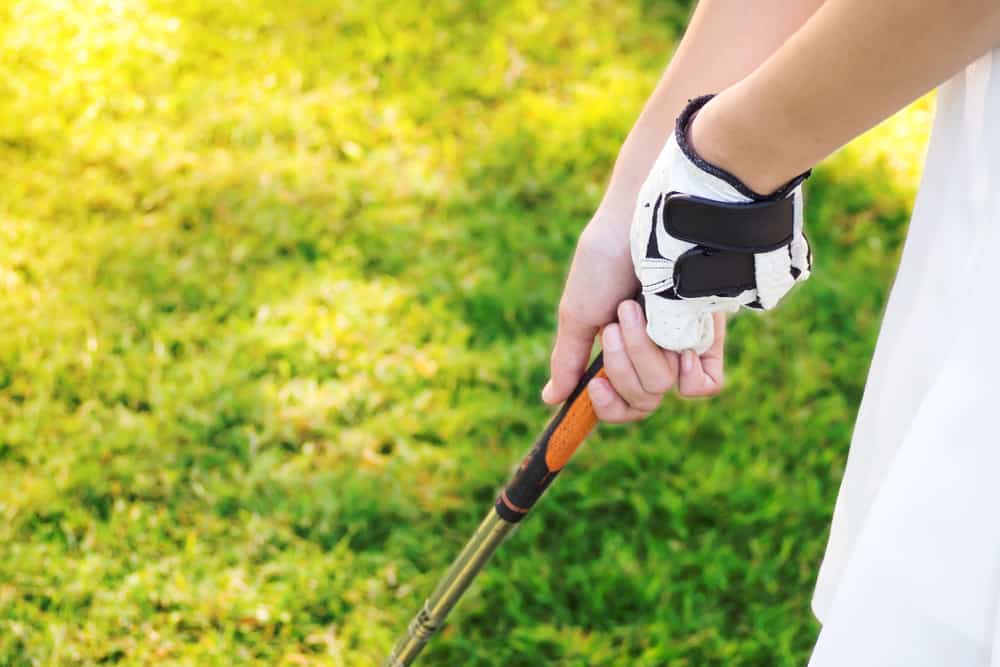 Super Stroke putter grips are a great choice if you want to eliminate some of your wrist action in your putting.
When you overuse your wrists during the putting stroke, it can result in quite a bit of inconsistency.
Luckily, the Super Stroke grip helps you to avoid this by properly keeping your hands in the right place.
Super Stroke grips are durable and tough.
This is a good thing because they will last you quite some time, but the bad news is that, when you need to remove your Super Stroke grip, it's going to take a bit of effort.
There are two basic ways to remove a Super Stroke grip, and we will discuss each in detail.
Between these two options, you should be able to get your old grip off and your new one on.

Removing A Super Stroke Grip With A Hook Blade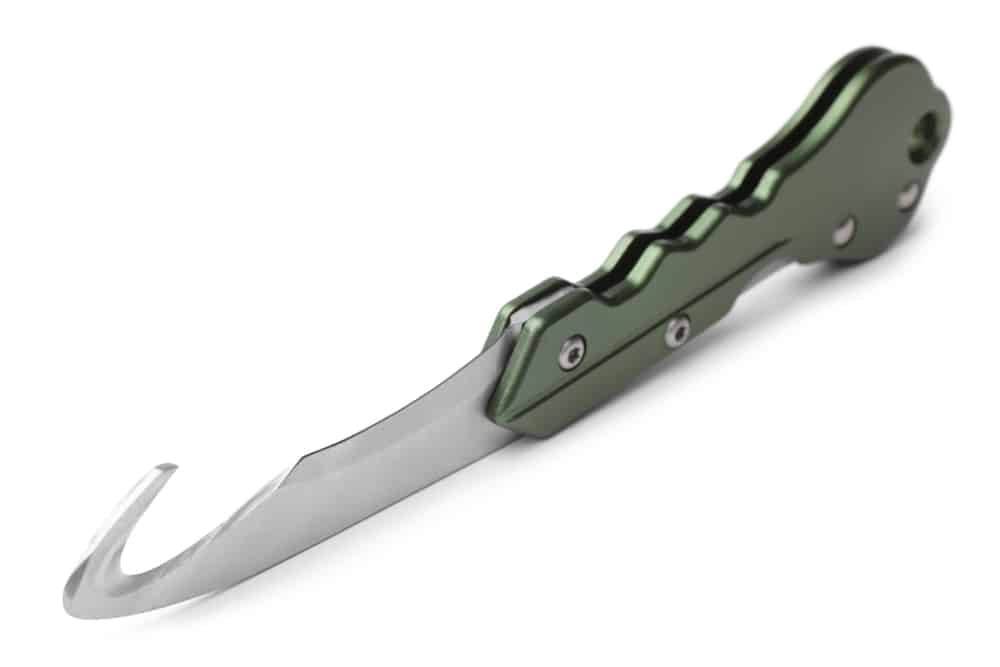 The most traditional way to remove a golf grip is to use a hook blade and peel it off.
Let's take a look at some of the things you should know about this process and how to do it properly.
Step 1: Gather Supplies
The first step is to put together the things that you will find necessary to get this process done.
You will need a vise to put your club in, a hook blade, and a bit of strength.
Some golfers like to wear a thick glove on their hand to protect from a cut that could happen with the hook blade.
These supplies are what you would need to do any regripping project.
However, we do recommend that you get a blade that is quite sharp when working with a Super Stroke grip.
These grips are thick, and it takes a bit of effort to get through them.
Step 2: Secure The Club In The Vise
Next, you will need to make sure that your grip is adequately secured in the vise.
When you do this, it ensures that the club can't move around and that you will have a more stable work environment.
This becomes even more important when working with a Super Stroke grip because of the added difficulty of removing it.
If you are worried about your golf club in the vise, you can simply purchase a set of rubber grips to protect it.
The club will sit in between the rubber pieces, which will help ensure that it does not move around.
Luckily, the rubber vise holder grips are quite popular, and you should have no problem finding a set to install and use with your vise.
Once the club is secure, you can then move on to the fun part of taking the grip off.
Step 3: Use Hook Blade To Rip The Bottom Of The Grip
When your club is secure, you are ready to start taking the grip off of the club.
This is done by using the hook blade to create a small rip in the bottom of the grip.
You can create this rip, and then from there, you should have an easier time pulling the grip off.
When you use the hook blade, you will want to make sure you are not digging the end of it into the shaft.
This is especially important if the shaft on your club is made of graphite.
The graphite shaft will scratch and potentially get damaged quite easily if the blade is directed improperly.
Once you have the hook blade hooked just under the grip, you want to pull up and start to rip the grip.
The grip will not be salvageable, but as you will see with Super Stroke, sometimes just being able to get it off is a good thing.
You will need to use the blade to peel the grip at least a few inches up from the bottom.
Once you have a rip that is a few inches long, you can then try moving to step four.
Step 4: Pull Grip Off
When a grip is ripped a few inches of the way up, you should then be able to grab both sides of it and start to pull it up the shaft.
As you pull the grip up the shaft, you will notice that it continues to split and pull off.
You may need to go back and forth with the hook blade and your strength to fully get a Super Stroke grip off of the club.
Since these grips are so thick, they take a great deal of strength to pull off.
If you were regripping an iron shaft with an old Golf Pride Tour Velvet, you can peel them off almost as quickly and easily as a band-aid.
Overall, pulling the grip off is going to take a few minutes, and then you will see what you are left with underneath.
Step 5: Clean Off Shaft
Once the grip is off, you can then evaluate how much work you need to do to clean off the shaft of the putter.
Chances are there are remnants of old tape and grip residue that you will have to spend some time cleaning.
It is important to get the shaft of the club clean before you try to put a new grip in place.
The new grip is going to slide on much more easily if the shaft is clean and things are clear for the new grip to slide right on.
Cleaning up the golf shaft will be a tedious process, but once it is finished, you will be ready to put your new golf grip on and start making some more putts again.
As you can see, the process of removing a Super Stroke grip is made more difficult by the construction and durability of this grip.
Since the grips are designed to be so durable and long-lasting, you will have a bit of work in front of you when it comes to removal.
If golf grip removal is not your thing, you may want to look into having a local golf shop handle this process for you.
Chances are they will be better equipped should the grip feel as though it is getting stuck on the golf shaft.
The professionals are used to doing this every day, and this helps to make the process a bit easier.
Sometimes local golf shops will charge a few dollars more when having to replace and remove a Super Stroke grip, but you can certainly understand why this may be.
Removing A Super Stroke Grip With Air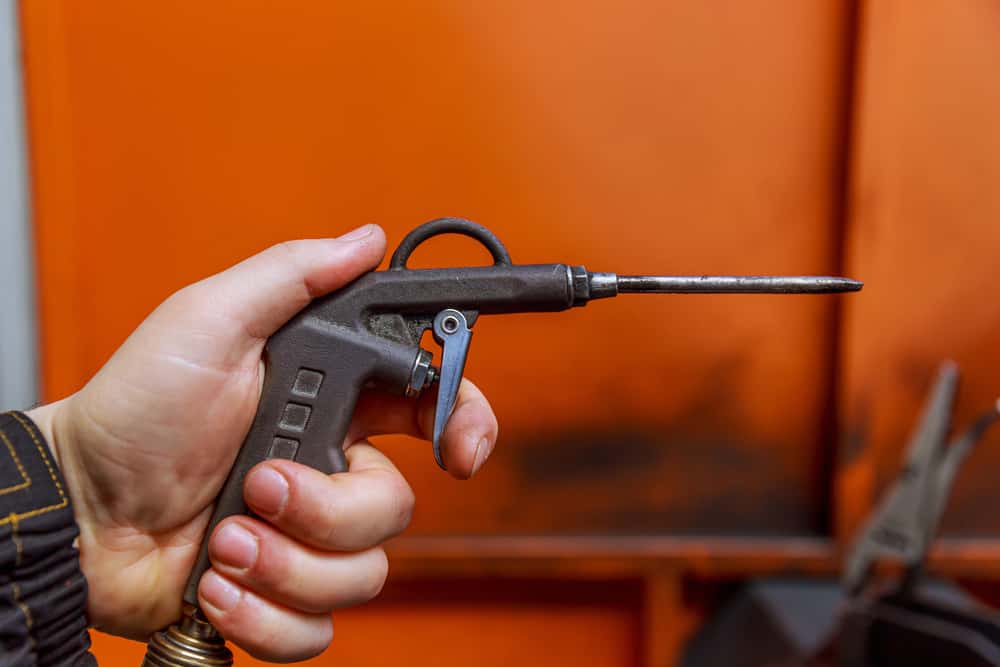 One popular grip removal method involves the use of an air compressor.
This method has not always been as popular as it is today.
However, just as in golf technology, there is always innovation taking place in golf repair.
When you are removing a Super Stroke grip with air pressure, you are essentially going to use the compressor to dry the glue up and get the grip to come off the shaft cleanly.
The air goes in the top of the club, and it starts to separate the grip from the shaft.
It separates the grip because the glue essentially is forced to disconnect.
If you have the tools and you know where to put the air, this is probably the easiest way to remove the Super Stroke.
Removing the Super Stroke may still require you to use a hook blade.
However, once the glue has been separated from the shaft, the grip should come off quite a bit easier.
Overall, this is the least common way to do it, but it can be very effective and should be considered if you have a tough time removing something.
Are Super Stroke Grips Difficult To Put On?
It is not difficult to put a Super Stroke Grip on, as long as you have applied plenty of grip solvent on the shaft.
Since the Super Stroke grip is a bit thicker, you may have a hard time getting it to push all the way down.
Golf repair professionals will tell you that the grips that get stuck halfway down the shaft often have to be thrown away.
Considering the cost of one Super Stroke grip, it is essential to ensure that this does not happen.
You must make sure that you have plenty of solvent on the grip take and even inside the putter grip to ensure that you can slide the grip directly onto the shaft.
The other thing you must watch out for is that the grip is properly centered as it is pushed onto the club.
A putter grip that is not properly centered could end up causing some issues with your alignment and your accuracy with your putter.
Avoid this by using a putter grip that is centered as it should be on the shaft.
Should I Switch To A Super Stroke Putter Grip?
Now that you have a bit more of an understanding about both putting the Super Stroke grip on and taking it off, you should consider whether or not this is the right grip for your game.
The idea behind the Super Stroke putting grip is that, because it is so large, it keeps your hands and wrists out of your putting stroke.
When your hands and wrists are in more control, you can get the ball from your starting location to the hole with much more consistency.
Putting with your wrists and hands will work from time to time, but it's nearly impossible for it to be consistent.
Overall, switching to a Super Stroke grip is going to be more of a personal decision.
If it makes sense and feels right, you will be able to quickly start making more putts.
The great thing about grips is that if you find out the grip is not exactly right for your golf game, you can simply remove it and go back to something that is a better match.
Changing a grip is a much better solution than changing a club if you find yourself needing a slightly different feel in your club.
Keep these tips in mind if you switch to a Super Stroke grip and need to change it after a few months of use.
Conclusion
Hopefully, you feel a bit more equipped to take your Super Stroke putter grip off.
The grip takes quite a bit of effort to remove, but if you use a hook blade and your own strength correctly, you should be able to get it done.
Overall, Super Stroke grips have become very popular, and many players have found they are a perfect solution for their putting stroke.
Chances are, you will end up with one of these on your putter at some point or another.
Super Stroke makes some more traditional-sized grips for the irons, and they will likely continue to expand their strong product line into the future.