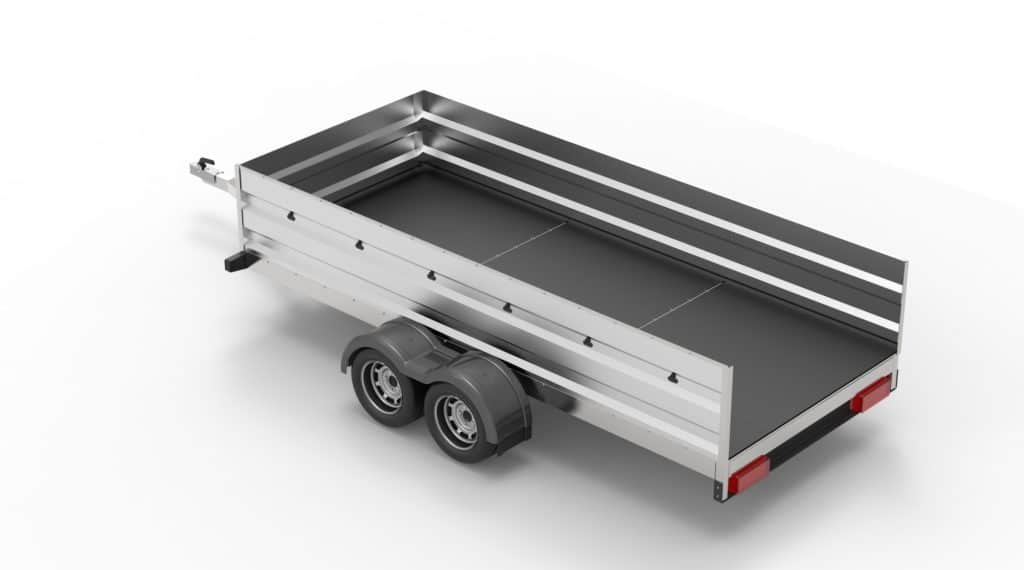 You've invested a lot of money into your golf cart.
Having a good golf cart trailer is crucial in protecting your investment if you plan to move it.
In this article, we explore everything you need to know in choosing the best trailer size for your golf cart.
How to Choose a Golf Cart Trailer Size

5X10 Trailer – The Most Popular
Most standard golf carts will fit a 5X10 trailer with plenty of space and without effort to load/unload the cart. If your golf cart is a bit smaller, then a standard 5X8 trailer will be sufficient.
If you've got a typical golf cart, then you're probably going to be looking at a lot of 5X10 trailers.
The 5X10 allows for easy loading and unloading, while also giving you plenty of space to tie your golf cart down to make sure it's secure.
It's also small enough to help decrease the likelihood that there's too much give in your harnessing.
Landscaping teams, construction workers, motorcyclists, and other people use this popular trailer to move objects around the country every day.
Chances are you can find this size trailer at your local home improvement store.
Even though 5X10 is the most popular trailer size for golf carts, it may not be the best choice for you.
Depending on the size of your golf cart, you made need something other than the standard 5X10.
Will a Golf Cart fit on a 4X6 Trailer?
Yes, but keep in mind that you're going to be sacrificing some maneuverability with this sized trailer.
This size of a trailer can fit many golf carts.
A lot of owners opt for smaller trailers to save on money.
That's perfectly understandable, especially if you don't envision using it a lot.
If you're moving over uneven ground, it's also going to be very unstable.
That's why most golf clubs don't recommend this size due to hills that most trailers have to deal with there.
Will a Golf Cart fit on a 4X8 Trailer?
The larger 4X8 is another smaller option for golf carts that will fit on it.
It's easier to handle on different terrains, but again, it's going to be harder to load and unload because of the limited space.
Just be aware that saving a bit of money upfront may cause you years of frustration over lack of space as you lift your golf cart onto the trailer.
If you can make it work, though, this could be a decent option for you.
Will a Golf Cart fit on a 5X8 Trailer?
A lot of golf cart owners say that the 5X8 is a sweet spot for people who want something a bit smaller and still has decent carrying capacity.
With a 5X8, you're going to have room to fit your golf cart and harness it well.
You'll also be able to load your clubs, bags, and your friends' clubs on there for a golfing trip.
The 5X8's larger size also helps avoid any part of your cart extending beyond the edge of the trailer.
That could be a safety hazard if you're driving next to other vehicles or turning around corners.
Will a Golf Cart fit on a 5X9 Trailer?
Yes, this is the middle ground between the standard 5X10 and the smaller 5X8.
Most professionals you ask will tell you to go with either a 5X10 or the 5X9 for the best mix of safety, space, and convenience.
Will a Golf Cart fit on a 6X10 Trailer?
Yes, a golf cart will fit on on a standard 6X10 trailer. This is an ideal trailer for golfers who need to carry a lot of extra equipment or have bigger accessories.
Keep this golf cart trailer in mind if you know that you will need to always have extra luggage along with your cart when transporting.
What is the Length of a Golf Cart Trailer?
For a golf cart trailer, the standard length is ten feet.
This can be used on most standard manufactured golf carts.
How Wide is a Golf Cart Trailer?
For a golf cart trailer, the average width is five-feet. This standard size has enough room to load your cart and avoid any damage or scratching to your cart.
What Size Enclosed Trailer for a Golf Cart?
The average golf cart can be hauled on a 5X10 feet enclosed trailer. Any size smaller than this runs of the chances of damage to the cart.
If you have extra accessories for your cart, you should choose a minimum of a 6X10 enclosed trailer.
This size will help you carry a bigger load and have plenty of space.
Safety Tips When Loading Your Golf Cart Into Trailer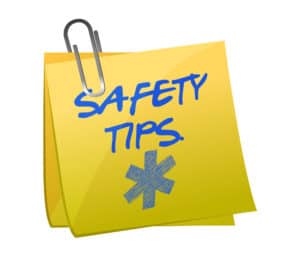 There are things you can do to keep yourself, people in the area, and your golf carts safe when loading, transporting, and unloading them.
One of the first things you should do is make sure the heavier portion of your golf cart is closer to the front of the trailer.
That will make it easier to get your cart on and off, and it will keep it more stable as you're moving.
If you're dealing with enclosed trailers, then you want to opt for larger rather than smaller ones.
Anything smaller than a 5X10 enclosed trailer will usually mean you're going to scratch your cart along the sides of the trailer during loading and unloading.
That's damage to your cart that you're going to want to avoid.
Different Materials for Trailers and How It Impacts Durability and Performance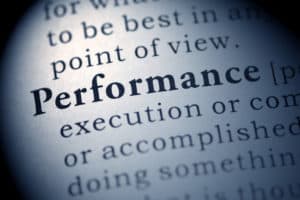 Golf cart trailers come in different sizes, and they also come in different materials.
The material you choose for your trailer will affect its price, durability, and strength.
Trailers take a lot of abuse on the road and golf courses, so you'll want to invest in a trailer that's built to last and will carry the loads you place on it.
A strong metal trailer will last longer, but there are also considerations about weight and price that need to be factored in.
Here are some of the most common trailer materials and what you need to know before you choose them.
Aluminum Trailers
Aluminum is popular for trailers because it's a lightweight metal and it looks great.
Owners and prospective buyers love the shiny look of aluminum.
It looks great even when it's unfinished.
Aluminum isn't as strong as steel is, but it's very lightweight and rust-resistant.
It's a great choice for people living near the coast who worry about rust when things sit outside for long periods.
One thing to know before buying an aluminum golf cart trailer is that it's not the most durable material on the market.
Aluminum is a softer metal, so it won't take high levels of abuse like other metals will.
It's also difficult to weld, and any repairs will weaken the structure and will never be as strong as the original weld.
Steel Trailers
Recent developments in technology have made it possible to make steel trailers rust-resistant, which overcomes this type of trailer's greatest drawback.
Treated steel lasts for years and is one of the strongest types of trailers on the market.
Usually, treatment involves coating the metal with zinc to make it last longer than aluminum trailers.
Steel is also easier to weld, which makes maintaining them over the years make more sense.
The main concern for steel trailer shoppers is weight management.
They're heavier than aluminum trailers, so you need to make sure you have a towing vehicle capable of pulling the weight.
Aluminum Alloy Trailers
Trailer makers turn to aluminum alloys for a great mix of strength and lightweight trailers.
There are hundreds of different alloy options that can be used for golf cart trailers that are lighter and stronger than steel.
When considering aluminum alloy trailers, you need to keep the price in mind.
The mix of different metals could drive up the price of your trailer.
Aluminum Trailers with Steel Frames
If you don't want to pay the high price of aluminum alloy, but you want something lightweight that's strong and durable, then aluminum trailers with steel frames could be for you.
The treated steel will hide any rust or corrosion to keep your trailer looking great on the exterior-facing frames.
Inside, you'll get all the benefits of lightweight aluminum.
Where you store your trailer, the climate you live in, and how often you use it should also play into which material you ultimately choose.
Some metals are better suited to sitting outside for days, weeks, or even months at a time.
If you're unsure, it's always a good idea to talk to a professional trailer builder or seller to talk about what fits your needs best.
Thinking About Towing?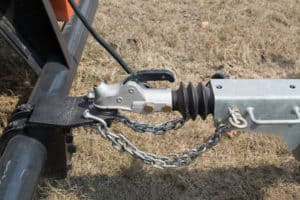 We've touched on this a bit already, but the weight of your trailer is going to matter.
That means the size of your trailer, what material you opt for, whether you have a tailgate, and other build considerations need to be well thought out.
Most of the time, you're already going to own the towing vehicle before you buy a golf cart trailer.
Your truck, tractor, van, RV, golf cart, or whatever else you're using to tow your golf cart trailer will have a specified towing capacity.
You never want to exceed the towing capacity because then you'll be dealing with safety risks in addition to poor gas mileage due to the heavier weight.
The towing vehicle will have a harder time handling turns and going uphill, so choose a trailer that's not going to be too heavy when combined with your loaded golf carts and equipment.
You also need to ensure that the trailer hitch you purchase will work with whatever trailer and the towing vehicle you own.
Also, it's generally a good idea to avoid towing a trailer that's wider than the towing vehicle.
That will help avoid any wind drag that slows down your vehicle and makes going around corners a lot easier.
Believe it or not, wind matters a lot.
If you live in an area with a lot of high wind, then the height of your trailer is going to have an impact on wind drag and stability.
Dealing with strong crosswinds on a highway can make controlling your vehicle very difficult.
Depending on where you live and where you'll be towing your golf cart, you may also need to add brakes, hydraulics, and even electrical systems into your trailer for safety and performance reasons.
Financing A Golf Cart Trailer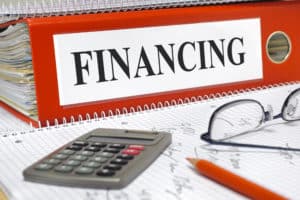 Some trailer dealers and manufacturers offer attractive financing options to help spread out payments.
It doesn't always make sense to finance a golf cart trailer, but it could be the right decision based on your needs.
Make sure to explore all of your options before purchasing to help make the best decision possible.
Warranties
Before purchasing any trailer, spend the time to understand what the warranty does and does not cover.
Repairs can be expensive and put you out of commission when it comes to towing whatever you want to tow.
The last thing you want is having to pay a lot of money and wait for months while your trailer is in the shop.
While you're looking at the warranty, spend some time researching the used trailer market.
There will likely come a time when you'll want to sell your trailer, and different sizes, materials, and models all have varying trade-in values.
It could affect your buying decision, so find out what your trailer could go for down the road if you want to sell it.
Inspecting Before You Buy
Not all trailer manufacturers put in the same effort and attention to detail in their process, so you'll want to know what to look for to make sure you're buying quality.
If you're buying an aluminum trailer, for example, check to make sure you're buying something with a 100% aluminum unibody construction.
That will keep your trailer stronger for much longer.
Take a look at the different components on the trailer.
Too many golf cart owners buy trailers with too many components that add weight and put a drag on the towing vehicle.
The differences in weight will mean hundreds and even thousands of dollars in fuel costs over the lifespan of the trailer.
The Importance Of Choosing A Correct Golf Cart Trailer Size
Imagine in the offseason you spend a lot of money on a beautiful new golf cart.
When golf season comes around, you can't wait to get your cart on the course to show your friends and competition.
You'll blow them away with the luxury options, incredible tires, and fast speed.
You have a big old trailer in your backyard that hasn't been used for years, so you decide to throw your golf cart on there and take it to the course.
The problem is it's not a good fit for your cart.
Using the wrong trailer size for your golf cart can be a huge problem.
If it's too small for your cart, it won't fit, and it will be impossible to secure it properly.
If too large, however, there may be too much give in your ties and your cart will shift around as it's moved.
That can cause damage to your cart, and in worst-case scenarios cause your trailer to fall off and cause damage.
The best thing you can do to protect your golf cart is to use a suitable trailer designed for it.
It will protect your investment and keep everyone around it safe for years to come.