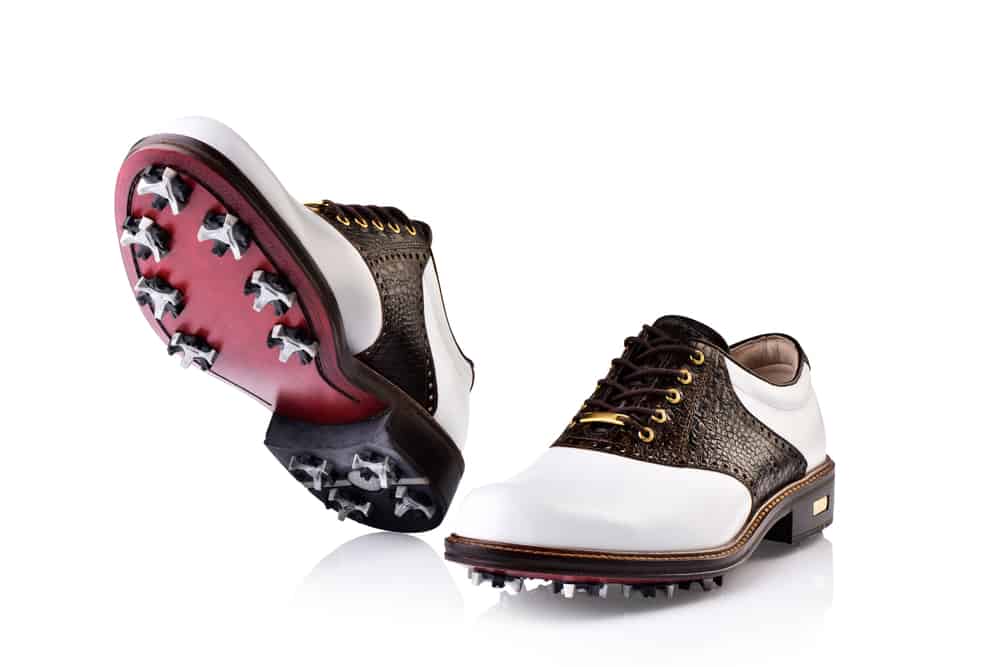 The prices of golf shoes have actually decreased over the years.
Companies have found ways to make golf shoes out of more easily obtained materials.
In addition, they have started appealing to golfers who like spikeless, almost sneaker-like designs.
However, there is still quite a market for expensive golf shoes.
Golf shoes that are more expensive tend to have very high-end materials, they last a long time, and they usually have some kind of waterproof technology integrated into them.
The longer you can keep a pair of golf shoes, the better your chances will be of having something that is well worth the value.
Golf shoes are necessary for balance, stability, and a better day out on the golf course.
Let's take a look at the top five most expensive golf shoes on the market.

Most Expensive Golf Shoes (Top 5)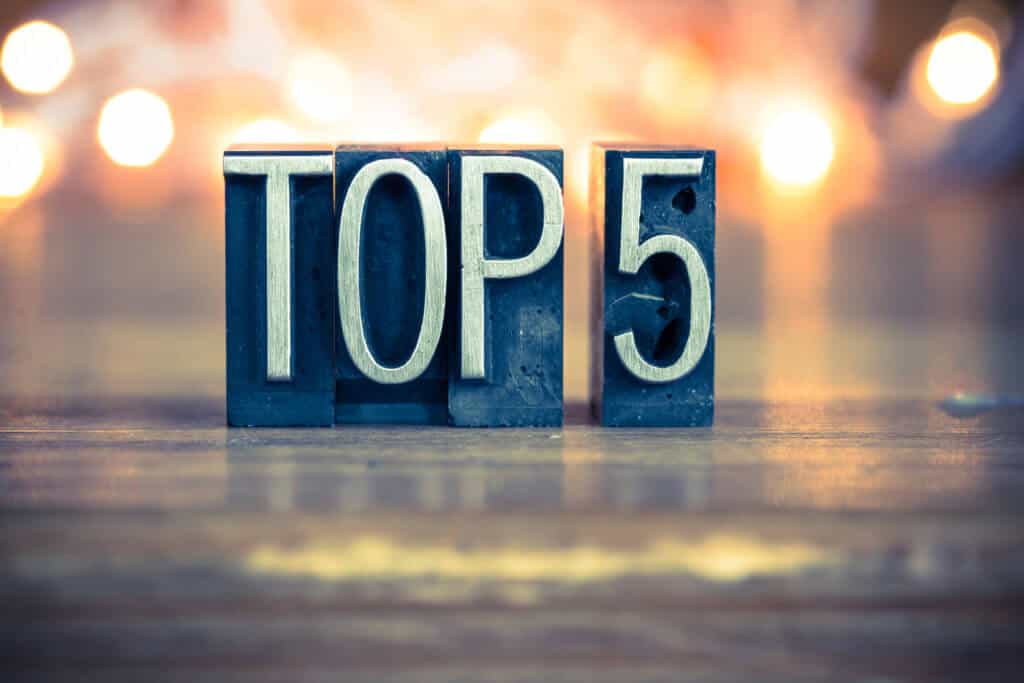 1. ECCO Men's Biom Cool Pro Gore-Tex Golf Shoe
Key Features
Gore-Tex
Waterproof construction
Yak leather uppers
Ecco golf shoes are premium in every way.
This company first came into the world of golf years ago, and they started changing the minds of people who thought golf shoes had to be uncomfortable or difficult to wear.
Everything about Ecco golf shoes will make you want to wear them both on and off the golf course.
The most important thing to note about Ecco is that they use materials that are different from what other companies are using.
The majority of golf shoes put out by Ecco are made with yak leather.
The yak leather is a material that is quite unique in that it provides very strong protection for the foot, but it is also lightweight.
Golfers who struggle with shoes being too heavy or causing fatigue will enjoy all that the Men's Biom Cool Pro Gore-Tex offers.
In addition, with the combination of the Gore-Tex material and the yak leather, the shoes are 100% waterproof.
So many golfers say that the waterproof technology is only useful during a rainstorm, but this is simply not always the case.
Waterproof technology is a benefit on those days when you are playing early in the morning, and the golf course is still wet.
If you don't have the right golf shoe on your foot, chances are you are going to end up with a very wet and uncomfortable foot.
Another thing that Ecco tries to do is work on making a golf shoe that is more stable and easier to feel and work with.
In other words, they want golfers to feel as though they are walking around barefoot as opposed to having to deal with or accommodate a shoe.
This is called the Biom Natural Motion technology.
Golfers feel closer to the ground and are therefore able to experience much better balance overall.
If you can start to think outside the box a bit and get your mind away from the traditional look of a golf shoe, then chances are you will love the Ecco golf shoes and all that they have to offer.
This is a shoe that you will find to be well worth the money that you pay for them.
Pros
Known for stability, durability, and rotational support
Lightweight golf shoe
It keeps players close to the ground
Cons
Unique styling doesn't always look like a traditional golf shoe.
2. FootJoy Men's Premiere Series-Flint Golf Shoe
Key Features
Full rounded toe
Classic looking
EcoPlush Fit Bed
The FootJoy Golf Shoes come in a wide range of styles and options.
There is truly a FootJoy shoe for every player, regardless of your playing ability or the amount of time you have spent in the game.
The FootJoy Men's Premier Series-Flint Golf Shoe is one of the most expensive golf shoes on the market.
However, there is no question that this is a reliable and quality made golf shoe design.
The FootJoy Men's Premier is made with a full grain leather, and it will not stretch out over time.
These leather golf shoes are without a doubt the more premium golf shoes on the market, but they can be a bit more difficult to take care of.
The quality of the FootJoy Premier leather is quite good, and when you look at the shoes, even from far away, you can tell they are made with premium materials.
The FootJoy Premiere also features the Versa Trac outsole.
The outsole is the perfect option for on-course performance and traction while swinging.
If you are a golfer who tends to lose your balance from time to time, the traction pattern will help you feel very stable in your setup and stance on the golf course.
In addition, the ability to walk up and down hills and on wet surfaces is quite simple with the FootJoy Premiere series golf shoe.
Another essential benefit of this golf shoe is the laser street fit.
The overall look of the shoe will be a bit more of a classic design.
Truly, if you play golf in tournaments and want to look your best, Footjoy is a brand that will be worth spending the money on.
The traction and stability are wonderful to help you keep your golf ball in play, but you also will enjoy the waterproof technology that FootJoy offers.
Having waterproof technology in a golf shoe and the waterproof warranty that Footjoy offers only means you will stay dry and comfortable the entire time you are wearing these shoes.
Last but certainly not least is the OrthoLite Eco Plush Fit Bed.
This is exactly like it sounds and will help players feel as though they are walking around on a cushion or a bed the entire day.
The great thing about this technology is that it will never settle in.
Therefore, the entire time that you own the shoe, it will continue to feel very comfortable, and the cushioning will not flatten out.
Pros
One of the most premium FootJoy offerings
Classic looking golf shoe
Comfortable cushion in place
Impressive feel as you walk
Cons
It can be a bit difficult to clean and take care of
3. Under Armour Men's Spieth 4 Gore-Tex Golf Shoe
Key Features
Improved sizing
Breathable materials
Tour proven design
The Under Armour Men's Spieth 4 Gore-Tex Golf Shoe is one of the most expensive golf shoes on the market.
When Jordan Spieth worked with Under Armour to design this shoe, you can imagine that quite a bit of time and effort was put into this project.
Spieth is known for being a great player, but he is very particular about the clubs he uses and the equipment and clothing that he wears.
The Spieth 4 Gore-Tex Golf Shoe is a project that Under Armour and Jordan Spieth put together, and the results have been quite impressive.
The idea here is to get a comfortable, lightweight, and breathable shoe, but still gives players the stability and performance they need.
The Clarino microfiber upper will keep your foot both dry and cool at the same time.
There is also a 3D molded quarter panel and tongue lining to help golfers feel more comfortable in the shoe that they have on their feet.
If you like those golf shoes that feel like a layer of cushion between the sock and the shoe itself, the Under Armour Spieth 4 is a great shoe to consider.
The other great thing about the Under Armour Spieth 4 is that it comes in a wide range of sizes.
Regardless of the size of your foot, you should be able to find one of these in a style and design that feels comfortable to you.
As with most of the other premium golf shoes on our list, the Under Armour Men's Spieth 4 is also made with a Gore-Tex material that will keep your feet dry and comfortable throughout the round.
Pros
Nice looking shoe, clean lines
It Will even fit players with a wide foot
Gore-Tex waterproof design
Cons
More of a younger players sporty look
4. Adidas Men's Tour360 Xt Golf Shoe
Key Features
Leather golf shoes
Eight Cleat pattern
Responsive midsole
The Adidas Men's Tour360 has been a popular expensive golf shoe for many years.
One of the things that help the shoe stand out from the others on the market is the eight cleat TPU Puremotion outsole.
The idea behind this is that the shoe is going to be very stable and have plenty of natural traction and balance built in.
If you are a fast swing speed player and need a shoe that helps you stay on your feet, the Adidas Men's Tour 360 XT can get the job done.
The spikes on these shoes are high performance, and they will not wear out quickly.
Simply keep the shoes clean and in good condition, and you should be able to hang onto them for years to come.
The Adidas brand has been around for many years, but they come out and upgrade their shoe every few years to make it even better.
The Tour 360 tends to look like a classic golf shoe with a bit of a sporty design to it.
The responsive Boost midsole also ensures that golfers are comfortable when they are walking and swinging the golf club.
Pros
Tour proven design
Eight cleat traction pattern
Comfortable midsole
Easy to replace cleats
Cons
It does not come in a variety of color options
5. Johnston & Murphy Men's XC4 H2 Sport Hybrid Knit Golf Shoe | Waterproof Leather | Lightweight | Memory Foam Cushioning
Key Features
Breathable
Cushioned footbed
Stable
The Johnson and Murphy Golf shoes are not always the most well known golf shoes on the market, but they are worth considering if you are looking for premium golf footwear.
The Johnston and Murphy golf shoes come in a variety of styles, but the Men's XC4 H2 Sport Hybrid Knit Golf Shoe is one of the most expensive and premium models available.
The shoes are very breathable.
The idea is that by using lightweight and durable waterproof leather, the golf shoe can do a much better job of keeping your foot comfortable and dry the entire time that you are on the course.
Johnston and Murphy golf shoes take technology to a whole new level with the introduction of the Smart Degree Technology.
The shoe was built with thermoregulating polymers.
Essentially, this means that when it is both hot and cold outside, your foot will be able to maintain a proper temperature.
Many golfers have to purchase a separate pair of shoes for both the winter and the summer, but Johnston and Murphy can work all year long.
In addition, the cushioned footbed in the bottom of the shoe will make it comfortable even if you don't have orthotics.
If you do have orthotics, you can simply insert them into the bottom of the shoe and get even more performance from your Johnston and Murphy golf shoes.
The memory foam cushioning and arch support is good for golfers that have flat feet as well.
The Johnston and Murphy golf shoe brand has been around for more than 150 years.
Therefore, you can be sure they know a thing or two about what a great looking and excellent feeling golf shoe will be like.
The shoes are waterproof and provide traction regardless of the surface that you are walking and playing on.
This is not a shoe that typically comes up as the first choice for many players, but it is one that golfers should be considering when looking into new golf equipment.
Last but certainly not least, it is worth mentioning that these are golf shoes of a hybrid design.
A hybrid helps you have a shoe solution that can be worn both on and off of the golf course.
Some golfers are afraid to go with a design like this out of fear of lack of stability, but the Johnston and Murphy shoes have plenty of stability and do a great job of keeping you safe and balanced the entire time you are on the course.
Pros
Company with a long history in the business
Can handle wet weather conditions
Hybrid golf shoes are worn on and off the course
Cons
Limited availability in golf stores to try on for a size
Conclusion
We hope that you now have a better idea as to which golf shoes on the market could be the best fit for your needs.
Many golf shoe styles are available, but the ones that work best for you may be the most expensive on the market.
Try to keep in mind that when you purchase an expensive golf shoe, it will likely last for a very long time.
Expensive golf shoes are high in quality, and they have much better materials than other golf shoes on the market.
If you keep this in mind, you will end up with a golf shoe that is high in cost but even higher in quality.