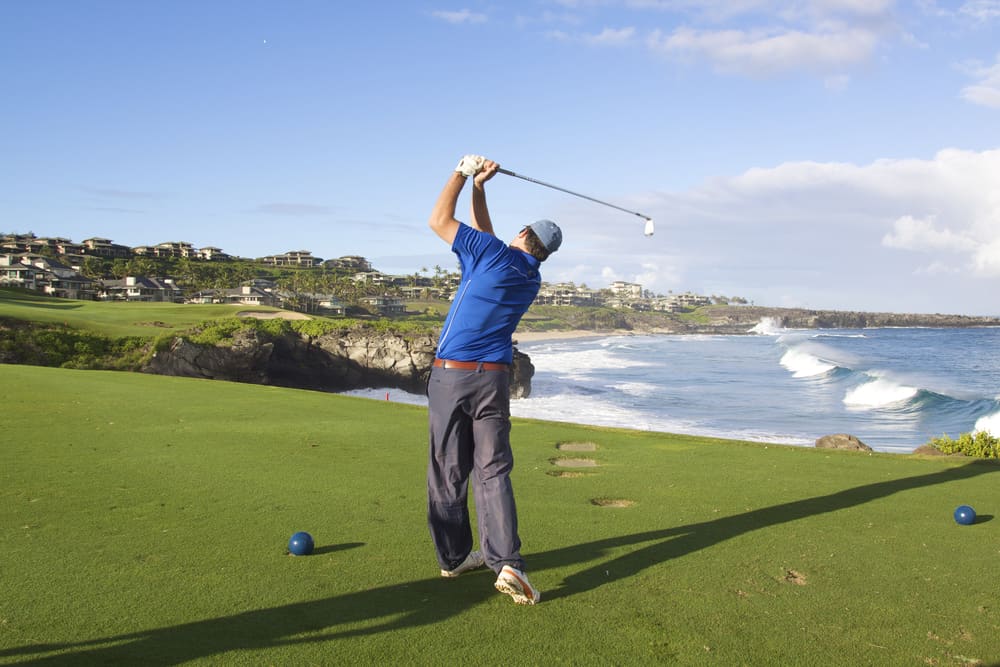 Golf and bowling are two sports that are known for taking quite a while to perfect.
When you want to get good at golf or bowling, you will have to put the time in to be able to succeed.
This makes both sports difficult and time-consuming, and therefore, people often wonder which one is harder.
Both golf and bowling are hard, but we have done some serious breaking down of this topic to try and figure out which one is the most difficult.
If you want to master the most difficult game there is, we have an ultimate verdict as to which one is more difficult.

Golf Versus Bowling: Which Is More Difficult?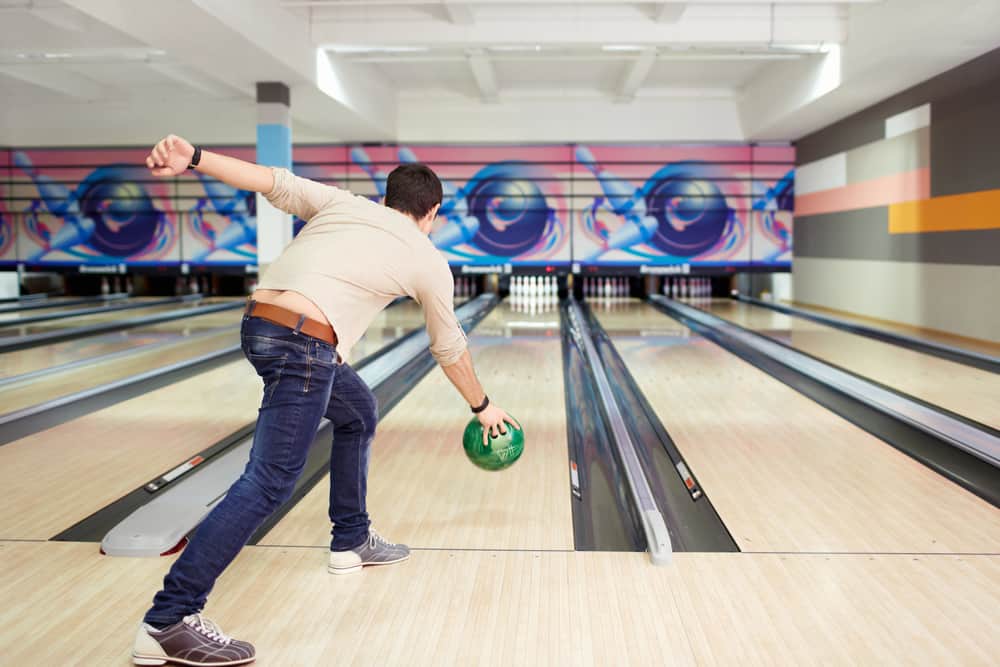 When you compare the difficulty of golf and bowling, golf is going to come out as the more difficult.
There are several factors that go into this decision, and each one is going to show you why the game of golf comes out on top.
However, this is not to say that bowling is not difficult.
To become a great bowler, there is a tremendous amount of skill involved.
Most average bowlers or recreational bowlers have no idea how much goes into the game of bowling.
There are some advanced scientific concepts, skills, and timing that will make you a great bowler.
These take years of hard work to develop and perfect.
If you want to become great at bowling, your road to doing so will often be just a little bit easier than becoming a great golfer.
Here are the reasons behind this and some interesting factors that you should consider when taking these games head-to-head.
1. Stationary Position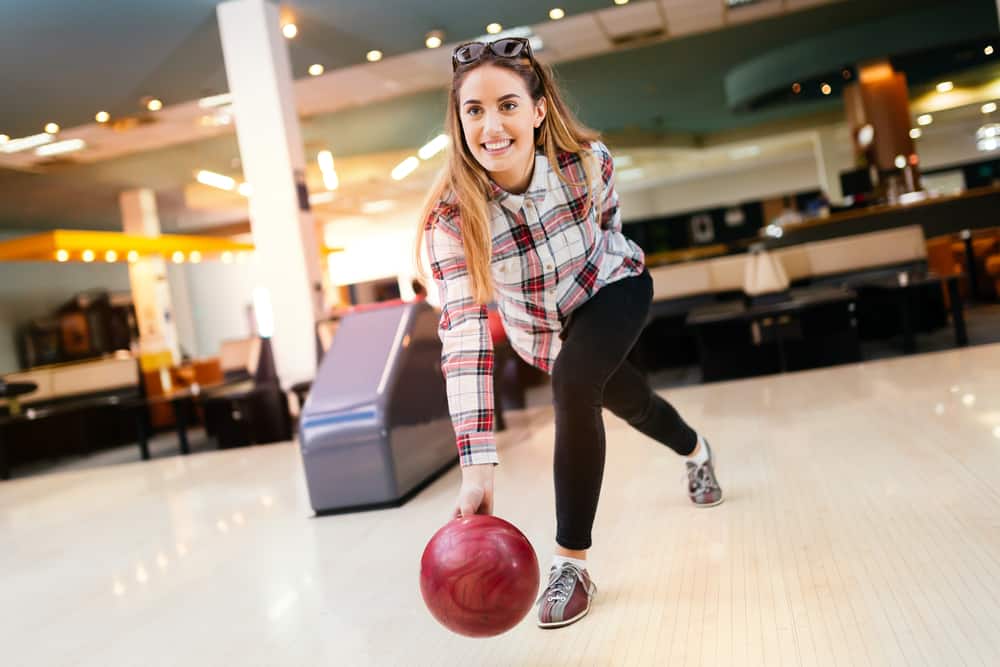 When you bowl, you may be approaching the pins from a variety of different angles, but you will still roll the ball from the same position each time.
This is much different than it is for golfers.
Golfers will start on a tee, and then each of the positions that they hit from during the rest of the day will be different.
With there being no stationary position to hit from, there is a lot of adjusting and moving, and it requires a player to have the knowledge and skill to be able to move around and hit from different areas.
In addition, when you are playing from a stationary position in the game of golf, you are going to be facing your golf ball and not your target.
When you bowl, you are looking at the target the entire time you are rolling the ball.
Being able to see where you are headed and have a plan for getting the ball there is going to certainly help make sure that you are more accurate.
The alignment process in golf is much different as the position you are hitting from is not stationary.
Alignment needs to be reset each time you prepare to play your next shot.
This obviously takes a bit more time and a higher level of skill.
2. Types Of Shots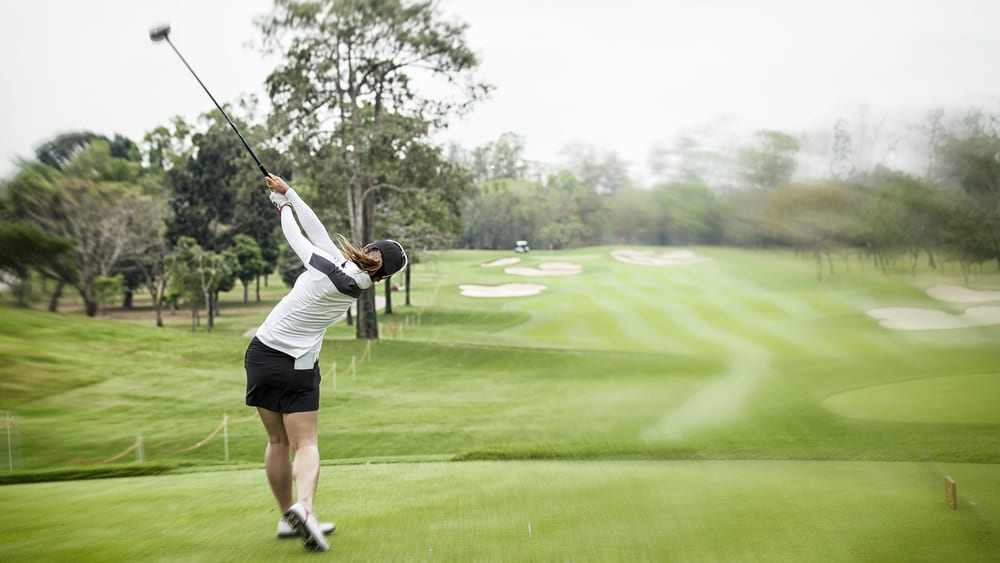 When you bowl, there are a variety of different types of shots that you can take.
You will need to learn to put a spin on the ball and be able to curve it to get it to respond in a way that helps you knock down the highest number of pins.
However, when you golf, the number of different shots and approaches that you have to each individual situation is truly endless.
Golfers need to learn how to hit the ball straight, high, low, hard, soft, left, right, and more.
The different types of golf shots are difficult to learn, and it is also very difficult to learn how to hit the ball straight.
Bowlers tend to learn how to bowl a ball straight down the lane quite a bit easier and quicker than a golfer can.
Overall, the types of shots that golfers need to learn will take them an awfully long time to learn, and you can't always guarantee that they will be pulled off properly.
Different types of golf shots are also made more difficult when you consider the number of golf clubs in a bag.
Bowlers do not have the situation of having 14 clubs in the bag to choose from at any given time.
Let's also look at the different length shots that golfers need to learn how to hit.
You may get very good at hitting small chip and pitch shots but not good at long-distance shots off the tee.
If this is the case, your golf scores are still going to be very high.
Types of golf shots get complicated, and it is just another reason that golf is more complicated than bowling.
3. Locations And Variations Of Play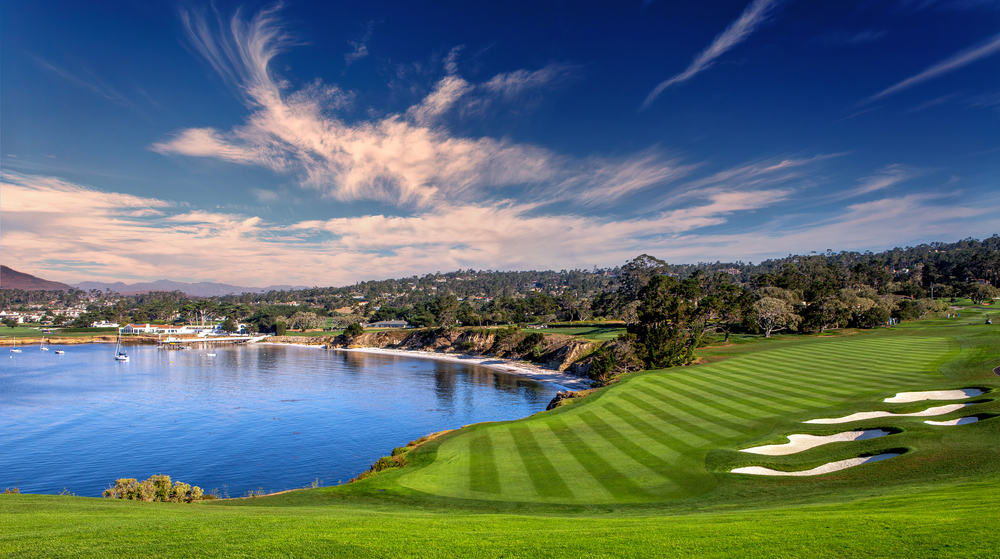 The best bowlers will tell you that there are major variations between the lanes where they play.
They will feel as though there are curves and imperfections that you must be aware of to play well and perfect your scores for that day.
However, the differences from one lane to another are not going to be anything like the differences between playing your local golf course and Pebble Beach.
Think about the difference between playing the Par 3 golf course in your town and playing Augusta National.
There is no way that the extremes you experience when you are bowling are going to be as significant as these extremes when you are golfing.
This means that your golf game is going to need to adjust as you move from one golf course to another.
If you are not able to make these adjustments, then your game will not succeed.
Golfers have to be very flexible people and be able to make changes based on where they are playing and when.
In addition to playing in different locations, there are also several different types of golf courses.
When it comes to bowling lanes, there will be one specific type of lane.
Once you know what this lane is like and how it functions, you can have that variable set at a constant, and you can work on your bowling technique.
For golfers, this is not the case.
If you are playing an ocean course or a links course, you will find that the conditions are going to vary considerably.
Each course that you play will require a different set of skills.
Some players do very well in windy conditions and are able to hit a variety of different types of golf shots that play well in the wind.
The players who are good at hitting shots to very specific targets will like ocean or desert courses where accuracy is the most important factor to consider.
The locations of the courses that you are playing are going to significantly impact the difficulty of the game of golf.
Bowling does not have this as a factor, and because of that, the game of golf is going to be quite a bit more difficult.
4. Weather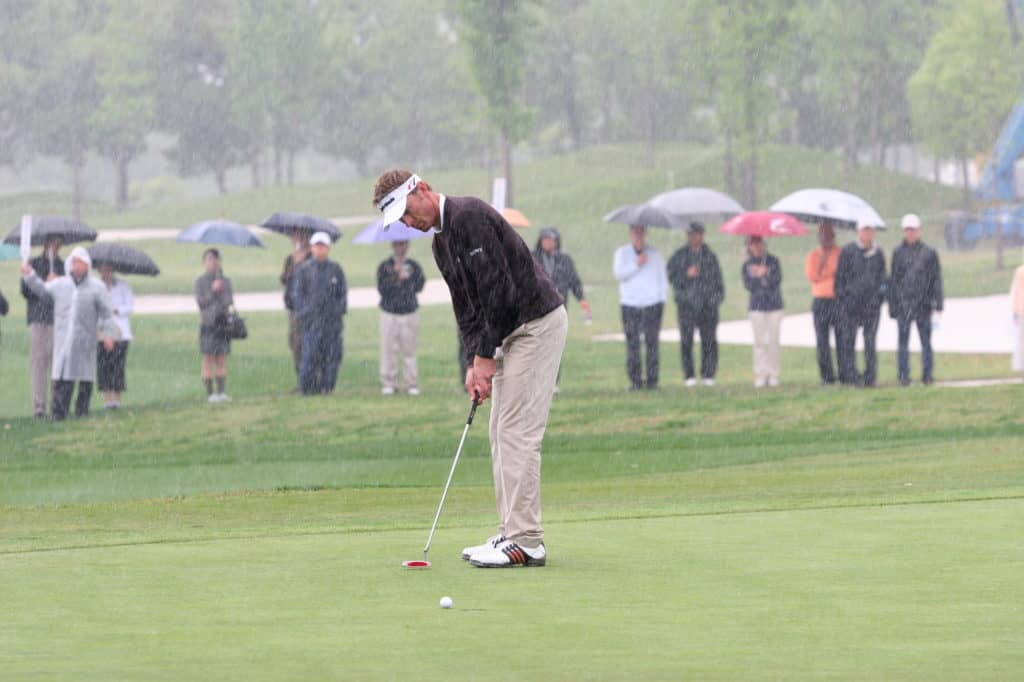 Weather alone should prove to most people that golf is more difficult than bowling.
When you bowl, you are going to be in a temperature-controlled location where the weather is essentially the same each time.
Your bowling ball is not going to be impacted by things such as rain, wind, or humidity.
When you play golf, you are going to be outside and exposed to all the elements.
This is why golfers have things like rain gloves, winter gloves, golf hats, sunglasses, waterproof golf shoes, and more.
The number of golf accessories designed simply to deal with weather conditions is astronomical.
Golfers can fill their garages with gear and equipment to help them get through weather conditions.
When you swing a golf club in the rain, there are lots of things that can happen that will impact your technique.
First of all, the rain is distracting, and it will take your mind off the swing thoughts you should be having.
Once you're able to focus on taking the club back, your hands are going to be slippery, and you will worry that your connection with the club is not the same.
This is a major problem for golfers and one that causes quite a bit of stress.
Players purchase rain gloves that help to ensure they stay connected with the club even when grips and hands are wet.
Finally, when you can make contact with the ball, the club face is going to be wet, and so will the golf ball.
Even though some new clubs are creating Hydro Groove technology to help ensure that the ball and club face can still have a good interaction, for the most part, there are imperfections.
The end result is a ball that does not fly as straight or as far as a dry golf ball and golf club could have done.
Players will eventually learn how to succeed in the rain, but the process is a difficult one.
Another issue that golfers are exposed to is wind.
Imagine rolling your bowling ball down the center of the land and having a massive fan blow it entirely off the lane and into the gutter.
This is what happens to golfers all the time when they are playing in the wind.
You can hit a perfectly good shot down the center of the fairway, and the end result is something that ends up in a water hazard or the thick rough.
The golf ball is very easily affected by weather conditions, and there is not much that golfers can do about it.
Last but certainly not least, the golf course playing conditions change anytime there is a change in the weather.
This means if you're playing golf in the summer and the courses are very dry, you will see lots of roll from your golf ball.
In the rainy season or the spring, when things are wet, the golf ball will sometimes plug directly in the ground wherever it was hit.
This is just not a factor that bowlers have to even consider, and it makes the game of golf incredibly more difficult.
When you watch professional golfers from week to week, you can see that sometimes they get a break, and other times, they can try as hard as possible and still struggle to have anything go their way.
5. Athleticism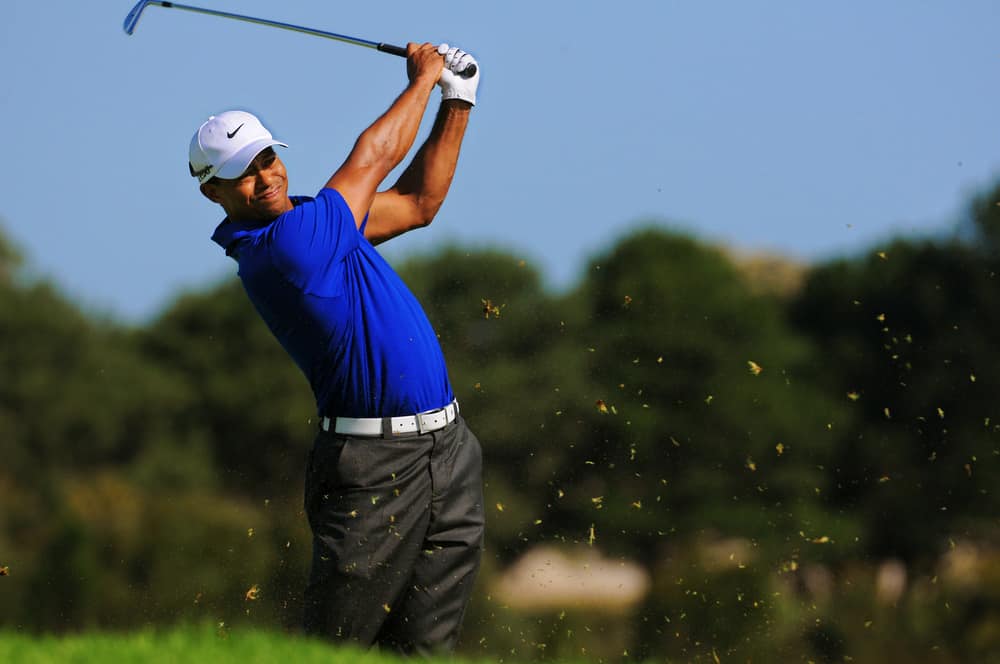 The best bowlers are going to put quite a bit of time into their physical abilities.
There is no question that being able to roll the bowling ball faster and harder takes quite a bit of strength.
If you are in better physical condition, you can learn to bowl quite well.
However, not all bowlers will take this part of the game that seriously.
Many will say that their overall athleticism and physical conditioning do not impact their bowling ability.
When you look at great golfers, you will quickly see that they are in excellent physical condition.
The reason behind this is that it takes quite a few muscles to be able to play great golf.
There are so many parts of the body that need to be moving and working together that great players have no choice but to learn to work on their body as well as their golf skills and technique.
Many people will admit that playing a basic game of bowling takes quite a bit less coordination than it takes to play a primary round of golf.
It takes golfers years to just be able to break 100, but some people can get the hang of bowling after just a few games.
Of course, elite bowlers will have a much different path to success, and it should be considered that high-level bowling is different.
Final Verdict—Golf vs. Bowling: Which Is Harder?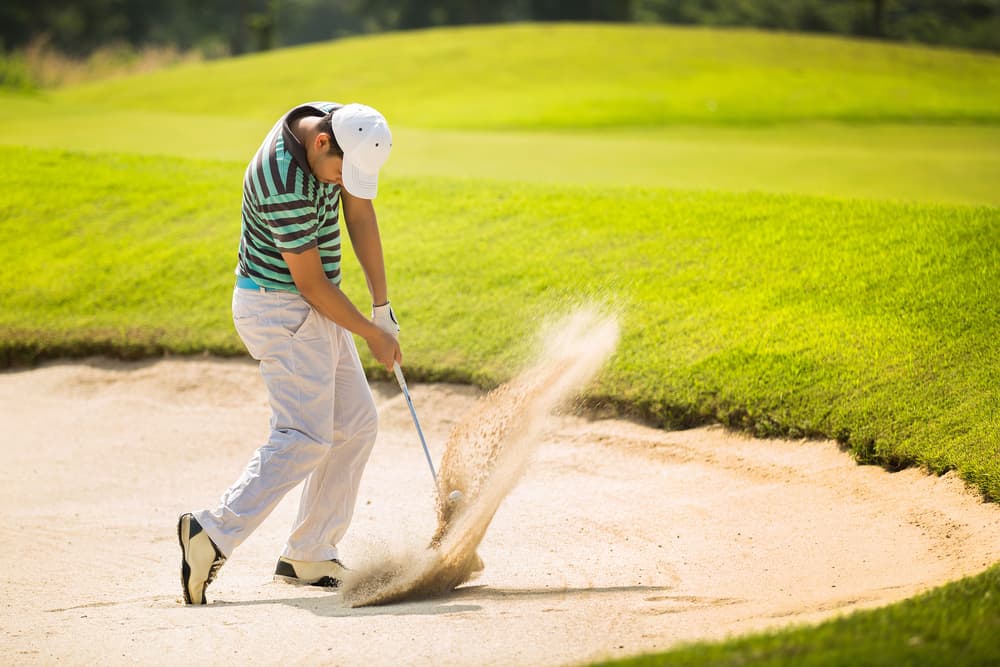 At this point, it should be relatively clear that golf is going to be quite a bit more difficult than bowling.
If you are trying to determine which one of these sports is the best for you to take up, golf is going to be the more challenging option.
However, if you enjoy spending time outdoors and want to have a lifelong hobby that you can take advantage of, golf is a perfect choice.
Bowling, however, is a game that you can start today.
The costs to get started as a bowler are going to be quite a bit less expensive, and the overall process of learning to bowl will be quite a bit less time-consuming.
In the end, whether you want to get great at either golf or bowling, you will have to work hard.
At the professional level, both of these sports will be incredibly difficult and require high levels of precision.
Once you are past the basics, be prepared to spend quite a bit of time mastering the intricacies of these games.
If you have the time and the energy, why not work on playing both golf and bowling?
Bowling is a great game to play on rainy days or when it is just too hot to play golf.
You will be able to spend time in a more comfortable environment but still get that competitive drive out of your system.