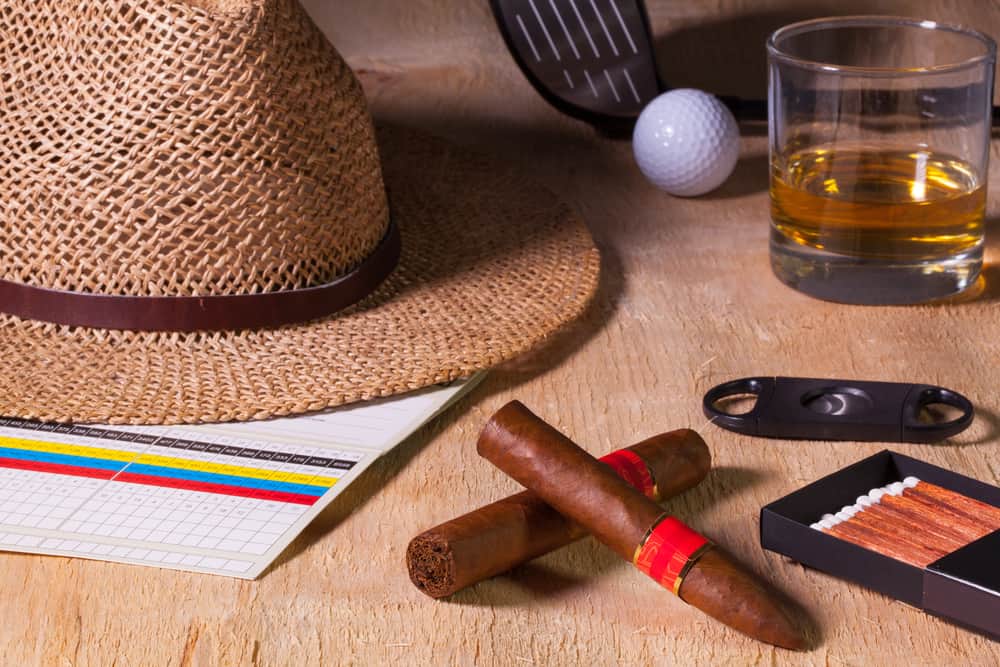 Having a cigar or two while on the golf course is a very popular pastime.
However, making sure that you have a place to put your cigar during your round is very important.
If you don't have the proper spot to store the cigar, there could be times when you are just resting it on the golf cart or the grass.
This is not a smart option, and you should really consider a golf cart cigar holder.
We have put together ten of the best on the market.

Golf Cart Cigar Holders (Top 10)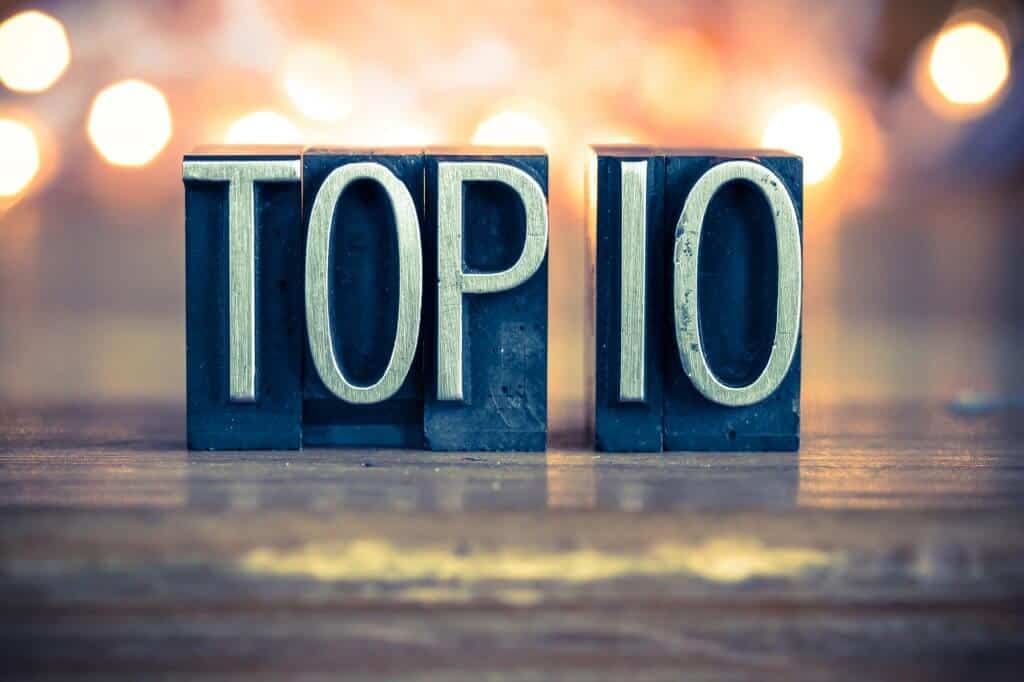 1. Cigar Minder Clip – All Purpose Cigar Holder
Key Features
Keeps cigar in place
Light pressure
Holds most sizes of cigars
The Cigar Minder Clip is the best choice for keeping track of your cigar while also enjoying your golf game.
Everything that you will need from a golf cart cigar holder can be found in the Cigar Minder.
Cigar Minder keeps your cigar in place, and it is sure to only apply light pressure to the cigar.
You will also be able to keep the cigar in a vertical position so it will stay lit during your entire round.
Another great thing about this cigar holder is that it is available in several color and quantity options.
Perhaps most important is the fact that most sizes of cigars are going to fit in the Cigar Minder, which helps to ensure you can have one cigar holder for all your cigar needs.
Whether you own your own golf cart or are out for a round with friends, you should easily be able to attach your Cigar Minder Clip and be on your way.
Pros
Holds the cigar well
The cigar will stay lit
Does not damage the wrapper
Cons
The lower-priced model probably will not last for many years if you play a lot of golf
2. Perfecto Cigar Holder By Tara Investments LLC
Key Features
Snap-on ashtray and cigar holder
Not plastic
Holds all size cigars
The Perfecto Cigar Holder is an exciting option that will do more than just hold your cigar in place.
Since this becomes almost like a tray on your golf cart, you will be able to rest your cigar without it causing any damage.
In addition, the Perfecto Cigar Holder is not made with plastic materials, so the lit cigar is not going to burn the holder.
The material is made with high-quality nylon that will hold up for years to come and will not burn.
The Perfect Cigar Holder holds all cigar sizes, and it easily clips in your golf cart.
If you are a cigar smoker who enjoys heading out on a boat or sitting outside, you can get the Perfecto to work just fine for those purposes as well.
Pros
Very easy to set up
Works as an ashtray as well
High quality and long-lasting design
Cons
Can move around a bit as you drive the golf cart
3. Cigar Compadre Clip On Holder
Key Features
Clips to anything
Keeps cigar clean and secure
Will not damage the wrapper
The Cigar Compadre is another type of clip-on holder that you can attach to almost anything.
The strong clip on the end of the Cigar Compadre is going to help ensure that the cigar stays in place and does not twist or turn as you drive your golf cart around.
Some golfers will clip this option to their golf bag as an alternative way to use it.
The Cigar Compadre is a tool that is built to last for a very long time, and people use it whether they are golfing, fishing, boating, or just spending time out in the yard.
The Compadre holds up to a 54 ring gauge cigar, so it is quite versatile in the sizes that it will accommodate.
We love that you don't have to worry about damaging the wrapper when you have the Cigar Compadre in place.
Simply taking the cigar out or putting it back in is not going to cause any issues with the cigar or the holder.
Pros
Holds even larger size cigars
It does not damage the wrapper
Can be used for a variety of outdoor events
Cons
Clip sometimes stretches out over time
4. Stage V Clinger Cigar Holder Damage-Free Clip
Key Features
Clip will not damage the cigar
Magnetic technology
Can work anywhere
The Stage V Clinger is a unique option that does a great job of keeping your cigar in place the entire time you are on the golf course.
One end of the Clinger is magnetic, so it will easily stick to the golf cart in any location that you want it to.
The other end of the Clinger Cigar holder is very gentle on the cigar, and you won't notice any issues with the cigar tearing or the wrapper starting to peel.
The magnets in the Clinger are industrial strength, so there is no need to worry about them starting to deteriorate and fall off the cart.
Since this is also made with a professional grade of spring steel, the Clinger does not rust, and it will not start to look beat up as you play round after round.
If you care about quality and strength overall, this is a great option to consider for your golf cart cigar holder.
Pros
Very simple design
Professional construction that is built to last
Will work anywhere
Cons
Some feel as though it will pinch a larger cigar
5. Get A Grip Cigar Clip Attaches Cigars To Golf Carts, Boats, RV's, BBQ Grills
Key Features
Made from composite material
Holds even larger cigars
Flexible and adjustable
The Get A Grip Cigar Clip is another versatile cigar holder that is going to hold even the larger cigars.
The rubber grip on the inside of the clip helps your cigar stay in place, but it also ensures that the cigar does not get damaged at all.
The Get a Grip is a flexible and adjustable cigar holder that will not break easily.
It seems as though you can use this cigar holder over and over again, and it will still do a great job of grabbing the cigar and keeping it protected throughout the round.
Many people find that the Get a Grip and The Cigar Minder are very similar, and they have similar functionality.
Keep this in mind as you consider the different options that you have available to you.
Pros
Helps your cigar stay in place during the round
Will hold a cigar size up to 60 ring gauge
Flexible and adjustable
Cons
Some will notice a slight pinch on certain cigar sizes
6. Puff Caddy | Golf Ball | Cigar Holder For Golf Cars & Carts
No products found.
Key Features
Very easy to use
Built specifically to fit in golf carts
Will not damage your cigar in any way
If you are a golfer who would prefer to use a cigar rest or holder as opposed to a clip, then the Puff Caddy is a great choice.
This is going to allow your cigar to sit in a horizontal position while you have it in the golf cart.
In addition, the wrapper will not be damaged in any way because of your use of the Puff Caddy.
This is actually a very smart design in the way it integrates with the golf cart.
You can have it set up and ready to use in a matter of minutes, and it will catch leftover ashes in the ashtray.
If you are a cigar smoker, you know that keeping the ashes off the golf course and the green is a very important part of smoking on the golf course.
The Puff Caddy provides a great solution, but it also protects you and your cigar.
Pros
Comes with a carry case so you can leave it in your golf bag
Cigar will sit horizontally
No damage to the wrapper
Cons
Not the best choice if you are playing golf with a nonsmoker as the cigar sits in the middle of the cart
7. Stogie Stow Cigar Holder – Golf Cart Tee Mount
Key Features
Mounts in the tee holder of the cart
Can hold several different size cigars
Easy to store in your golf bag
The Stogie Stow Cigar Holder is an excellent choice for those who are worried about the cigar falling apart from being stuck in a holder.
Stogie Stow can hold three different sizes of cigars, and since there is a place to hold each one, you could technically put three cigars in at once.
It is not really recommended to carry more than one cigar at a time, but it is possible if you are playing with a friend who might need to put theirs down for a minute.
In addition, you can also use the Stogie Stow to hold other things like sunglasses when you don't need them.
Overall, we really like the way this model fits right in the tee holder so that you don't have to worry about it moving around or falling out the entire time you play your round of golf.
If you are new to playing golf with a cigar, this is a great model to get you started.
Pros
Can hold more than one cigar at once
Won't damage the cigar in any way
Simply fits in the tee holder
Cons
Can stretch the openings if you put a cigar in that is too big.
8. 2 Pack Grip Cigar Clip Holder, Golfers Cigars Clip Minder Attaches Cigars Putter to Golf Carts for Boats BBQ Grills-Yellow
Key Features
Durable and rustproof
Easy to spot
It comes as a two-pack
The Golfer's Cigar Holder is a durable and inexpensive option for any golfer.
The fact that these are made of a high-quality polymer plastic means that you won't have to worry about them falling apart as you use them round after round.
Many golfers will use this cigar holder on the course and then take it with them to a barbeque after their round.
We like the fact that this comes in a bright yellow color, so it is not easy to misplace.
In addition, the pack of two ensures that you can always leave one in your bag, so you have it for a backup.
The clip is softer and will not damage the cigar in any way.
For a cheap and durable fix for your cigar issues on the golf course, this is a great option to consider.
Pros
Easy to use
It comes with two easy to see cigar holder
It does not rust or deteriorate over time
Cons
Will squeeze the cigar wrapper a bit
9. Cigar Holder, Durable Cigar Clip, Cigar Stand Can Hold 30-60 Rings Cigars, Cigar Gifts for Men/Golfer 1 pc (Grey)
Key Features
Durable
Can work on the golf cart and as you make your way to the green
Very stable option
This cigar holder is one of the more unique-looking options on our list.
Not only are you going to get a stable place to rest your cigar, but you will also protect the cigar that you are enjoying.
If you like to smoke better cigars that you don't want to see damaged in any way, this is a great option.
The cigar holder can hold cigars ranging from 30 to 60 ring gauge.
Overall, this is a wide range and will work for most cigar lovers.
In addition to the durability of this cigar holder, there is some versatility in where you can place the cigar.
Taking it out onto the course, you can easily attach the metal clip to one of your clubs, so you don't lose it.
When you get back to the cart, simply attach it to the cart.
Pros
Will not damage the cigar
Lots of ways to use it
Helps to keep the cigar from getting damaged
Cons
A more expensive choice for the serious cigar-smoking golfer
10. Glow Products, Inc. GarTender – Cigar Holder
Key Features
Holds cigar in a variety of locations
Cigar will burn evenly
Great for a winter round of golf
Last but not least is the GarTender.
Although this is not specifically made for golfers, it works quite well on the golf course.
Simply put your cigar down wherever you need to, and it will not get damaged or go out.
The GarTender can also help you to keep your hands a bit warmer in the winter months when playing golf with a cigar.
With this tool, your cigar stays portable, but you don't have to worry about damaging the cart or the golf course.
Many players will take this cigar with them to a variety of events because it can really help to ensure that you are not picking up and putting something hazardous in your mouth.
Remember that when you play a golf course, there are areas where quite a bit of fertilizer and pesticide have been sprayed.
Resting your cigar in these areas and then picking it up and putting it in your mouth is not the best idea to stay healthy.
Cigar smoking, in general, may not be exactly what the doctor recommended, but at least you can use a tool like the GarTender to keep yourself from ingesting more than necessary.
Pros
Great all-around option for cigar smokers
Keeps greens and golf carts from getting damaged
Allows cigar smokers to avoid grass and dirt getting picked up on their cigar
Cons
Does not have a specific holder on the golf cart
Conclusion
Hopefully, you now have a better idea of which cigar holder for a golf cart is the best for you.
There are so many options on the market, it can be hard at first to pick the best one.
We recommend starting with something cheap, seeing what you like and dislike, and then spend a bit of money on something that fits your needs a bit better.
Overall, the cigar holder for a golf cart is a smart purchase to make.