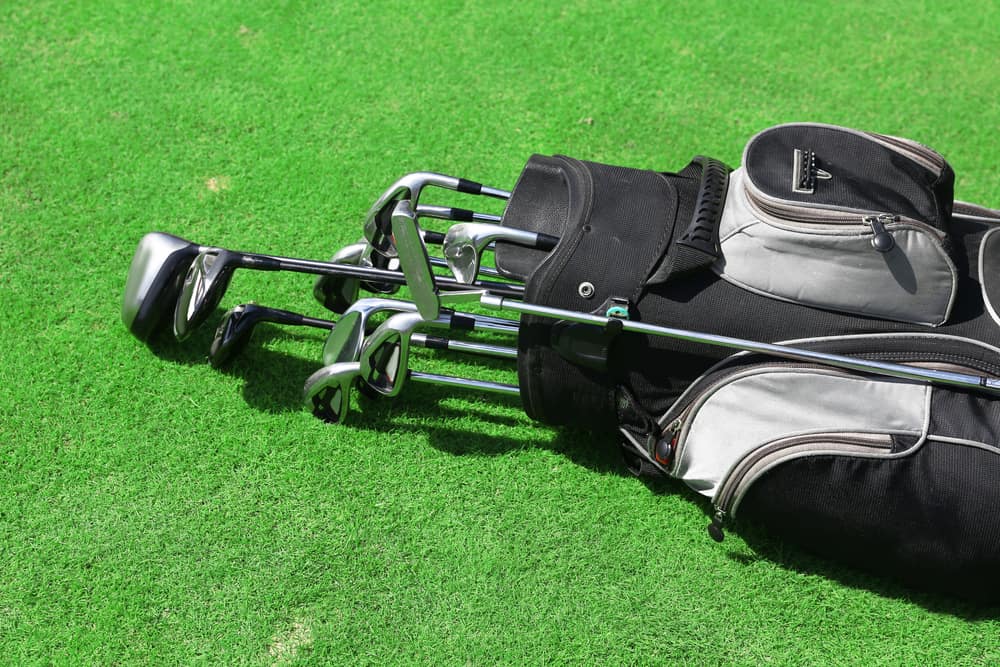 Many golfers start playing the game with a set of mismatched golf clubs.
Maybe one person told you they had a few clubs for you, and another gave you a few others.
The set may not be the prettiest combination of golf clubs you have ever seen, but you are probably wondering whether or not it could be effective.
If you have a set of golf clubs, but they do not match, here is everything you need to know.

Do Golf Clubs Need To Match?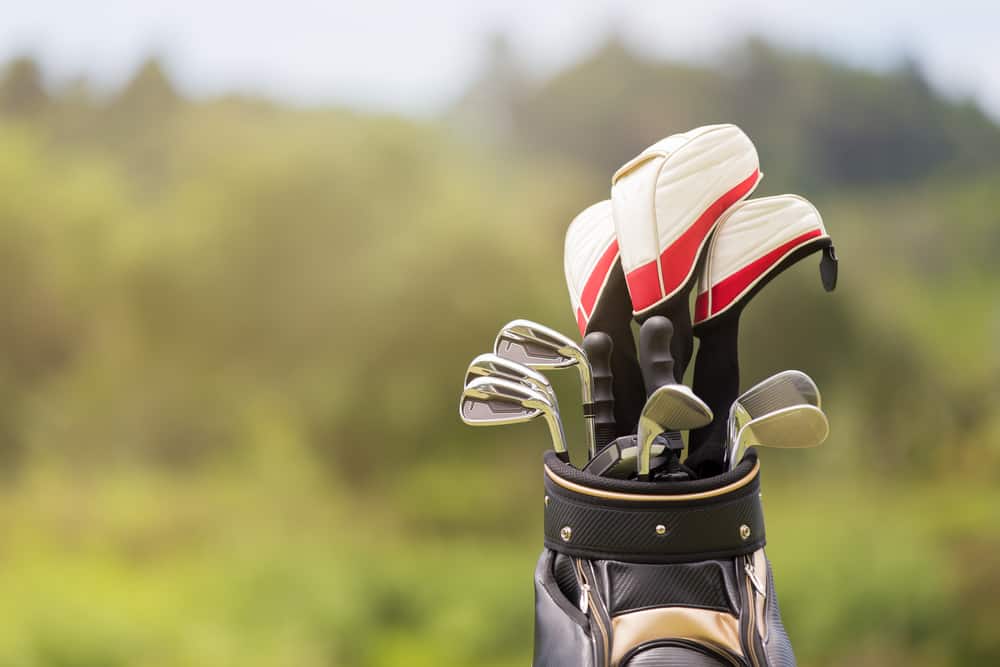 Golf clubs do not need to match to be effective.
Many players choose a set of clubs from several different brands as they find it makes up the best possible combination for their needs.
Forcing yourself to stick with one brand so that all clubs match will likely not help you become an even better player.
Even though golf clubs do not need to match, we do recommend having several irons that match and that their loft gapping is accurate.
For instance, if you have 7 iron, 8 iron, and 9 iron that match, that is highly recommended.
Having a 7 iron from one brand, an 8 from another, and a 9 from another may cause some issues in consistency that you can feel.
It's important to have as much consistency in the irons and wedges as possible.
The need for consistency is why you see most golf manufacturers sell golf clubs that have matching club heads.
Can You Mix And Match Irons?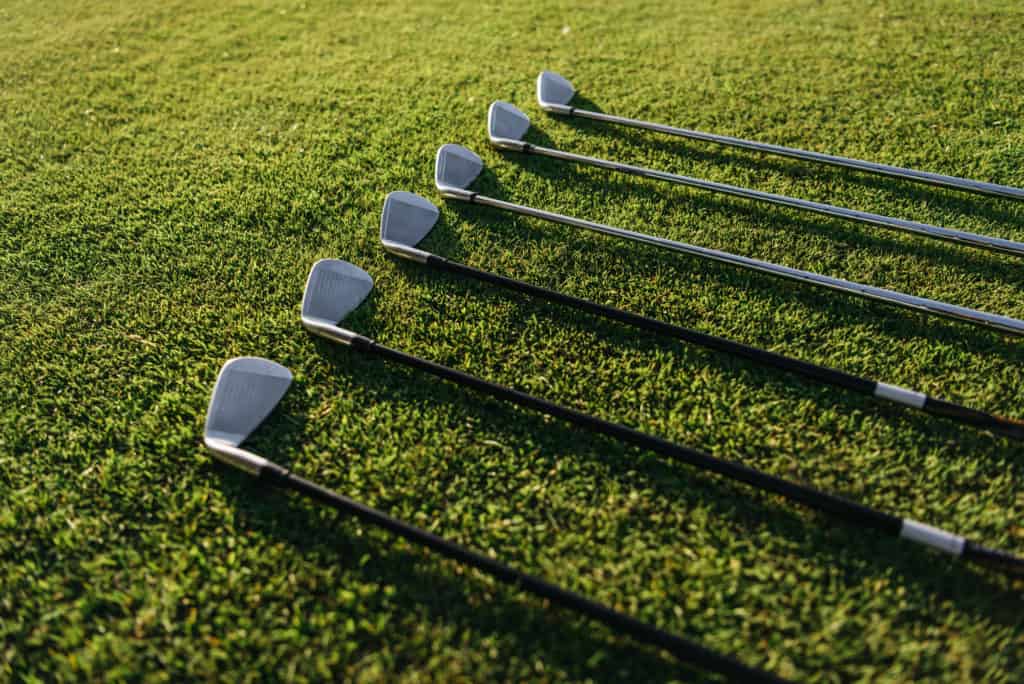 Most of the time, irons are not mixed, and the set is consistent from the pitching wedge up to something like the 4 iron.
However, there is one situation where golfers actually mix and match their irons quite often.
These sets are called combo sets.
The most common player who uses a mixed or combo set is typically a mid-handicapper ready to transition to being a low handicapper.
Low handicapper irons are blade style and are much less forgiving than cavity-back irons.
Therefore, it's a big step to take to transition from game improvement to blade.
Some players will use a pitching wedge, 9 and 8 irons in the blade style, and then switch to something more forgiving in the 7, 6, and 5 irons.
This is a great way to get the impressive feel in your golf clubs while still getting the distance and forgiveness you need when your game is a little off.
When you mix and match irons like this, stick with the same brand of club.
For instance, if you go with the Callaway Apex blades, you can switch to the Apex DCB in the longer irons.
It's tough to go from one brand to another as the loft gapping can be tricky, and the feel of the clubs will be much different.
Even though you don't have clubs that are exactly matching, they are at least from the same family.
Should Your Golf Swing Be The Same For All Clubs?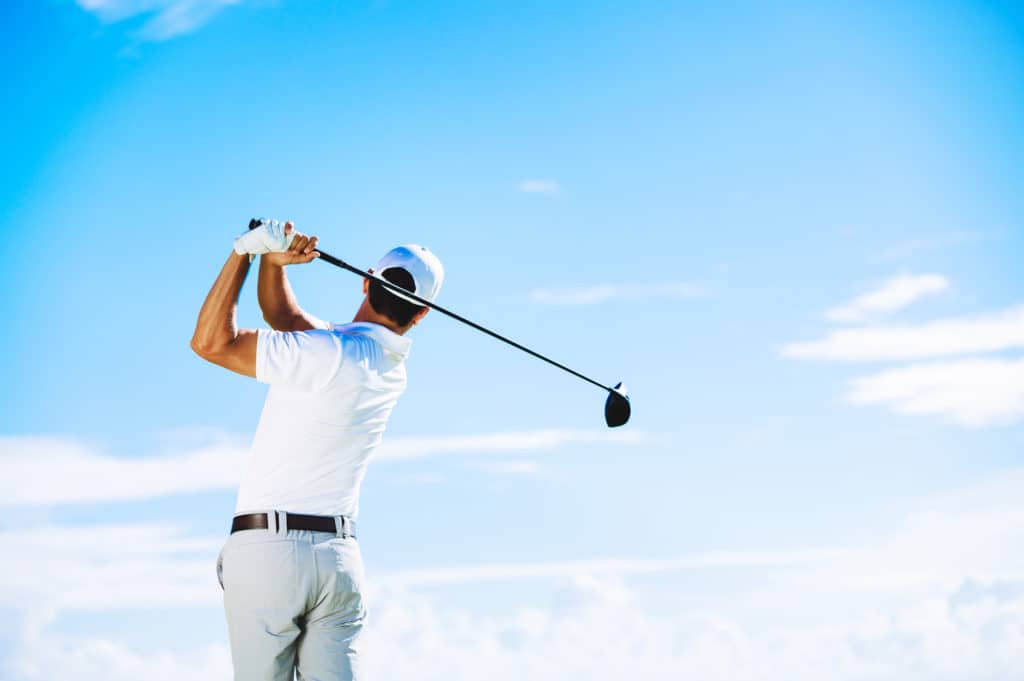 Golf swings are not exactly the same for all golf clubs.
Now that we have established that your golf clubs don't necessarily need to match, it's good to understand how this will impact your golf swing.
Playing golf can be kind of complicated.
Just when you think you have one swing down, you have to learn some new techniques to help you hit different types of shots.
Let's look at the different swings involved in the game of golf and how they will impact you.
1. Driver/Fairway Swings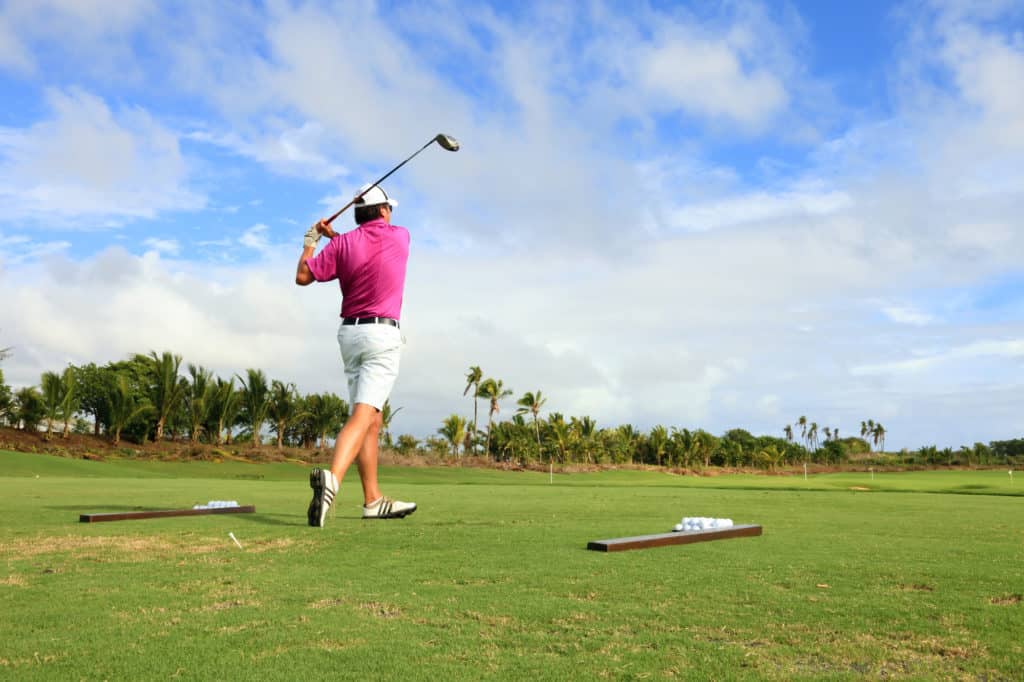 The driver is the longest golf club in the bag.
It is hit on the upswing, not on the downswing.
This is why we tee up a driver so that we can hit the ball in more of a sweeping motion as opposed to compressing it.
When hitting a fairway wood off a tee or even from the fairway, the same kind of swing is necessary.
The good news is that sometimes just by changing the ball's position in your stance, you can achieve these results for the ball flight you want.
However, it is also important to consider how steep your swing is.
A more upright swing is not the solution here as that will force the club to go down and through the ground as opposed to the sweeping motion that we are looking for.
2. Irons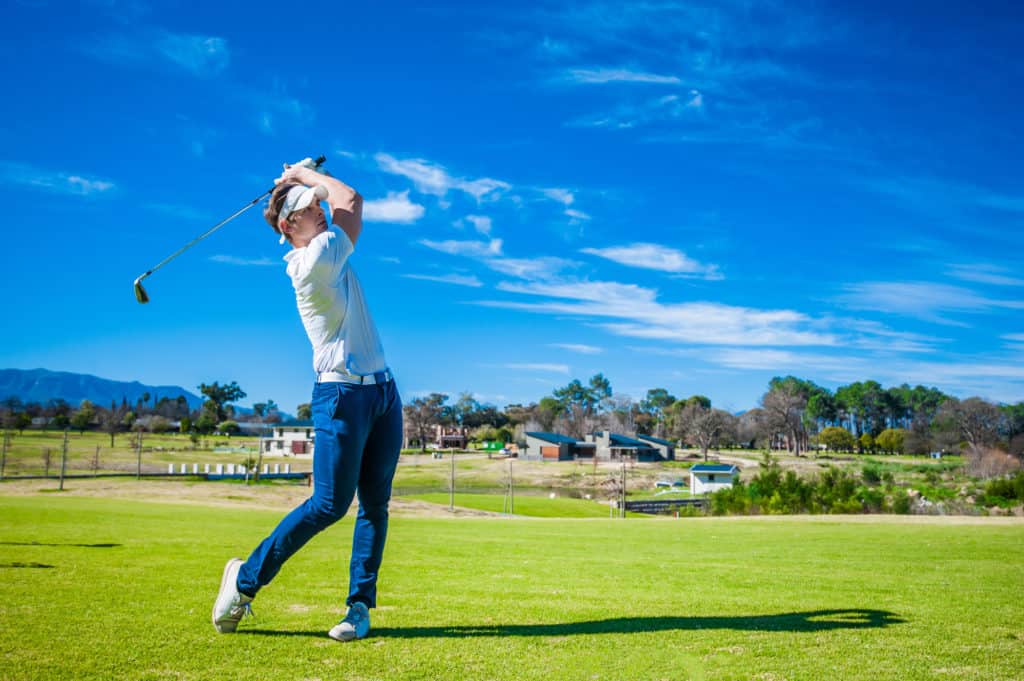 Irons are not hit on the upswing like the drivers and fairway woods are.
Instead, the iron is hit as part of the upswing.
Golf irons need to be compressed to hit solid.
Golfers must hit down and through their golf shots if they plan on getting a golf iron up in the air.
As you may imagine, the result here is a swing that is slightly more upright.
In addition, the golf ball must be in the middle of the stance.
As conscious as most golfers are about their golf iron swing, it's really important not to feel as though you are forcing these different types of swings.
Essentially, make your changes to your setup and then try to feel these adjustments a bit, but don't act as though you have three or four golf swings to take out of your bag.
The adjustments to the setup and swing thoughts are usually all it takes to properly strike the golf ball with any club in your hand.
3. Wedges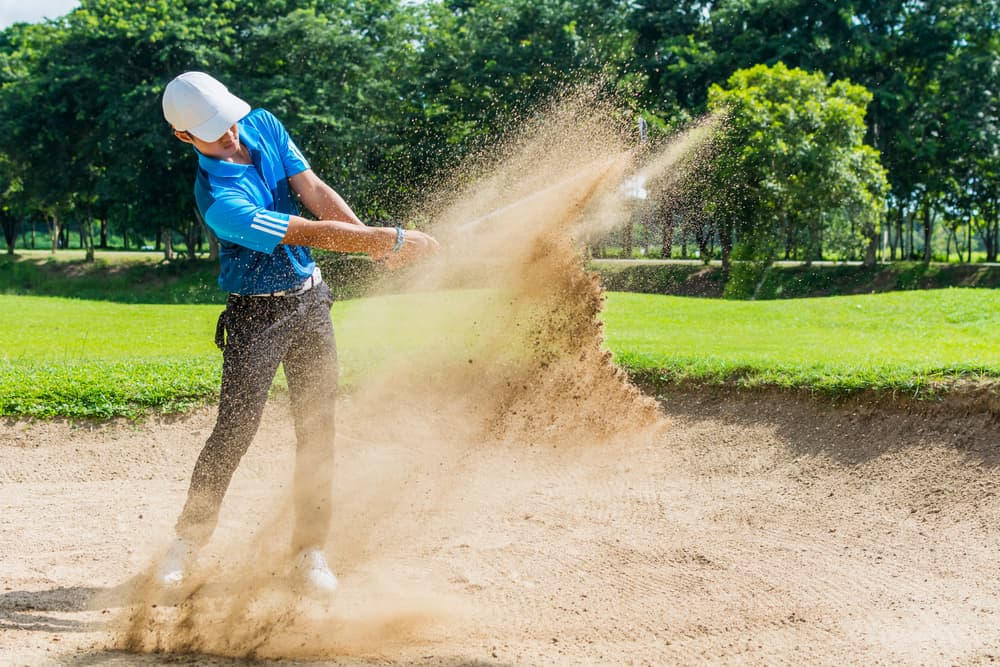 Wedges are unique in that you can use them from many different areas on the golf course.
Sometimes you are hitting a full-swing wedge shot into a green.
Other times, you may just be taking a small chip or pitch.
The most important thing to remember with wedges is that your swing will have to be slightly more upright for it to work.
A great wedge shot has tons of spin and a higher ball flight.
If your swing plane is shallow and you sweep the ball as you do with a fairway wood or driver, the wedge shot will not get the same launch off the ground, and it will cost you accuracy.
Most of the time, golfers think they are adjusting to hit chips or pitches, but technically, this is a different type of golf swing.
It takes time to learn the different approaches in golf and then naturally transition between all of them.
Should Wedges Be The Same Brand As Irons?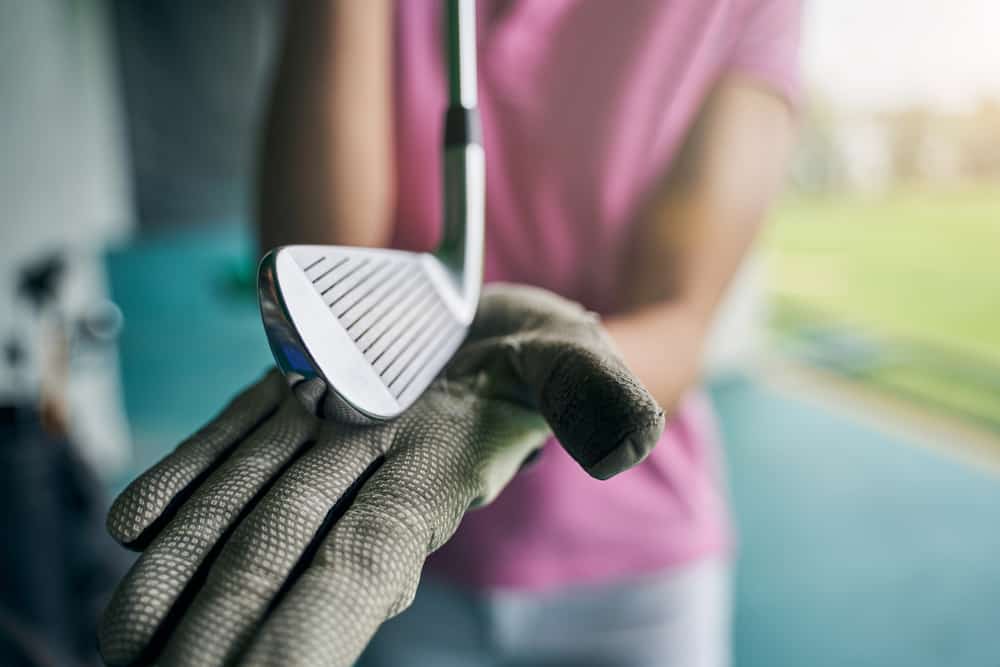 Wedges do not need to be the same brand as your irons.
In fact, some golf companies are not known for having great wedges, and others have some of the best wedges in the game.
For instance, Cobra makes great golf irons.
The pitching wedge that comes with your set may be a perfect match for you.
However, the other wedge options from Cobra are limited.
Companies like Callaway, Cleveland, or even Titleist may have options for a gap, sand, and lob wedge that are a better fit for your game.
Do not be afraid to choose wedges from a different brand than your irons.
However, you must be sure to check the loft gapping when you do this.
If your pitching wedge that comes with your set is 43 degrees and you choose a sand wedge that doesn't match that is 56 degrees, you just created a 13-degree loft gap.
This is way too much.
Golfers need to work on creating a loft gap that is more consistent than this.
In this situation, a gap wedge or approach wedge would be necessary to fill this hole between the pitching wedge and sand wedge.
Is It Okay To Have Different Brands Of Golf Clubs?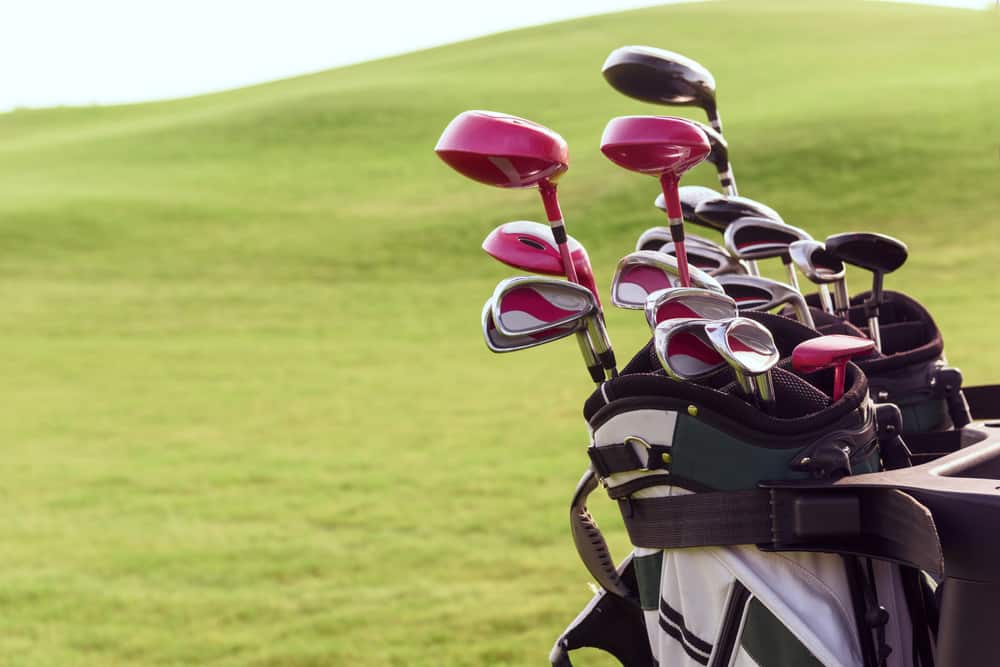 It is completely acceptable to have different brands of golf clubs throughout your set.
In fact, there are some golf fitting companies, like True Spec golf, that consider their club fitting to be brand agnostic.
The brand-agnostic club fitting makes it much easier for players to get the clubs that work best for their games without feeling so stuck to one particular brand.
Golf clubs from many different companies have features and benefits that can help a wide range of players.
If you get too stuck on a particular brand, you could miss out on technology from another that could be a good fit for your game.
For instance, some of the TaylorMade Stealth drivers were really popular this year, but golfers were loving the Callaway irons.
If you forced yourself to stay with the TaylorMade golf clubs throughout, you may miss out on some technology in the irons that could benefit your golf game.
Should The Swing Be The Same For All Irons?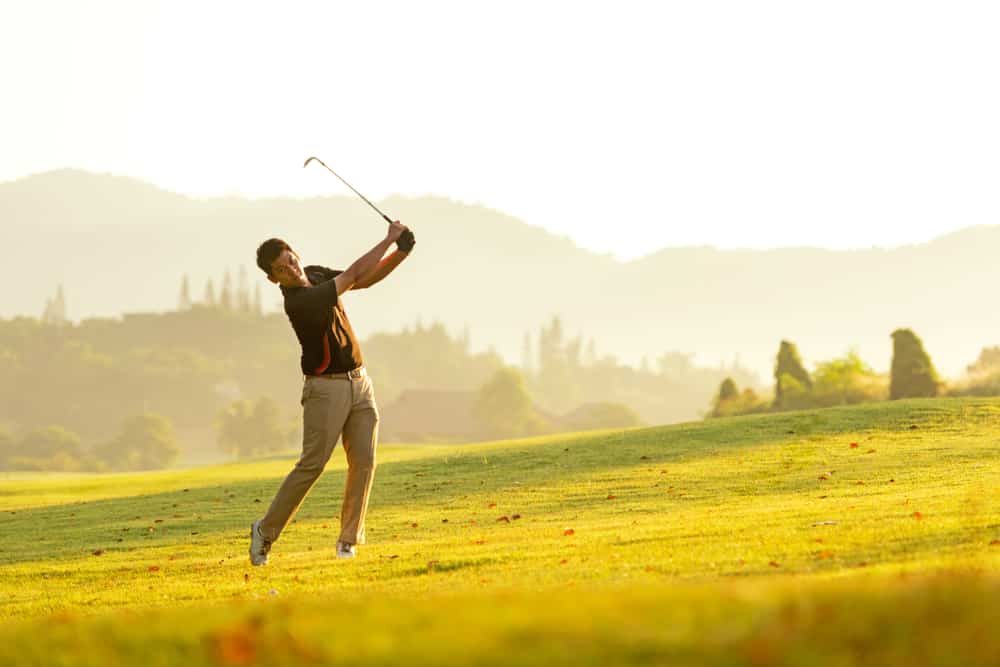 We have covered that your golf swing is going to change throughout a round of golf, but you may be curious about whether or not the swing is the same for all irons.
The general concept of hitting down and through the golf ball and compressing it is the same for all irons.
However, if you are hitting a golf shot with a 4 iron or a 9 iron, there will be some differences in how you set up and swing.
A golf shot with a 9 iron takes a more narrow stance with the golf ball in the middle.
The shot with the 4 iron means that you will need a bit more extension in your swing.
In addition, you may have to push the ball more toward your front foot to be able to get the distance and ball flight that you need.
The swing for the iron shots is essentially the same, but it won't exactly match from one shot to the next.
Should My 3-Wood's Swing Be The Same As The Driver's?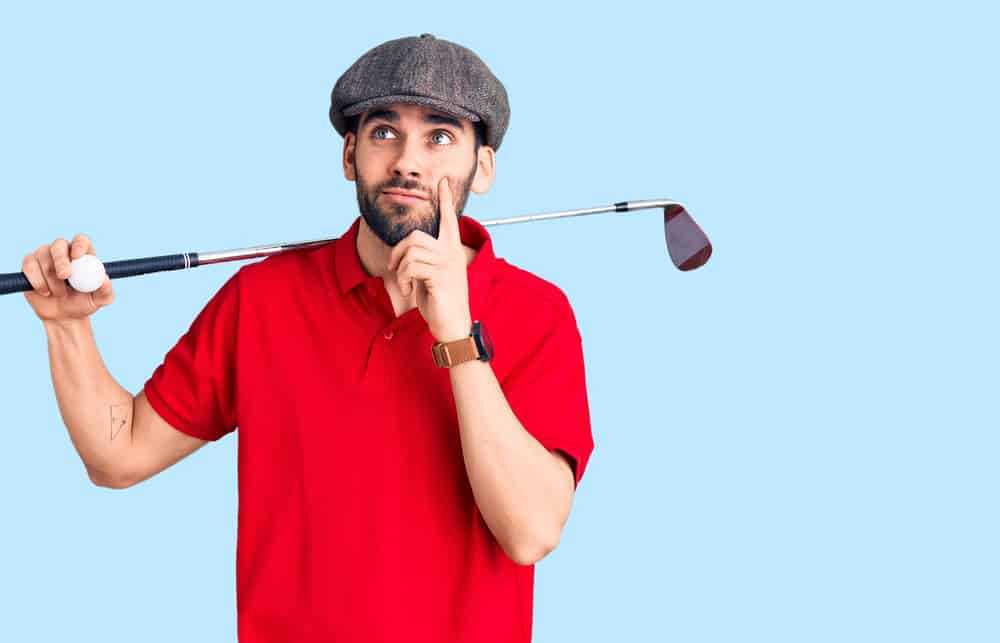 The 3 wood and the driver swings are very similar.
These golf clubs have about equal lengths, and they also have lofts that are lower than any other club in the bag.
The 3 wood and the driver swing are known for more of a sweeping motion, and it is not necessary to hit down and through a golf shot like this.
Golfers should pay close attention to the 3 wood swing as this is a great backup option when struggling with your driver off the tee.
Conclusion
We hope you understand that not all golf clubs need to match.
The game of golf is a bit complicated in that you will have to fine-tune every area of performance to find the equipment that is a specific match for your needs.
The only area of the game where we suggest that clubs are close to matching is the irons.
Having a run of at least three or four matching irons can really help with distance control, accuracy, and precision on the golf course.
After that, if you want to mix in wedges and hybrids from various brands, it will not hurt your game.