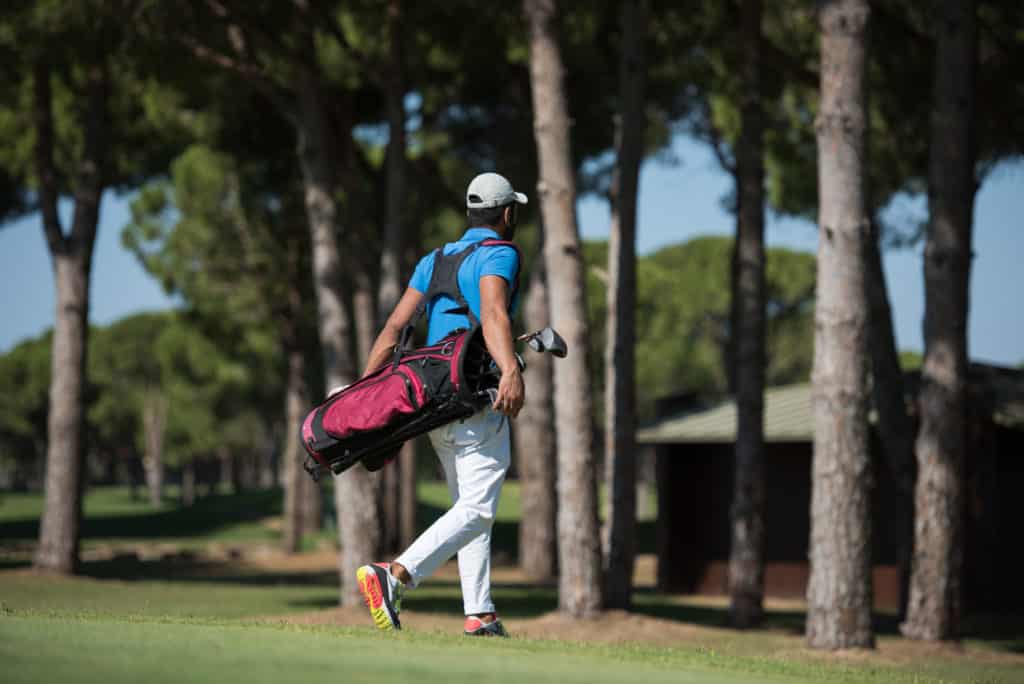 The Sunday golf bag started with the idea that a few holes of golf on a Sunday afternoon didn't need an entire golf bag.
This concept is becoming even more popular with people wanting to walk and get exercise.
Walking the golf course is a great exercise, but carrying your golf bag can be really hard on your back.
With a Sunday bag, you bring only the essentials with you.
Sunday bags are becoming more and more popular, and there are lots of new options on the market.
Here are our top 15 favorite Sunday golf bags.

Top 15 Best Sunday Golf Bags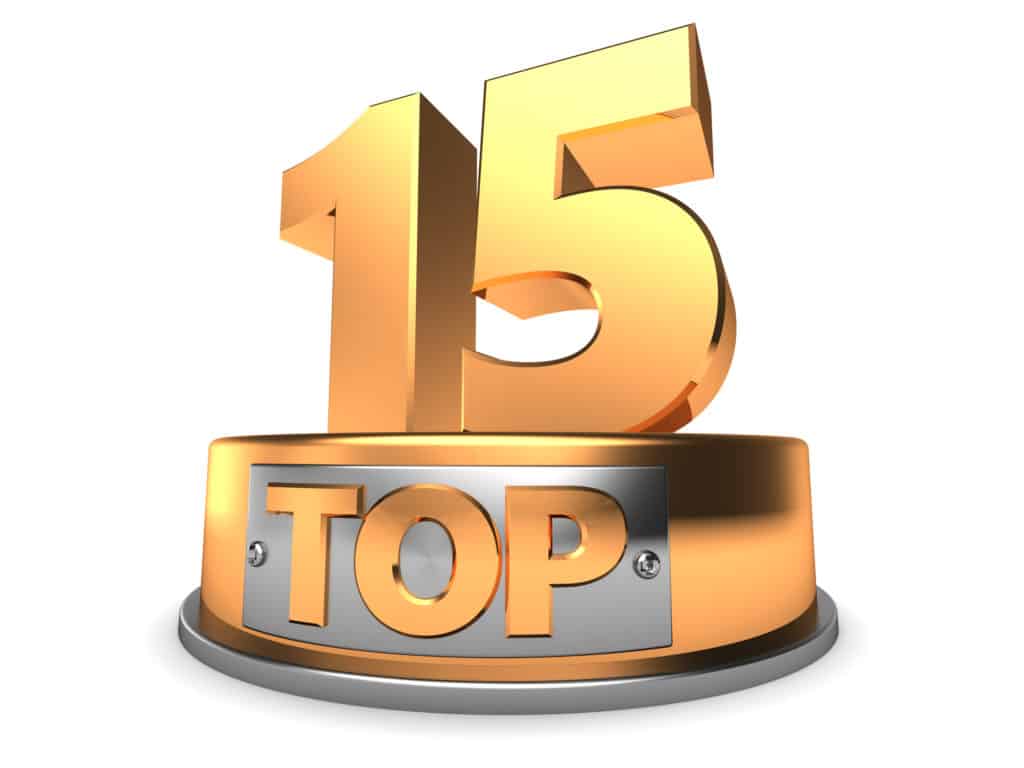 1. Sunday Golf – Lightweight Sunday Golf Bag
Key Features
One of the lightest on the market
Valuables pocket
Fits 6-7 clubs
At the top of our list is the Sunday Golf Lightweight Stand Bag.
This is a new release, and it is very lightweight.
If you want to walk the course and bring along 6-7 clubs, the Sunday Golf bag will fit them perfectly.
One thing that you will notice with Sunday bags is that they do not always have a lot of storage or pockets.
This is intended to help keep them lighter.
We like that this bag has a valuables pocket, so you at least have an excellent spot to keep your cell phone and wallet while you play.
The Sunday Golf Lightweight bag as a carrying handle and a strap that makes it easy to pick up.
Keep in mind that Sunday golf bags are also great for a quick trip to the driving range or an executive golf course.
If you are going to practice at the range, there is no need to bring your entire bag.
Pros
Lightweight
Valuables pocket
Black color doesn't get dirty
Has a stand
Fairly priced
Cons
Some golfers don't want a stand on a Sunday bag
2. Champkey Professional Golf Sunday Bag
Key Features
Very low price
Carries up to nine clubs
Six pockets
The Champkey Professional Golf Sunday Bag is more of a traditional Sunday bag without the stand.
With this bag you can carry up to nine clubs, some have been able to fit a few more.
The padded shoulder strap adds extra comfort and makes things a bit easier for you if you are carrying more clubs.
You also get six pockets with this bag.
The pockets are not all that large, but they certainly help to keep you organized.
Pros
Made with nylon fabric
Water-resistant
Good for traveling
Priced very low
Cons
Lays right on the ground and will get wet
3. Datsusara Sunday Golf Bag
No products found.
Key Features
Can hold 14 bags
Hemp canvas blend
Stylish
Next on the list is the Datsusara Sunday Golf Bag.
This option is a bit bigger than some others out there, so you can carry all of your clubs.
We like that the Datsusara has really nice styling and looks classic in design.
The hemp blend fabric is not only better for the environment; it also holds up really well when it is outside and gets a little wet.
There are two zippered pockets on this bag, and they fit quite a few golf balls, tees, and a lightweight jacket if you wanted.
This is a golf bag you can have forever.
With the antimicrobial fabric and the fact that there is no real "fluff" when it comes to this bag, it's an option that you will be thrilled with.
Pros
Can fit 14 clubs
Two large pockets
Lightweight
Cons
A lighter color can get dirty, but it's easily washed
4. JEF WORLD OF GOLF JR1256 Pitch & Putt Sunday Bag
Key Features
Weighs only 2 pounds
4 inch oval top
Stand bag
The JEF World Sunday bag is perfect if you are going to be playing a par three course and you don't want to take all of your clubs.
Our favorite part of this bag is the water bottle holder on the outside.
Just because you are carrying a lightweight Sunday bag doesn't mean that you don't need water.
This bag gives you easy access, and because it is so lightweight, you will have no issues carrying the extra water bottle with you.
The stand makes it easy to place this bag wherever you like, and it comfortably fits about eight golf clubs.
This is certainly enough to enjoy a few holes out on the course without breaking your back.
Pros
Only weighs two pounds
Easy to stand up
Can accommodate eight golf clubs
Cons
The stand is a little fragile
5. Orlimar Pitch and Putt
Key Features
Two-compartment top
Has a stand
One pocket
The Orlimar Sunday golf bag is called a pitch and putt golf bag.
This is so that you can take a few clubs and head out to work on your short game.
The Orlimar is a lightweight construction, but it does also have a stand.
At the top of the bag, you will notice that there are two compartments for putting your clubs in the bag.
We like that there is some separation between the clubs that are going in the bag.
Pros
Large accessory pocket
Can hold a water bottle
Two-compartment top
Low price
Cons
The strap will not support if you overload this golf bag
6. Cobra Ultralight Sunday Bag
Key Features
Lightweight
Quality design
Easy to carry
Cobra makes some excellent golf products.
Their golf bags are known for being some of the better designs on the market.
The Cobra Ultralight Sunday Bag is no exception.
This bag will be a little heavier and larger than some of the others on our list.
However, the straps that the Cobra bag has make it much easier to carry.
If you are tired of being bogged down with stuff and extra clubs you don't hit, the Cobra is a perfect choice.
The top of the bag has a three-way divider that goes all the way down the golf bag.
This helps keep your grips and shafts in great shape even while stuffing them all in a smaller golf bag.
Pros
Has beverage pocket
Great strap to carry
Three-way top
Valuables pocket
Cons
A little heavier than other Sunday golf Bags
7. Longchao Sunday Golf Bag
Key Features
Available in other colors
Has a stand
Fits 6-7 clubs
One thing you may have noticed with the golf bags in our review is that they are mostly black or blue.
Since the Sunday bag is often placed on the ground, the color selection is somewhat limited.
If you have been looking for a Sunday bag with a little more color, the Longchao could be a good option.
This bag fits six or seven golf clubs with ease and comes with a backpack style shoulder strap.
You can also take the strap off and just carry it using the handle if you would like.
There is a mesh pocket on the LongChao where you can have easy access to golf balls and tees.
Pros
Made with waterproof material
Non-slip bottom
Lightweight stand
Shoulder strap
Cons
Doesn't hold as many clubs as some other options
8. Light Weight Water Resistant Foldable Golf Sunday Bag Golf Carry Bag 50″
Key Features
One of the lightest options
Foldable
Available in any color
For some people, when it comes to golf gear, storage becomes an issue.
It's great to have all of these gadgets and gizmos, but where can you keep them all.
With this Sunday golf bag, you will not need to worry about space.
This golf bag folds up completely when it is not in use.
It is made with durable and lightweight material and can hold about 5-8 clubs.
You can also get this bag in almost any color that you want.
Make sure you remember that the bag will be laying on the ground quite a bit when you choose your color.
In addition to space for clubs, you get some pockets for balls and tees as well.
The bag can be zipped completely when not in use to keep your clubs dry and safe between rounds.
Pros
Can be folded
Adjustable should strap
Padded carry handle
Cons
Lighter colors will get dirty easily
9. TOURBON Canvas Golf Club Travel Case Lightweight Carry Bag for Men Women
Key Features
High-quality canvas
Stylish and classic design
Padded lining
If you are into golf fashion, golf history, and how you look on the golf course, you will love the Tourbon Canvas Carry bag.
This is a high-quality design that will be a little more expensive than some of the other choices, but you will own it for a long time.
The Tourbon has a thick padded lining and can hold several tees on the outside for easy access.
The bag itself is made of high-quality canvas and leather, and it is very high-quality construction.
The removable shoulder strap is comfortable and helps the golf bag feel very light when it is being carried.
It's probably best to use about 5-6 clubs with the Tourban.
Pros
Premium design
Easy to carry
Does a great job of protecting the clubs
Cons
It's not the ideal fabric for laying in wet grass
10. Helix Golf Stand Bag, Lightweight Easy Carry Golf Sunday Travel Bag with Shoulder
Key Features
Lightweight carry bag with stand
Available in lots of patterns
Two dividers
The Helix Sunday Golf bag is an excellent choice if you need lots of options when it comes to color and design on your golf bag.
This particular model is available in several different colors and patterns so you can stand out when on the course.
The bag has one large zipper pocket for you to store any golf, balls, tees, or even a water bottle.
The Helix is another Sunday bag that comes with the stand.
Keep in mind if you overload the golf bag, the stand is not designed to support the extra weight.
If you have a junior golfer or a senior that has trouble lifting their golf clubs in and out of the car, the Helix is a great choice.
The anti-slip bottom helps the bag stay in place.
Overall this is an excellent option for the price as long as you use it for a Sunday bag and don't try and pack it full like a traditional golf bag.
Pros
Available in several colors
Anti-slip bottom
Has a stand
Good pockets
Cons
Stand will not hold up if golf bag is too heavy
11. Titleist Sunday Bag
Key Features
High-quality construction
Lightweight
Available in several colors
The Titleist Sunday Bag has been around for many years.
Titleist takes excellent care in their product manufacturing to make sure that they offer the best quality out there.
This particular bag is a very lightweight design, but it uses the limited space quite well.
You will notice that there is a full-length apparel pocket so you can bring a windbreaker or sweater with you.
The golf bag is also available in four different colors that look great with the white Titleist logo.
There are four total pockets in the Titleist bag, and this is one that should fit at least 8 of your clubs.
Some people try and fit all fourteen, and although it may be possible, the bag will get heavy, and you could cause it to wear down faster.
Pros
Nice looking golf bag
Lightweight design
Great colors
Cons
12. Sun Mountain Leather Sunday Golf Bag
Key Features
Leather design
Four full-length dividers
Nice handle
If you want something that is premium quality and construction, you may like the Sun Mountain Leather Sunday Golf Bag.
This is genuinely a high-end design, and you will see that reflected in the pricing.
This golf bag is priced higher than most of the golf bags on our list combined.
However, you will get some excellent quality and a good look with this golf bag as well.
The top on the bag is 9″ which is quite large for a Sunday Golf bag.
This bag is intended to have the look of a golf bag that somebody like Bobby Jones may show up to the course with.
There are several handles built in the top and bottom of the bag to make it easier to lift and carry.
Inside the four full-length dividers keep clubs separated.
Pros
Classic looking style
Valuable pocket
Single Should strap
Cons
Priced at the top of the market
13. MU Sunday Sports Bag for Driving Range
Key Features
Padded mesh shoulder strap
Simple design
Easy to carry
If the reason you want a Sunday bag is for quick trips to the driving range to hit a few balls, this is the choice of your bet.
Your clubs can stay protected, you don't need to carry your entire bag, and it is very lightweight.
The padded mesh on the strap will help your shoulder, and the cover that zips over the clubs certainly helps to keep them protected.
The bag fits a driver, a hybrid, and a few irons.
Although this bag works for the course too, we love it for the range.
Pros
Nice looking design
Keeps clubs well protected
Easy to carry
Cons
Does not fit very many golf clubs
14. Fourteen Golf Sunday Bag
Key Features
Pink color
Great for female or junior golfer
Lightweight
The Fourteen Golf Sunday bag is a perfect option for a female new player.
As a new golfer, there is no reason to have 14 clubs in the bag.
It makes no sense to carry around a bunch of clubs that will not have any impact on your game.
The Fourteen Golf Sunday Bag is a great choice to be able to carry six or seven clubs, a water bottle, and a club cleaning brush or two.
The ultra-lightweight design will have you grabbing this bag over a heavier one any day.
Pros
Great for women or younger player
Has a stand
Carries a few clubs
Cons
Not much storage space for gear
15. Jones Players Series Carry Bag
Key features
High-quality design
Fits more clubs than a standard Sunday bag
Two way top
Last on our list is the Jones Players Series Carry Bag.
Although Jones does not describe this as a Sunday bag that is exactly what it is.
This bag does not have a stand, but it has a very nice strap and is easy to carry.
The two-way divider helps clubs somewhat separated.
The entire weight of the golf bag is only three pounds which are perfect for a Sunday afternoon round.
The pockets on this bag are going to feel a bit more full size than a standard Sunday golf bag.
This bag likes to make golf more simple, and that is something that we are absolutely on board with.
Pros
Easy to carry
Lightweight design
Retro looking style designed to bring back classic golf style
Cons
Priced a little higher than other options