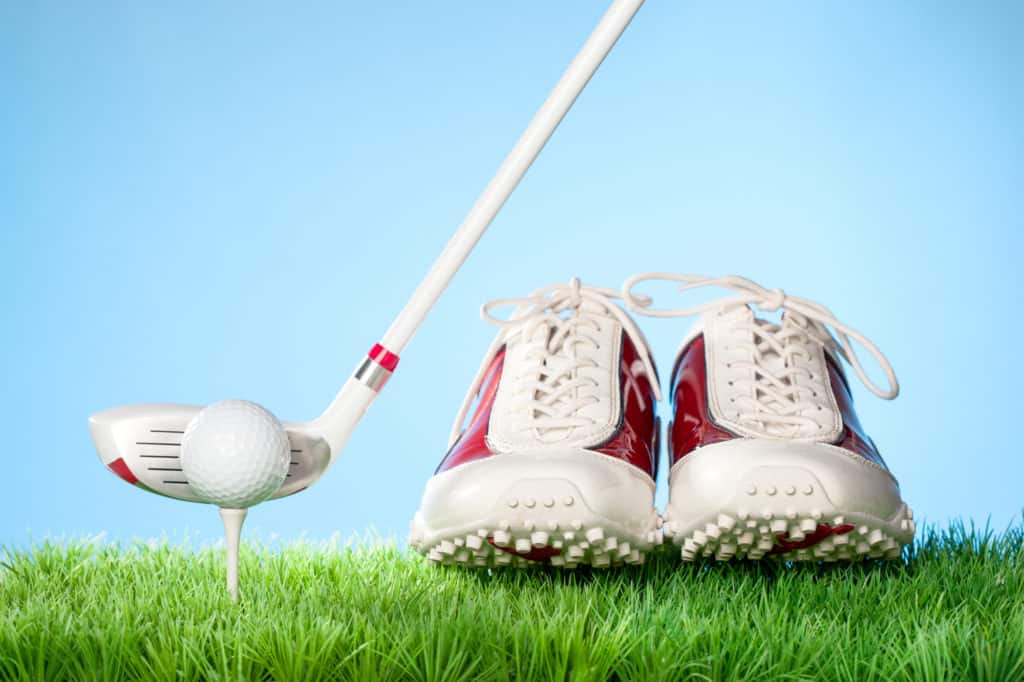 Golf shoes for people with diabetes must have lots of circulation and room for movement.
Diabetics are prone to having issues with their feet, and poor fitting golf shoes are only going to make those issues worse.
With all of the options for golf shoes on the market, we have put together ten of the best shoes for diabetics.
There are options on this list for all budgets.

Top 10 Best Golf Shoes For Diabetics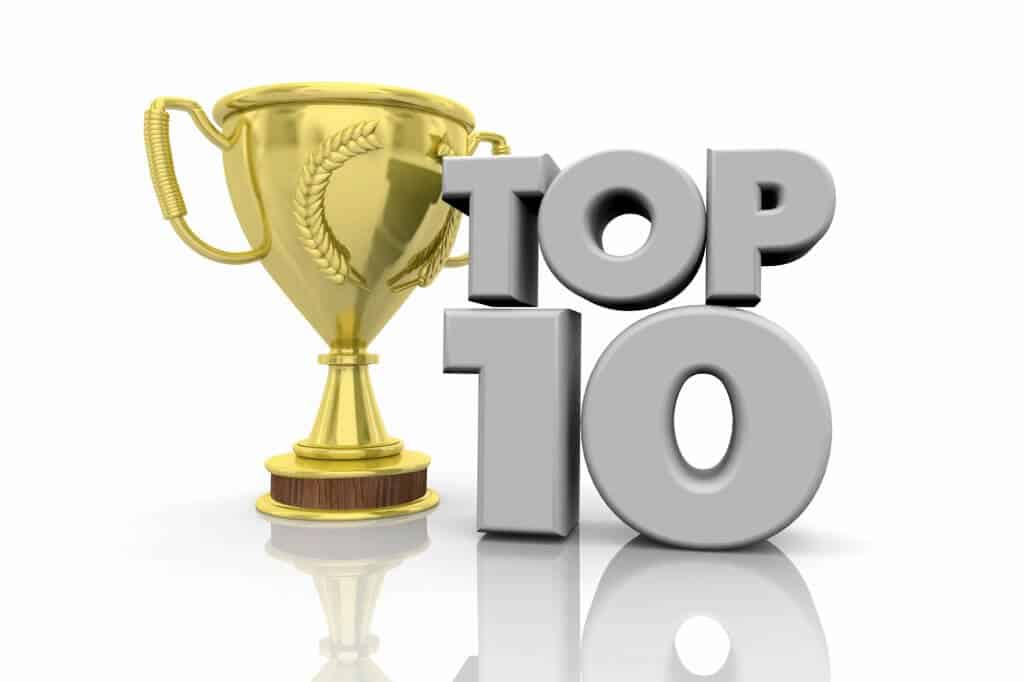 1. ECCO Men's Biom Hybrid 3 Gore-Tex Golf Shoe
Key Features
100% Leather
Rubber Sole
Waterproof
The ECCO Men's Biom Hybrid Gore-Tex golf shoe is one of the best shoes on the market for the diabetic golfer.
These shoes are one hundred percent leather, and they are waterproof as well.
The Biom series of shoes are built to help players have better balance and motion.
The technology incorporated in the Biom series is quite high end, and you will find that these shoes will sit close to the top of the market as far as pricing is concerned.
However, the performance you get will be well worth the price.
One thing we love about the Ecco Biom is that you can get it in many different colors.
There are options available whether you want a shoe that looks classy or if you want one that has a sporty look.
Pros
Leather
Lots of comfort
Gore-Tex Waterproof
Breathable
Cons
ECCO shoes are generally quite expensive
2. ECCO Men's Cage Pro Golf Shoe
Key Features
Leather
Stability in the heel
Water-resistant
Next on our list is another option by Ecco.
The Ecco men's Cage Pro shoe has some great features that will help a person with diabetes feel more comfortable.
Potentially, the best part is the removable insole.
The insole can be taken out to adjust the width of the shoe.
This allows for golfers to have extra wide shoes if they need one.
For some golfers with diabetes, this extra room in the shoe is what gives them comfort and circulation necessary to keep feet healthy.
The outside of the Cage Pro has a very soft structure that is easy on greens and on your foot as well.
The leather upper on the shoe is water-resistant, so these shoes should stay in great shape for many years to come.
The Cage Pro is available in several different colors, and the pricing on this shoe has dropped over the years.
Pros
Water-resistant
Available in several colors
Extra-wide sizing available with a removable insole
Cons
Not the latest release from Ecco
3. adidas Men's Tech Response Golf Shoes
Key Features
Mesh/synthetic construction
Lightweight
Lots of breathability
If you are the type of player who wants a breathable and lightweight sneaker with just a bit of extra traction, this is a great choice.
When you are wearing the Adidas Tech Response shoes, you will not even know you have a golf shoe on; you will assume it is a sneaker.
These shoes are made with a combination of synthetic and mesh materials.
The bottom of the Adidas Tech Response has a six-spike configuration which gives you perfect balance and stability.
The insole on the shoe is not only breathable, but it is comfortable as well.
The Tech Response is a sporty looking golf shoe available in four different colors.
Since these shoes are not all leather, their pricing is much fairer than some other options.
Of course, when you switch to a mesh/synthetic shoe, you will give up some waterproof features, but golfers should always have more than one pair of shoes in their closest.
Keep a pair of waterproof for the really rainy days, and then keep these for the majority of rounds, so your feet stay comfortable and cool.
Pros
Feels like a sneaker
Mesh makes them very comfortable
Breathable
Available in four colors
Priced fairly
Cons
Not as professional-looking a golf shoe
4. Skechers Men's Max Golf Shoe
Key Features
Sneaker like fit/feel
Very lightweight
Lots of cushion
If you did not know that Skechers made golf shoes, you might have been missing out for quite some time.
Since Skechers is known for making some very comfortable and high performing athletic and walking footwear, you will see a lot of that carries over into their golf shoes.
The Skechers shoes are of a synthetic material designed for maximum comfort while still providing durability.
Golfers who don't enjoy a heavy leather shoe on their foot will be pleasantly surprised with the way these shoes feel and perform.
Inside the Skechers shoe, you will find the Goga Max insole that will give golfers lots of cushion on the bottom of their foot.
If you are a player who likes to walk the golf course, these shoes have plenty of comfort to make that a reality.
The Skechers shoes are available in several different colors.
They will have more of a sporty/athletic look than a classic golf look, but once you try them on, you probably won't care what they look like!
Pros
Breathable
A cushion on the bottom portion of the shoe
Lots of comfort
Fairly priced
Cons
5. adidas Men's Tour360 Knit Golf Shoe
Key Features
Very soft feel
Comfortable
Synthetic Sole
If you want maximum comfort, then these knit golf shoes by Adidas are something you must consider.
This feels a bit like wearing your favorite shirt on your foot, while still having plenty of stability and durability as well.
Of course, with a knit design, you will not want to wear these shoes in the rain, but outside of that, this is a great golf shoe for a diabetic.
The knit upper does have some water resistance, but it is not quite the same as a Gore-tex shoe.
Adidas calls the technology in this shoe the Torsion Tunnel.
The idea is that you get a lot of flexibility and control but still have the arch support you need to play great golf.
These shoes are comfortable on the greens as well, which is an essential factor all golfers should be considering when they are shopping for shoes.
The bottom of the shoe features ten soft spikes to help you feel as though you are truly rooted to the ground while playing.
Pros
Very breathable material
Conforms to your foot
Brand new technology
Available in several colors
Cons
The waterproof technology is not the best
6. FootJoy Men's FJ Flex Golf Shoes
No products found.
Key Features
Lightweight
Breathable
Synthetic Sole
FootJoy is undoubtedly one of the leaders when it comes to high performing and high-end golf shoes.
If you are looking for a shoe that has lots of performance but plenty of comfort and flexibility, the FJ Flex is a great choice.
The shoe is made with a performance mesh material that is very lightweight and comfortable.
There is also quite a bit of underfoot cushioning in the FJ Flex shoe.
Another thing we really like about this series of golf shoes is the style.
There are some contrasting colors to make it look a bit more like a golf shoe than just a plain sneaker.
FootJoy does a great job of making a shoe both comfortable and stable for golfers of all swing speeds.
You can also order the FJ Flex golf shoe in a wide size if you feel as though that would accommodate your foot better.
Don't expect these shoes to be as waterproof as some of the FootJoy leather golf shoes, but they do a decent job of keeping the bottom of your foot dry.
The mesh also dries very fast should your foot get a little wet.
Pros
Mesh material makes the shoe very lightweight
Stylish and comfortable
Available in wide sizes
Lightweight
Cons
If the grass is very wet the top of your foot will get wet
7. adidas Men's Adicross Bounce 2 Golf Shoe
Key Features
Comfortable
Cloudfoam technology
Custom lacing system
The Adidas Men's Adicross Bounce is one of the most comfortable golf shoes on the market.
When people say they feel like they are walking on a cloud, they are probably referring to this Adicross Bounce.
With the Adidas Cloudfoam technology, you get some unbelievable cushioning each time you step down.
Inside the shoe is a sock liner that helps make it feel even more comfortable.
The idea behind the Adidas Bounce shoes is the ultimate comfort.
For the person with diabetes, this is very important.
Overall, the shoe is lightweight and breathable as well, so your foot won't stay wet should you sweat in the shoe.
One of the other things we love about this shoe is the custom lacing system, which helps to make sure you get an exact fit.
Pros
Most comfortable shoe
Lightweight
Easy to lace up and get custom fit
Cons
Does not come in wide sizes
8. PUMA Men's Ignite Pwradapt Caged Disc Golf Shoe
Key Features
No laces
Lots of support
Very good fit
The Puma Men's Ignite Pwradapt Caged Disc Golf Shoe is an excellent option for those who don't like laces.
These shoes have a disc which allows you to tighten or loosen the shoe.
We like this option because if you need an adjustment mid-round, all you need is to adjust the knob one way or another.
This is much easier than having to adjust and tie laces while out on the golf course.
Sometimes there can be a fine line between the support a shoe gives and the comfort.
This Puma golf shoe has the PWRCAGE saddle which helps keep the middle part of your foot stable while swinging.
It is not all that difficult for a shoe to support a heel or even a toe, but having that added support in the middle of the shoe is crucial for performance.
Inside the shoe is an internal fit bootie to make sure your foot stays comfortable and supported inside the shoe as well.
The PUMA golf shoes have some great color combinations which you can use for a sporty look or a more classic professional look.
The shoe itself is also a very reasonably priced model when you consider all it has to offer.
The only downside to these shoes is that they do not come in wide sizes.
With the twist to tighten feature, you will be able to get the shoe very close to a wide.
Pros
Twist to loosen or tighten the shoe
Supportive on outside and inside of the shoe
Available in many colors
Lightweight and comfortable
Cons
Not a waterproof golf shoe
9. FootJoy Men's Fury Golf Shoes
Key Features
Comfortable
Dual-density foam
Ortholite Impressions Fit Bed
The FootJoy Men's Fury Golf shoes are a great choice if you are looking for performance in addition to breathability.
As we have mentioned, the FootJoy golf shoes are some of the best on the market.
They do a tremendous amount of research when it comes to the performance and longevity of their golf shoes.
This particular shoe is made of 100% textile materials, and it has a synthetic sole.
This is a soft spike golf shoe with a lot of coverage on the bottom of the foot.
You will have plenty of traction and grab from this shoe.
This shoe has been used on the PGA Tour and in lots of amateur events across the country.
In addition to being lightweight, comfortable, and high performing for diabetics, it works for the lowest handicappers in the world.
This is an athletic-looking golf shoe, and the most important thing about it is that it is waterproof.
Many of the shoes on our list have lacked the waterproof abilities this shoe has, and we must say it certainly adds to the value of the shoe.
Knowing your foot is not going to get wet the next time you head out on the course is a great feature.
Pros
Dual-density foam
Comfortable
Leather upper for waterproof fit
Cons
Not a full leather classic looking golf shoe
10. Callaway Men's Solana XT Golf Shoes
Key Features
Natural feel
Lots of traction
PLUSfoam insole for comfort
The last shoe on our list is the Callaway Men's Solana XT golf shoe.
This is a great looking shoe that also has lots of support, breathability, and comfort.
The insole of the shoe has 5mm of foam to help your foot feel as though it has a soft surface to land on each time.
The Callaway golf shoes are known for being high quality and holding up over time.
You will be impressed that, even with all of the mesh on the shoe, it still does a great job of keeping your foot dry while you are playing.
The Solana is only available in gray or black, but there are lots of sizes available.
If you need a wide golf shoe, then you can also use the Callaway Solana XT.
The bottom of the shoe is a spikeless design, so you won't have to keep changing out the spikes.
The cage on the outer part of the shoe is going to help keep the middle of your foot secure while you turn and twist in your golf swing.
Potentially our favorite part of this golf shoe is the pricing.
Since this isn't the newest release from Callaway, the pricing is very fair and reasonable.
Pros
Very comfortable fit
Available in wide sizes
Simple looking shoe
Spikeless
Cons