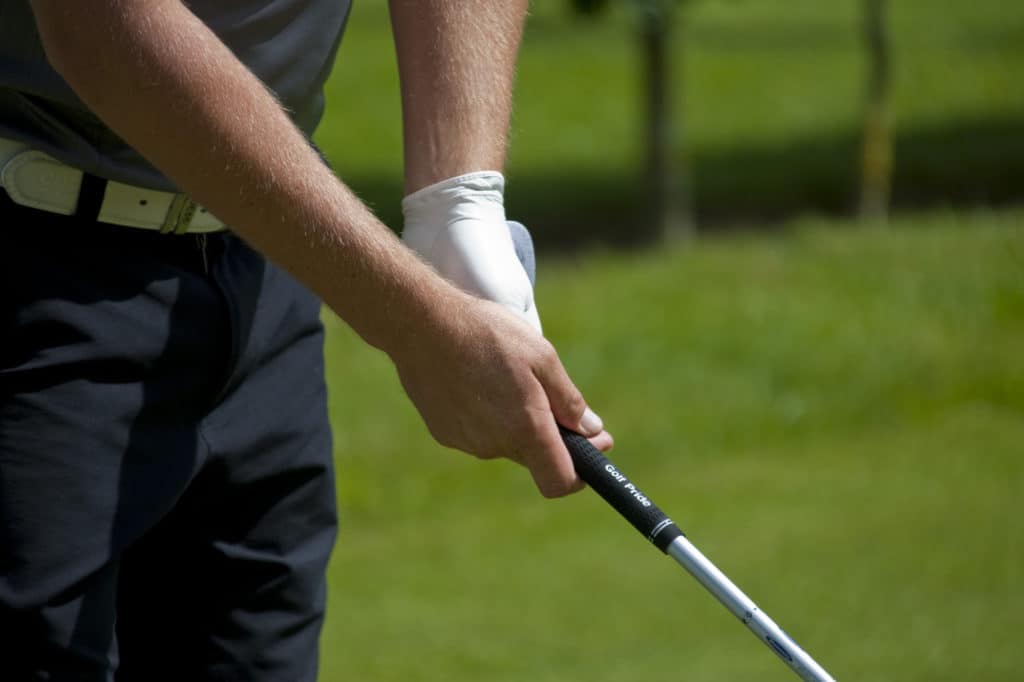 Sweaty hands and golf do not mix.
Any type of moisture or water on your hands will make it very difficult to keep a good grip on your golf clubs.
Luckily, golf grip manufacturers have thought about this, and they created golf grips that work quite well with sweaty hands.
We put together a list of the top ten best grips for sweaty hands.
If you struggle with this issue, you may want to make the switch to one of these top choices.

Top 10 Best Golf Grips For Sweaty Hands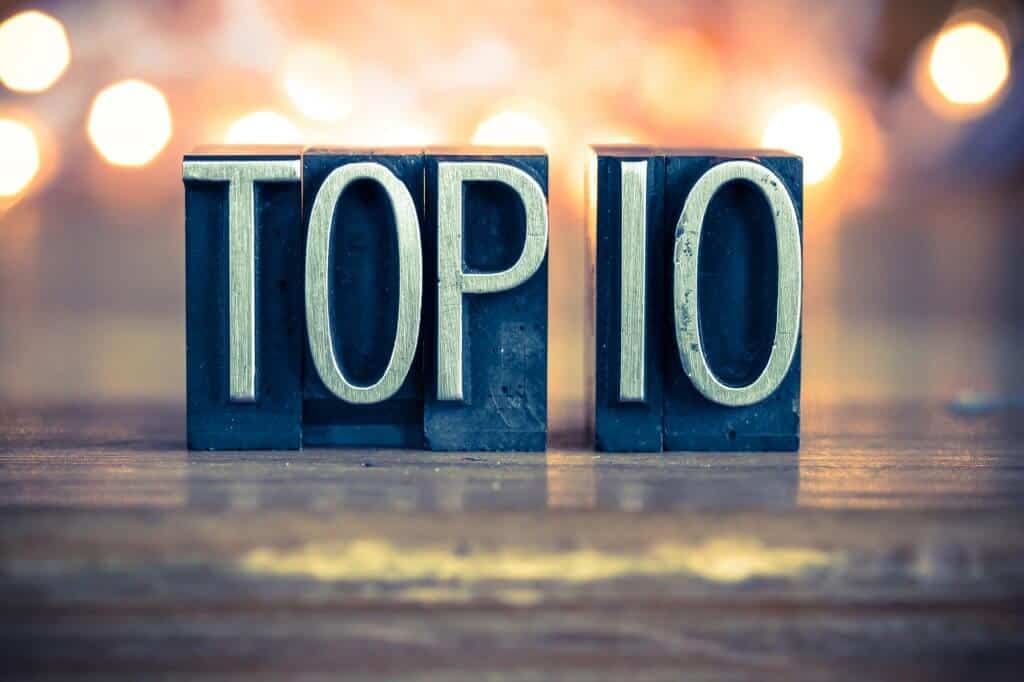 1. Golf Pride New Decade Multicompound Cord Black Grip
Golf Pride is the number one name in golf grips.
Do not be surprised if you see the Golf Pride name come up a few times on our list.
This particular New Decade Multicompound is the most popular grip that Golf Pride makes.
You may have heard that cord grips give you some of the best connections and traction.
Golf Pride recognized that although this was true, not everyone wanted the rough feeling of a cord grip.
Over time cord grips can rip at your hands and leave you with some terrible blisters.
The New Decade Multicompound is partially a cord grip, but it is also just rubber in some areas.
The combination of these two materials helps it perform at a very high level without ripping your hands up.
The New Decade is available in many different colors, so you can find an option that looks great with the colors on your club.
This is a well-made grip that will hold up well in normal conditions.
Don't forget to wash your grips from time to time to remove all the oils and dirt that collects.
By doing this, you will help the New Decade grip to stay in good shape for many more rounds.
Pros
Available in many colors
Partial cord design helps to give excellent grip and feel
Will not beat up your hands
High-quality design that should hold up for many rounds
Cons
Can be priced a bit higher than other grips
2. Winn Dri-Tac Standard Grip Kit (13-Piece)
No products found.
Not too far behind the Golf Pride when you talk about well-known grip manufacturers, is Winn.
The Winn grips were known for many years as being the soft grips.
These grips always felt as though there was a small cushion between your hands and the shaft of your club.
Some people liked this feel if they had issues with arthritis, and others felt it helped them with their grip pressure.
Winn has since expanded the variety of the grips they produce.
Today, one of their most popular options is the Dri-Tac Standard.
The Dri-Tac was made to help golfers who struggle with wet or sweaty hands while playing golf.
These grips stay very tacky for their entire lifespan.
Some players will admit it almost feels as though your hands will stick to this grip.
If your hands feel like they stick, you will be less likely to feel the need to squeeze the club to death.
That is a great thing!
The WinnDry polymer material on this club offers a very tacky feel that works not just with sweaty hands but in less than ideal weather as well.
You can get this Dri-Tac grip in a lite version as well if it would benefit your game.
The Winn Dri-Tac will not be hard on your hands, and it will undoubtedly help you succeed on the course.
You can buy an entire kit with these grips that come with the solvent and everything you need to change up your entire set.
Pros
Very tacky feel helps to provide a good grip
Less likely to squeeze so hard with a soft and tacky grip
Black color will keep dirt to a minimum
A quality product that holds up over time
Cons
Some players don't like the softer feel of Winn
3. Champkey Multi Compound Golf Grips Set of 13
No products found.
Next on our list is a bit of a bargain find for you.
This grip is very similar to the Golf Pride Multi Compound, but it is offered at a much lower price.
You can get an entire regripping set of the Champkey grips for the same price as just four or five of the Golf Pride.
These grips are made with the same underlying technology that we discussed with the Golf Pride.
You will have a partial cord portion on this grip, and the rest will be a rubber material.
This grip is made with what Champkey calls the soft micro-texture that helps increase traction and comfort.
Once you get used to these grips, you should not be getting blisters or having trouble with pain in your hands.
The Champkey grips give just enough feedback that you can reduce your hand pressure and feel like you have control over the club.
Pros
Similar to the Golf Pride Multi Compound
Helps to reduce grip pressure
Comes as a set with all materials included
Suitable for people who play infrequently
Incredible price
Available in lots of colors
Cons
A cheaper grip that will likely not hold up as long
4. Golf Pride Tour Wrap 2G Golf Grip
We are back with another option from Golf Pride.
This is a wrap grip, which means the rubber will wrap around the grip.
There are no cords on this grip, and it will have a very tacky feel similar to the Winn Dri Tac that we reviewed.
You will find that the Tour Wrap 2G is a bit more firm than a Winn Grip.
This is a popular grip for Golf Pride, and it will be available in several colors.
If you like a midsize grip, you can also get the Tour Wrap 2G in the midsize option.
The Tour Wrap 2G is very common among golf purists as they feel it helps them align their hands quite easily on the club.
The Tour Wrap also has a raised ridge in the back that fits into your fingers perfectly.
If it is the weather causing your hands to slip or just you as a golfer, the Tour Wrap 2G will help you have more control.
Pros
Straightforward design
Helps to get your hands in the right place
Tacky feel to the grip
Available in several sizes
Cons
Some people don't like the full rubber feel
More expensive than some other off-brand models
5. Golf Pride MCC Plus4 Align MultiCompound Golf Grip
Next is the Golf Pride MCC Plus4 Align.
This grip is going to be very similar to the Golf Pride Multi Compound, but it has a few extra features.
Golf Pride realized that the MCC was doing so well for golfers they decided to add in some new technology.
The Align Technology helps your hands line up on the club correctly so that you can square up the clubface.
Setting up with a square clubface is essential to being able to play correctly.
The Plus4 technology on this grip allows the lower portion of the golf club to feel as though it is built up with four extra wraps of tape.
This thicker portion of the grip will help you have much lower grip pressure and an overall better feel on the club.
Pros
Alignment technology
Helps to decrease grip pressure
Half cord design helps with a better grip on the club
Cons
Top of the line expensive technology
Some say it is too busy looking
Must be installed correctly or it is not effective
6. Lamkin Sonar Standard Golf Grips
The Lamkin Sonar Standard Golf Grips are a Hybrid Compound that is perfect if you struggle with sweaty hands.
These are a soft grip that won't feel quite like the WINN but will be softer than a traditional golf pride.
The Lamkin grips have always been known for being extremely durable and high quality.
Since these grips combine two different materials, they are very tacky.
If you want something a bit different than a traditional golf grip, Lamkin is a perfect choice.
In the years past, Lamkin always made grips that were soft and felt nice in the hands.
As times have changed and people are looking for more technology in a grip, they have updated their models to work for a larger group of people.
Many people that have corded grips have switched to the Lamkin, hoping it would allow them the same low grip pressure.
Overall, people have been pleased with the tackiness of the grip and have felt as though it is much easier on your hands.
Pros
Tacky
Multi-material design
A simple model that holds up well over time
Cons
Some people don't like the flashy design on the grip
7. Champkey Victor-P Golf Grips Set of 13
No products found.
If you remember in one of our earlier reviews, we showed you the Champkey version of the Golf Pride MCC.
The Champkey company makes lots of top grips in much cheaper versions.
These grips are pretty good quality, but they may not hold up quite as long as the name brand.
If you don't feel like spending hundreds of dollars on a golf grip and you would rather spend close to $50, the Champkey is a great way to go.
This Victor-P Golf Grip is very similar to the Winn Dri Tac concept.
We like the coloring on these grips even better than any of the Dri Tac options.
With this grip, you are going to get an all-weather performance.
If it starts to rain or you get a little sweaty, you will notice that these grips still feel tacky.
The outer layer is made of a polyurethane material, so it feels good in your hands and won't create blisters.
Overall this grip is designed to help you manage grip pressure and let your swing function more fluidly.
On the back of the grip, Champkey installed a cross-shaped texture that helps give just a little extra traction.
In the thumb area of the grip, they gave a little extra material as this is a common spot for a grip to start to wear down.
Overall the Champkey grip has many great benefits and can be ordered in a kit that includes all the supplies to get this job done.
The Champkey grips come with a money-back guarantee that will help if you get the grip and feel it is not capable of performing to your standards.
Pros
Similar to Winn Dri Tac
Soft feel
Very tacky
Cons
Cheaper material quality
Will not hold up as long
8. Tacki-Mac Midsize Pro and Grip Kit
Next on our list are the Tacki-Mac Midsize Pro Grips.
You can probably tell by the name how these grips made it on our list.
This is a midsize grip, so it's going to work best for the player with large hands.
Midsize grips often tend to work well for people with arthritis as well.
They won't need to hold the golf club so tight and get their fingers wrapped entirely around, so it makes for a good fit.
This grip kit comes complete with a grip protector that you can use in your vise.
This will help the grip from being destroyed by the metal vise while working on them.
In addition to the great supplies you get to complete this project, the Tacki-Mac is a very affordable and sticky grip.
If you need something that will grab your hands and feel sticky, this is a great option.
The Tacki-Mac is not a very soft grip; it will be more firm and have a very rubbery feel to it.
The pricing on this complete set is almost impossible to beat, but the quality will probably only last you a season or two.
Depending on how much golf you play, that may be all you need.
Pros
Midsize for larger hands
Affordable
Tacky feel
Cons
Very firm
Shorter lifespan than other more premium grips
9. Golf Pride CP2 Wrap Golf Grip
Yet another Golf Pride grip makes the list.
This one is a bit further down on the list, not because of quality but because of it's the ability to grab a sweaty hand.
Although these grips are far from slippery, they don't quite have the same stickiness that some of the other golf pride options have.
The CP2 Wrap comes in several sizes, from standard to midsize to jumbo.
Unless you have a very large hand, it is not recommended to go for the jumbo golf grip.
The CP2 Wrap has a core to it that helps you feel as though you have comfort and traction without having to squeeze the golf club too hard.
In the lower hand, you will notice a reduced taper.
This is similar to the MCC +4 technology that allows for overall lighter grip pressure.
Pros
Reduced taper
Unique core to increase traction
Helps with lighter overall grip pressure
Cons
Not as tacky as other grips
10. Lamkin UTx Cord Solid Gray Midsize Golf Grips
Last on our list is the Lamkin UTX Cord Solid Gray Midsize Golf Grips.
These are still excellent golf grips even though they are last on our list.
The only reason they ended up at the bottom is that they can be a little rough on your hands.
Overall, a cord grip gives you lots of traction and plenty of feel, but your hands can get beat up.
Golf purists tend to love the cord grip, and a few blisters on the hands can show a hard day's work on the course.
However, not everybody feels comfortable with tearing their hands up to become a better golfer.
The UTx is a very tacky grip with shock-absorbing technologies.
Pros
Tacky
Affordable
Clean looking and classic
Cons
Cord style is rough
Could leave your hands with blisters
The most important thing to remember when choosing a grip for sweaty hands is that it is an all-weather grip.
All-weather grips are made to deal with wet conditions.
If you can find a grip that is designed to deal with harsh weather, it will help with sweaty hands as well.
You can also look for keywords like "tacky" and "dri-tac" to know if a grip will hold up to your sweaty hands.
Always wipe your hands with a towel before swinging and make sure that you clean your golf grips from time to time.
This will help them stay clean and dry while you are playing your round of golf.