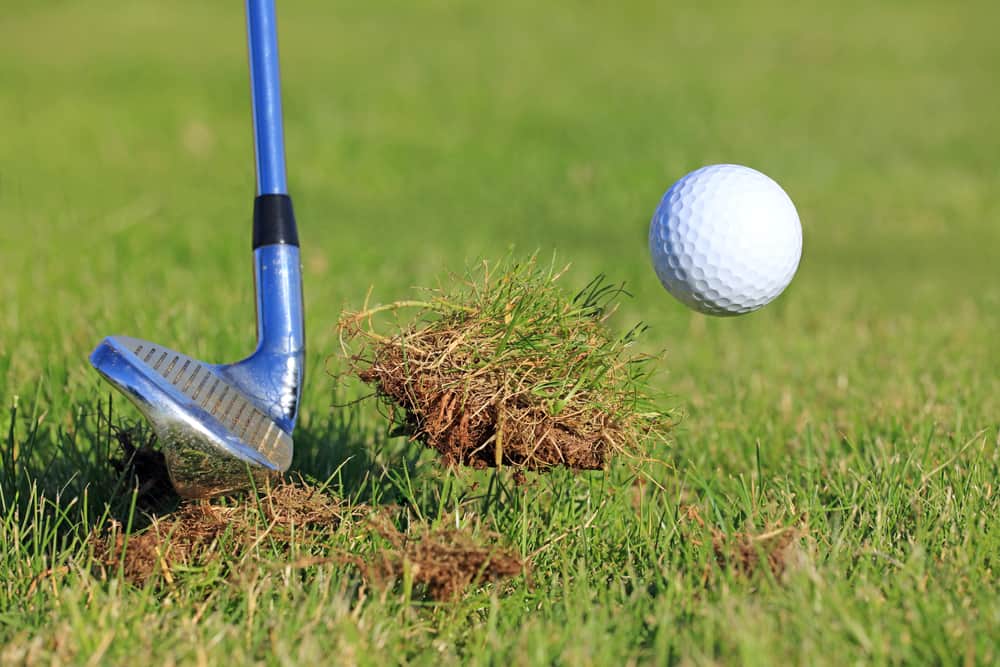 Most amateur golfers will tell you that choosing the bounce on their wedge is probably one of the most difficult decisions that they will need to make when shopping for golf clubs.
Wedges just seem to require more decision-making, and this makes it stressful for players to be able to choose what is best for their game.
When you choose a wedge, you not only have to decide on the wedge brand, style, and loft, but you also must get the right bounce.
Finding the right bounce for a golf wedge sometimes takes a bit of trial and error, but the right combination is sure to be out there.
Part of this battle is understanding what bounce is and whether or not you need a high or low amount for your 60-degree wedge.
In this article, we will take a look at bounce and 60-degree wedges and all that you need to know before you purchase.

Best Bounce For 60-Degree Wedge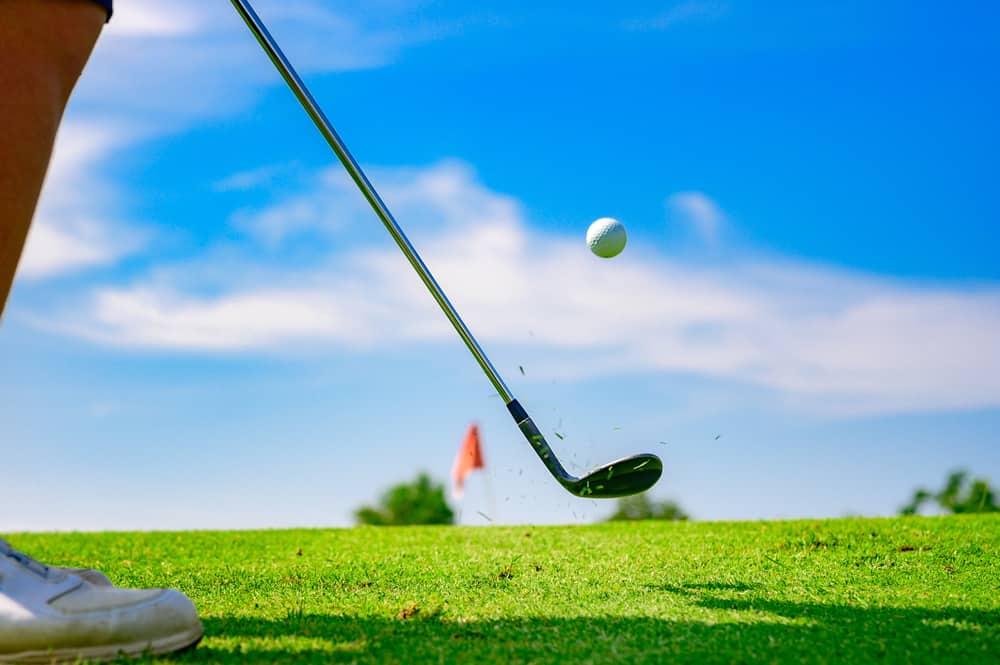 The best bounce for a 60-degree wedge is going to be around eight degrees of bounce.
At eight degrees, you are just at the lower end of the bounsce before you head closer to hitting a high bounce.
Some lob wedges are offered in very high bounces, and others are offered even lower than the eight degrees.
There are positives and negatives to both of these, and it is important to understand what bounce can do for your game.
The mid-level bounce tends to be our favorite on the 60-degree wedge, but there are some factors about the local course you play and your individual golf game that could change this.
First, let's take a look at the impact that bounce will have on your wedge shots.
How Does Bounce Impact My Wedge Shots?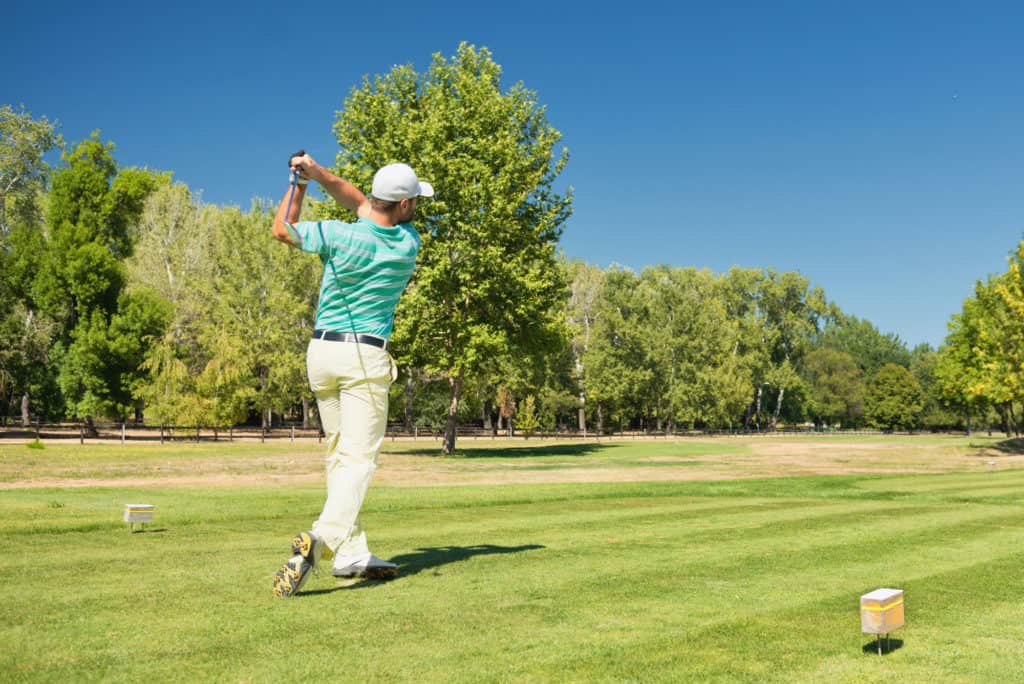 Many golfers have the wrong idea in their heads about the bounce.
Some players think that bounce is what can cause them to skull the ball across the green or end up missing their wedge shots when they get closer to the hole.
This is simply not the case.
The bounce on your golf club actually works to help you get better results from your wedge shots.
The bounce on your wedge is the part of the club that is going to dig into the ground and help you to get the spin and control that you need from your wedge shots.
If you are hitting from a soft and fluffy lie, having a lot of bounce will help you get down through the grass and hit the ball with plenty of spin.
If you are hitting from a hard pan lie or a very tight fairway lie, you won't want or need as much bounce.
Instead, you will be better off getting the ball to pick cleanly off the surface.
The types of wedges that you put in your bag should depend on the types of shots that you are going to use them for.
We will now look at a few different types of shots that you can hit with your 60-degree wedge, and we will give you some additional guidance for choosing the proper bounce from these lies.
Of course, in the end, you are going to have to settle on one particular bounce, but you can at least base your decision on the way you are going to use the club most often.
Types Of Shots With A 60-Degree Wedge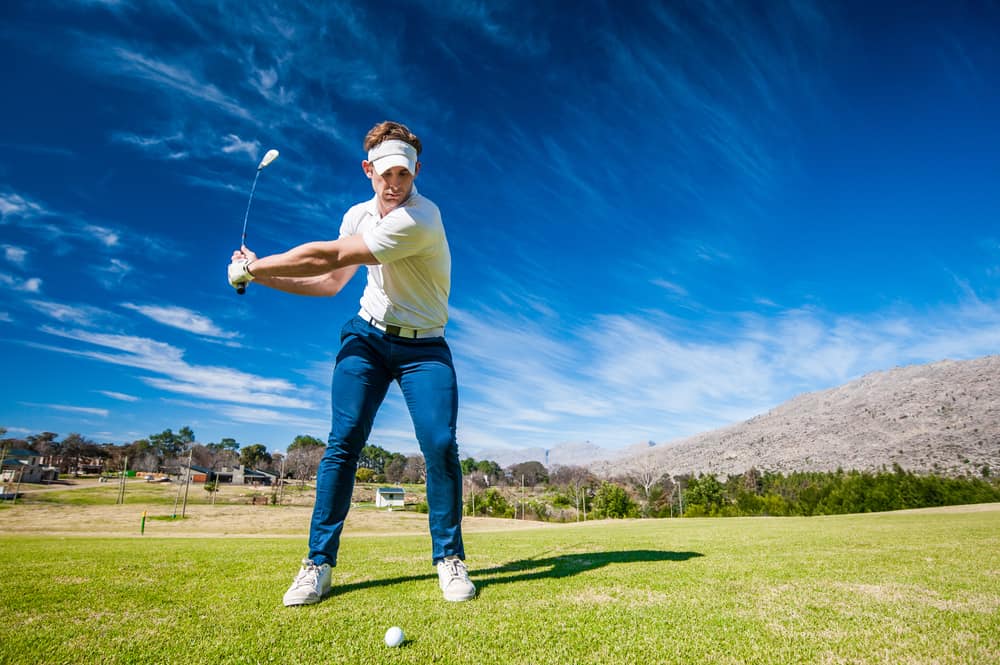 If a golfer could have an ideal 60-degree wedge, it would be something that had adjustable bounce.
With a club that had adjustable bounce, you could evaluate your lie and then set it with the bounce that you feel is necessary to be able to get out of the lie.
Of course, adjustable bounce is not a thing, and the USGA would likely never approve this simply because of the impact that it would have on the world of golf.
Overall, the 60-degree wedge can be used from a variety of locations, and the place from which you are using it will impact how it is hit.
Take a look at these shots and decide where you are going to be using your 60-degree wedge most often.
If you think that one of these is going to come up more often in your round, go with that particular bounce for your wedge shot.
1. Hard Pan Bunkers
Are the bunkers at your golf course hard and dry?
Sometimes when bunkers are older, or they are not as well maintained, they tend to get quite hard.
Many of the shots that you hit out of these types of bunkers don't really even require you to take too much sand.
If this is the place that you will be using your 60-degree wedge from most often, then it makes the most sense to go with the low bounce in your wedge.
Low bounce will help the wedge almost skip over the sand and ensure that it does not dig in too far.
A wedge with a higher bounce would try to dig into the hard sand, and then, it could have some trouble and cause you to not get enough loft.
2. Soft And Fluffy Bunkers
If your bunkers are soft and lofty and require high shots that land softly, then the 60-degree wedge with a higher bounce is the much smarter decision.
The high bounce in the 60-degree wedge could go as high as something like 14 degrees of bounce.
Certainly, this is quite high, and it could be challenging to hit from a very tight lie, but from these soft bunkers, there is no better club to have.
Although you may assume that all golf courses have bunkers as hazards everywhere, this is really not the case.
Many golf courses have hardly any bunkers, and they will be in areas that players rarely hit to.
Try and think about how often you will be using your 60-degree wedge out of a bunker before you decide on what is the perfect option for you.
3. Tight Fairway Lies
A 60-degree wedge with low bounce would be the best fit for a tight lie on the fairway.
Chances are if you belong to a private country club, some of your fairways are quite narrow and they are cut tight.
Many private country clubs do what they can to get the fairways to run very smoothly and very hard.
This is so that players can enjoy a beautiful course and also one that gives them a good test of their game.
At private country clubs, the course will not see nearly as much play as a public golf course would.
At public golf courses, the superintendents tend to keep the grass a little bit longer.
This is sometimes just because the course will see so much more play.
Keeping the grass slightly longer is going to ensure that the golfers are not going to do as much damage to the course.
Therefore, a low-bounce wedge would be great for hitting off of a tight fairway lie.
The wedge will not dig into the grass too far, and it will almost be able to clip the ball cleanly.
This type of shot is very important, considering that the greens at these types of clubs are also usually cut hard and fast.
You will need quite a bit more spin to be able to stop the ball on the green when you make your approach.
4. Thick Grass
When hitting from the thick grass or the rough, the 60-degree wedge with a higher bounce is going to make more sense.
The club will be able to dig into the grass a bit deeper and help you to get the ball up out of the thicker grass.
Typically speaking, thicker grass is found on golf courses in the rough or in the areas surrounding the green.
If you like to use your 60-degree wedge from this type of a lie, then it is important to use a 60-degree wedge with more bounce.
Overall, the lies with thicker grass can be a great spot to use your 60-degree wedge because you are going to enjoy the extra spin that this wedge gives.
The thicker grass can start to block the grooves on the club head from hitting the ball.
Because of this, you will notice that the ball does not spin as much as it should.
Therefore, the best thing to do is to use the club in your bag that has the most spin, and this would be your 60-degree wedge.
As you can see from the different types of shots that we have explained, there is really no perfect bounce for a 60-degree wedge.
Chances are that, during the course of your round, you are going to end up in a location that needs a specification that you do not have with your club.
This is why it is so important to understand how to hit different types of shots with different types of wedges.
We like to make sure that each of the wedges in our bag has a unique bounce.
This will allow for so many different types of golf shots should there be a situation where that is necessary.
The mid-level bounce, like the eight degrees that we suggested for the 60-degree wedge, will help you to be more prepared for almost any type of shot that you could hit on the course.
Being able to make subtle adjustments with the equipment you have is part of what makes golf so challenging but so rewarding at the same time.
Should I Carry A 60-Degree Wedge?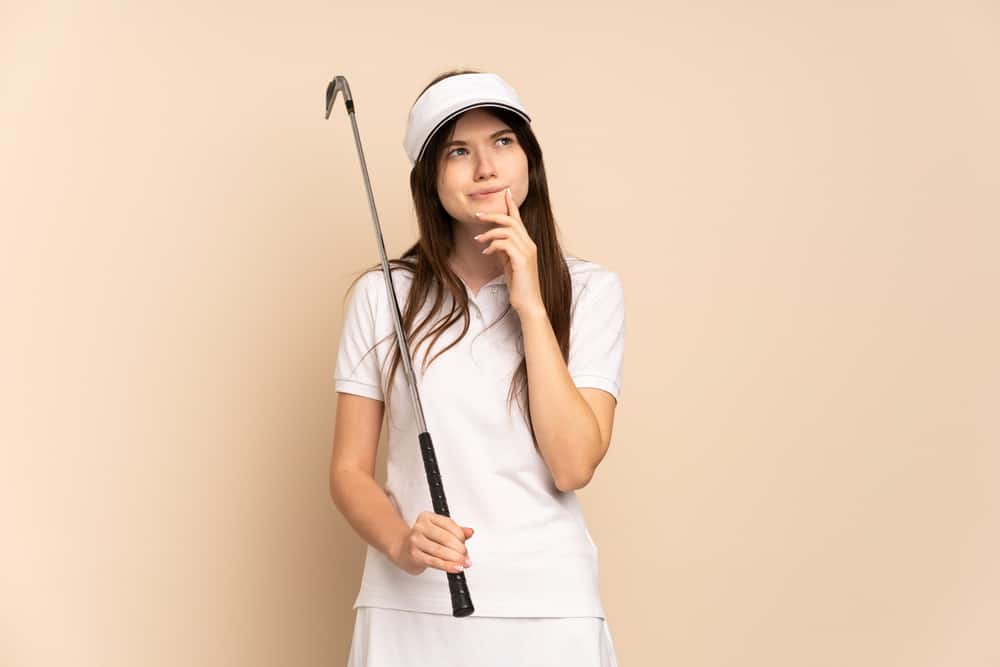 Although we are asked about bounce options for a 60-degree wedge quite often, the other common question is whether makes sense to carry a 60-degree wedge.
A 60-degree wedge is also sometimes referred to as a lob wedge.
There is no question that some golfers should not try certain shots with this wedge in their hands.
However, the 60-degree lob wedge deserves a spot in almost every golfer's bag.
Overall, the club gets a bad name because some players try to hit shots like a Phil Mickelson flop shot when they are standing just a few feet from the green.
Clearly, this does not make all that much sense, and players who don't understand the game well will try this shot over and over again with very little chance for success.
However, if a golfer learns how to properly hit a 60-degree wedge and control the ball flight, and hit short chips and pitches that land softly on the green, then this is a great club to have in the bag.
The 60-degree is one of our favorite choices for hitting out of the bunker as well.
If you have bunkers at your golf course that are deep or difficult to get out of, then the 60-degree lob wedge is a perfect club selection.
Don't assume that, because you are a beginner or a higher handicapper, you won't need a 60-degree wedge.
As long as you are using this club with smart course management, it can be a great addition to any golf bag.
Overall, the more wedges that you learn to carry, the better chance you give yourself of being able to score low.
Conclusion
Now that we have given you some of our best information about the 60-degree wedge and its bounce, it's time for you to go pick out the next wedge for your game.
The first thing you should do is take a look at the other wedges in your bag and see what you are playing with.
Do you have all low-bounce wedges?
Now may be the time to switch to something with high bounce so that you have some versatility.
The more shots that you can perform successfully because of the clubs you have in your bag, the better your chance for overall success on the golf course.
Now you understand what it means and the impact it can have on your game, don't be as overwhelmed by your golf wedge bounce choices.