TopGolf is becoming more and more popular.
Golfers across the country are realizing how much fun it is to practice at a TopGolf location, and they are heading there to see for themselves.
In addition, more and more TopGolf locations are being built because of the popularity of the TopGolf name.
The TopGolf brand is a strong one, and part of that is because of the experience that they offer their customers.
If you are new to the game of golf and don't even have your own clubs, you can head to TopGolf and play.
This is a unique benefit of the TopGolf experience and one that makes golf more accessible for many.
If you are curious about the clubs that are used at TopGolf, let's take a look and see what you need to know about the golf clubs at TopGolf.

What Brand Of Clubs Are Used At TopGolf?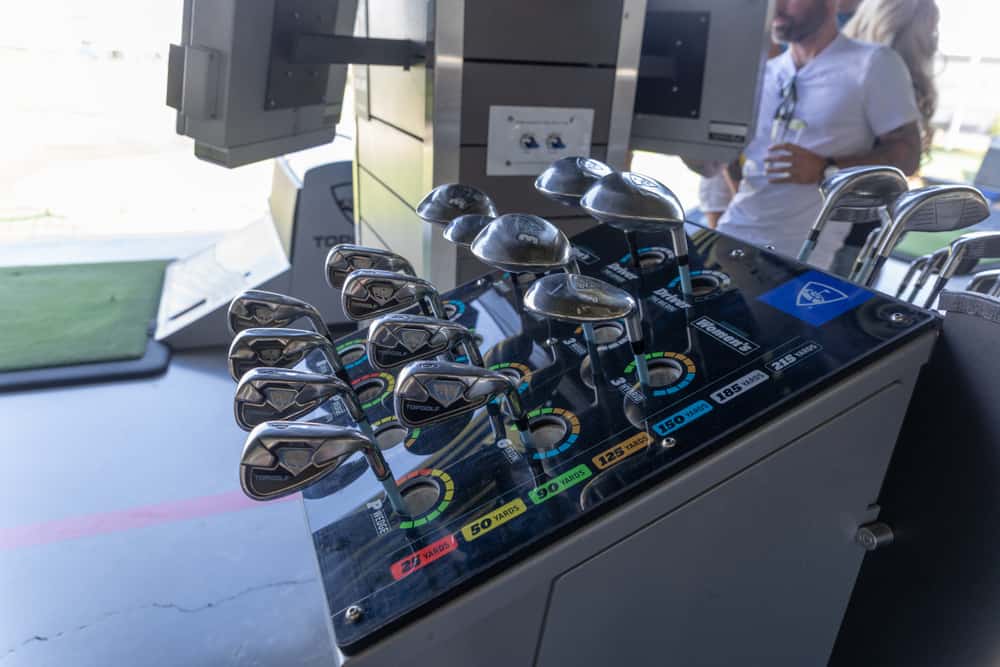 The TopGolf golf clubs are usually a version of a Callaway golf club.
For the most part, the golf clubs are not the latest release, and instead, they are more of a value-based golf club option.
The TopGolf franchise is owned by Callaway, and that is why you will see their golf balls used.
The clubs are also from Callaway, but they are certainly not going to have the same technology as some of the new Apex or Epic releases that we have seen from the Callaway brand.
Remember that these golf clubs are offered to customers to use free of charge.
A company like TopGolf is not going to be able to offer everyone a brand-new set of top-of-the-line equipment free of charge.
The clubs that are available are convenient for people, but they are not necessarily meant to change your game or help you invest in new equipment.
Here are a few things to know about the clubs that are used at TopGolf and whether or not you should use them during your next visit.
Who Should Use The Clubs At TopGolf?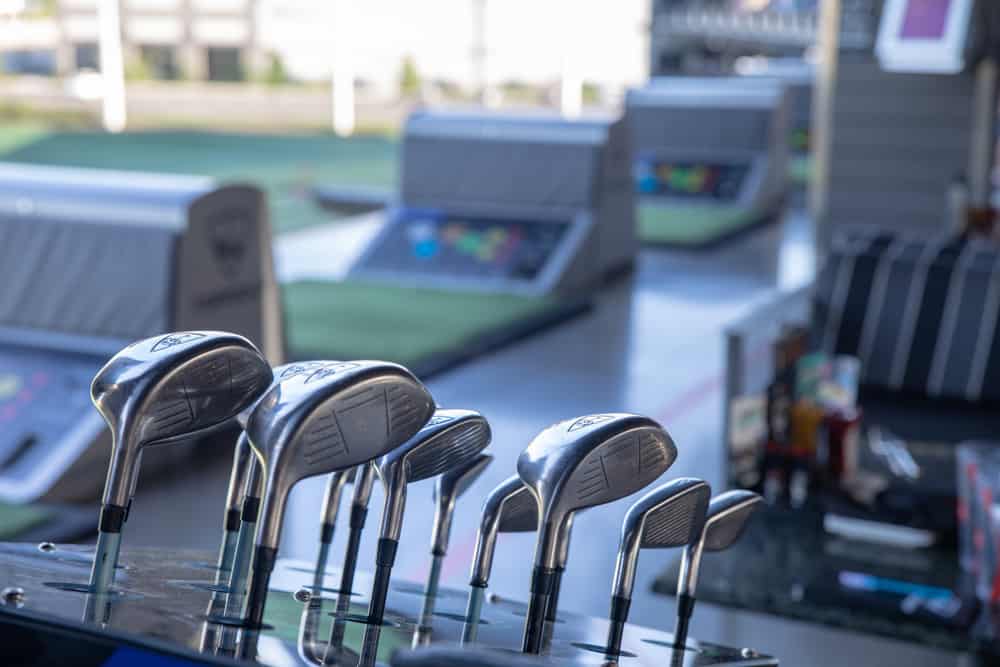 The fact that you don't need to bring your golf clubs when you play and practice at TopGolf is a tremendous benefit.
Not only does this help golfers who are new to the game and have yet to invest in equipment, but it also can be a great option for those traveling.
Here are a few things that people should think about using the clubs at TopGolf.
1. Beginner Golfers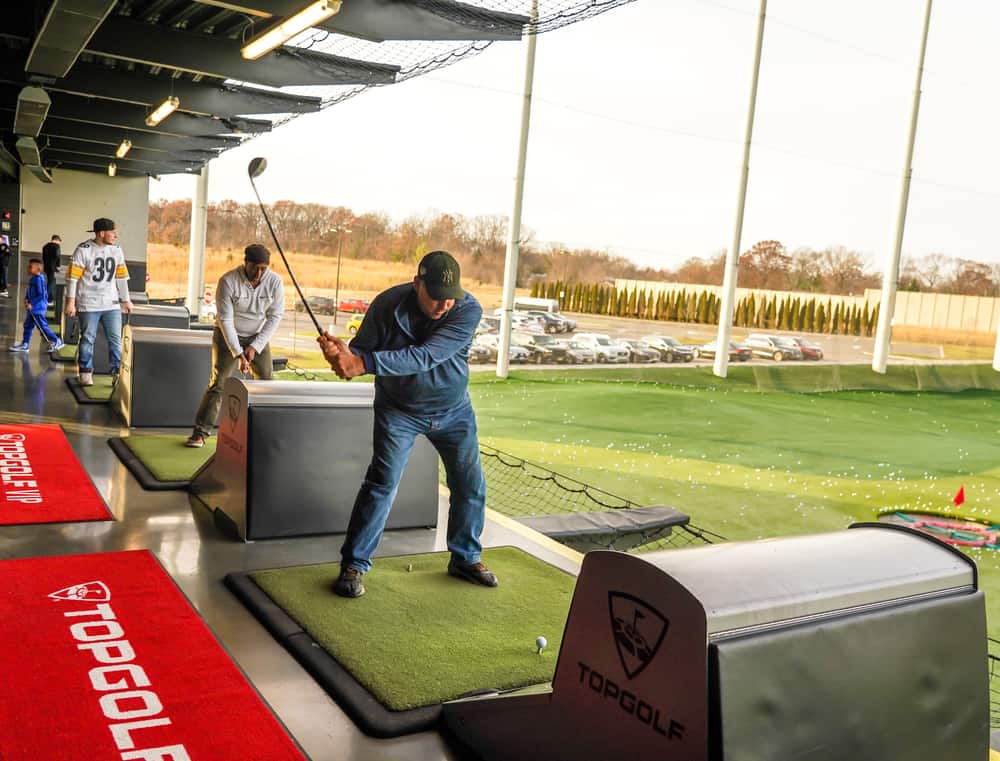 The TopGolf brand golf clubs are perfect for beginner golfers.
These clubs are forgiving and offer plenty of distance for a golfer who is trying out the game.
If you are interested in the game of golf but afraid to invest in a full set of golf clubs, then the clubs at TopGolf are a great option to try.
The clubs are designed to be forgiving and something that the majority of people could use to get results at TopGolf.
Some beginner players find that they like the Callaway golf clubs, and then they purchase a beginner set from Callaway that has similar technology to these golf clubs.
The golf clubs are a major barrier for those who are interested in taking up the game of golf.
When you want to start in the game but then realize that it can be over $1,000 just to get golf clubs, it is quite discouraging.
Heading to TopGolf a few times and trying the game out is a great way to ensure that your initial investment in your golf gear is going to be well worth it.
Overall, beginner golfers are not going to need highly advanced equipment, and that is exactly what TopGolf offers its users to try.
2. Players Who Are Out Of Town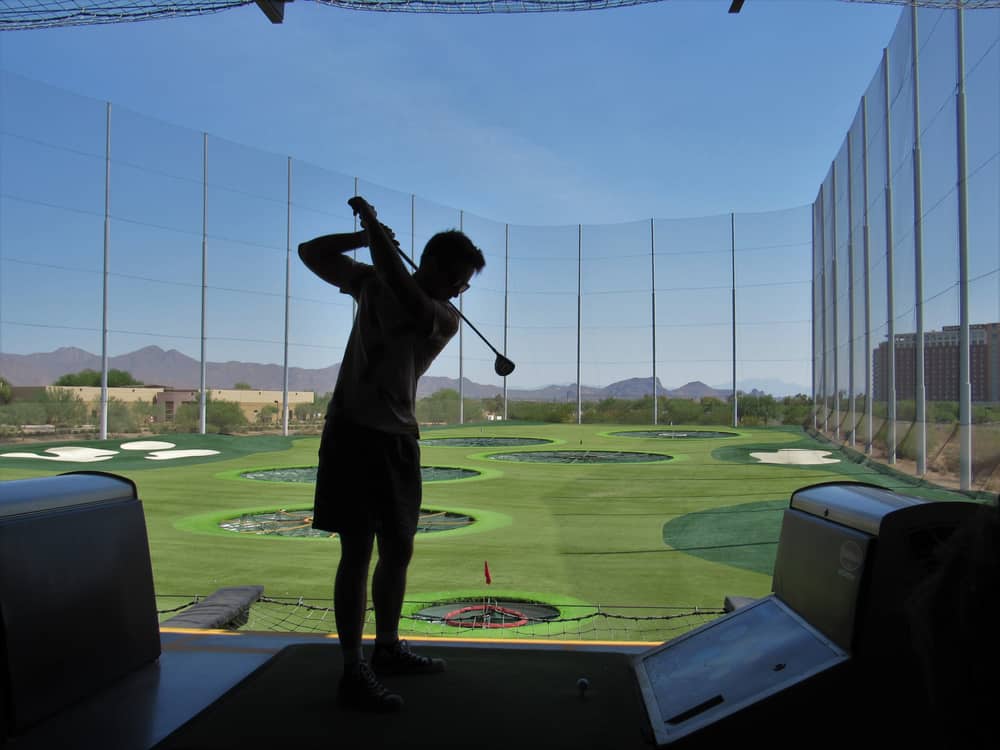 If you are out of town on business or a vacation and have not brought your golf clubs with you, it can make sense to use the clubs at TopGolf.
Traveling with your golf clubs when you don't have a full golf trip planned can be rather cumbersome and essentially not worth it.
However, when you come across a TopGolf in the area while you are away, you may still want to give this location a try.
The fact that TopGolf allows players to use its clubs free of charge will encourage you to check out everything that the location has to offer.
For a really low handicap golfer who is used to premium equipment, it may take a few swings to adjust to the equipment offered by TopGolf.
However, with this equipment, you know that you will get consistent performance and plenty of forgiveness.
Even if you cannot swing the way you normally do or see the distance and spin that your golf game typically has, playing with TopGolf clubs is a smart choice for those who don't have their own clubs with them.
3. Golfers With Older Equipment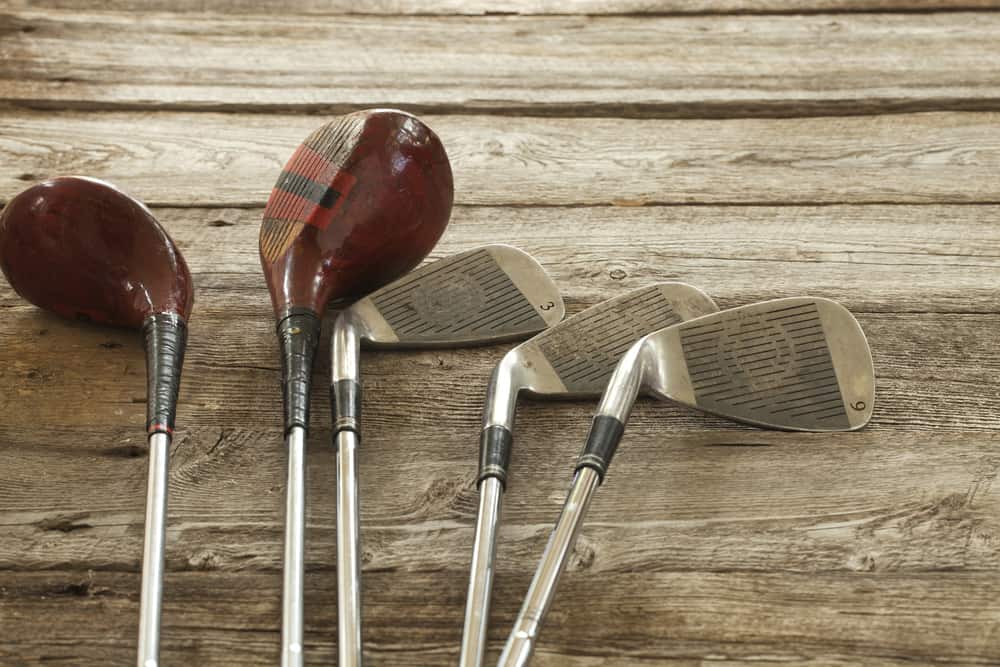 Even though the TopGolf clubs are not the latest release from Callaway, they are really user-friendly and will help players get a higher launch and plenty of distance and forgiveness.
If you are a golfer with very old golf clubs wondering if an upgrade could make sense for you, this could be a great way to find out.
Many golfers have had the same golf clubs their whole life, and they are reluctant to spend the money on a new set without seeing what it could do.
Many players will head to the TopGolf location nearest them and realize that the equipment from TopGolf is actually better feeling and more player-friendly than what they are currently using.
If this is the case, then it may be time to trade in your old clubs and take advantage of some of the newer technology on the market.
The TopGolf clubs are not top-of-the-line options, and therefore, you may be able to spend just a few hundred as opposed to a few thousand to see a really great upgrade.
4. Casual Fun With Friends
The TopGolf experience is sometimes about practice and competition, and sometimes it is simply about having fun with friends.
Those who bring their own clubs are serious about what they are doing there.
They find that practicing and playing is important, and TopGolf makes a game of this.
However, another group of people that often heads to TopGolf are those who are serious about fun with friends.
Sometimes the TopGolf experience will be more about who you are spending time with than your actual golf game.
If you are invited to spend time with a group of friends who are all spending time together at your local TopGolf, chances are you may not need your clubs.
Sometimes when these friends are serious golfers, that could change, but for the most part, the TopGolf experience is appealing to those who have never played the game in the past.
Are TopGolf Golf Clubs Good?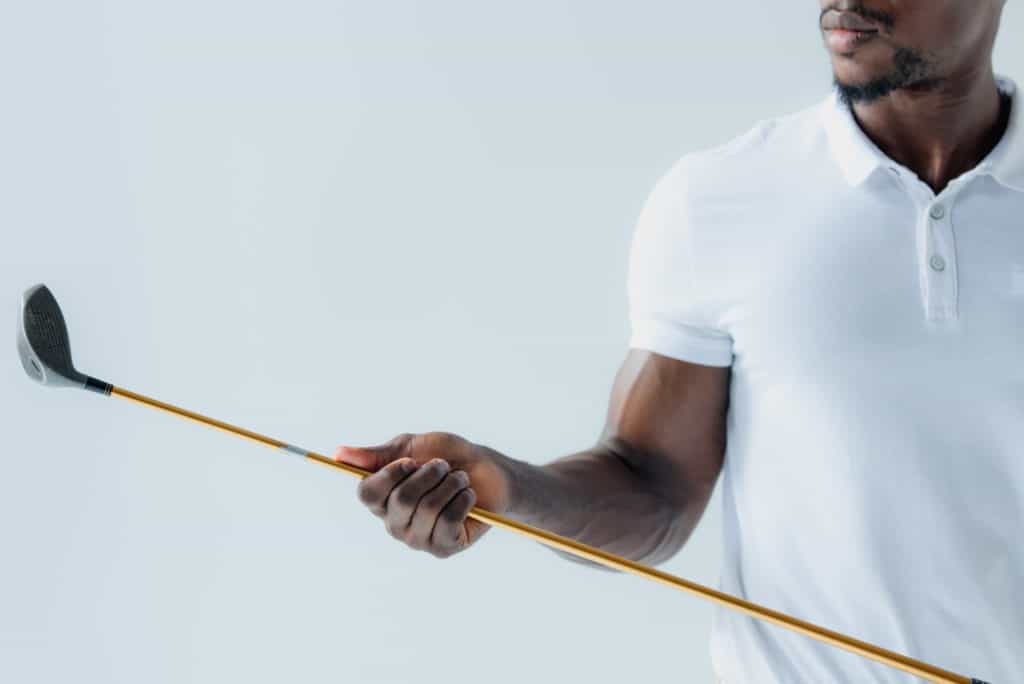 When deciding if the TopGolf golf clubs are any good, you have to keep a few key ideas in mind.
First of all, the golf clubs are not bad, but they are also not premium golf clubs.
The clubs are good for the golfer who doesn't have clubs or those who have forgotten their clubs and still want to play at TopGolf.
However, when you look at the quality of these golf clubs, it's hard to say that they are premium.
Remember that the people using these clubs are those who may not have much skill.
There are two great things that stand out about the golf clubs that TopGolf allows customers to use.
The first is that TopGolf clubs are free to use.
In the world of golf, there are very few free things, and this is a tremendous benefit.
Having to think about adding the cost of rental golf clubs to your TopGolf bill may keep you away from the place, and TopGolf is well aware of this.
Offering customers free golf clubs is a way to get them in the door.
In addition, the golf clubs that TopGolf offers are also available in several lengths and for many different players.
There are options for juniors, seniors, women, and even taller golfers at most TopGolf locations.
Finding golf clubs that can work for your game and are available to rent for free is a tremendous benefit of the TopGolf concept.
Should I Bring My Golf Clubs To TopGolf?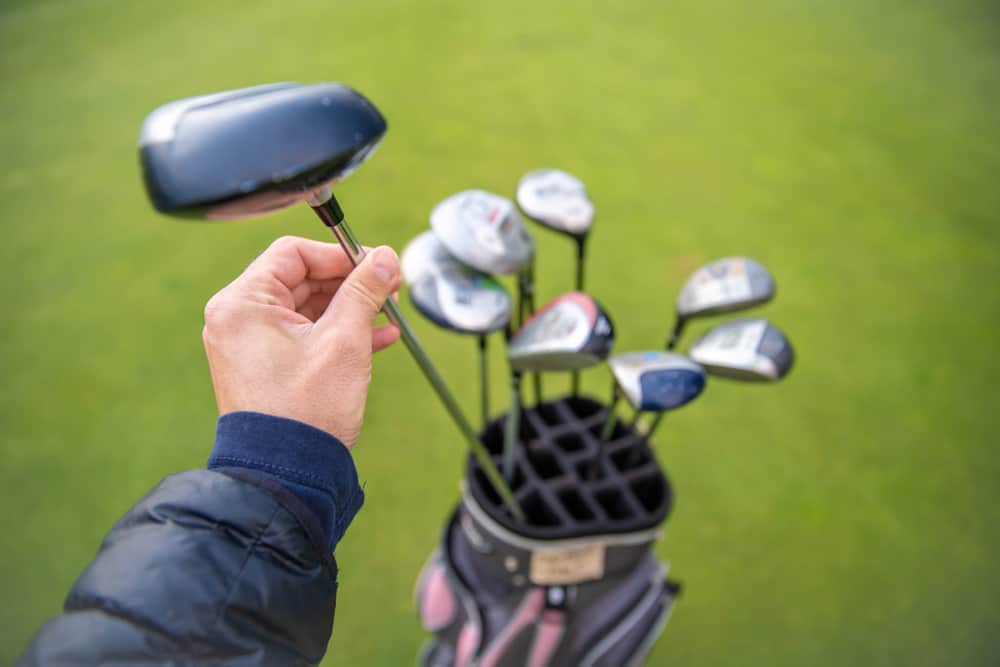 Now that you know a little more about the golf clubs that are offered at TopGolf and who will benefit from using them, it's time for you to make a decision about bringing your own golf clubs.
The question here is really a more personal one, but there are a few ways you can decide if it makes sense to bring your clubs to TopGolf.
1. Goals For The Day
Are you heading to TopGolf to try and work on your game and become a better player?
Maybe you are going to TopGolf to see what it's like and have some fun with your friends or family.
Try to consider what your goals are for the visit, and it will be easier to decide if you need to bring your own golf clubs.
Many TopGolf locations have leagues and contests for players to participate in.
If you are going to get involved in these, you will likely need your own golf clubs to be competitive.
If, however, you simply want to take an hour away from work or you have some extra free time, then the TopGolf clubs may be good enough to suit your needs at the time.
2. Location
Some TopGolf locations may be far from where you live.
If you are having to take certain types of transportation to get to these TopGolf locations, then it may not make sense to travel with your own golf clubs.
The TopGolf locations you find while out of town can be a nice surprise and a reason to pop in and get in some golf swings.
However, not having your own golf clubs with you should not be a deal breaker.
TopGolf offers this equipment to its users so that people can practice and play the games without worrying about getting their clubs to TopGolf.
If this appeals to you, then you should take advantage of the convenience.
3. Convenience
Some golfers don't want to be bothered with bringing their clubs with them because the clubs are cumbersome and heavy.
Some players have large cart bags filled with gear and clubs that weigh well over 40 pounds.
If you want to go to TopGolf and simply walk over to your booth, then the rental clubs are probably a better option.
Some golfers will buy a small Sunday golf bag for situations like this that will hold six or seven golf clubs.
This way, you don't have to unpack your entire golf bag, but you can simply grab a few clubs and put them in a lightweight bag that is easy to carry through the TopGolf location.
Having golf clubs available to you free of charge at TopGolf is a great benefit and one that should be taken advantage of from time to time.
4. Time
How much time do you have to spend at TopGolf?
Sometimes golfers are stopping here on their way to lunch or at the end of a workday when they may only have a short window of time.
If your time is limited, then it may not make sense to unpack your entire set of golf clubs and lug them through the TopGolf location.
Instead, take full advantage of the time you have, run into the location, grab a booth, and start playing with the clubs that are right there for you to use.
With the clubs being free of charge, you won't have to worry about any extra expenses related to using the TopGolf equipment.
How Much Does It Cost To Rent Clubs At TopGolf?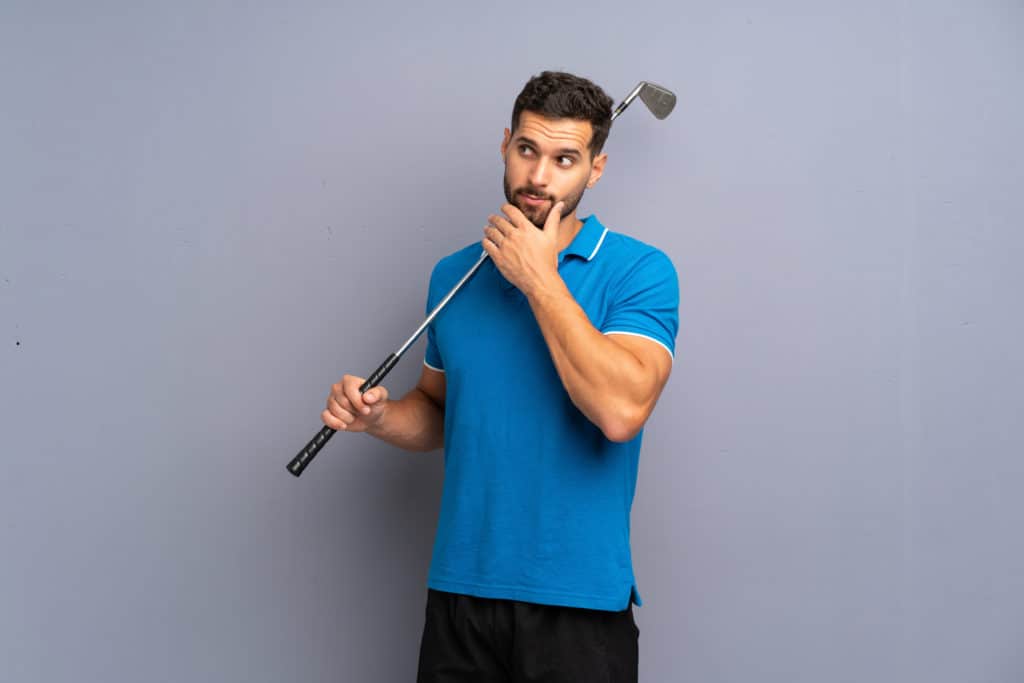 The best thing about renting golf clubs from TopGolf is that it is free of charge.
Players do not have to worry about a rental expense adding to their TopGolf bill because they have the clubs there available for their use.
Many people would describe the TopGolf experience as expensive, but renting clubs can ensure that you will not have to pay too much for your day.
If these clubs were available but at a greatly increased cost, it would keep many people from using them or coming to TopGolf at all.
Conclusion
We hope you now feel as though you know a bit more about TopGolf and what it has to offer its customers.
The golf clubs that the TopGolf locations offer are forgiving, provide plenty of distance, and come in various sizes and styles to fit the needs of any player.
Even left-handed golfers can find something that will work for them at TopGolf.
Take advantage of this and enjoy something in the world of golf being free.
The fact these clubs are available and free of charge will help you enjoy the TopGolf experience even if you don't have your clubs with you.
TopGolf is fun, and if you are new to the game, head on over there and see what this experience can be like.