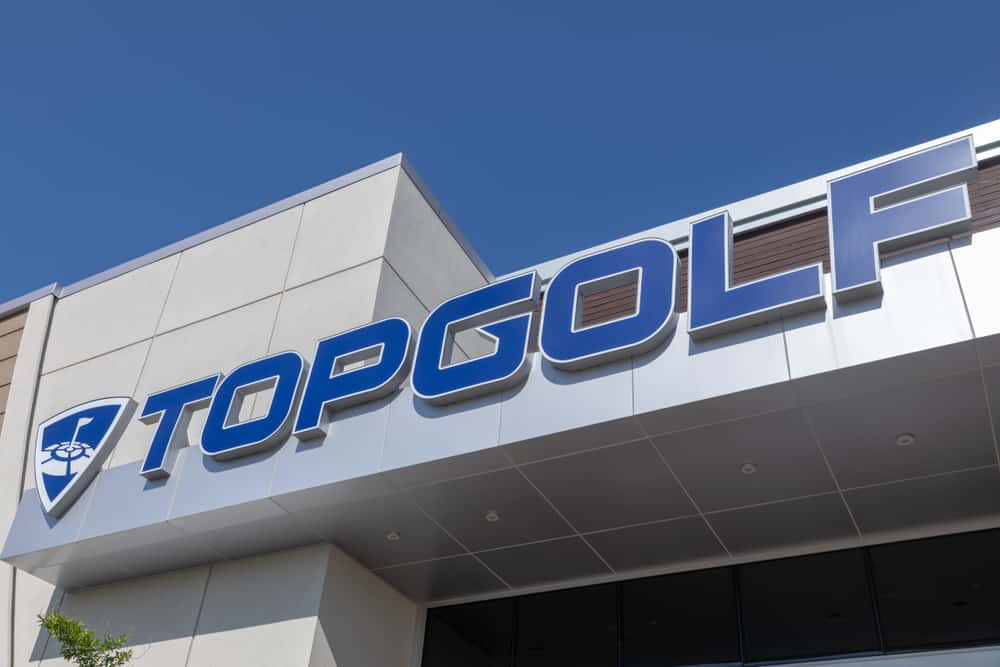 TopGolf is becoming more and more popular at locations across the country.
People love TopGolf because it is fun and appeals to those who are not even serious golfers.
However, there are some things that all golfers should know about their time at TopGolf and how to get the most out of it.
If you are heading to TopGolf sometime soon and are curious about whether to bring your own golf clubs, we have you covered.
Let's answer this question and take a look at some helpful information that will ensure you maximize the fun you have at TopGolf.

Do You Bring Your Own Clubs To TopGolf?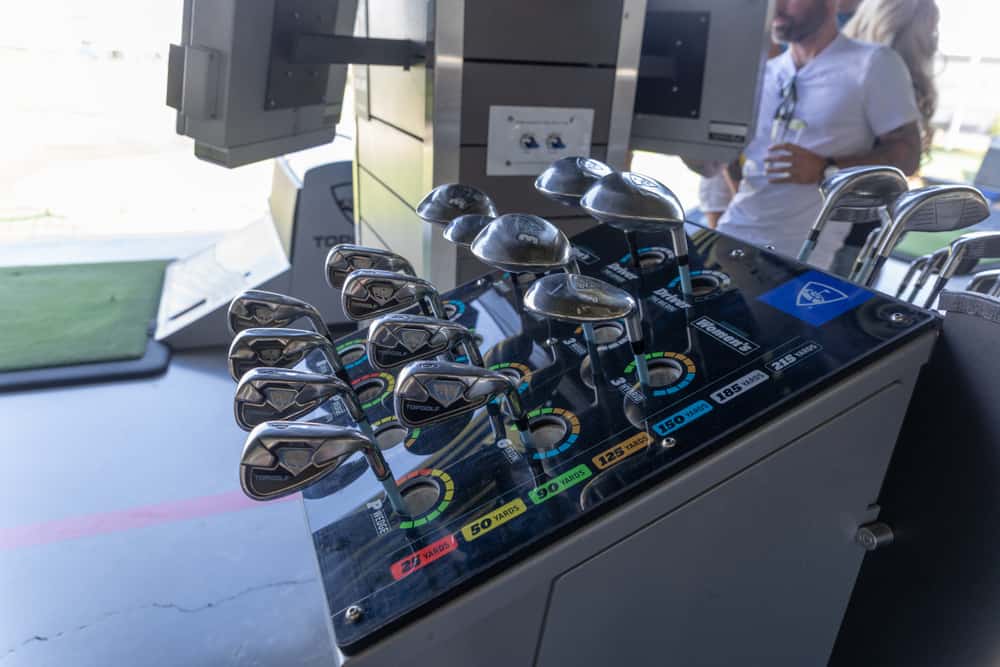 Golfers can bring their own golf clubs to TopGolf, but they do not have to.
At most driving ranges where you go and practice your game, you will need your golf clubs, or you will be forced to rent them.
At the TopGolf facility, you are not required to rent clubs as they are available in every hitting bay for all types of players.
These clubs are offered free of charge, and they come in various styles and sizes.
For women golfers, junior golfers, and senior golfers, there is no need to worry about finding golf clubs that will accommodate your swing.
These clubs may not be top-of-the-line golf clubs from major manufacturers, but they certainly offer enough performance and feel to help save players money.
In fact, if you are brand new to the game and want to find out if you will even like it, TopGolf is a great place to figure this out.
When you start hitting golf shots and testing the equipment, you may find that the sport is fun and addicting.
At that point, you can continue and look at purchasing a set of beginner golf clubs.
You will often hear that TopGolf is expensive, and it can be.
However, when it comes to renting golf clubs to practice, this is going to be one of the best deals you come across.
Even though all TopGolf locations are owned by the same company, sometimes there is a slight variation from one location to the next in both policy and procedure.
If you want to ensure that the clubs are going to be available before you head to the location, just give them a quick call.
The question as to whether or not to bring your own clubs is a good one and will help you maximize and enjoy your time at the facility.
Let's take a look at a few other factors that can impact your visit to TopGolf.
How To Ensure You Have A Great Visit To TopGolf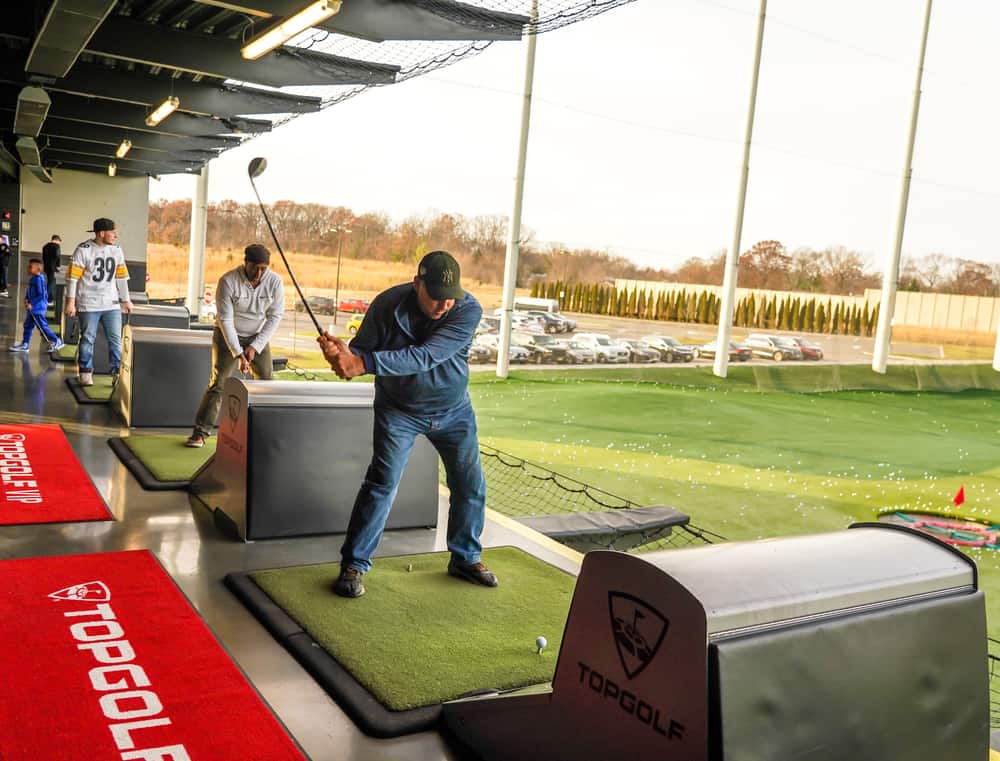 TopGolf has lots of impressive features, and it is a very attractive place for golfers and non-golfers alike.
If you want to ensure that you have a great visit to TopGolf, there are a few things that you should consider before heading there.
Here are the most important factors for new TopGolf users.
1. Clubs
As we mentioned, TopGolf allows you to rent clubs free of charge.
This is an excellent benefit if you are traveling and want to go to a TopGolf location or if you simply have never played golf before.
The golf clubs are available in several different flexes and styles, and most golfers will be able to find something that works for their needs.
However, if you are a serious golfer, you know that there is a difference between your own golf clubs and your rented golf clubs.
Clubs that are rented will take you a little while to get used to, and you may never feel comfortable with them the entire time you are out there.
The best way to avoid this is to use your own golf clubs.
It is completely acceptable to head into a TopGolf location with all of your golf clubs and use these to try and beat your friends and the TopGolf systems.
Having your own clubs can benefit your swing and help you feel more in control of what you are doing.
If you are playing in any kind of competitive league at TopGolf, it is almost necessary for you to bring your own golf clubs.
Most TopGolf locations even have an area where they will hold your clubs if you are waiting for a bay to open up to hit.
The hitting station where you play your TopGolf game is plenty large enough for you and a few friends to have your own golf clubs with you.
Some players will not bring the whole bag and will instead just carry in a few clubs.
However, this is not going to help with many of the TopGolf-type games that you can play and score on.
For those who are just using TopGolf as a driving range, though, this is an option that can work.
2. Make A Reservation
Another important way to ensure you have a great time at TopGolf is to make a reservation before you head over.
The good thing about a reservation is that it means you will be guaranteed a spot.
With the popularity of TopGolf continually increasing, it may become more difficult to get a spot at the location, especially during peak operating times.
When you have a reservation, you know that you will be able to show up and start playing immediately after arrival.
Without a reservation, you could wait for twenty to forty minutes, depending on the time it takes for a booth to open up.
Some locations will charge for these reservations.
For an individual looking to go hit some golf balls, the charge may not be worth it for the reservation.
However, if you and your friends plan on heading out to TopGolf on Friday night to celebrate a birthday or a special event, it makes sense to get a reservation.
TopGolf is very good about accommodating the needs of a group, and they will ensure that your booth is exactly the way you need it to be.
The reservations are easy to make and can usually be done with the TopGolf app.
If you call in, you may be able to talk to a TopGolf employee that can fill you in on the best days and times to head to TopGolf.
3. Look For Specials
There are typically specials offered at every TopGolf location.
Whether you are a loyal customer or just an attentive one, you can almost always find a special that will suit your needs.
Most of these specials are offered on days when there is not as much going on at the location.
The specials may be during the week or in the mornings, but they are worth considering and taking advantage of.
One way golfers can find out about these deals and specials is by downloading the TopGolf App and signing up for notifications and emails.
Although you will want to manage the settings of all email signups, there are some good deals here that you will not want to pass up.
When taking young kids or a large group to TopGolf, these specials can end up saving you quite a bit of money.
4. Go With A Group
There are two reasons to go with a group the next time you head to TopGolf.
The first reason is that it is considerably more fun.
There is something great about hitting a green or getting a ball close to a target.
However, when you can hit the ball close and have a competitive game with your friends, the game will be even more fun.
Going to TopGolf with a group of people is a really fun way to spend a night or even some time during the day on the weekends.
Some companies are even using this as a way to get employees to work together and learn from one another.
The activity offers a lot of great social and business benefits, and it happens much quicker than it would on a golf course.
Golf has always been used as a way to promote and expand business relationships, but TopGolf adds a unique and fun flair to this.
The second reason to go to TopGolf with a group of people is that it will save you quite a bit of money.
As we have mentioned a few times, the pricing of TopGolf can add up rather quickly and cause financial problems for some TopGolf fans.
If you are trying to manage your budget and get your TopGolf fix in, see if you can go with a group of people and try and split the costs between everyone.
5. Get More Involved
TopGolf is fun, but it can also be super competitive.
If you are a competitive golfer, there are plenty of opportunities to enjoy TopGolf.
Almost all of the TopGolf locations offer a league night where you can come in and test your skills against other golfers in your community.
If you have been a person who enjoyed a dart league or something similar, the TopGolf league is considerably more enjoyable.
We all know how naturally competitive golf is, and then when you change the game up a bit and add in the technology and the friends competing along with you, it becomes even better.
Don't be surprised if more TopGolf locations are built over the next several years.
This company is expanding the game to those who didn't even know they could learn to play or enjoy the sport.
Should I Bring My Own Clubs To TopGolf?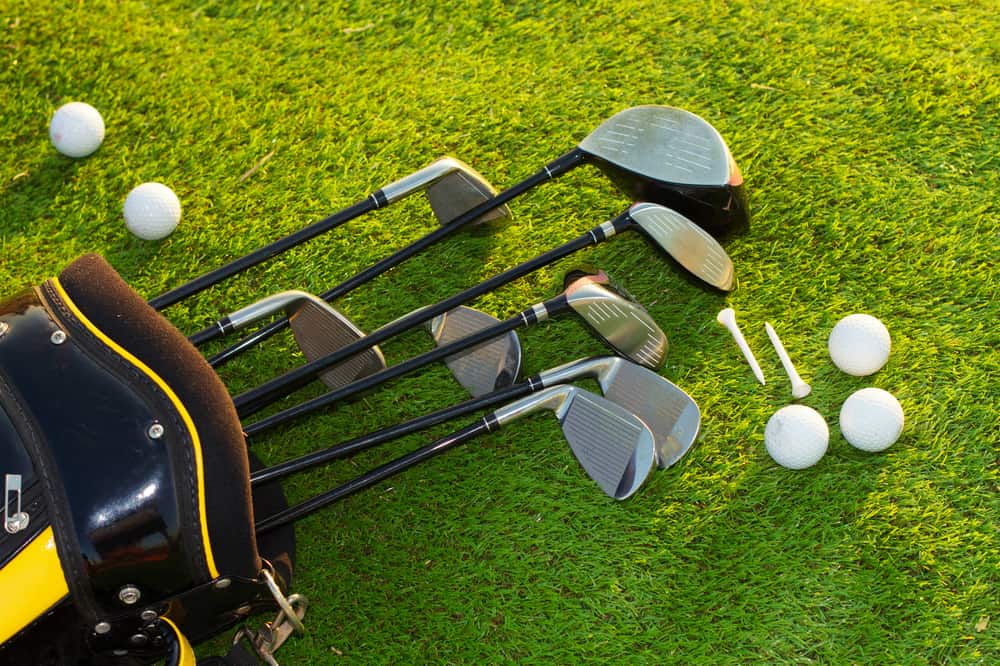 Now that you have a better idea of how the TopGolf locations work, and the fact that you can easily and cheaply rent clubs, you may wonder what makes the most sense for you.
There are a few reasons you may want to consider renting vs. bringing your own clubs.
Let's take a look at a few suggestions that can help you decide if bringing your golf clubs to TopGolf is worth it.
1. Traveling
If you are traveling and you don't plan to play golf, don't bring your clubs just to go to TopGolf.
As fun and exciting as this location is, there is really no reason to bring your golf clubs just for a game at TopGolf.
In fact, the availability of rental clubs at TopGolf is the perfect option for those who want to spend less money on their trip but get to enjoy everything that the local area has to offer.
With these clubs being plenty good enough for a few hours of use, save yourself the trouble and keep the clubs at home.
2. Goals For Your Visit
When you go to a TopGolf location, chances are you have a reason for being there.
Are you going just to check the place out?
Do you compete in the local events or leagues?
Are you working on a specific area of your golf game?
Try to consider what it is you are doing there and how playing with your own clubs will factor into this decision.
For instance, if you are playing in a league and you have been performing well all season, it certainly makes sense to bring all of your clubs and be ready for any shot that comes your way.
If instead, you are just going to check out TopGolf, you really don't need to lug all of your equipment.
Take the time to see what the area is like and use the equipment that is provided for you.
Even though the rental clubs are free, if you are working on getting better at your own golf game, it will likely make sense to bring your own clubs.
3. Waiting For A Space
If you don't have a reservation, it can be annoying to stand and wait with all of your gear.
The TopGolf locations have bars and restaurants so that you can enjoy a meal or a drink before your practice session.
However, when you are standing there with a bag full of golf clubs, it can be a bit cumbersome.
Luckily, most of the TopGolf locations will have an area where you can store your clubs while you are waiting for your spot to become available.
It makes sense to put your clubs into storage, so nothing happens to them while you wait for your hitting location.
Overall, this used to be a bigger problem than it is because of the way that TopGolf has adjusted to people using golf clubs.
4. Mats
So many people worry about hitting off of mats and how it can impact your golf game and your golf clubs.
The problem with hitting from mats is not that you could seriously damage your clubs but that you can damage your wrists and hands over time.
If you are hitting off of mats quite a bit, you can do long-term damage to your body.
However, this would take continued use of a mat, and the mat would have to be poorly installed.
If you look at any of the TopGolf facilities, you can see that they are very well built, and the premium mats and materials are used.
These mats have enough padding under them to absorb the shock of a golf shot.
This means that when you swing the club, you will have no trouble, even if you hit slightly behind it.
Golfers who are new to the game often hit a mat a lot as they try and learn to get the ball up in the air and become better players.
Don't be alarmed if this happens to you because hitting off of a mat is not going to destroy you or your game, and your golf clubs are not going to get damaged either.
Just because TopGolf has mats does not mean you will need to leave your clubs at home.
Conclusion
We hope that you now understand the decisions that go into bringing your golf clubs to TopGolf.
TopGolf is a great place to practice your golf game and work on accuracy.
However, the reason that TopGolf is so well known is mostly that it is very fun.
People who practice at TopGolf realize that the game of golf can be enjoyable to work on and that there is no reason not to add some more practice time to your game.
Even if you don't have golf clubs, head over to TopGolf to check it out, and you will be pleasantly surprised by the experience.