One of the nice things about golf is that there is no one way to do it.
Golfers have all different types of swings, and although some are textbook type golf swings, most are not.
We have put together a list of the golf swings that hardly follow the textbook at all.
These are fifteen of the weirdest golf swings of all time.
Luckily for most people on the list, the swing was undoubtedly still good enough to create some great rounds of golf.

Top 15 Weirdest Golf Swings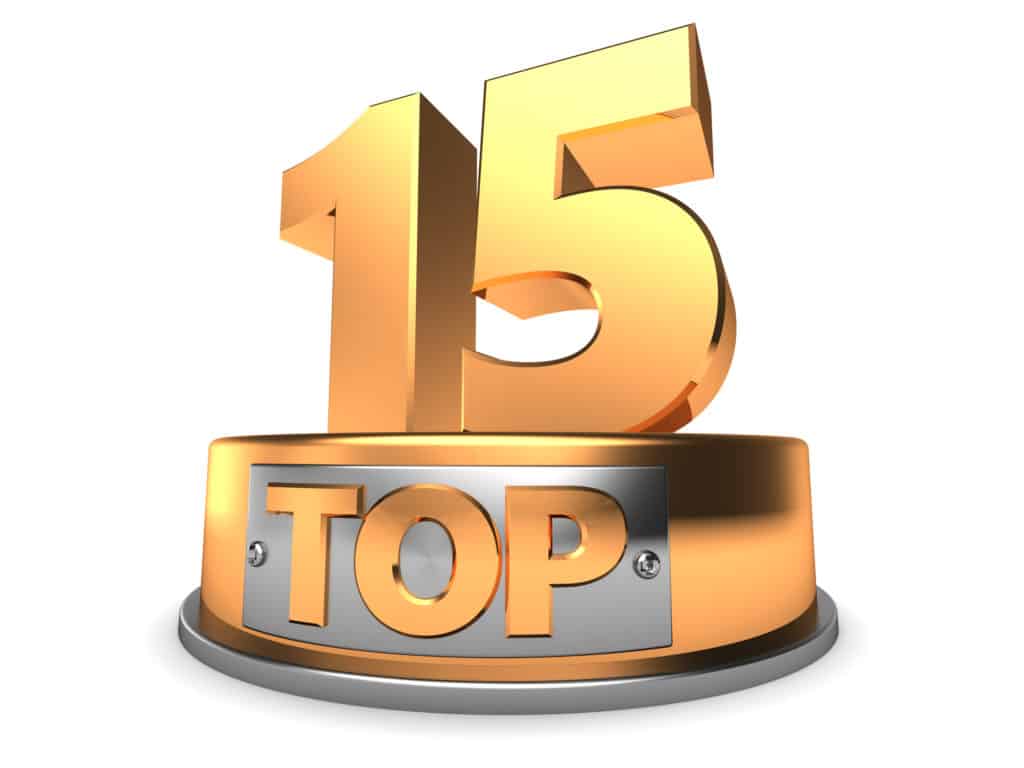 1. Nancy Lopez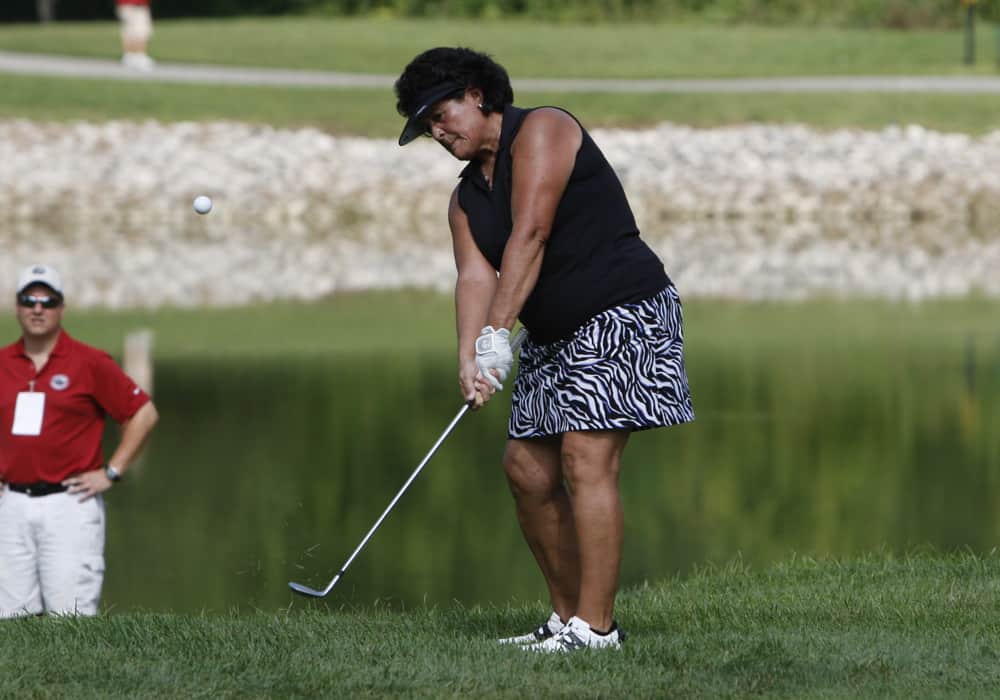 Nancy Lopez changed the world of golf for women.
She was one of the first very young women to really grab the attention of the public eye.
Lopez likes to win, and she won a lot.
Over the course of Nancy Lopez's career, she won 48 LPGA Tour Events.
For a person who had a very unconventional swing, this is quite impressive.
Three of her wins were major championships.
Lopez is partially remembered for her outgoing and bold personality.
She knew her swing was not the prettiest out there.
She knew her swing had lots of flaws, but she also knew she could repeat the same swing over and over again.
At address, her hands were very upright, and her first move was to take the golf club way inside.
Nancy Lopez played during a time when people were used to watching the unconventional swing of Arnold Palmer.
This made Nancy's swing seem just a little more normal.
2. Arnold Palmer
If you ask a good portion of Americans who their favorite golfer of all time is, Arnold Palmer will often be chosen.
Arnie had the personality, the smile, and the golf game to get people to watch.
If you didn't like golf, you could watch him play and decide that golf was a great sport.
Arnold Palmer was one of the greatest golfers of all time.
He turned the game of golf around the time it needed it and got so many people to love playing and watching golf.
What people will remember most about Arnold Palmer's golf swing is the finish.
He had a very rough finish which almost made him look like he was going to follow the golf ball at times.
The development of this swing probably stems from his childhood.
Arnold Palmer grew up as a middle-class American boy.
His family did not have a great deal of money, and in his early years, he was taught by his father how to play.
His dad explained that Arnold should hit the ball hard, and if you watch him swing, you can see that he certainly listened to this advice.
3. Jim Furyk
When you talk about funny-looking golf swings, there is no question that Jim Furyk will come to mind.
There are lots of things that have been said about Jim Furyk and his golf game.
People talk about his wild swing and the fact that it looks almost impossible to repeat.
What you won't hear is people saying that his golf swing doesn't work.
There is no question that Jim Furyk's golf swing has worked.
The man has won close to seventy million dollars during his years on the PGA Tour.
This should undoubtedly inspire you if your swing is a bit less than conventional.
Furyk even happened to win a US Open with that rodeo type look occurring in his backswing.
If you want to make a slow-motion video of your swing and put it up against Jim Furyk's, you will end up seriously confusing yourself.
4. John Daly
John Daly has had a bit of a tumultuous golf career.
He was up and down from one tournament to the next.
He could hit the ball a long way, but he was a bit rough around the edges.
Some golf fans swear John Daly was one of the best golfers ever, but there is no question his golf swing was a bit weird.
John Daly won a PGA Championship in 1921, and it really set him apart as one of the great players of the time.
His golf swing does not look pristine, and he wasn't always as clear-cut as the people he was playing with.
John Daly took the club back way past parallel at the top.
He took the club so far back, some people wondered when his swing might stop.
He used this swing to help generate a ton of clubhead speed and power.
There is no question he hit the ball a long way, especially considering the time he was playing.
The equipment wasn't nearly as long as it is now.
The problem with a swing that long is that it is not always consistent.
As great as some of his tournaments were, the next ones would be just as bad.
The larger the golf swing, the more room there will be for error.
John opened himself up to a lot of room for error.
John Daly was the kind of player many people would root for, while others would root against him.
If you liked to see the underdog come out of nowhere with his wild swing and wild hair and win a tournament, then John Daly was probably one of your favorites of the time.
If you want to see golfers swing like John Daly, watch any long drive competition.
They will all be well past parallel, swinging with very long drivers that are nearly as tall as the player using them.
5. Charles Barkley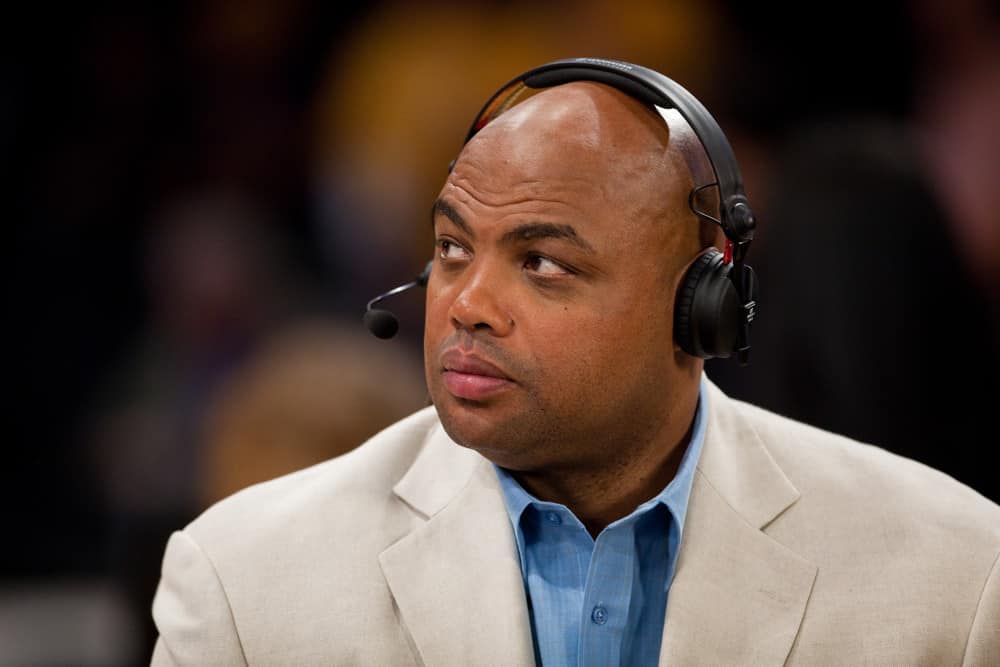 Charles Barkley is not a professional golfer, but his golf swing certainly deserves a place on this list.
If you have ever watched "Sir Charles" swing, you probably have felt the need to step in and help him finish it.
It's a painful thing to watch, and there are hardly any smooth movements that occur.
Charles can still play (although certainly not as well as most of the other people on our list), but his swing is something you probably won't want to miss.
There is no question that Charles Barkley is an athlete.
If he weren't, there would be no possible way he could even make contact with the golf ball swinging the way he does.
6. Lee Trevino
Lee Trevino was a very popular player.
People enjoyed watching him, and he always had something to say.
Whether it was about himself, the crowd, or the golf course, Lee Trevino was always talking.
Maybe some of the talking was to help distract the public from the way he swung at the golf ball.
Lee Trevino had a very open stance when he played.
Where most players tend to stand more square to the golf ball, he was always open to his target.
At the top of the backswing, Lee Trevino has the club up very high.
From the top of the swing to the follow-through, it's hard even to see what happens.
He goes after the ball, and there is lots of clubhead speed and power.
Every once in a while, his timing would be off a bit, and he would end up hooking the golf shot.
As Trevino has aged, he has had a hard time keeping up with this power and speed, and he admits that it doesn't quite work as well as it once did.
7. Miller Barber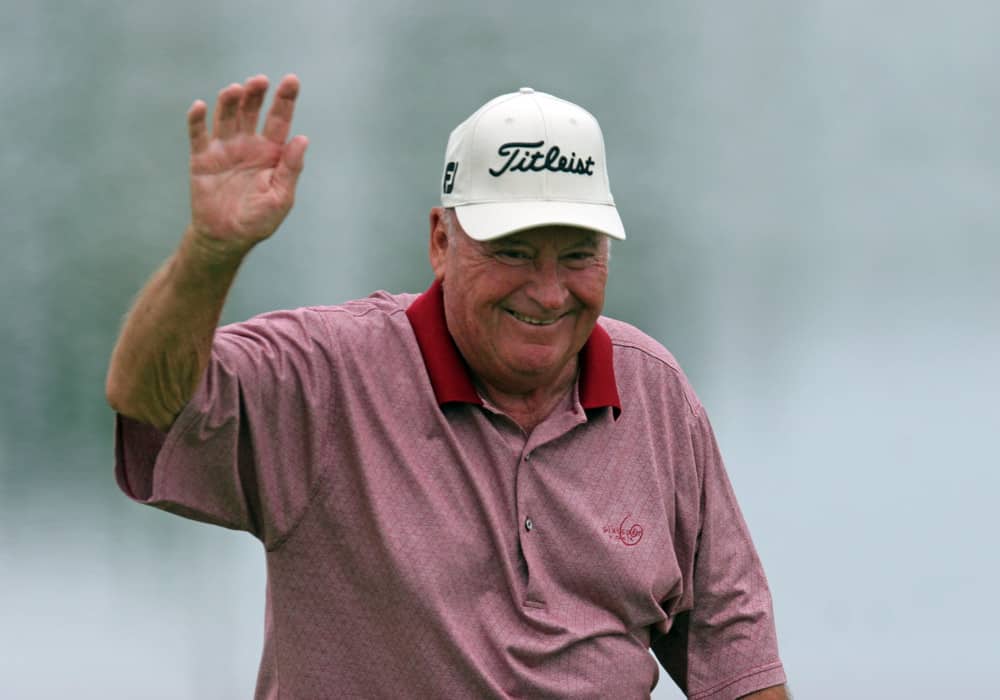 Miller Barber easily makes the list of the top 15 weirdest swings, but he would also make a list of the most impressive swings.
The fact that Miller Barber could get the club back on the plane and square it up at impact is a small miracle in the game of golf.
Barber believed that the downswing is the most critical part of the golf game.
He said that whatever happens in the back does not matter as long as you can get the clubface to square at impact.
Miller Barber almost lifted the club for his backswing.
One second, he was at setup, and the next, he was at the top, but the swing was not at all on the plane.
Then, as you watch him come down and into the impact position, you can see the club drop into the slot.
If you look at a still picture of Miller Barber at impact, you would have no idea all that occurred in the backswing.
The thing most golfers will immediately notice in the backswing is the fact that the right elbow was completely separated from his body.
This is not a connected backswing, but when you can recover like Miller Barber, it doesn't matter how connected you are.
8. Natalie Gulbis
Natalie Gulbis is a terrific player on the LPGA Tour.
She has been a student of the game from the time she was very young, and she has undoubtedly helped some interest spread on the LPGA Tour.
Natalie Gulbis is known for being one of the more attractive players on the LPGA Tour, but her swing is not known for this same thing.
In fact, Natalie Gulbis' swing is a bit hard to watch.
It looks a bit like she is doing all she can to get the power she needs to play great golf, but it almost looks painful at times.
Natalie Gulbis worked with Butch Harmon for many years.
Butch is well known for working with many PGA Tour Professionals, including Tiger Woods.
Natalie's position at the top of the swing is about as far from conventional as a golfer can get.
At impact, she manages to clear things up and hit the ball well.
The finish of the swing gets even funkier.
Overall, her swing is very long and loose, and it looks nearly impossible to replicate if you ever wanted to.
The excellent news for Natalie is that she won't have to worry about people copying her strategy.
9. Moe Norman
Cool picture of Moe Norman playing in the 1987 Ontario Jr Pro/Sr Pro here! pic.twitter.com/Q2u5CxLIbr

— Lake St. George Golf Club (@lakestgeorge) July 16, 2020

Moe Norman had some very strong opinions about the golf swing.
He was convinced that all other golfers were doing it wrong, and he had it right.
There are videos of him showing his swing thoughts and theories where he said explicitly that other golfers don't understand what they are doing.
Probably the most distinctive part of Moe Norman's golf swing was his wide stance.
The wide stance is significantly wider than a traditional golfers' stance.
Moe's backswing was quite a bit shorter, and he didn't rotate as he came through the golf ball.
He sent the motion of his body laterally toward the target.
Norman criticized golfers who were turning and rotating towards their target.
He explained that this leaves too much room for error.
Although while watching Norman hit the ball, you can see why it worked for him, it's hard to wholeheartedly say that this is a sound way to play the game.
His swing certainly had quite a bit of timing and tempo involved, and it's great that he was able to repeat it, but it may be more difficult for the average golfer.
There is, however, no question that, when you look at the way Norman struck a golf ball, it was solid and it worked to help him win golf tournaments.
10. Eamonn Darcy
Eamonn Darcy retired today. I watched him tee off at the Old Course this summer. Talk about owning your individual swing! pic.twitter.com/AHy10krtZZ

— Eamon Lynch (@eamonlynch) December 1, 2018
If you have ever taken a golf lesson where the professional told you to stay more connected in your swing, you may want to ask them about Eamonn Darcy.
Darcy was a professional golfer on the European tour who has a few moments in golf history that he is known for.
One of those moments was during the 1987 Ryder Cup when he helped Europe to their first victory.
Darcy was known for being a great player, but he was also known for a flying elbow movement in his swing.
The start of Darcy's swing is not all that bad, but as things go towards the top of his backswing, you will see that it goes downhill from here.
Darcy had significant back pain issues, and this could have been part of why he had such an unconventional swing.
When watching him swing, though, it makes you wonder if the golf swing is what caused the back problems to begin with.
When you analyze Darcy's swing, it is hard to pinpoint precisely what is happening at all times.
The most significant motion you will notice is the elbow that gets so far from his body at the top of his swing.
For 99% of amateur golfers, this type of motion would undoubtedly cause a massive slice and a very short golfing career.
11. Ray Floyd
Ray Floyd was known for being a great player on the Champions Golf Tour.
When Floyd takes the golf club back, he fans the clubface open quite a bit.
With a few extra twists and turns, he gets the club back to square at impact.
Overall, the swing that Ray Floyd puts on the ball is not all that unconventional, but it has changed several times throughout his career.
12. Jim Thorpe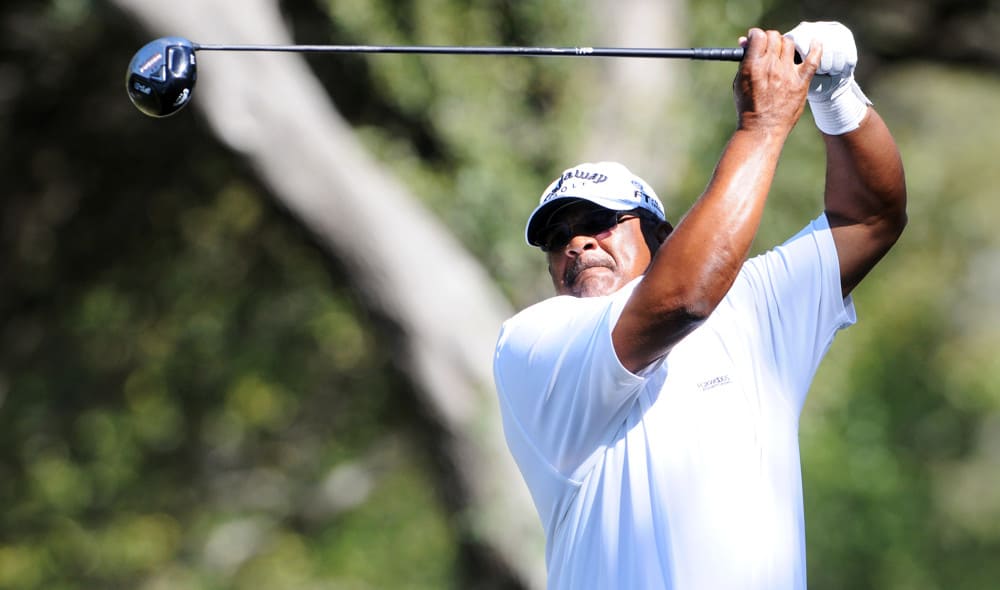 Jim Thorpe not only had a successful career as a golfer, he also won people over with some of his comments about his golf game.
Thorpe had an unconventional golf swing, and there were tons of moving parts.
Perhaps the thing you may remember most about Thorpe's swing is the loop he took at the end of the follow-through.
The loop around with his hands looked utterly unnecessary, and maybe it was.
The most important thing to know about Thorpe's swing is that it worked for him.
He played some great golf, and although the timing and difficulty of the things he did in his swing are complicated to repeat, it worked for him.
13. Tommy Gainey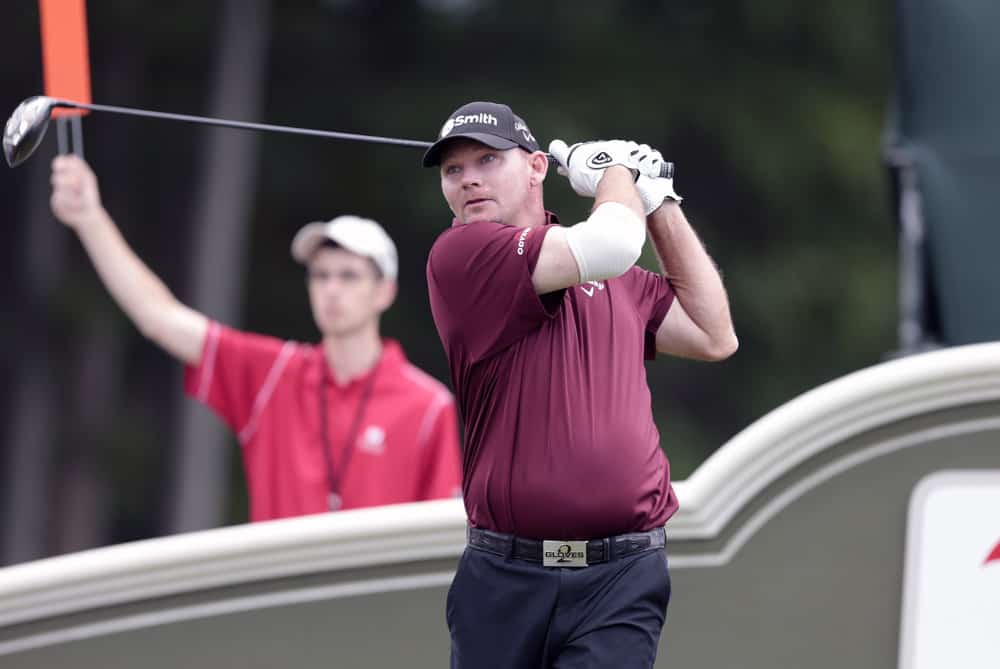 Tommy Gainey had a bit of a different entrance into the golf world than some other professionals.
Gainey was a baseball player who took part in a show called the Big Break.
His nickname is often Tommy "Two Gloves" Gainey.
He wears two gloves because that is what he was used to from his baseball days.
Gainey's swing is not very long, and many parts of it resemble a baseball swing.
At impact, he is still on his right side, but he can strike the ball quite well from this position.
He has done a great job of turning a baseball swing into a golf swing that works at the professional level.
14. Allen Doyle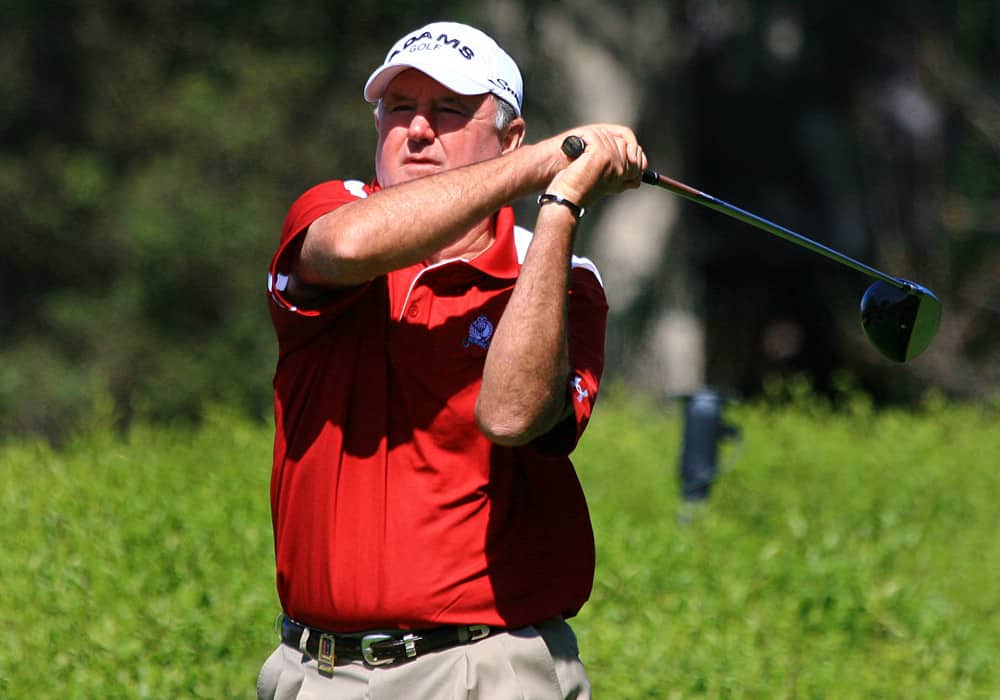 If you have ever heard that golf and hockey can be closely related, it is true.
Nobody will be able to explain this more than Allen Doyle.
Doyle was a hockey star for many years before he decided he needed to slow things down a bit and play some golf.
The plane of the hockey and golf swing is very similar.
There are, however, some finesse points that are quite different in golf, and the swing itself is overall a bit longer than others.
One of the interesting things about Allen Doyle is that he did not turn professional until he was 46 years old.
With kids turning professional right out of high school, this is undoubtedly a long time to wait before going pro.
The good news for Allen is that all that extra prep time helped him out in the long run.
Allen Doyle won 11 times on the Champions Tour.
His swing absolutely looked like a hockey swing.
When Allen was asked if his swing was essentially a copy of his hockey swing, he said it was not.
He claimed to have been practicing in a room with a low ceiling.
If it was hockey or the lower ceiling, it worked well for Doyle.
15. Josh Broadaway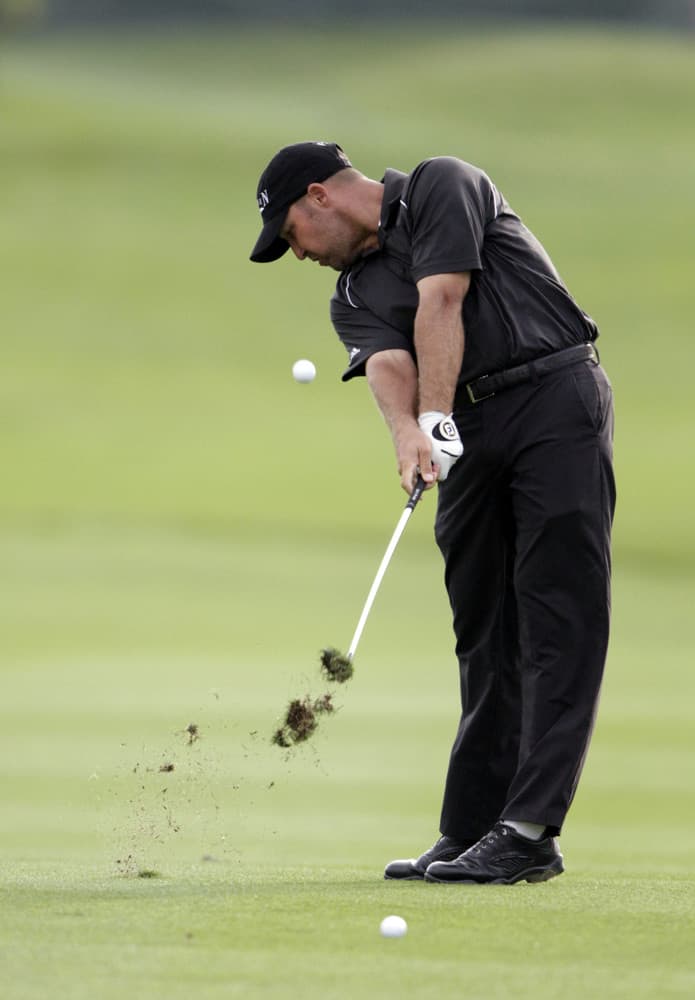 Last on our list is a golfer by the name of Josh Broadaway.
Josh is relatively well known on the Korn Ferry Tour and hasn't quite had his breakthrough on the PGA Tour.
One of the things you will notice about this golf swing is that it looks funny because Josh plays cross-handed.
Most right-handed golfers have their left hand on top and the right hand on the bottom.
When Josh plays, he has his right hand on the top and his left hand on the bottom.
He feels as though this gives him more control over his golf shots, but this certainly makes his swing a bit more unconventional.
Every golfer on this list has had some success in the golfing world.
Even with a golf swing that doesn't look anything like the textbook golf swing, you can still be a great player.
Great golfers learn to adapt and use their strengths to be better at the game.
If something that is traditional in the golf world is causing you more trouble than it's worth in your game, don't do it anymore.
Find a method that works for you and channel your inner Moe Norman or John Daly to get the ball in the hole.