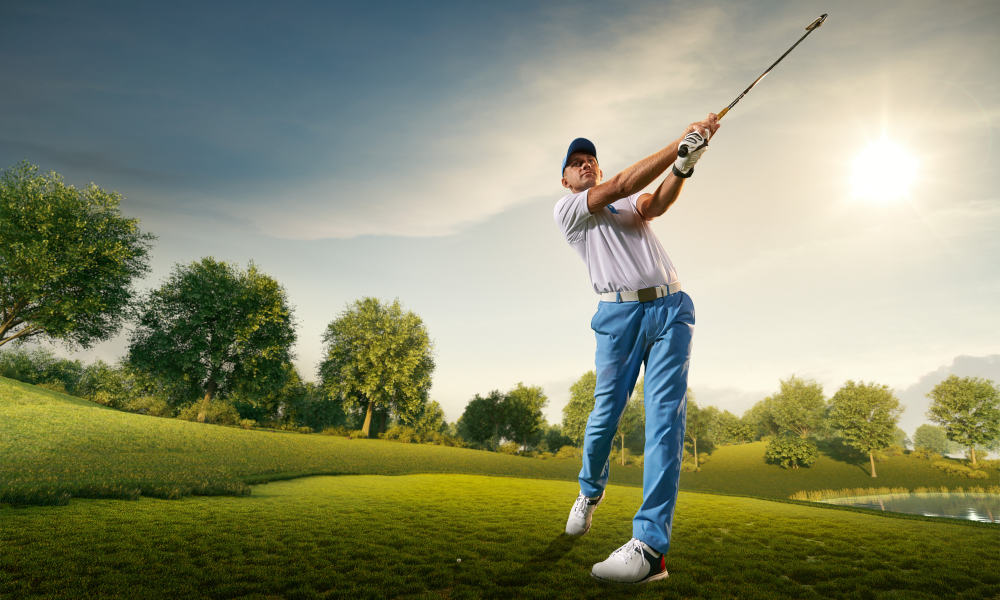 When you first start playing golf, chances are you will just try to hit golf shots that fly high and straight.
This is a good goal to have when you are new to the game.
Golf is hard enough to begin with, so the last thing you need to do is complicate it by trying to hit golf shots that are too difficult.
However, once you get the straight and high golf shots down, it becomes really difficult to be able to improve your golf game without learning some new types of golf shots.
There are many different types of shots out there, and you will very likely invent some of your own within your skillset.
We have come up with 20 different types of golf shots to improve your game.
Focus on learning one at a time and see where it can take your scores.
This will only help when it comes to your ability to shoot better numbers on the course.

Types Of Golf Shots (20 Shots To Improve Your Game)
1. High Fade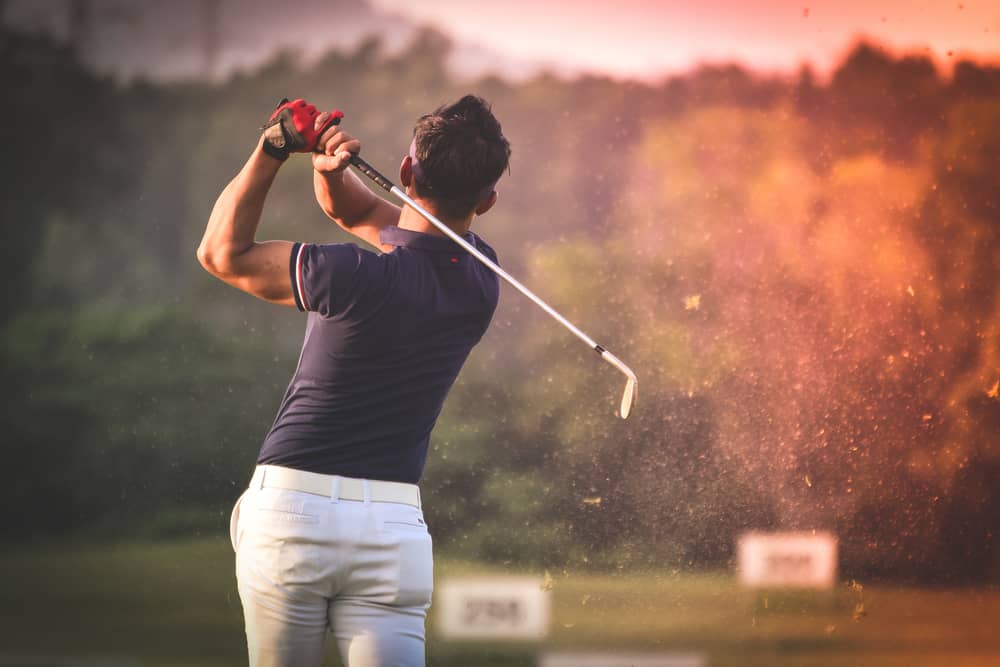 A high fade golf shot will start out almost directly at the target, and then as it falls, it will fall to the right of the hole.
High fade shots are very useful when you are looking for a soft landing on the green.
A player's stance and setup typically control the high fade.
If you know how to adjust your stance and setup and make a slight change in your swing path, you can easily learn how to hit a high fade.
The great thing about a high fade is that it tends to be very easy to control.
When you learn how to hit this shot properly, you should not have to worry about it turning into a slice because it will most likely remain a fade.
In general, the fade is an important shot to learn, but controlling the ball flight of the fade makes it even more valuable.
2. High Draw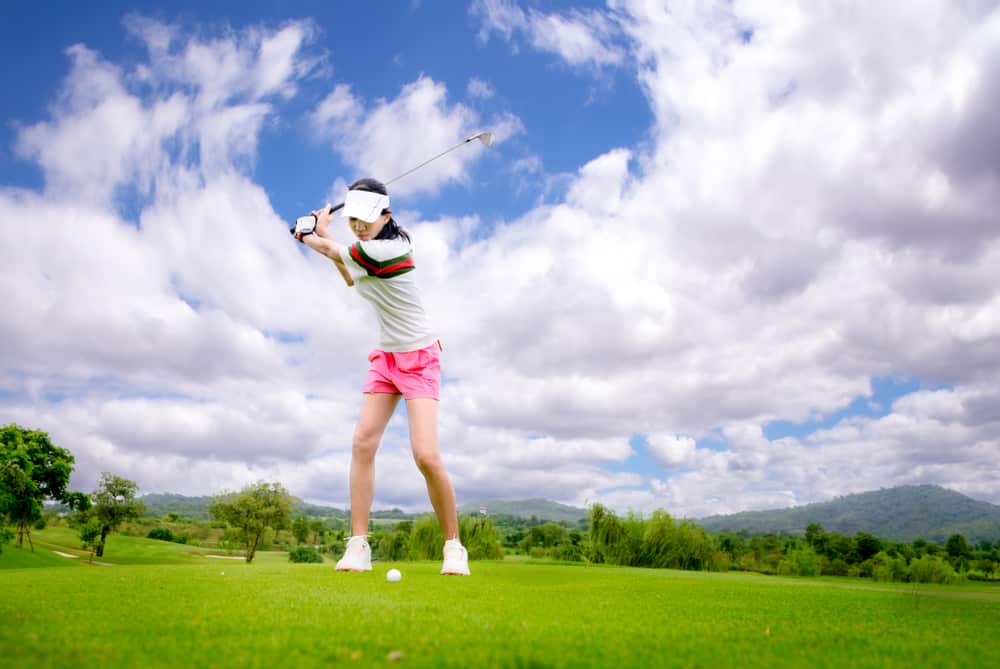 The golf shot known as a draw is going to start out at the target and then fall to the left when it comes down.
A high draw will take a turn to the left by a few yards, and when it lands on the green, it may also run a few yards to the left.
A high draw is typically a very long shot.
If you usually hit your seven iron 145 yards, you may see the high draw get closer to 150 yards.
This is because of the spin that is put on the ball at impact.
When a golfer hits a draw, the ball tends to get a bit more overspin on it, and the roll continues when the ball lands.
Although the higher ball flight will help this stop on the green, expect to see a few yards of roll.
3. Hook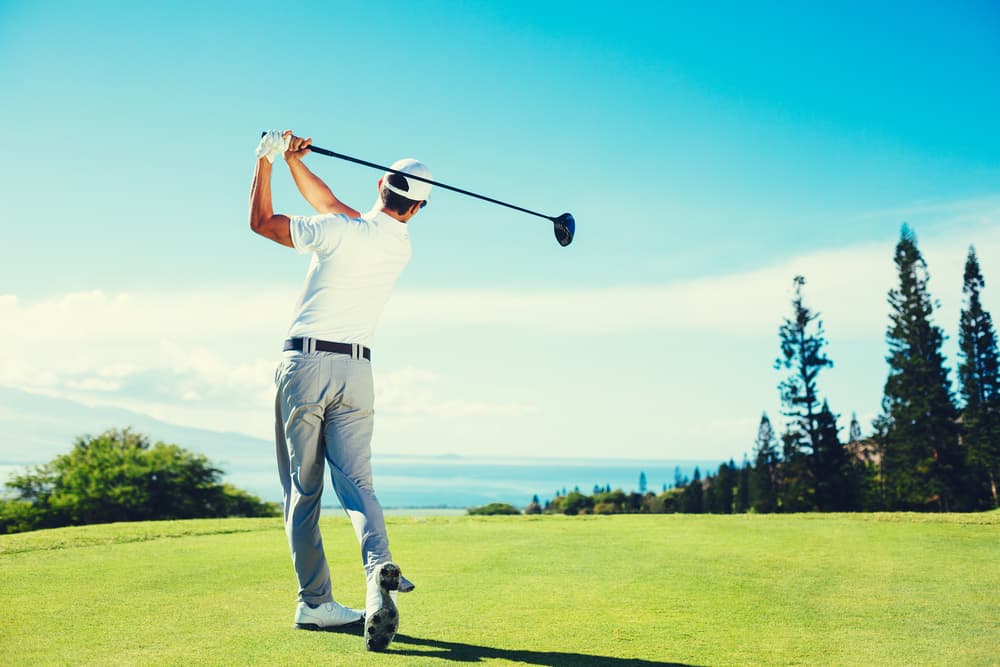 For some golfers, a hook is a nightmare golf shot, and if
you don't have control over your hook shot, this can certainly be the case.
However, if you have control, you can use this shot to your advantage.
If a golf hole is turning towards the left, you can use your ability to hook the ball to get out of a trouble spot.
In addition, if your shot is stuck behind a tree or there is an obstruction in the way, knowing how to hook the ball around it is an essential skill to have.
Hook shots are relatively easy to learn, and the great thing about learning how to hit one is that you will also learn how not to hit one.
If you are out on the course one day and start hooking all your shots, now you will know how to fix it.
4. Cut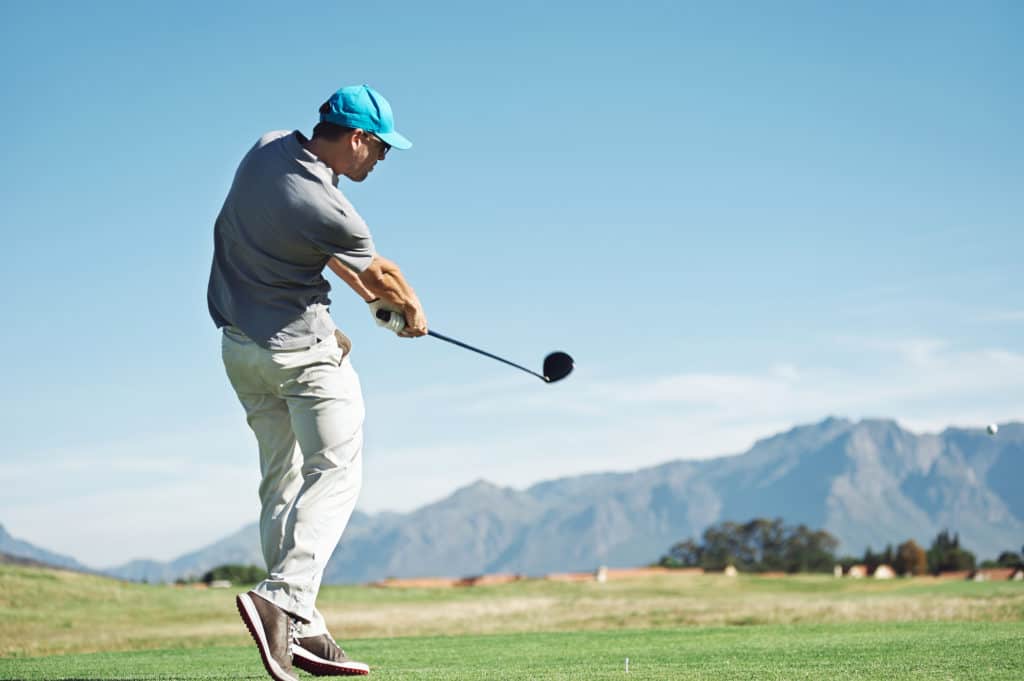 A cut shot is a shot that turns right, similar to a fade, but the ball flight is not usually as high, and the turn is a bit more severe than it is with a fade.
This is often used by better players as it shows a golfer's ability to control the ball flight and the direction of their shots.
Cut shots can come in handy when trying to work the ball towards a pin.
If the pin is tucked on one side of the green or there is a tree blocking the pin location, a cut shot can be used to get the ball into the proper spot.
5. Knockdown Shot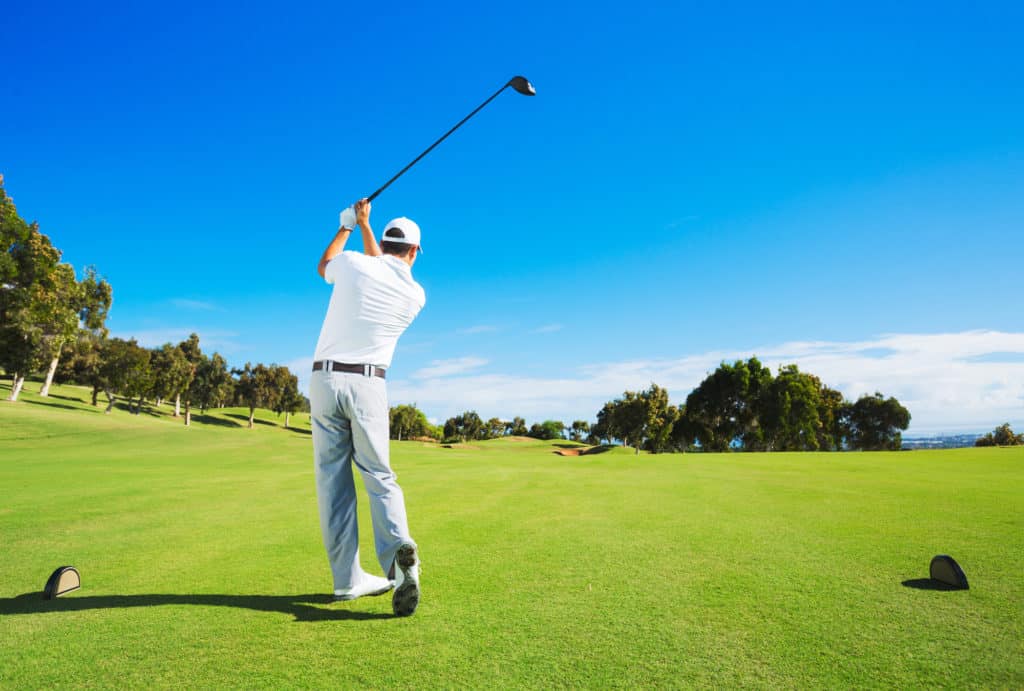 A knockdown shot simply means that you will knock down the ball flight of the shot.
Knockdown shots are perfect for those days on the course when the wind is really strong and giving you a hard time.
We recommend practicing a knockdown shot quite a bit because it can also help you to hit a shot out of the woods should that happen during your round.
Knockdown shots sometimes make sense when there are obstructions like tree branches as well.
This is a brilliant shot to have in your arsenal and one that most players should consider learning sooner rather than later.
With a knockdown shot, you will typically want to use a lower lofted club—iron, hybrid, or even driver can work.
6. Flop Shot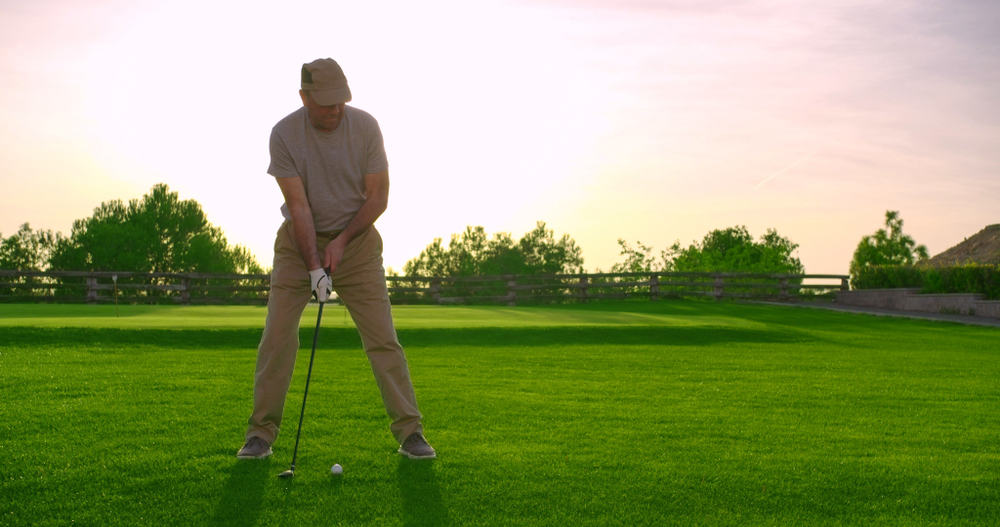 A flop shot is a golf shot that goes high in the air and lands softly on the green.
Flop shots are typically used by golfers who have a small area of green to work with and need to get the ball up and down quickly.
This is a shot that you will see performed by some of the best players on the PGA Tour.
Phil Mickelson does a great job with his flop shot.
It can be scary to watch the pros hit a shot like this because they must take a full golf swing while they are standing only a few feet from the pin.
Flop shots require a very open clubface and some practice before you give this a shot.
7. Pitch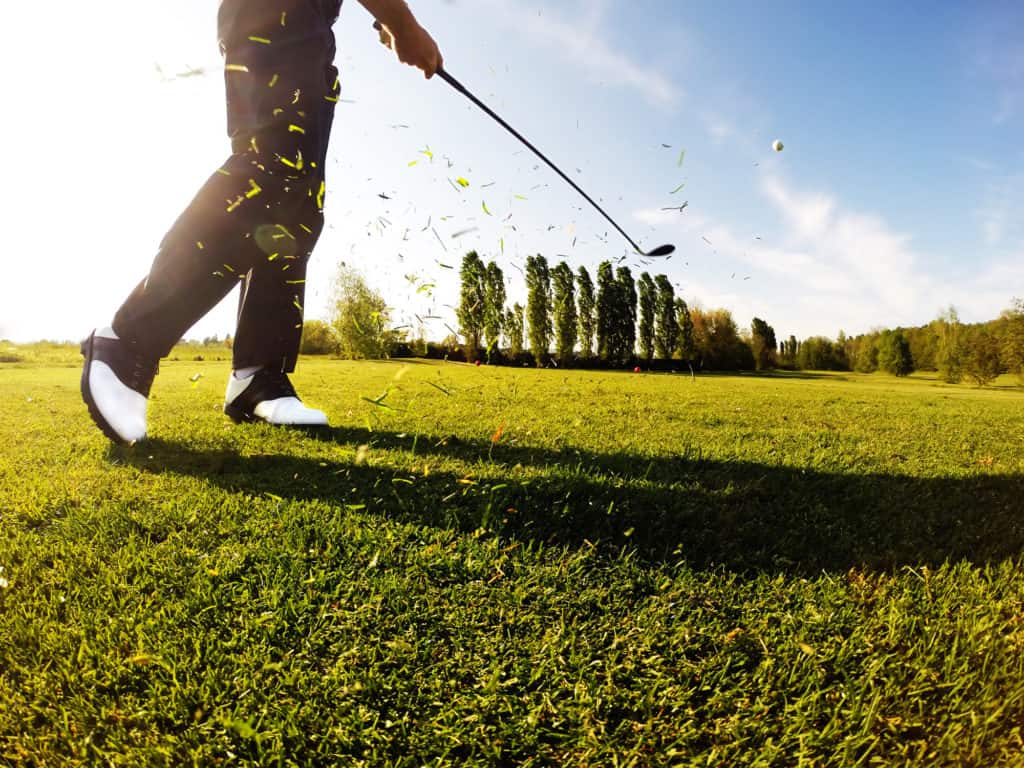 A pitch shot is a golf shot that will spend quite a bit of time in the air as opposed to on the ground.
You will use your higher lofted wedges to hit a pitch shot.
The ball will fly most of the way to the hole and then stop just short of the pin.
It may release a few yards, but in the end, this is the only rolling that the pitch shot will do.
When you are playing fast greens and want to get aggressive with the pin, the pitch shot is a great option to consider.
8. Chip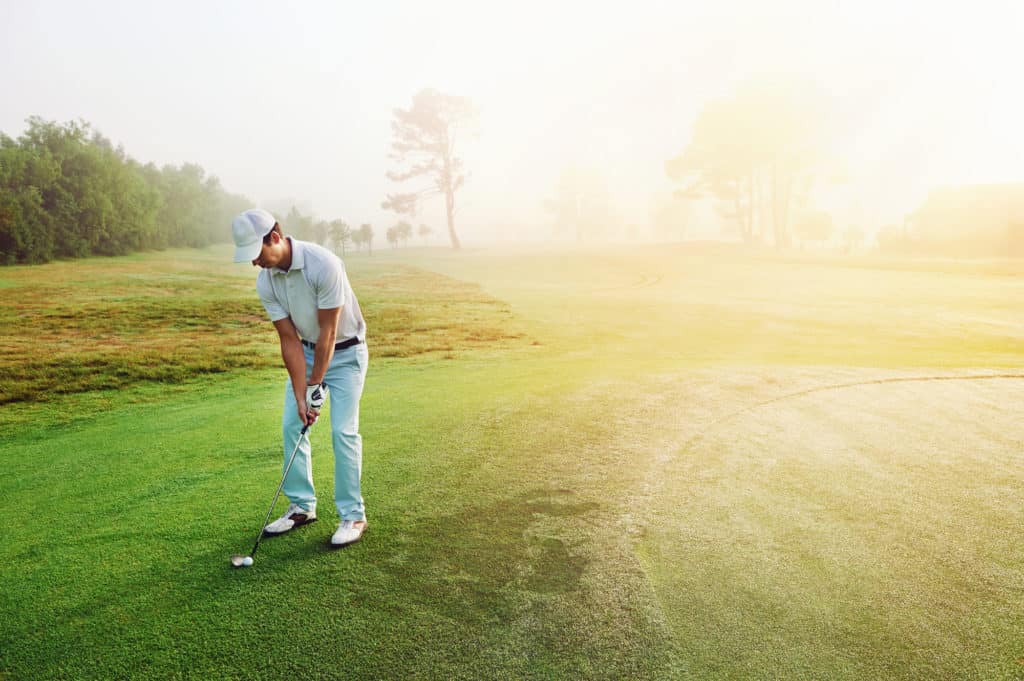 A chip shot is kind of the opposite of a pitch shot.
With a chip shot, the ball will only go up in the air for a few brief seconds, and then, it will roll toward the target the rest of the way.
With a chip shot, golfers tend to have a lot of control over what they are doing.
Therefore, one of the best things about a chip shot is that it is a good option for beginner players to learn.
If you can master the control and feel of a chip shot, you can become much more efficient around the greens.
It's important to learn that chipping is a major part of the golf game.
Even if you get this shot down, you will need to continue to work on it for years to come.
9. Stinger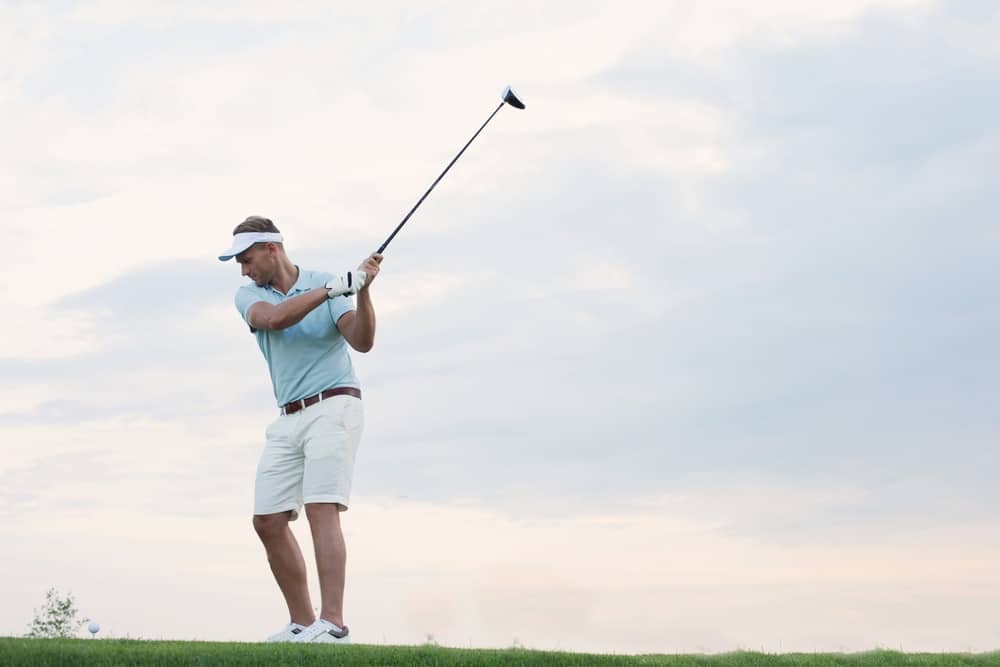 A stinger is a shot that has a very low ball flight but a lot of ball speed.
The best example of a stinger would be the drives that Tiger Woods used to hit as he was coming down the 18th hole of a big tournament.
Instead of taking his full golf swing and looking for all that ball flight, he would simply hit a stinger type drive.
Never wavering from its path, this type of drive would cut through any wind or obstruction in front of it, and it would roll for a very long time.
Stinger shots are good to learn how to hit, even if you won't find yourself in similar situations to Tiger.
10. Bump And Run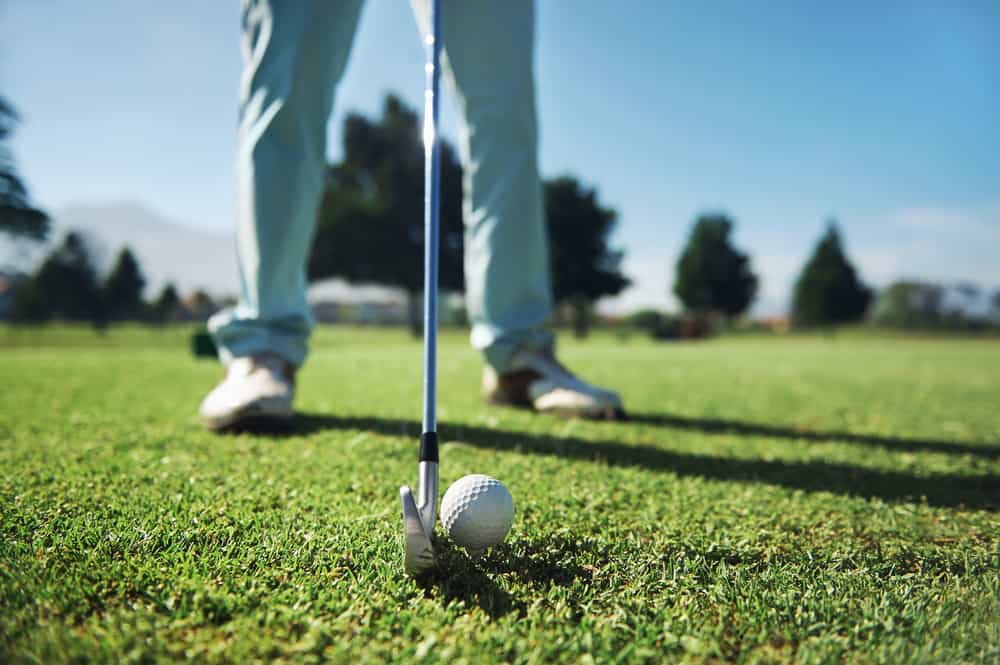 A bump and run is a shot that lands and then rolls a good portion of the way to the hole.
With a bump and run shot, you can use any club in your bag, depending on the location that you find yourself in.
If you are located somewhere in a bit of trouble, you can hit the ball lower on its way out but try and run it up to the green.
The bump and run is also a good shot when it comes to the short game.
Sometimes you can use an eight iron from just off the green to run it up to the hole and get it close.
These shots typically offer quite a bit of control, and they allow golfers not to take such a big swing when they are playing.
11. Layup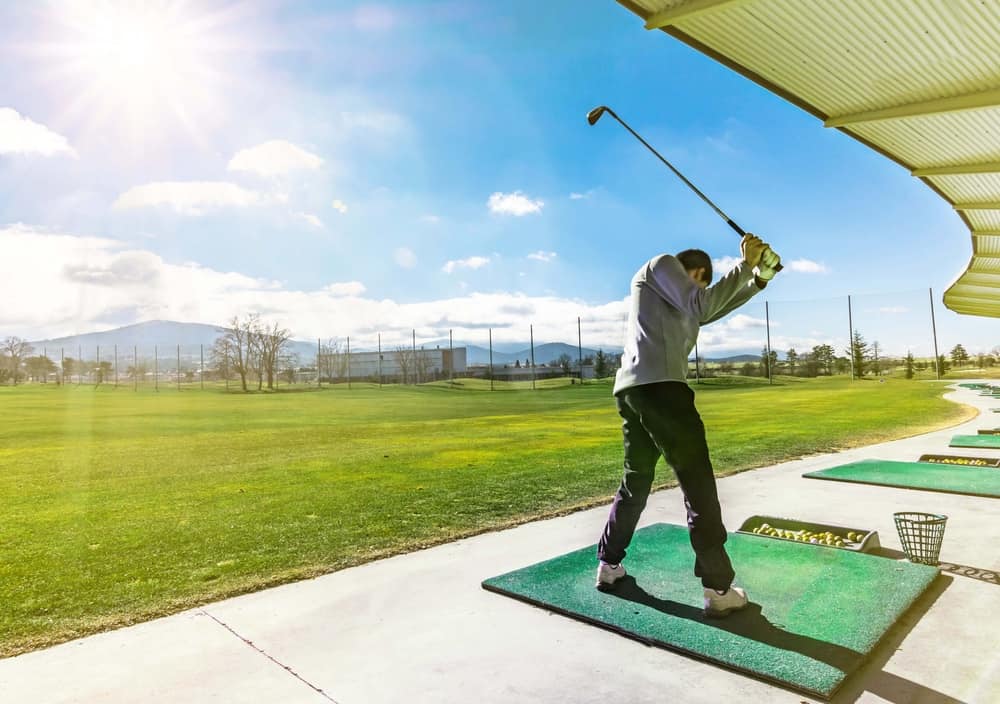 A layup simply means that you are not going to try and take the ball all the way to the hole.
Instead, you will lay up just short of the target for some reason.
This could mean that you lay up before a water hazard or short of the pin because of a ridge in the green.
Whatever your layup shot is, it is important to correctly calculate the distance that you are trying to hit.
There is quite a bit of math involved in the game of golf, and if you get it right, you can really help to lower your scores.
12. Punch Shot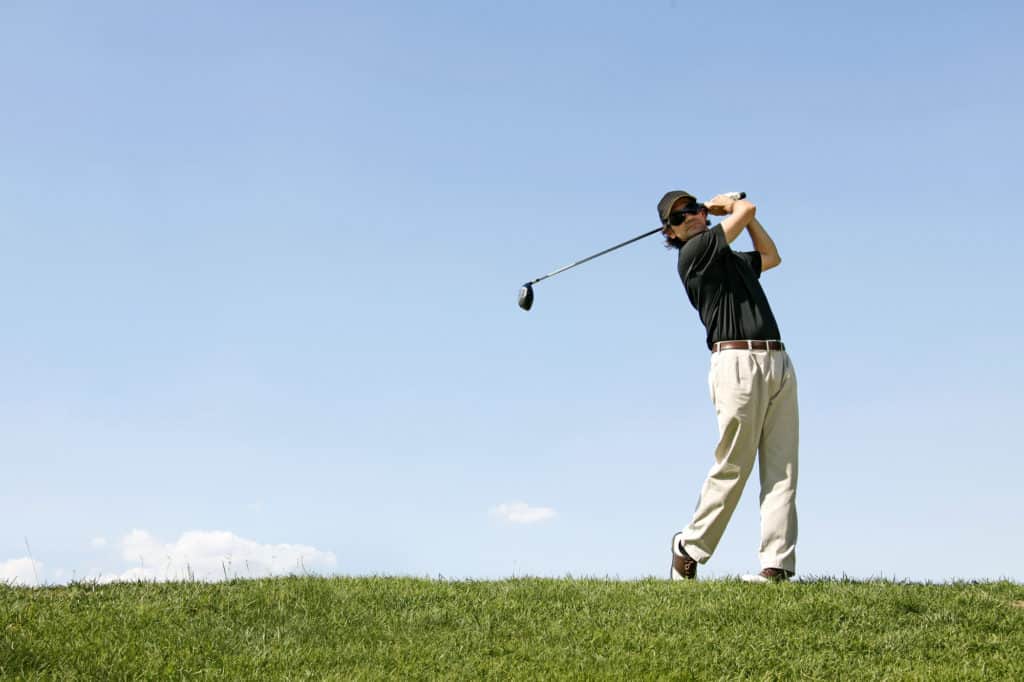 A punch shot is very similar to a knockdown shot.
This shot will feature an abbreviated golf swing that keeps the ball a bit lower to the ground, and it will have a good amount of roll to it as well.
Don't expect a punch shot to stop exactly where it lands on the green.
These shots typically have a bit of speed to them, and you will see the shot roll quite a bit once it lands.
13. Sand Shots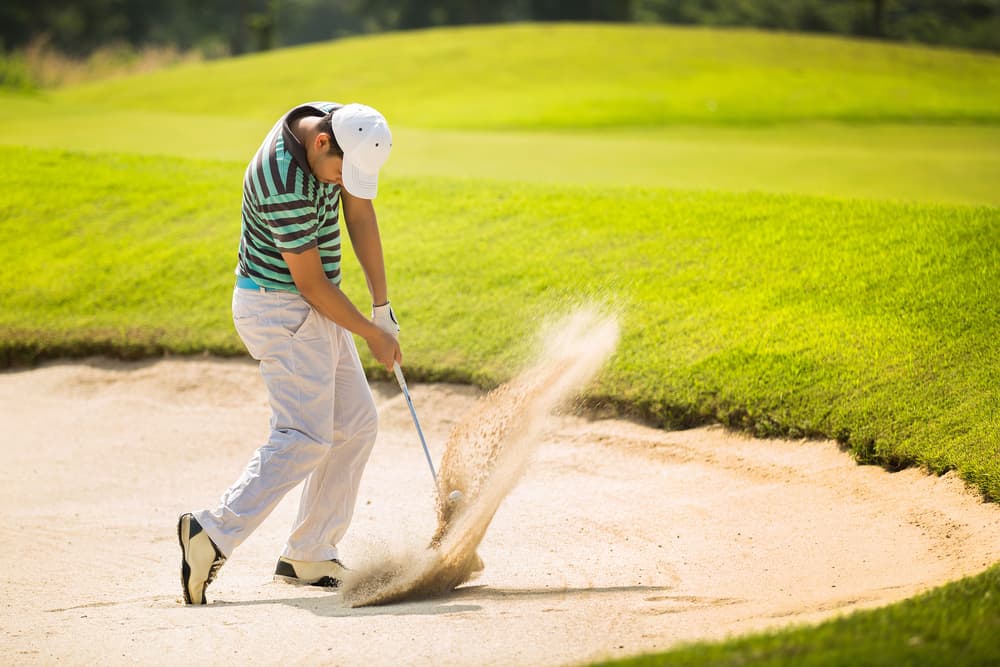 Sand shots are essential to learning how to hit.
If you get stuck in a bunker, there are specific shots that you should be able to hit to get out.
The club that you choose, the stance that you take, the posture all matter when hitting out of the sand.
Golfers try to avoid the sand trap as much as possible, but when it comes to practicing the shots you need to succeed, you should really consider practicing out of a bunker.
Bunker shots are going to come up during the course of a round.
Even the best golfers miss the green by a few yards and need to hit a sand shot.
Therefore, being properly prepared to hit one of these shots is essential.
14. Low Fade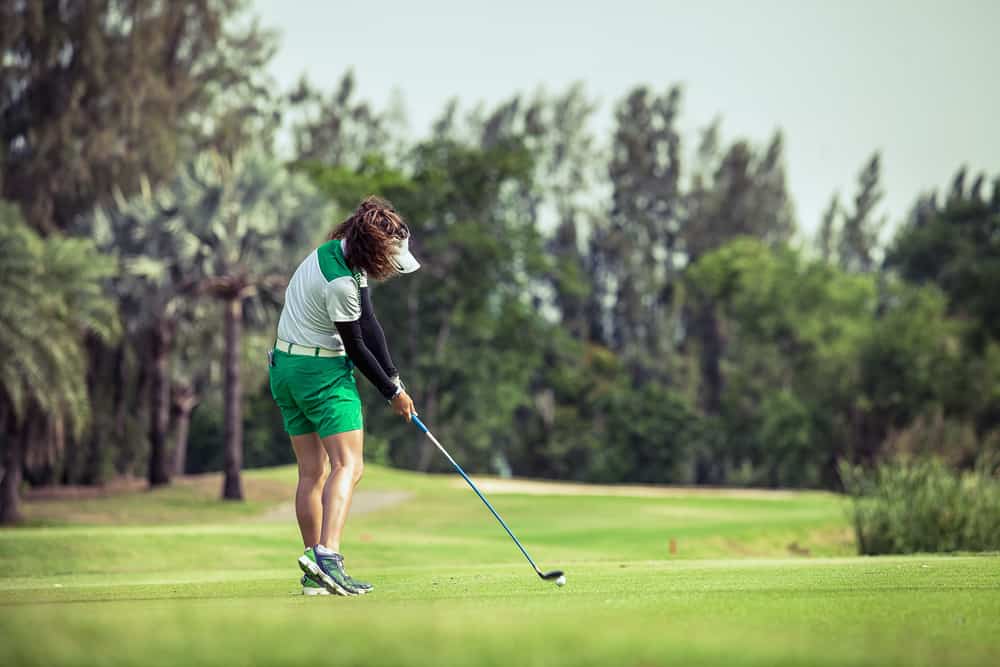 A low fade is a bit more like a cut shot, but it is a good shot to know how to hit.
Sometimes when you don't have all that far to get into a green, it may not be necessary to take a full swing with all the ball flight.
Instead, you may decide that you want to keep things lower and more controlled and get the ball moving towards the pin.
The low fade shot is typically done by adjusting the stance of a golfer.
This seems to be the easiest way to get this job done.
15. Low Draw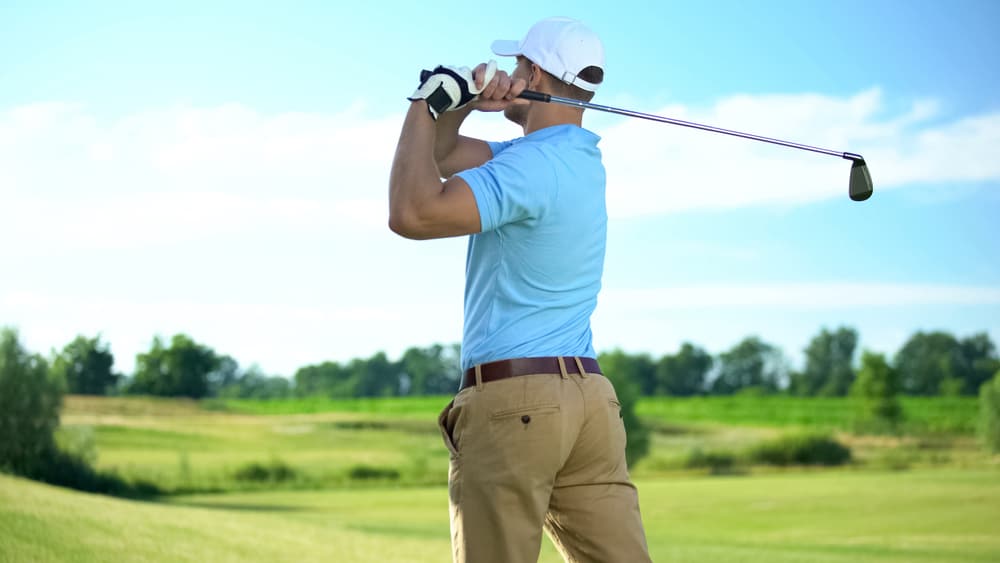 A low draw is basically the opposite of a low fade.
The ball is going to start at the target, and then it will start turning toward the left.
The lower draw tends to have quite a bit of distance to it, and you may see this shot release when it gets to the green.
Therefore, we would play this shot in the front right of the green if you are going for a pin that is middle-left.
The low draw can be done by changing the golf grip a bit and adjusting the swing path.
This is another shot that you will want to spend a bit of time practicing.
Unfortunately, something like a low draw can turn into a bit of a hook if you are not careful about how you execute the shot.
16. Chipper Shot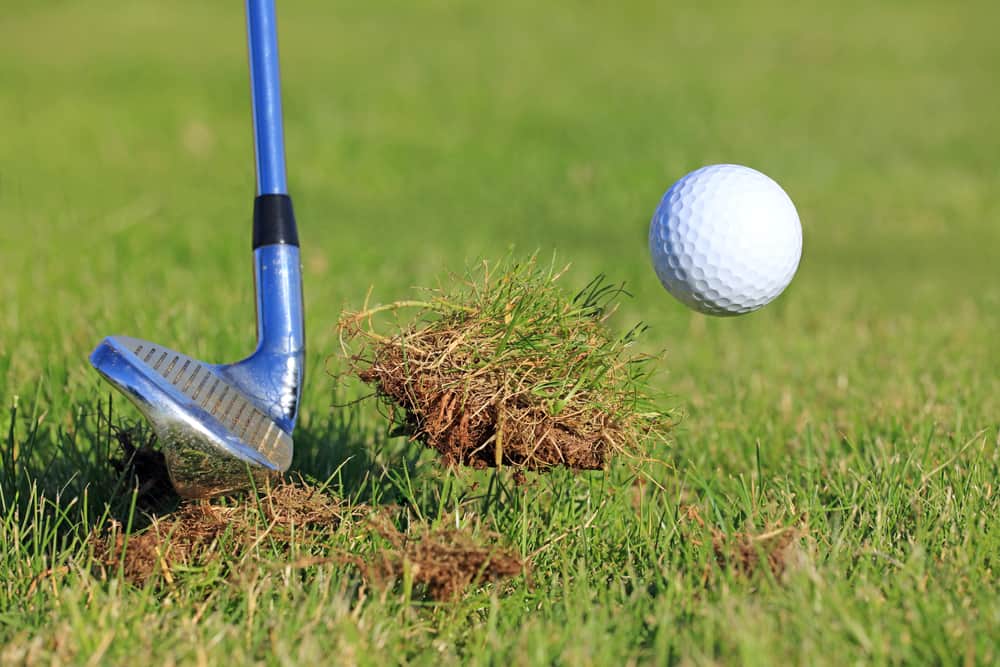 A chipper is a golf club that looks like a mix between a seven iron and a putter.
The chipper is a unique type of golf club that will require a special swing.
The swing is a bit like a putt, but it is done with this specific chipper in your hands.
The idea behind the chipper shot is that the motion is supposed to be very controlled and easy to work with.
Therefore, golfers see results without having to work too much on the mechanics of this golf shot.
The chipper is a great club for those who need help with their short game.
17. Chip With Hybrid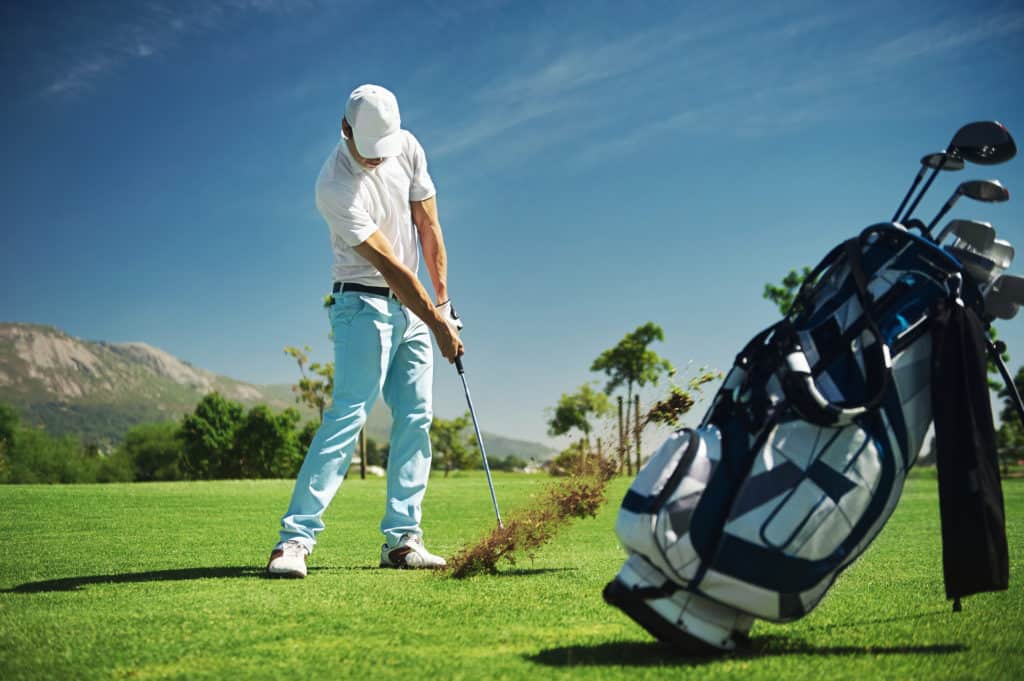 A hybrid is not just a great golf club to use from the rough and the fairway, but you can also use it around the greens.
With a hybrid shot from the rough, you can hit small chips around the green.
The shot will require you to swing essentially the same way as you do with your putter.
However, since the clubface on the hybrid is a bit harder than the putter, it tends to cut through the fringe a bit more easily.
Practice this shot before heading to the course because it is very likely going to be faster than you expect it to be.
Many golfers love the way this shot performs once they get the hang of it.
Just be patient with the feel and the touch required to hit this type of shot with this club.
In the end, you will find it to be very well worth the effort.
18. Lefty/Righty Shot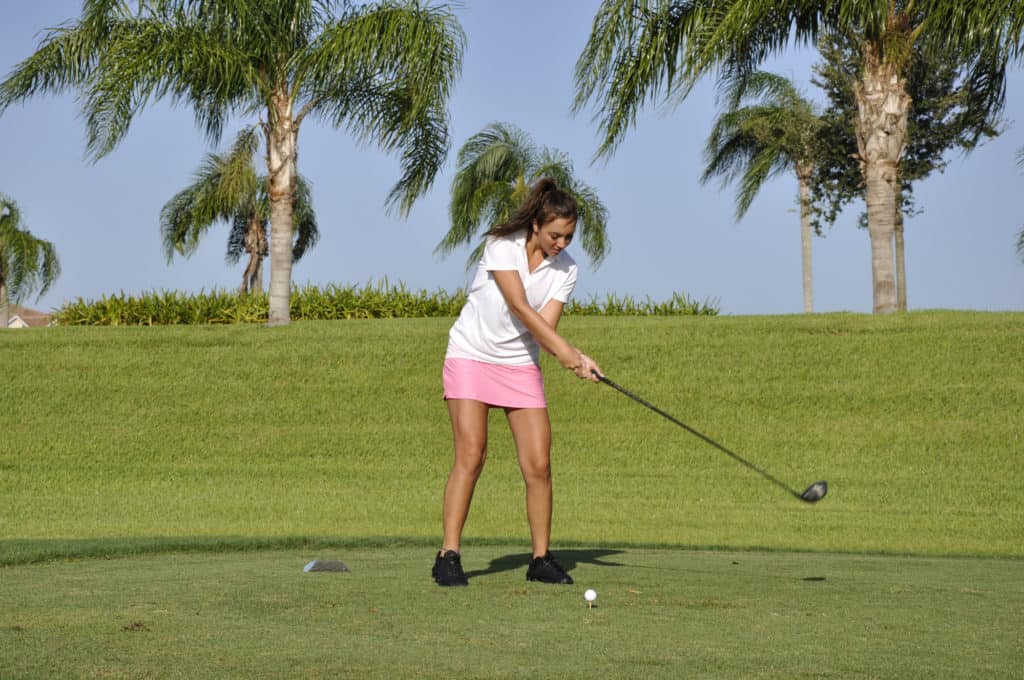 Golfers who are stuck next to a tree sometimes have to get very creative.
This type of thing can happen to even the best of players.
One way you can be sure that you are prepared for any lie that you may come across on the golf course is to turn your iron and hit a shot away from a tree.
This shot takes a bit of hand-eye coordination, but essentially, you can turn your clubhead so that it will help you stand on the other side of the ball to hit a shot.
This is a tricky shot, and you can very easily miss the ball entirely if you are not careful.
It's essential to ensure that you are standing the right way and that you are ready to hit a golf shot like this.
19. Approach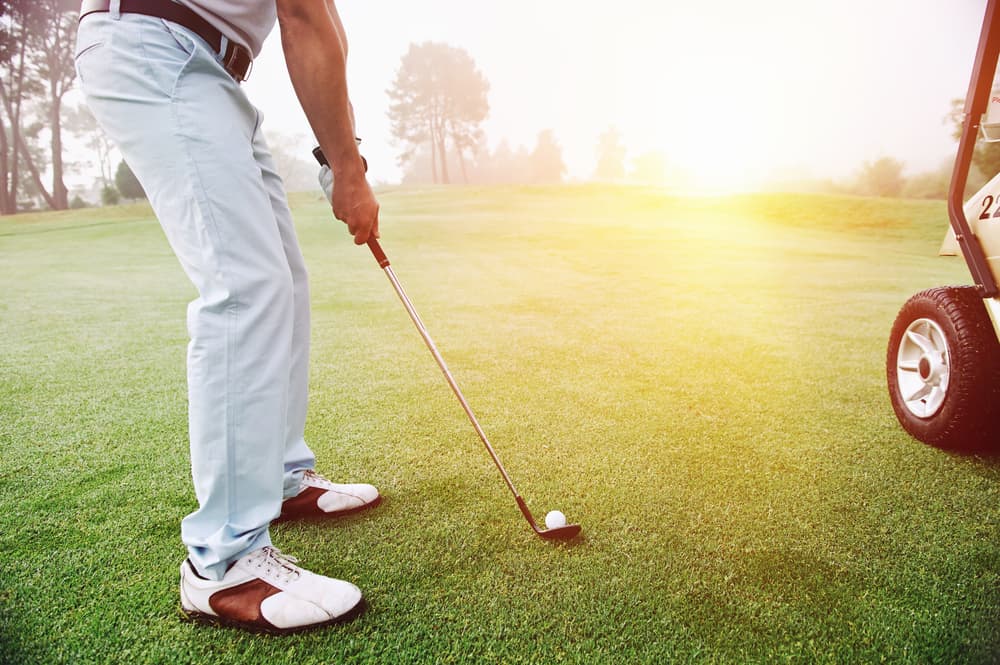 An approach shot is a shot that will get you closer to the green.
This is the shot that you want to be able to hit to set yourself up to hit into the green.
Approach shots can be any length, but they must be very carefully calculated.
You will have to ensure that you understand the exact distance and any trouble that may be in the way of you and the hole.
Many golfers underestimate the bunker or the water hazard that could come into play while hitting your approach shot.
If you are serious about this game, you will want to spend plenty of time working on the approach shots that you hit.
An approach that is well executed can make or break your day on the golf course.
20. No Break Putt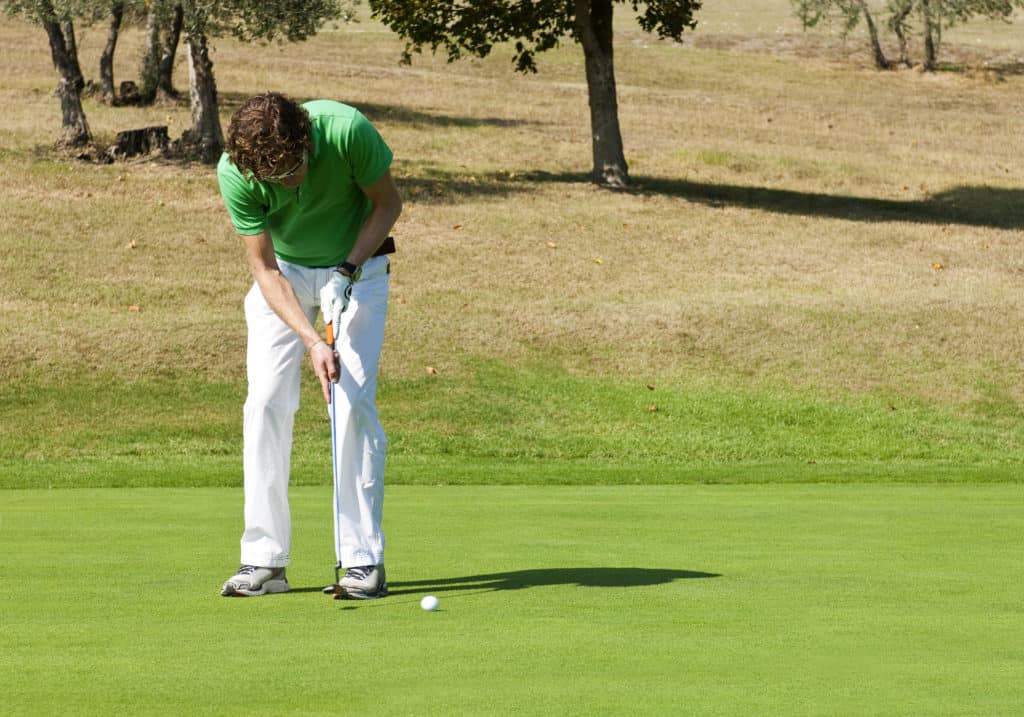 The last type of golf shot we have to help you improve your game is more like a tip than a golf shot.
If you are close to the hole, typically less than three feet, you should consider taking the break out of the putt.
Many golfers find that they read into these putts a bit too much.
They calculate a break and worry about the speed and then end up missing the short putts.
The crazy thing about this game we all love is that two-foot putt counts just as much as the 300-yard drive.
The no-break putt helps ensure that the shot you hit on these smaller putts will be more controlled and direct.
Simply take the break out of it and direct the ball to the back of the cup.
You won't have to worry about the putt breaking and missing the hole.
Conclusion
Hopefully, these twenty shots have helped you feel as though you can get a better variety when out on the golf course.
The more shots you know how to hit, the better the chance you have to succeed.
Golfers who have lots of variety in their game are typically the lower-scoring players.
If you are new to the game and have just figured out how to hit the ball straight and long, start learning different types of golf shots that you can hit in addition to the basics.