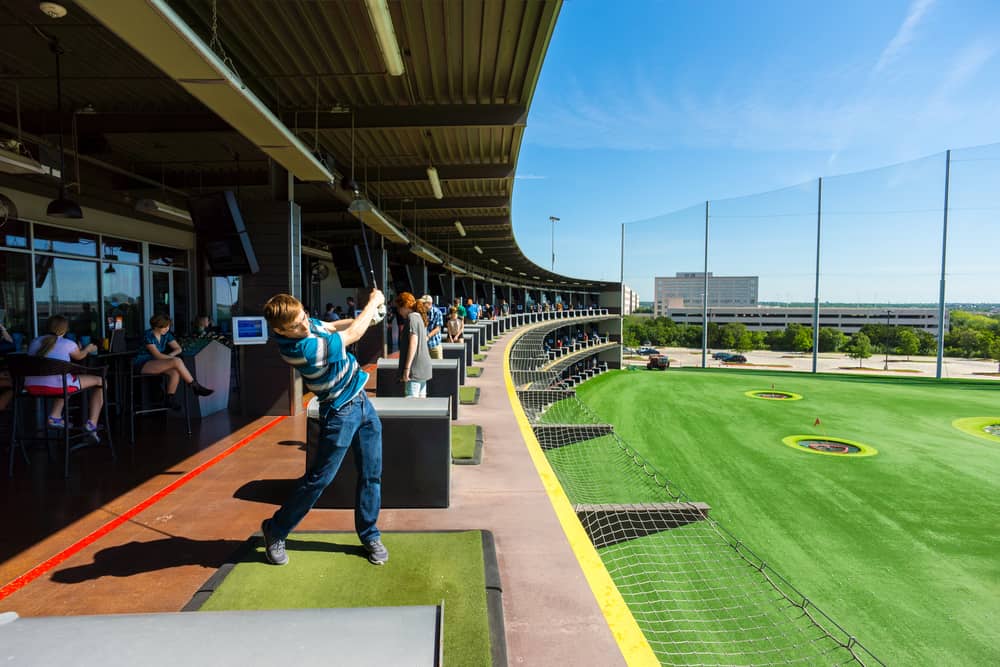 Heading to the driving range to work on your golf game is a great way to see some major improvement in the way you play.
The driving range can sometimes be connected to a golf course, but other times, it can be an independent location.
Going to the driving range is something that all serious golfers should be adding to their practice routine.
The only problem is that some driving ranges can charge quite a bit of money to use their facility.
If you are interested in playing some golf at the range and want to know how much it will cost before you get there, we have everything you need to know.

How Much Is The Driving Range?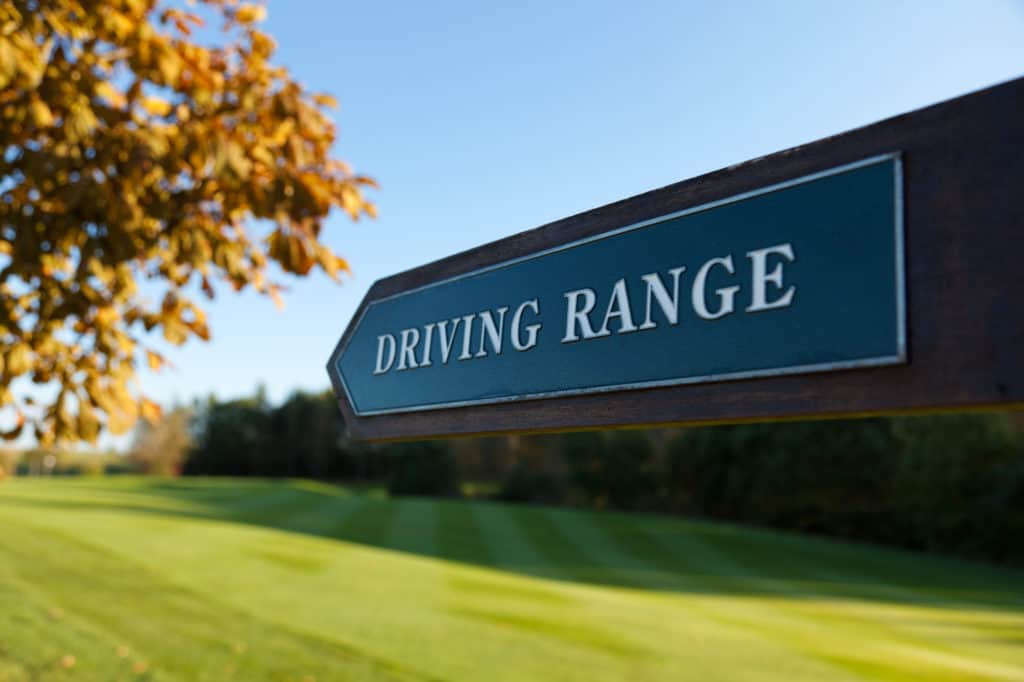 Some driving ranges charge by the hour, and others will charge by the number of range balls that you purchase.
The majority of ranges are going to charge around $8 for a bucket of golf balls.
If you are practicing at an upscale facility, you may pay closer to $10 for a medium-sized bucket of golf balls.
At a place where there is plenty of room and a slower turnover of customers, the same $10 could get you a large or jumbo bucket of golf balls.
Most players will want to hit about a medium or large bucket of golf balls.
Some facilities also sell small buckets of golf balls that have about 25 balls in the bucket.
These are typically closer to around $3 for the bucket.
When you sign up to play a round of golf and pay for the greens fees, sometimes the small bucket of golf balls is included with your greens fee.
All golf courses and practice facilities have to find different ways to make money and support the club.
Therefore, it makes sense to be creative about the marketing that they do.
If you can find a place where you really love to practice, chances are they will give you discounts for buying range balls in bulk.
You will probably be able to purchase a certain number of buckets and then get one for free.
Before you head out to the range, it is a good idea to understand how many golf balls are in the bucket of balls.
Some driving ranges will have adequate signage letting you know what to expect, and others will assume you already have an understanding.
How Many Balls Are In A Bucket At The Driving Range?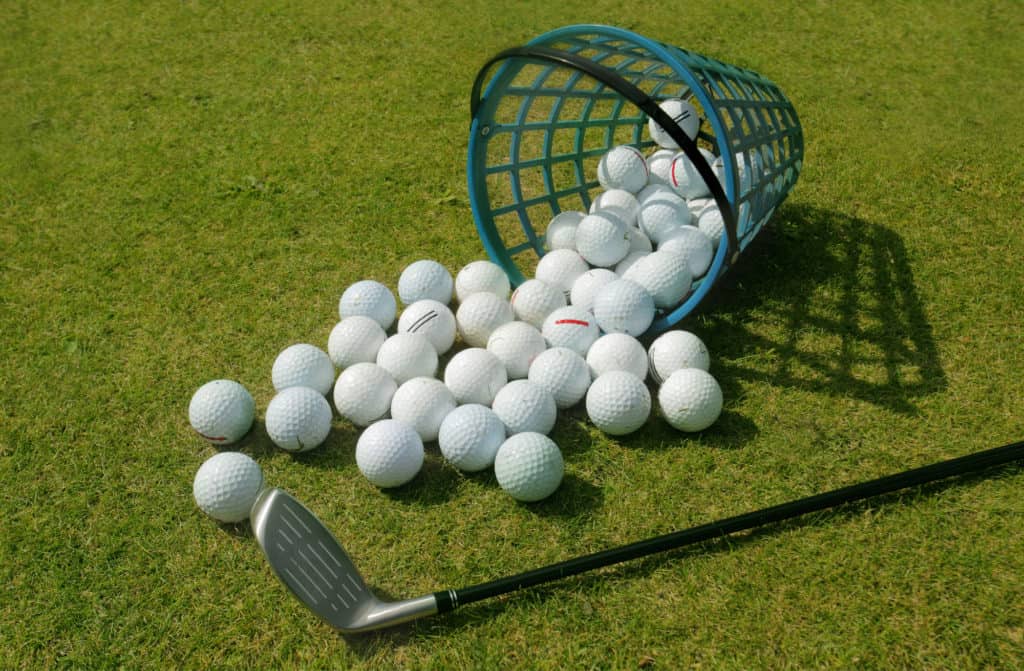 A small bucket of golf balls tends to have about 25 golf balls.
The large bucket could have as many as 75 to 100 golf balls.
Some driving ranges will sell golf balls in a jumbo bucket or even something as large as a spackle bucket.
These golf balls are a perfect choice if you are going to the range with a group of friends.
You will get a much better overall price by choosing to purchase in bulk like this.
In addition, if you try and hit this many golf balls entirely on your own, expect to get quite tired by the time you are done swinging.
Most of the time, a medium or large bucket will give you an excellent practice session and allow you to work on your game.
Is TopGolf Expensive?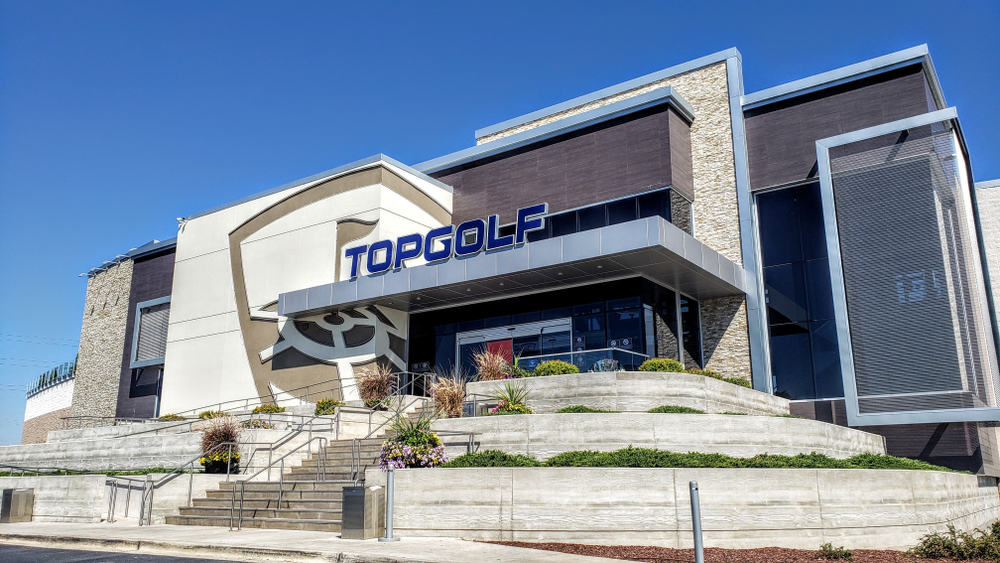 TopGolf is more than just a driving range.
It is a place where you can socialize, eat, and have fun with your friends.
Playing at TopGolf means that you can work on your game, but you can also compete and have fun.
Some people take TopGolf quite seriously and those who go there just to enjoy themselves.
However, most people will agree that TopGolf is quite expensive.
The price that you pay to use the facility at TopGolf is high, and then when you add in the prices of the food and beverages, the pricing gets really high.
Most TopGolf locations will let you pay for the number of golf balls that you hit, but some will also have you play unlimited for a certain period of time.
It's important to look at the specifics of the TopGolf location before you head out to play.
You will want to ensure that you understand the costs involved with this type of event are not too much for you to manage.
Overall, TopGolf is a lot of money, but you will probably want to think of it as an event to go and participate in rather than a way to just practice your golf game.
Do Range Balls Go Shorter?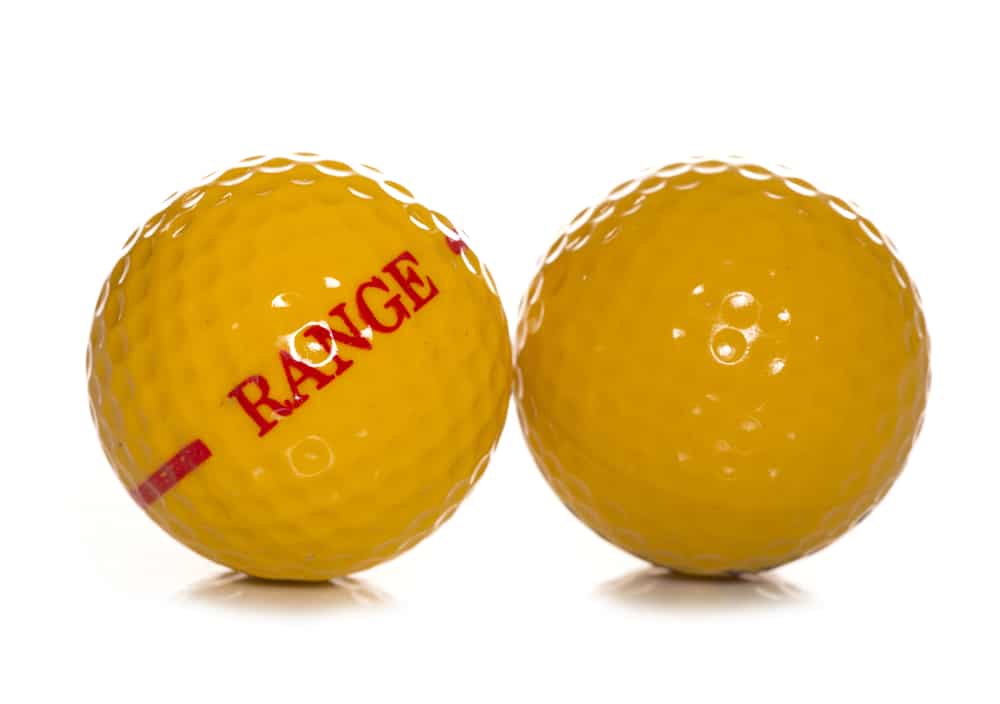 Golf range balls can go shorter than typical golf balls.
There are a few reasons behind this concept.
1. Used Golf Balls
Many golf driving ranges purchase used golf balls.
These used golf balls are a way for the range to save money.
Even though you may find this hard to believe, golf balls get lost quite often from a driving range.
There are times when people hit them out of the range, mowers that hit the balls, and even people who put a few in their golf bag.
Driving ranges are continually having to replace golf balls, and it can get quite expensive.
Therefore, they often purchase used golf balls to ensure that they can keep expenses down and keep their business more profitable.
Overall, used golf balls can start to lose their effectiveness over time, making them go shorter.
2. Limited Flight Golf Balls
Limited flight golf balls don't travel nearly as far as standard golf balls.
The limited flight golf balls are in place to help ensure that the golf balls don't exceed the limits of the driving range.
Let's think, for instance, if the driving range is 260 yards long.
Some golfers now can hit the ball 300 yards.
To help driving ranges adjust to these longer distances that players can hit, they have switched to limited flight golf balls.
This means that, even if a golfer is swinging quite hard at the ball, they are not going to be able to get it to go as far.
The limited flight golf balls can really mess with your golf swing after a while.
You will need to be sure that you are not trying to swing extra hard just to get the ball to respond to your swing.
Instead, focus on hitting straight shots and getting them to the targets on the driving range, and try not to think quite as much about the yardages that you are getting from your shots.
3. Harder Golf Balls
Many driving ranges will choose hard golf balls.
The reason behind this is that the more challenging golf balls do a much better job when they are getting hit over and over again.
The hard golf balls hold up better when being hit time after time.
In addition, when the golf balls are picked up by the driving range picker, they can also get beat up.
Using a golf ball with a soft cover as a driving range ball is just not a smart thing for business and will impact the overall success of the driving range.
Since these balls are a bit harder, some slower swing speed golfers have a hard time compressing them.
This is why you will want to work on your swing and practice at the golf driving range, but don't focus too much on the distances that you are hitting.
Instead, try and take good swings and work on fundamentals and shots that feel really good.
Do Driving Ranges Buy Old Used Balls?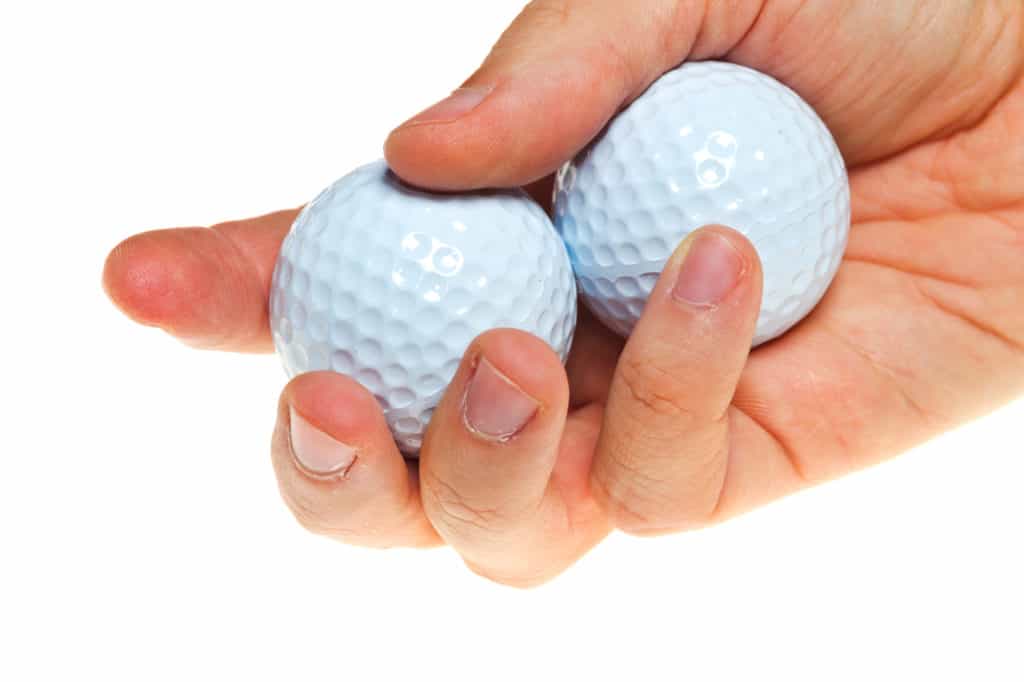 If you are a serious golfer, chances are you have hundreds of golf balls in your garage.
One golf ball typically will last you for three or four rounds of golf, and then it is about done.
At this point, you may use the golf ball in the yard for practice, give it to your kids to use for junior golf, or you may just have buckets of golf balls starting to pile up in your yard or garage.
For those with a large number of used golf balls, it could be a good idea to try and sell those used golf balls.
Local golfers will purchase them to use on their property or even to refurbish and sell again.
In addition, you can sometimes sell these golf balls to a driving range.
Driving ranges are often ready and willing to accept used golf balls and will sometimes even make a deal with you to ensure that you can practice there for a discounted rate.
Some of the higher end driving ranges are not going to purchase the used golf balls.
These ranges typically have contracts with companies like Titleist or Callaway, and they purchase all uniform golf balls from these companies.
Once they have a set of matching golf balls that all look nice, they will not want to add in the used golf balls that you find and want to sell.
Try to find another way to sell your used golf balls if you only have higher end driving ranges and golf courses around you.
Is Practicing At A Driving Range Good For Your Golf Game?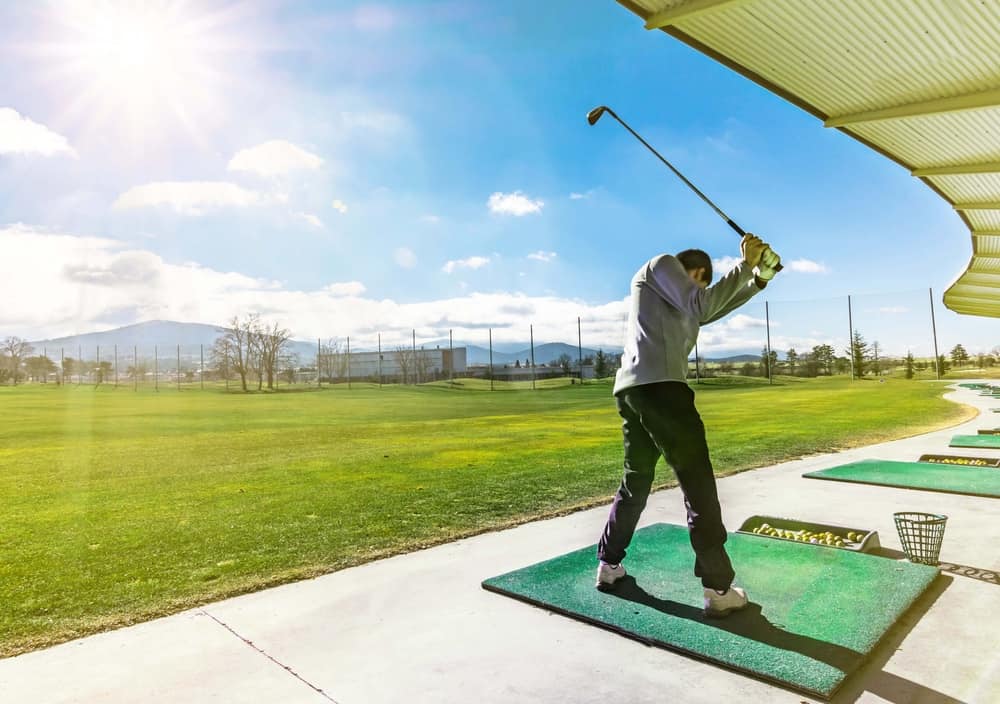 One of the most frequently asked questions about driving ranges is whether or not they are suitable for your golf game.
People seem to know that they should go practice at a golf driving range, yet they are probably unsure as to whether or not this is really helping their game.
The good news is that the driving range can be really helpful for your game, but you must do a few things right.
You can't simply go to the range and start hitting balls and expect that it is going to result in lower scores.
This is unfortunately not the way the game of golf works.
1. Practice Routine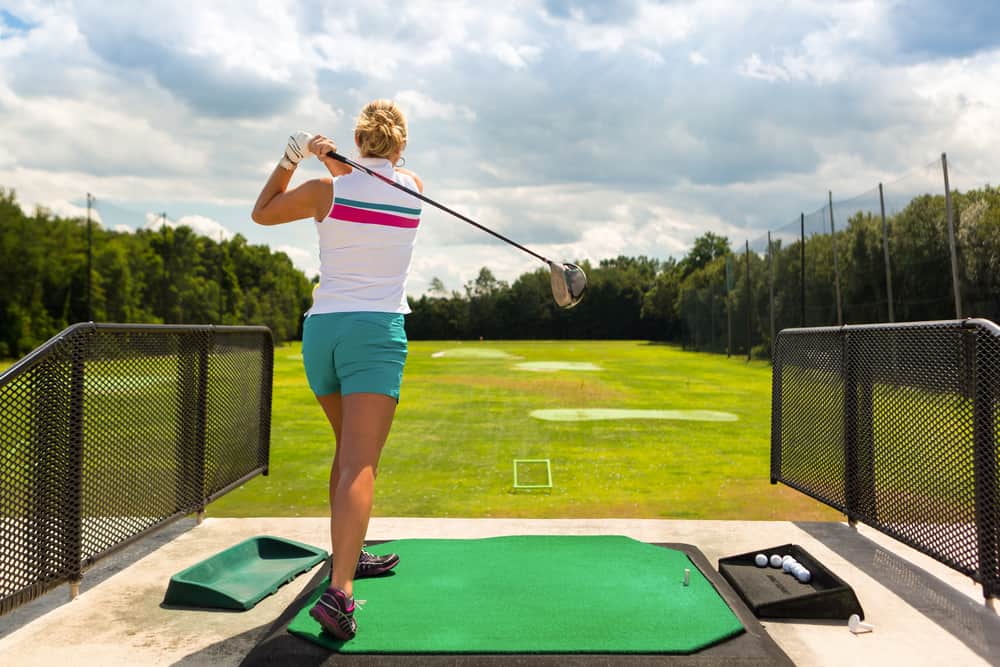 The first step is to create a practice routine.
If you have a routine in place and a plan for what you are doing, then you have a good chance that the session is going to be helpful.
However, if you simply haphazardly step up and just start swinging to try and hit 300-yard drives, this is not all that effective.
Work with each club in your bag and try and learn some things about where your game is thriving and what you need the most practice on.
If you hit every eight iron perfectly, it's okay to put that club away and work on something else for a little while.
Try to change things up between the wedges and the long irons so that you are not just practicing one part of your game.
Don't forget to add in a few pitch and chip shots to ensure that you are getting to work on all areas of the golf game.
The practice routine takes some time to develop until you realize what will be effective, but in the end, it is a necessary thing to have in place.
2. Mats
Many golf driving ranges are built on mats.
The mats make people nervous about their wrists and whether or not they are going to be affected by the way the mat feels with each swing.
Golf mats have a good amount of padding under them, and for the most part, they should not be dangerous.
Mats are fine as long as you are not continually hitting behind the ball.
Players who practice on mats all the time are going to need to also make an adjustment when they get to the golf course.
The reason is that mats are quite a bit easier to hit off of than the grass.
With a mat, you can hit behind the ball, and the golf shot does not feel all that bad.
However, when you do this on the grass, your club will likely dig into the ground, and your golf shot will not go all that far.
Therefore, it makes sense to be careful about how often you are swinging on the mats, but don't let it discourage you from practicing golf altogether.
3. Transferring To A Golf Course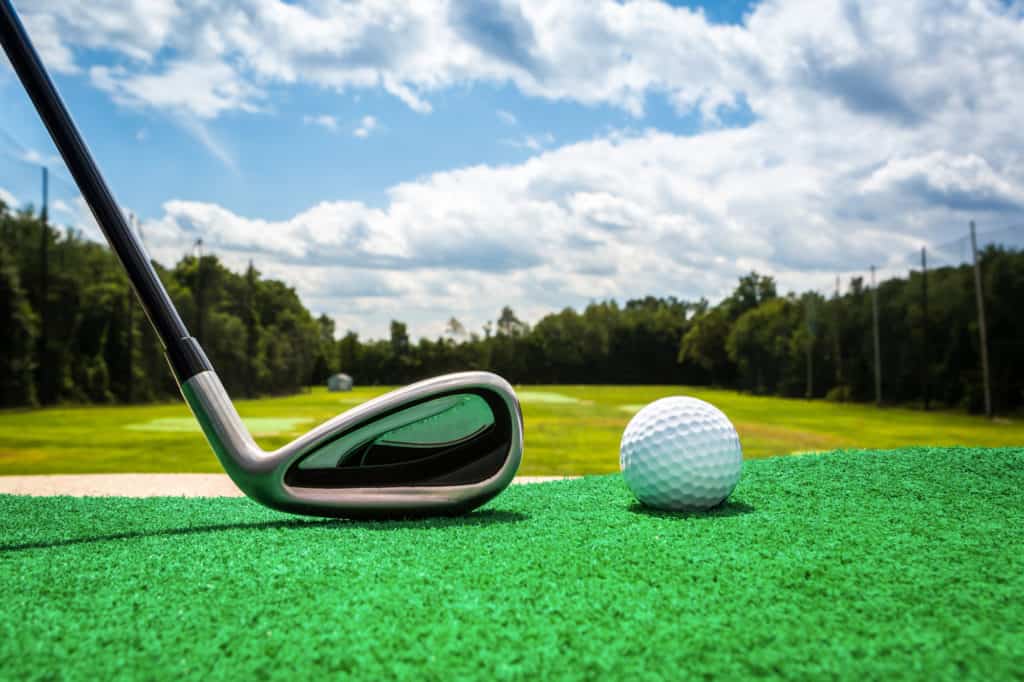 The biggest thing about practicing at a driving range is learning how to transfer it to the golf course.
Practicing at the driving range is not all that helpful if you can't take those great shots you are hitting and bring them out to the golf course.
The more you can do at a range to ensure that you will get to use those same shots on the course, the more effective your practice will be.
Therefore, we recommend working on trying to play a mental game of golf while you are at the driving range.
You should be trying to hit a drive, hit a hybrid, hit an iron, and then a wedge.
Don't stand there and hit 14 drives in a row as it will not help you get better at the game of golf, it will just help you get better at hitting drives.
Another thing to work on while at the driving range is aiming.
If you only try to hit straight shots, you won't learn how to change your alignment as you would have to on the course.
You need to change the target you are aiming toward.
In addition, try to learn to hit some draws and fades so that you can work the ball a bit when you get out on the course.
The more you vary your practice and change the way you hit shots to add variety, the better chance you have of transferring the information to the golf course.
Try to make your golf experience on the driving range as similar as it can be to the golf course.
The more you can do this, the better chance you have of reaching your golf playing goals.
Conclusion
Hopefully, you now feel as though you have all the information you need to head out to the driving range.
The driving range is relatively inexpensive for a bucket of balls.
Expect to pay around $7 to $10 and have plenty of golf balls to be able to work on your game.
The only time things start to get a bit expensive is when you add in the extras like food and drink.
If you can keep things relatively simple and look for bulk savings by getting involved in some kind of frequent customer contest, then you will be pleasantly surprised with how fair the driving range is priced.