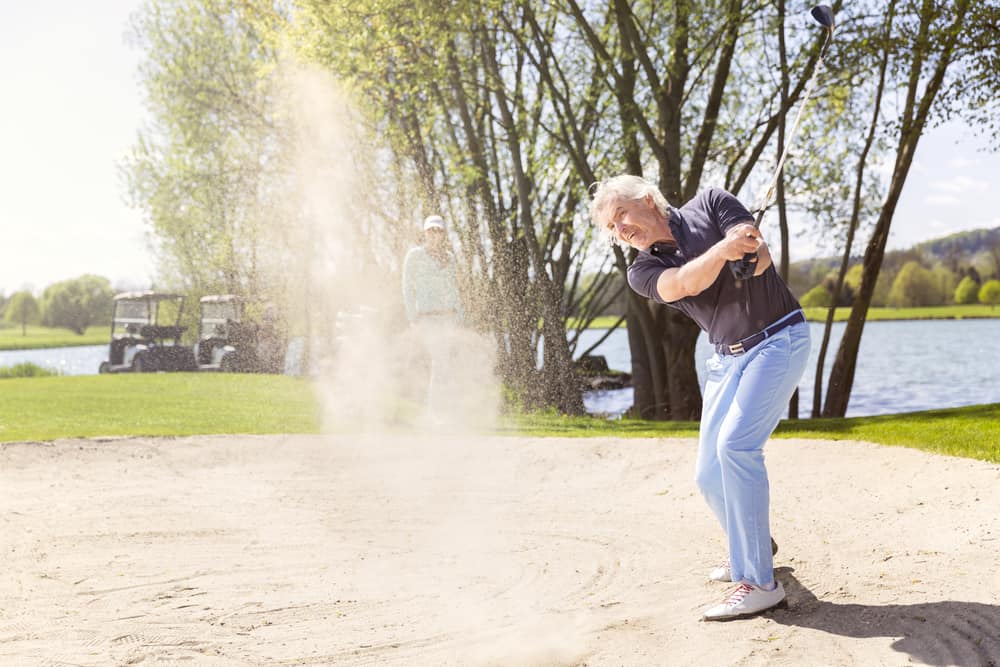 As you get older and start to lose a bit of the distance that you have been accustomed to getting, it may make you question if you are hitting the ball far enough.
Sometimes it is hard to know and understand exactly what distances you should be hitting the ball.
Truly, there is no right or wrong amount of distance, but instead, distance should be looked at as a goal.
Golfers who want to hit the ball further often have to work a bit more on distance-enhancing techniques.
If you are interested in how far a 70-year-old man should be hitting a golf ball, we have all the information you need.

How Far Should A 70-Year-Old Man Hit A Golf Ball?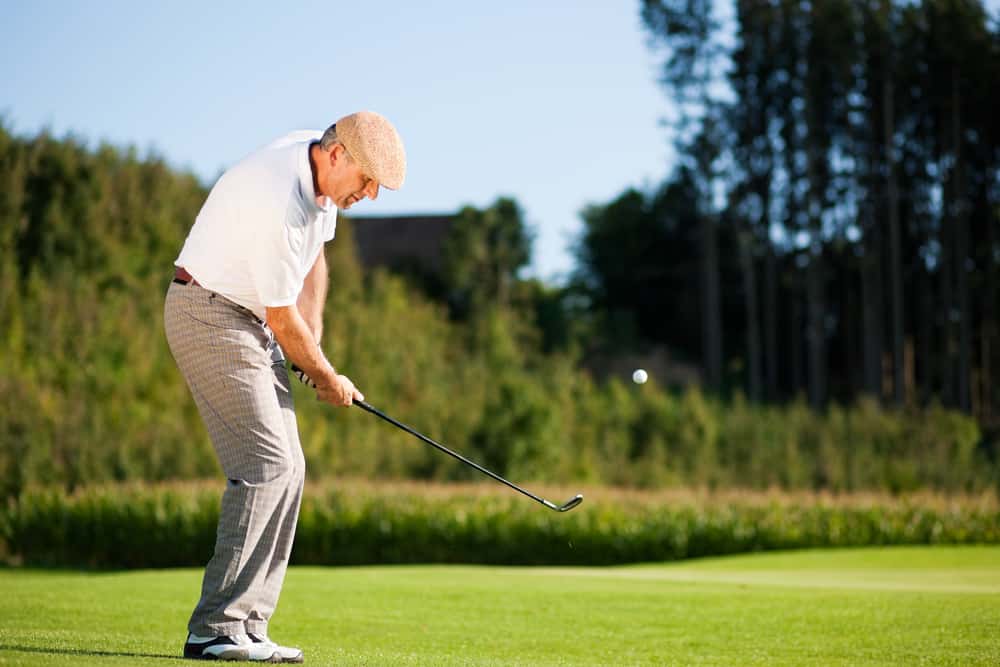 A 70-year-old man should be hitting a driver anywhere from 180 to 190 yards.
This number has grown a bit in the last few years with the introduction of improved driver and shaft technology.
At 70 years old, some golfers are having no trouble getting the ball to fly 200 yards or more.
Overall, these golfers are probably those who play quite often and have their shots straightened out so that they are not also worried about hitting the ball right or left of the target.
A man who is 70 years old is most likely playing with a driver that has a senior or a regular shaft in place.
These shafts are designed for slightly slower swing speeds and ensuring that a player can get their club to go all the way through the ball with plenty of power.
It's important to remember that, although the driving distance is essential, the driver is not the only club in the bag.
Senior golfers need to pay very close attention to how far they are hitting their hybrids and fairway woods.
If these distances start to slip a bit, it is going to be best to look for some distance enhancing techniques or equipment.
Players who can hit the ball less than 200 yards from the tee are going to have much longer approach shots into the green.
These approach shots are very likely going to require the use of a longer golf club to get to the green.
Sometimes golfers will add an extra wood or an extra hybrid to the bag for this exact reason.
A 70-year-old golfer may be ready to move up a set of tees as well.
From the tees that are further back, many of the par 4 holes will be 400 or more yards.
If a player can hit a ball 180 off the tee, this leaves more than 220 yards to the green.
This 220-yard shot from the fairway will require two shots from the senior golfer, making it difficult to make a par.
From the senior tee, the hole is 360 yards away instead, and the hole gets much more reasonable.
Don't be afraid to move up a tee when the time comes because it is the reason that they are there.
How Far Should a 70-Year-Old Man Hit A Seven Iron?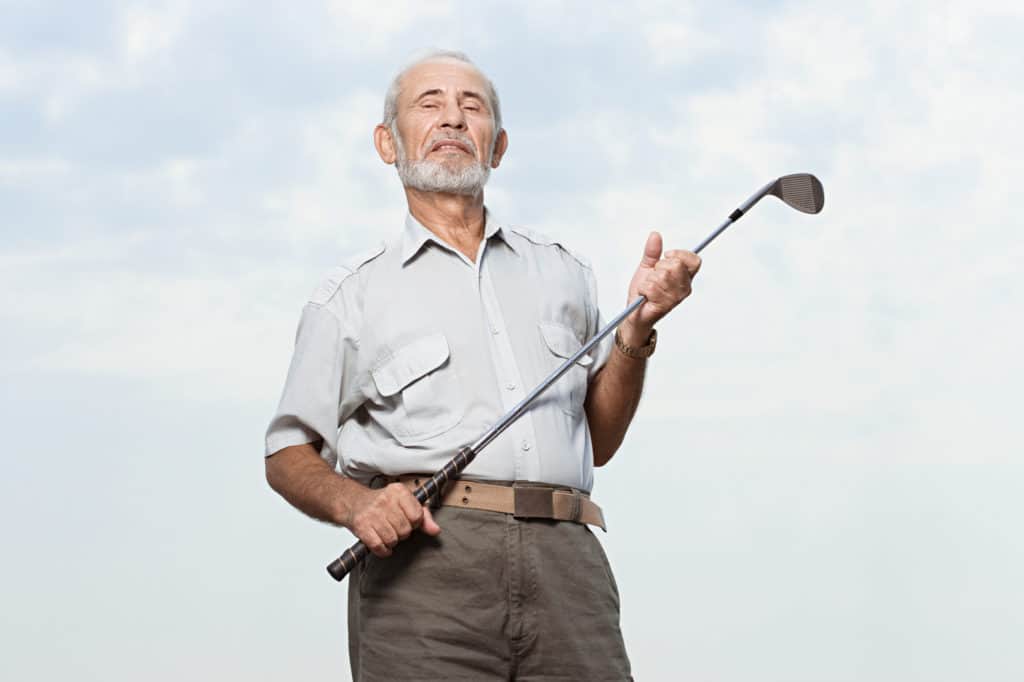 A 70-year-old man should be able to hit a seven iron roughly 135 yards.
The 135-yards shot will vary depending on the use of steel or graphite golf equipment.
Graphite shafted golf irons tend to go a bit further and make it easier for the senior golfer to launch the ball higher as well.
This is why you will see that all senior shafts are graphite.
These shafts have much lighter weights and make it more attainable for a golfer to get club head speed and extra distance.
Those who are hitting the seven iron about 135 yards will likely notice that the six iron and five iron are no longer all that useful.
These clubs may go the same distance as the seven iron, but they may no longer go straight.
This has everything to do with swing speed.
As your swing speed starts to slow down, the clubs with less loft become more difficult to hit.
Therefore, the golf irons with the lowest loft like the three iron, four iron, and five iron become more and more difficult to hit.
You will notice that the composition of most senior golf sets will stop at the six or seven iron and switch to a hybrid at this point.
Hybrids make the long iron replacement such an easy decision.
A hybrid is easier to hit from the rough, higher launching, easier to control, and it has changed the game for many senior players.
Overall, the hybrids have become so popular that some seniors have chosen to switch to a full set of hybrid irons.
The full set of hybrids helps players who really have felt a slowing down of their golf swing and know that they need to do something to fix it.
Before golfers change to senior tees and senior shaft, it is quite common to see a golfer start to take some long irons out of the bag and replace them with hybrids.
If you are feeling and seeing this change happen as you age, just know that it is exactly what you should be doing.
Players need to take advantage of the technology on the market if they want to keep scoring low for years to come.
How Can Senior Golfers Get More Distance?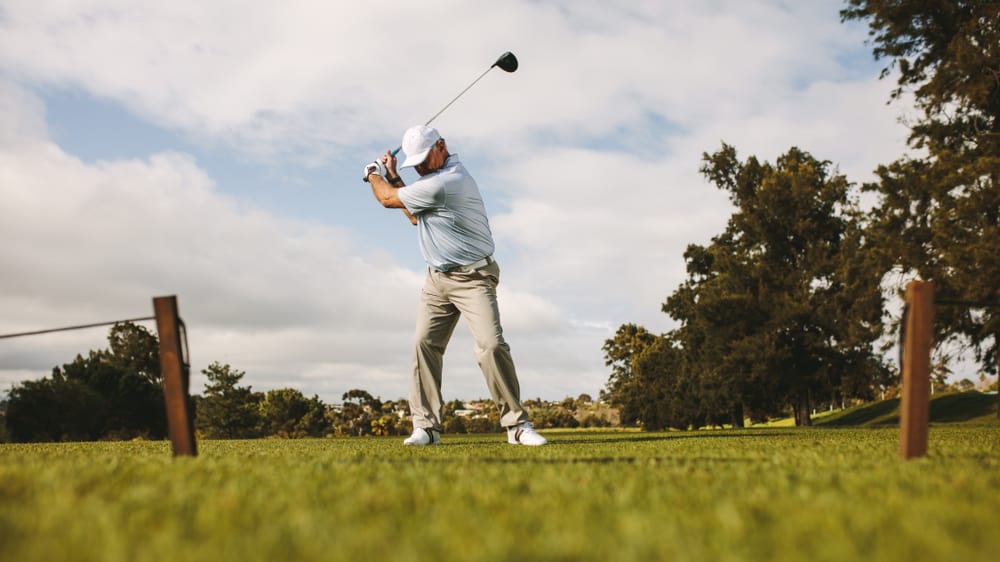 One of the questions that PGA Professionals get asked most often is, "How can senior golfers get more distance from their clubs?"
It is certainly understandable that senior golfers would want to increase the distances they are able to hit.
The golf course becomes harder as you lose distance, so it is a smart idea to try and gain some of it back.
We talked about the importance of gaining distance by switching equipment, but there are other ways that senior golfers can gain the distance they need.
One of these ways is to look into a bit more exercise.
It has been proven that seniors who are more active off the golf course will get more distance on the golf course.
Therefore, if a senior player is able to get a few extra yards just by taking a walk around the block or going for a bike ride, it is certainly worth it.
We use a lot of muscles when we play golf, and one of the ways to gain more distance is to use these muscles off the golf course.
In addition, the senior golfer can think about getting a weighted swing trainer.
Of course, you don't need anything all that heavy, just something with a bit more weight than your current clubs.
This club can be used as a way to practice and swing when you are away from the golf course and it will only build up strength for when you get back to the course.
The weighted trainers can also help golfers get some better tempo in their golf swing.
Better tempo is almost always going to result in golf shots that are hit more square and head towards their target.
Lastly, make sure that you are doing all that you can to prevent a slice on your golf shots.
A slight slice of the ball is what typically causes a significant loss in distance that a senior golfer cannot afford to have happen.
How Far Should a 70-Year-Old Woman Hit A Seven Iron?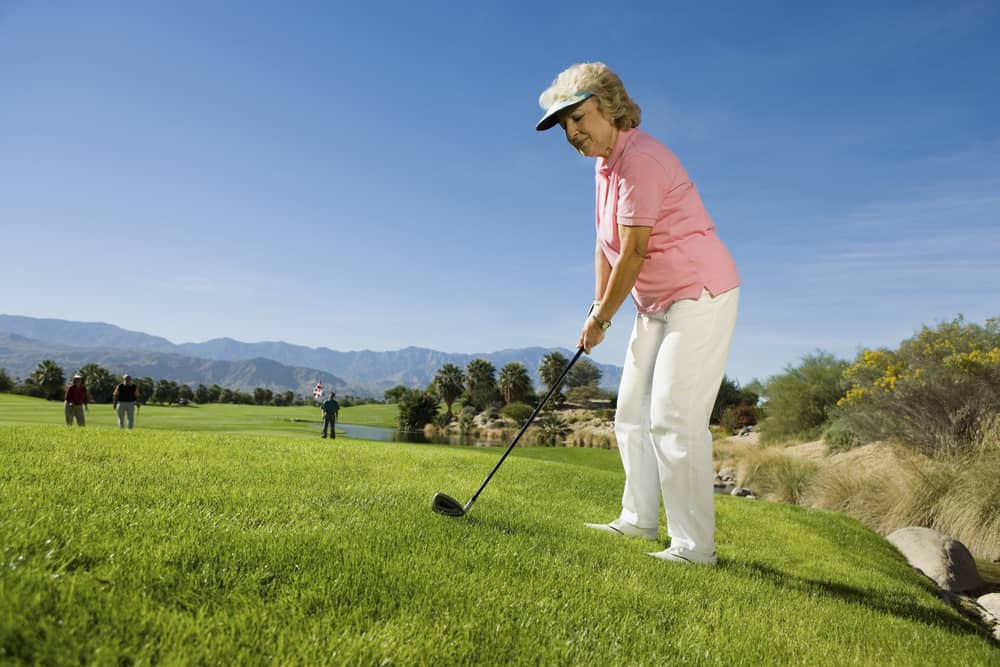 Since we have covered how far the men should be hitting a seven iron, it's essential we also talk about the woman golfers.
One of the interesting and potentially unfair things about being a female golfer is that the distances from the equipment you will have access to as you age are really no different.
Men golfers can switch from stiff to regular to senior golf shafts as they age.
This helps make the transition a bit easier because it is not felt as strongly.
Instead of players feeling like they need to do more to hit the ball further, they have the ability to change equipment and see an immediate difference in distance.
For women golfers, there is just one ladies' flex and ladies' weight shaft.
These are graphite shafts, and they have been put into women's golf clubs all along.
Of course, some of these shafts are heavier than others, and that will impact the way you end up feeling with them in your hands, but in the end, the feel is relatively the same.
This makes it difficult for senior women golfers because they will need to work a bit more on distance enhancing techniques in their game.
As the world of golf starts to change and evolve, we may see a very lightweight senior women's graphite shaft hit the market, but this could take a while.
Until then, women of 70 years old will likely hit a seven iron around 90 yards.
If you have the right equipment and a great lie, the ball may go closer to 100 yards which is very good distance.
In addition to the problem with equipment, sometimes there is an issue with the tee box as well.
Some clubs have the ladies' tee as the most forward tee.
However, more modern golf courses are looking into some holes with a forward tee set box for women golfers over age 70.
Women should understand that there have been adjustments made to the game of golf to accommodate a slightly lower swing speed along the way, but those adjustments don't need to stop in the senior years.
Do Senior Golf Clubs Help Players Get More Distance?
Senior golf clubs are going to make a big difference when it comes to distance technology.
Players who want to be able to hit the ball further as they age need to consider switching to senior golf clubs.
In addition to the clubs being lighter and more flexible, they are also higher launching.
Many senior players will notice that, as their swing speed starts to slow down, so does their ability to launch the ball in the air.
It's not easy to be a senior player and lose distance.
It gets frustrating and typically causes golfers to start swinging harder and tiring themselves out a bit more.
Using a golf iron that has a senior shaft in it can make all the difference.
Players will have no trouble getting the club to perform as it should and get close to the same distance that they have gotten in the past.
If you are a senior golfer and you are resisting the change to the senior equipment, it's time to let it be.
These things are there to make the game more enjoyable and more fun.
Give yourself the help that you deserve and start enjoying the game of golf again.