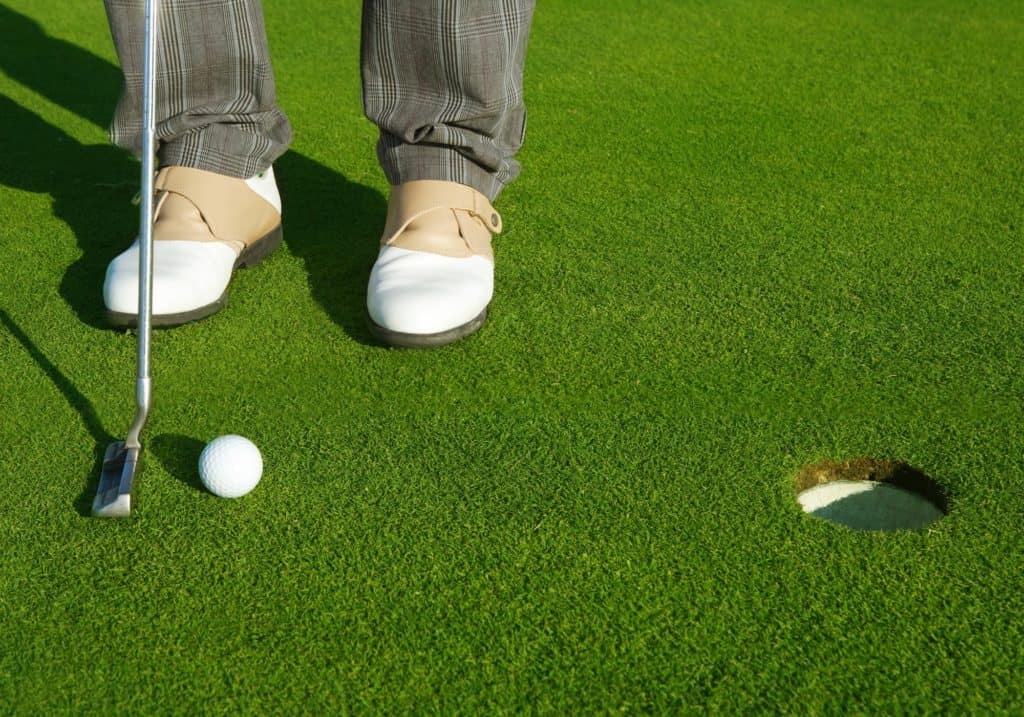 Drivers, irons, hybrids, and woods are hard to find for less than $100.
When you do find them, they are likely not going to be very high quality.
The great thing about putters is that you can still get a great golf putter for less than $100.
We put together our top ten putters that you can get for less than $100.
When you think about the price you will spend and the impact it could have on your golf game, it is likely very worth it!
Remember, a putter is a club you use the most in a round of golf.

Top 10 Putters Under $100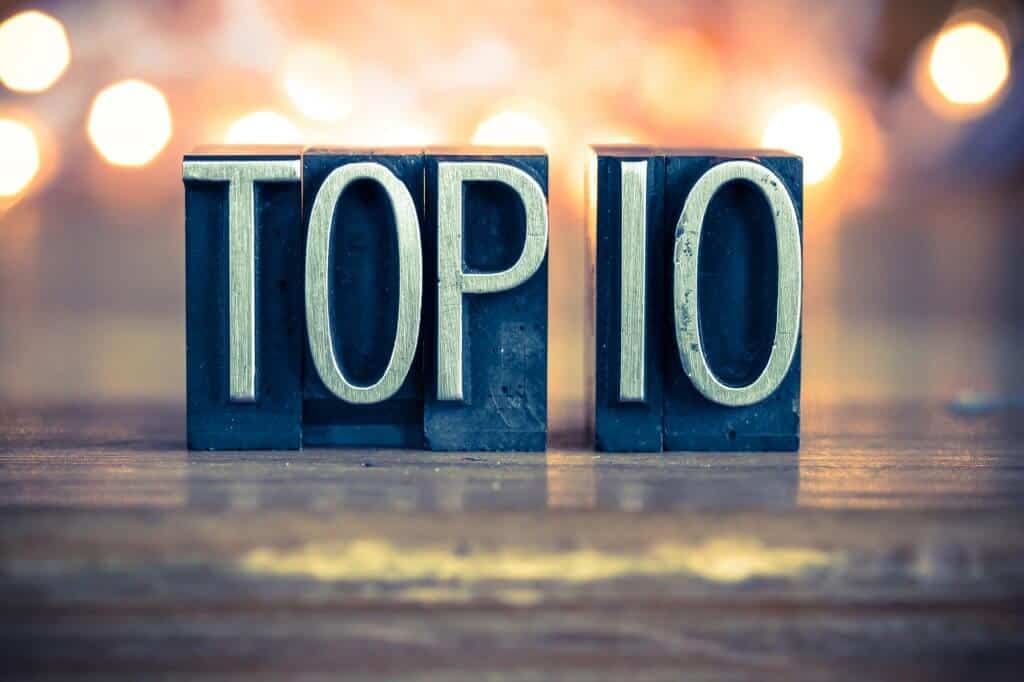 1. Cleveland Golf Huntington Beach #1 Golf Putter
At the top of our list is a very high-quality putter from Cleveland Golf.
Cleveland has been a leader in short game technology for many years.
The Huntington Beach series of putters are precision milled for a soft feel and consistent roll.
The Huntington Beach putters come in a wide range of styles, but this option is a blade type putter.
This is a very classic look, and it's made from 304 Stainless Steel.
If your putting stroke is more of an arc than you will really like this blade design.
You will notice that the Huntington Beach putter has a unique design on the face.
This face design will help to make sure that the roll your ball gets is reliable and true.
You will notice that the ball does not slide or skip off of this clean clubface.
This Cleveland Golf Putter will work for golfers of any handicap.
There are even some low handicap golfers that have been very impressed with the feel on this particular model.
Pros
Precision milled for a soft feel
Made with a soft stainless
One-piece head design
Traditional and classic blade design
Cons
Putter may feel a bit light to some people
2. Pinemeadow Golf Men's PGX Putter
The Pinemeadow PGX Putter is probably the best value that you can find for less than $100.
This is a beautiful looking mallet club head with a white finish.
The white finish stands out great on a putting green and allows for easy alignment.
The Pinemeadow PGX Mallet design has an additional 40g weight to help it feel like a higher quality putter.
If you play on fast greens and you like to feel the weight of the putter head, you will enjoy this putter.
The PGX comes standard in a 34-inch length, which is perfect for the majority of golfers.
The only downside to this putter is that if you don't take care of the white finish on the clubhead, it could start to chip.
If you have had any trouble in your putting game with distance control and alignment, it's worth giving this putter a shot.
For the price, it's tough to go wrong.
Pros
Great looking mallet head design
Comes standard in 34-inch length
Includes headcover
More substantial weighting to give it a tour quality feel
Cons
The paint will chip if you do not care for the clubhead properly
3. TaylorMade Golf White Smoke Putter IN-12
While we are on the subject of white putters, we have to mention the TaylorMade White Smoke.
This putter is several years old, so the pricing has now dropped to a point where we can put it on this list.
Initially, you would have paid several hundred dollars for the TaylorMade White Smoke.
This putter has a very traditional blade shape design, and it is a counterbalanced putter.
The grip is much more substantial than a traditional grip to help match the weight of the clubhead.
You will find a significant increase in stability and a much more consistent feel coming off the clubface.
The TaylorMade White Smoke also has a very high moment of inertia that allows for a more consistent roll.
The TaylorMade White Smoke is a bit different than the Cleveland Putter we reviewed in that it has a face insert.
The insert on this putter is a Pure Roll Surlyn that promotes solid feel.
Golfers will notice that this putter feels very smooth.
Since the TaylorMade is packed with high-quality features, it works well as a club for all handicaps.
Now is the time to put a TaylorMade putter in your bag for an incredible price.
Pros
Very smooth roll
Counterbalanced design
Great feel coming off the clubface
Cons
Blade putter is not as forgiving as the mallet
4. Pinemeadow Golf Site 4 Putter (Men's, Right Hand)
Next on our list is the Pinemeadow Golf Site 4 Putter.
This is a very affordable putter that has a delicate balance to it.
If you like some of the more popular large club head designs, you will love the Site 4.
The Pinemeadow Golf Site 4 Putter has a low center of gravity that will make the putter more forgiving.
You will also notice that this is a slightly offset design that is great for players who like a slight forward press when golfing.
Another thing we love about Site 4 is the fact that it's effortless to line up.
You will get several alignment lines on this putter that make sending the golf ball to your target much easier.
Mallet head designs of this size tend to work for the mid to high handicapper that struggles with distance control.
Pros
Very easy to line up
Great balance
Mallet head shape for easy distance control
Cons
The putter head is not very heavy
Coloring is not as bright as other models
5. MacGregor Golf MacTec 04 Extreme MOI Putter
Next on our list is a putter by MacGregor called the MacTec 04.
MacGregor used to make a ton of golf clubs, but they have recently narrowed down their options.
This putter has a unique clubhead design and a very high moment of inertia.
This high MOI allows you to get a ball on the proper line and have it stay there.
The ball will not waiver or wobble on the line when you use a high MOI option.
This putter has ARC Tech Face milling that helps you learn how to manage distance a bit better.
Distance and direction are essential parts of learning to putt correctly.
The MacGregor putter is 34 inches long, and that is the perfect length for most golfers.
This putter will be a design that will have more benefits for the mid to high handicap players as compared to the lower handicap golfer.
Pros
The high moment of inertia
Easy to control distance
Cons
The feel is not as great as other options
Will not appeal to the lower handicap player
6. Ray Cook Golf- Silver Ray SR800 Putter
Next on our list is the Ray Cook Golf Silver Ray SR800.
This particular model is several years old, but the design is still very relevant golf technology.
We love that the SR800 features a midsize grip.
The midsize grip is beneficial for golfers who tend to use their hands too much in their putting stroke.
Using your hands and wrists will make your putting stroke more inconsistent.
In addition to the easy alignment, the Silver Ray is a great putter for alignment.
You will easily be able to see the lines on this putter and how they should be pointing towards the hole.
This club has a black, white, and red coloring to it that will help it be very eye appealing.
These colors will contrast with the green of the putting surface to make this even easier to get yourself set up and square.
Although the Ray Cook name may be less familiar to you, they have made high-quality putters for years.
Some of their putters have been used to win PGA Tour events.
Any company that has a win on tour is certainly worth looking into, especially for this price!
Pros
Very easy to line up
High contrasting colors for excellent visual appeal
Midsize grip
Cons
Tends to be a bit light
Strays very far from traditional design for the golf purist
7. Wilson Harmonized M Putter
The Wilson Harmonized M Putter is a mallet-style putter that will give you concise and straightforward results.
This is one of those putters that does not seem like it's going to have a great feel until you try it.
The Wilson is a great putter for the higher handicap or new golfer looking to get some better results when it comes to both distance and alignment.
There is a face insert on the Wilson putter that is called Micro Injection.
Primarily this face insert is used to get a much softer feel of the clubface.
It is quite useful, and you will likely have no trouble with this putter on soft or fast greens.
The grip on the putter is not quite a jumbo grip, more like a midsize.
This is a great feature that we believe most putters should be moving towards in today's golf world.
If you don't want anything fancy, but you want some great results, the Wilson Harmonized is an excellent choice.
Pros
Simple design
Larger grip size
Good for alignment
Cons
The putter is a bit longer in length than we prefer
Some feel the clubhead is too light
8. Ram Golf Laser Model 1 Putter w Advanced Perimeter Weighting- Headcover Included – Copper
The Ram Golf Laser Model Putter is almost a replica of the TaylorMade Spider putter.
The Spider is one of the top putters among amateur golfers and professionals as well.
Although the Ram Golf Laser is not going to have the feel and stability as the Spider, it's a very close second.
The Ram Golf is also several hundred dollars cheaper than the Spider putter.
This is an enormous clubhead that will provide plenty of forgiveness and lots of stability at impact.
The more stability you have, the easier it will be to keep the putter on line.
In addition to the stability that you get from the larger clubhead, you will also find that this putter is easier to line up than other models.
If you happen to have an arc type putting stroke, you will love the toe balanced design of this club.
We don't want to call this club a TaylorMade Spider "knock off," but it certainly is very similar.
Pros
Easy to line up
Very similar to a top tour putter
Good stability at impact
Cons
9. Intech Trakker Mallet Putter 35″
The Intech Trakker Mallet Putter is the lowest priced putter on our list.
The Intech is an effortless mallet head design.
If you like the traditional look of the half semi-circle, you will love this Intech model.
The putter head is slightly offset to help you keep your hands ahead of the ball at impact.
The Intech also has a very soft face insert to help with developing feel and distance control.
If some of the newer larger clubhead putters are a bit too complicated for you, the Intech Trakker is an excellent alternative.
The alignment lines are a bit simple with the Intech; you will see they are very small and not all that pronounced.
That is the only downside we see to the Intech, other than that this is a perfect beginner or high handicap putter.
Pros
Incredible price
Soft face insert
Classic design
Cons
Not as easy to line up as other putters
More for higher handicaps
10. MAZEL Tour GS Men's Golf Putter
The last putter on our list is the Mazel Tour GS Golf Putter.
We found you a replacement for the TaylorMade Spider, and now we have found you one for the Odyssey Two-Ball Putter.
This is a very flashy red putter that features two white circles on the top.
The circles are intended to represent a golf ball and help golfers feel as though they are putting on their path.
You will not only have an easy time lining this putter up, but you will be able to swing on a good line as well.
The low center of gravity in the Mazel Tour helps to give you a smooth stroke and better feel at impact.
The putter is made from a 431 stainless steel and has a CNC Milled face.
All parts of this putter are high quality; it's hard to believe that it is offered at such a fair price.
We like the MAZEL for both a mid and high handicapper.
The lower handicapper players are not going to love the feel this club offers.
Pros
Easy to line up
Helps players visualize a putt
Cons
Does not have the greatest feel for lower handicap players
Hopefully, this list of putters helps you feel as though you can update your golf bag without having to break the bank
Putters are more about personal preference than they are about price and technology.
There are plenty of low handicap golfers using an old putter from their grandfather's golf bag.
If you have been struggling with your golf game, now is the time to make a simple change like this and turn things around for yourself.