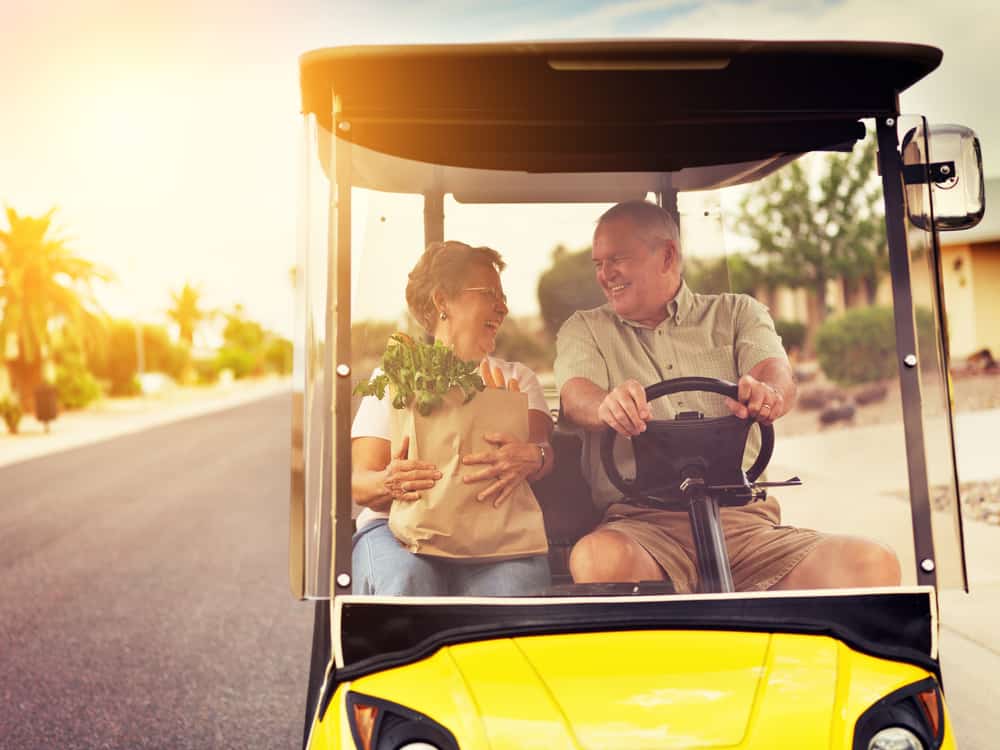 New golf cart owners tend to get overzealous when they buy their first cart and try to take it out in places where they shouldn't.
For example, some may want to take their cart out on a sidewalk to avoid serious traffic and to visit different areas of their town without difficulty.
Therefore, it is important for you to understand when and where you can drive your golf cart and if there are ever situations in which you can ride your cart on a sidewalk.
Can You Drive a Golf Cart on a Sidewalk?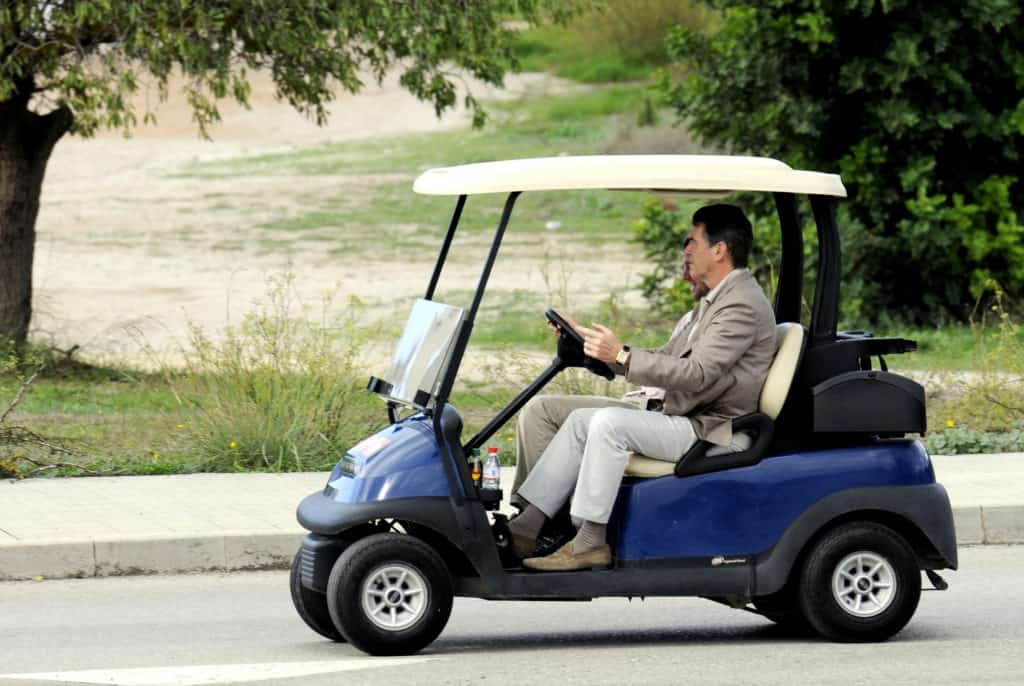 No, driving a golf cart on a sidewalk is something that many areas may frown upon and which may cause complications.
Golf carts are typically strictly defined as a motor vehicle and are usually not allowed on sidewalks as a result.
That said, this definition is a sometimes confusing one for some people to understand because a golf cart is not the same type of motor vehicle as an automobile, semi-truck, or motorcycle.
Strictly speaking, the federal government does not define a golf cart as a motor vehicle because it cannot exceed speeds of 25 miles per hour and lacks safety gear.
As a result, they do not allow them on highways or any type of public roadways, but they are permitted on private property such as golf courses or a person's yard.
When a golf cart is upgraded to a low-speed vehicle—pursuant to the state and federal laws under which this term is defined—it can travel on roadways at no more than 25 miles per hour.
As a sidewalk is considered a pedestrian walkway and is not a roadway by federal and state definitions, golf carts are not allowed here.
A golf cart cannot be used in public areas in most states without becoming a low-speed vehicle but also cannot drive on sidewalks once it reaches this definition.
This law is why you don't see a lot of bicycles or even skateboards on public sidewalks.
Most laws strictly define these walkways for foot traffic.
However, legal authorities are more likely to ticket someone riding their golf cart on a sidewalk than a skateboard or bicycle because they are larger, more awkward, and dangerous.
Fines for driving a golf cart on a sidewalk will vary depending on the city and the state, but it is usually a small fine with no jail time.
Golf carts are usually not impounded or taken from the driver if they are on a sidewalk.
However, they may be required to transport the cart away from the site using a truck or another vehicle.
Repeated offenses may result in the golf cart owner getting fined more seriously, such as getting hit with "public endangerment" charges which may have more serious consequences.
Let's take a more in-depth look at where golf carts can be driven to give you a better idea of what to expect when taking your golf cart out.
Where You Can Ride Your Golf Cart?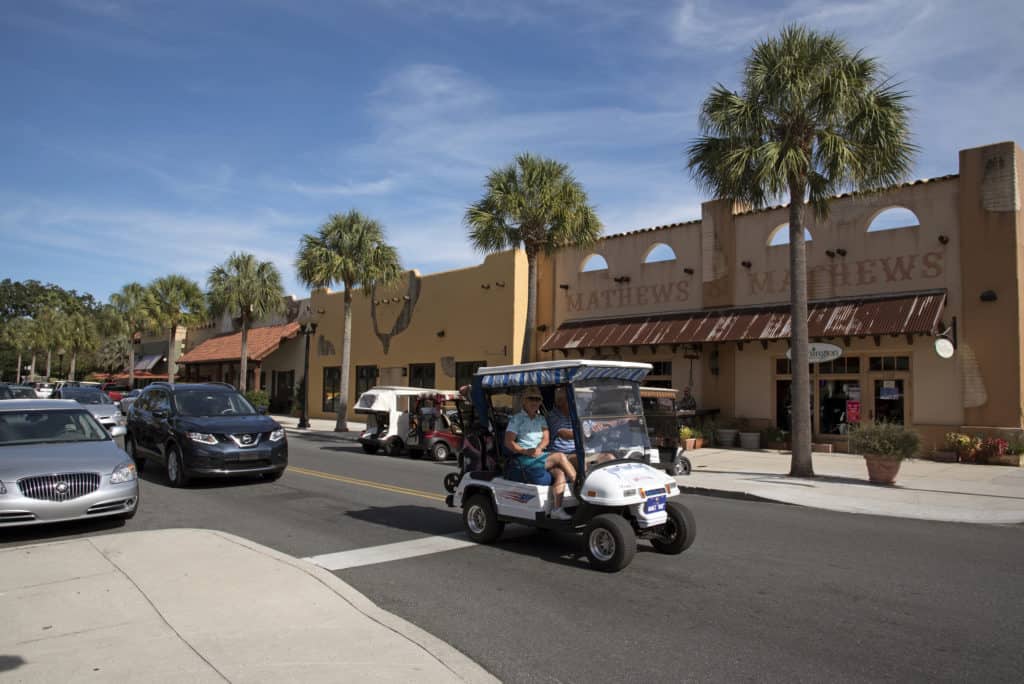 The federal government does not allow golf carts on any of their freeways, so national and international highways are off-limits for your golf cart.
However, they do not define how states restrict golf cart travel and where they may allow some carts to ride.
There are a few different scenarios for golf cart use on public roads throughout the nation, depending on the state.
For example, most states do not require golf carts to be registered or insured, saving owners some money in the process.
Most of the time, this exemption is due to the fact that the state does not allow cart owners to take their vehicle out on public roads.
This limitation does not apply to golf carts that are upgraded to low-speed vehicles, a process that varies depending on the state.
Once a golf cart is upgraded with various safety gear, like better brakes and a stronger motor, they may be allowed on certain public roads with speeds of up to 25 miles per hour.
These carts are no longer considered golf carts and are classified as low-speed vehicles, meaning that they must be insured and registered.
Most of the time, these low-speed vehicles can only be driven by somebody with a valid driver's license and must be operated during daylight hours (defined as between sunrise to sunset).
When fitted with lights, some carts may be driven during the darker hours, though this allowance varies depending on the state and what they allow within their borders.
Upgrades needed for this type of vehicle include a horn, stronger brakes, headlights, taillights, reflectors, at least one rear-view mirror, a slow-moving vehicle sign posted on the back, seat belts, a bicycle safety flag, and more.
Sometimes, golf carts are restricted to use within a certain limited distance from a golf course, such as between one and five miles from a golf course.
Even if a cart owner does not upgrade their golf cart to a low-speed vehicle, they can drive their cart on private roads on their own property or around anywhere on their private yard.
All of this information is critical to understand for golf cart owners who plan on taking their golf cart out on public roads.
However, there are a few times when it is possible for golf cart owners to take their cart out on sidewalks for a drive.
These situations are very rare, mind you, and they typically only occur in certain cities in a few select places throughout the nation.
Times When Golf Carts CAN Be Driven on Sidewalks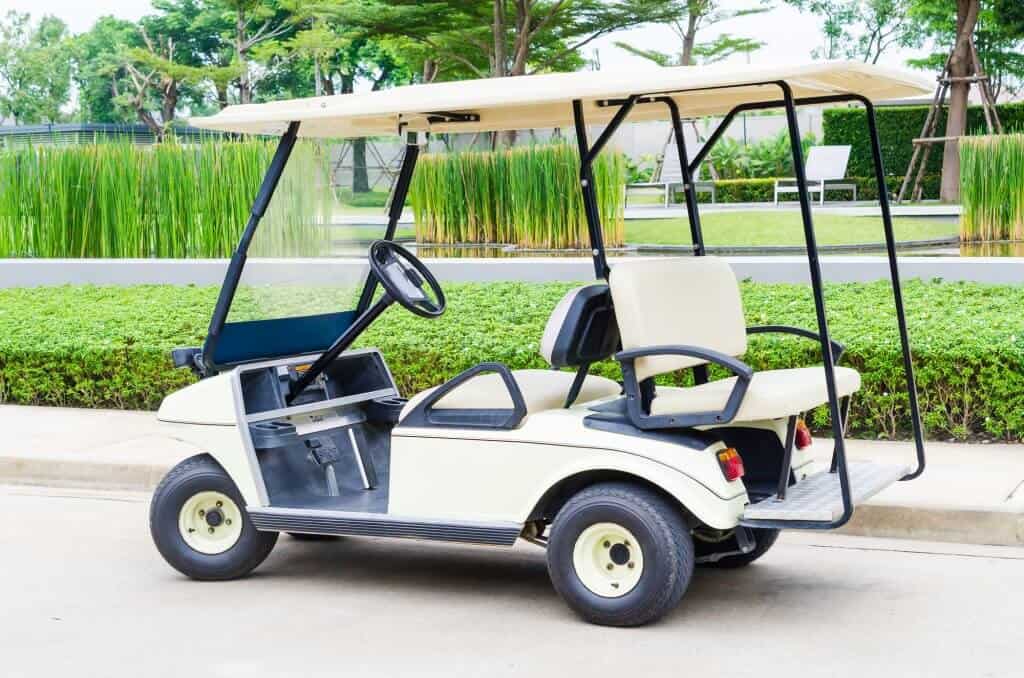 Although federal and state laws don't allow golf carts to drive on sidewalks, there is some flexibility with local laws regarding this usage.
For example, states give local jurisdictions broad and total authority over how they want to handle the use of vehicles and other elements in their streets.
Many state provisions and laws state that they do not "prevent local authorities" from allowing golf carts to be used on their streets.
The streets on which the golf carts ride must fall within a local jurisdiction and must not be state or federal roads.
The limitations must follow reasonable restrictions, such as allowing golf carts on city roads with speeds of up to 15 miles per hour.
These rules also apply to personal assistive vehicles, such as various types of electrical scooters that help elderly individuals transport themselves.
Beyond the use of these vehicles on roadways within the city limits of the local jurisdiction, state authorities also grant cities the broad power to restrict or allow the use of items on sidewalks.
The wording of these laws will vary based on the state but most explicitly state that they can allow golf carts, bicycles, and pedestrians to share local sidewalks.
Ordinances which allow golf carts on sidewalks must be discussed with the state's Department of Transportation to ensure that it follows their guidelines.
Just as importantly, carts must be restricted to speeds of 15 miles per hour in most states and the sidewalks must have a minimum width.
In many states, this minimum width is at least eight feet, which is often quite rare in many cities but is necessary for safety purposes.
Golf carts must also meet specific requirements and utilize additional safety gear, such as horns and flags that warn pedestrians of their presence.
Beyond these precautions, cities that want to allow golf carts on their sidewalks must put up warning signs that let pedestrians know that golf carts may be used in these areas.
As you can see, the use of golf carts on sidewalks is a very rare situation, and it's something you're not likely to experience very often.
Make sure you talk to your city officials about this usage to learn more.
You might be surprised to learn that golf carts are permitted to be used in such a way in your area.