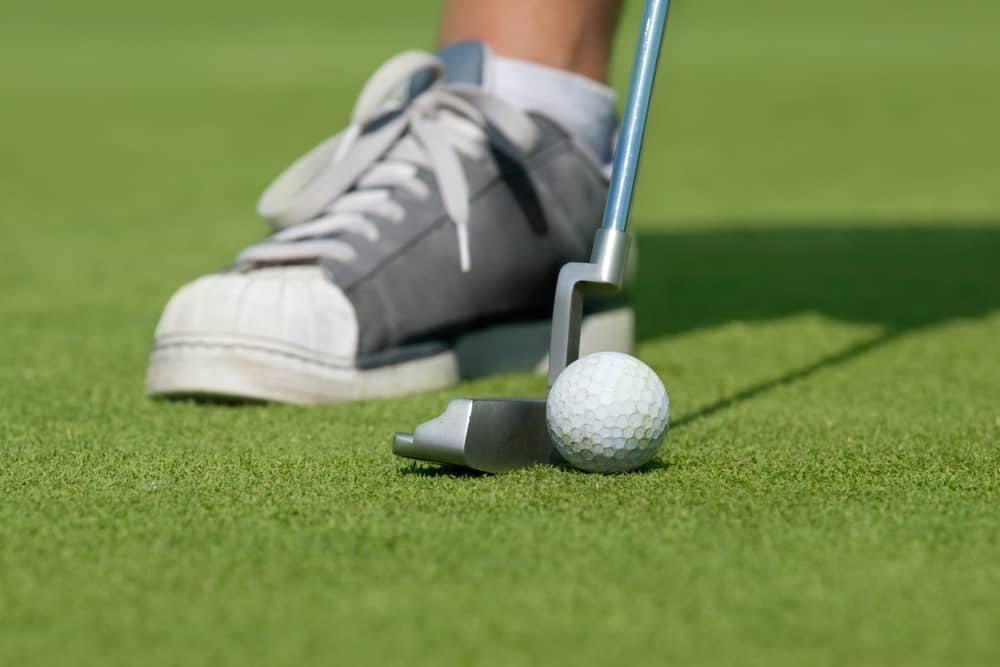 There are so many golf putters on the market, it can be hard to narrow down which ones are the best for certain putting styles.
One of those putting styles is the left hand low option.
This is where your hands are crossed on the club, and your left hand is lower down the shaft than your right.
The left hand low putting stroke brings a ton of stability and control to your putting game, and it makes an excellent choice for many golfers.
Although you can make the left hand low putting stroke work while using a variety of putters, there are some great options on the market that make it even easier.
If you are looking for the best left hand low putter, we have all the answers you need.

Best Putter For Left Hand Low (Top 5)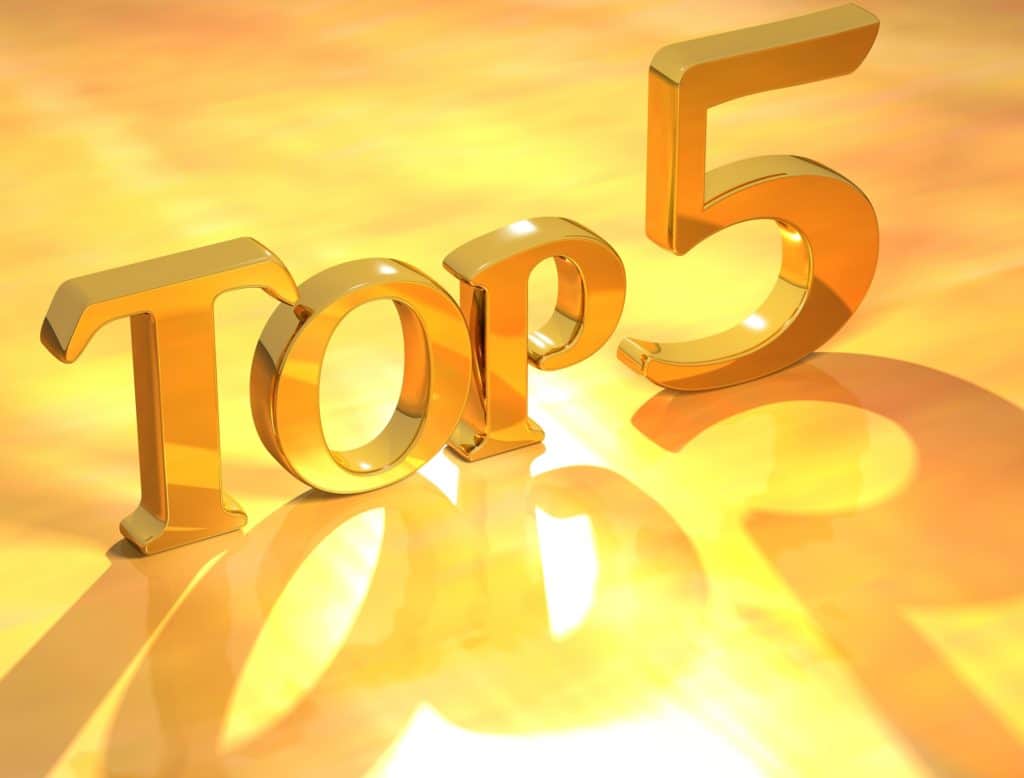 1. Odyssey Golf 2021 White Hot OG Putter One Wide Slant
Key Features
Original White Hot Formulation
Premium golf shaft
Silver PVD Finish
Odyssey Golf has released a brand-new series of golf putters in 2021, and they are going to pay tribute to the original White Hot designs that put this company on the map.
The great thing about Odyssey is that they recognize when they have a good thing.
They work to make sure their technology stays relevant, and then they make the changes they need for certain upgrades.
This White Hot OG Putter One Wide Slant is our favorite option for left hand low putting.
Everything about this putter is designed for consistency and simplicity, and this makes it one of the smartest choices you could go with.
The fact that the original White Hot formulation was brought back helps to ensure that the feel and the control are there.
White Hot putters are known for a very soft feel and low vibration at impact.
They have a two-part urethane insert in the clubface.
If you miss the center of the clubface, even just by a little bit, the putt will still stay on the line and head towards the intended target.
In addition, Odyssey has covered this new putter in a silver PVD finish with fine milling on the surfaces.
Not only does this make the putter look great, but it feels great as well.
When the original Odyssey putters were released, there were not nearly as many discoveries in the world of golf shafts and golf putter shaft technologies.
Today, that has changed entirely.
Within the last few years, Odyssey introduced the Stroke Lab technology that is a mix between steel and graphite shafts.
The idea is that the shaft gives the stability that you get from steel with the high MOI that you can benefit from with graphite.
The White Hot OG Wide Slant is available in a traditional step-less steel shaft or the multi material Stroke Lab shaft.
Both options are a great choice, but we like the Stroke Lab option for the left hand low players.
Since the left hand low grip can provide so much stability, it helps to have a putter that also helps to generate higher clubhead speed.
After all, in order to make more putts, you must be able to generate good clubhead speed.
Lastly, the grip on the Odyssey White Hot OG is a DFX Rubber grip.
Many people end up changing grips on putters because it must have just the right feel for the left hand low style.
However, the DFX rubber grip is a great feel and very easy to hold the golf putter with full control.
We really like that you can keep this putter exactly as it is ordered, and it will be a great feeling and high performing putter for years to come.
There is no questioning the fact that these Odyssey putters are Tour proven.
It only takes one afternoon of watching professional golf to see how many Odyssey White Hot putters are out there competing.
This likely won't change for years to come, so maybe it's time to jump on the bandwagon now!
Pros
Premium golf shafts option
PVD finish
Two part urethane insert
Cons
Some of the Odyssey White Hot OG Models get a bit expensive
2. Cleveland Golf HB Soft Premier #11 Single OS 35" RH, Gray Satin
Key Features
Sleek looking finish
Precision milled face
Soft feel at impact
Cleveland golf does not always compete with other big name companies like TaylorMade or Callaway when it comes to the number of clubs they have on the market.
This is a brand that keeps a lower profile and really focuses on the player who does best with their equipment.
However, there is no questioning the fact that Cleveland Golf has some very impressive choices on the market when it comes to the short game.
The brand-new Cleveland Golf HB Soft Premier 11 is one of the best options for those with the left hand low putting style.
This is a modern mallet style club head designed to give a soft feel and consistent performance.
The thing that makes this putter stand out from the crowd is its gray satin finish.
You will not have to worry about any glare or difficult to read putting situations.
The putter does a great job of focusing your eyes where they need to be.
In addition, the speed optimized face ensures that regardless of where you hit the ball on the putter's head, you will get some great speed and a consistent roll.
Many golfers who miss putts will have miss-hit the putter just slightly on the face.
Without this corrective technology, the putt ends up missing the hole.
Cleveland knows how hard it is to get the ball on the proper line each and every time, and they designed this putter to help make that a bit easier.
The diamond CNC milling pattern is another impressive technology from Cleveland.
The concept is that there is more grab or traction on the putter to help ensure that it starts out the proper way on the proper path.
Lastly, the soft design on the face ensures that even with this large putter, you can ensure that your short putts do not go past the hole.
When putters have the proper feel, you can do anything with them, regardless of how far you are from the hole.
Keep this in mind as you look for the best putter for left hand low players.
Pros
Speed optimized face
Very consistent distance and control
Precision milled face
Cons
The unique design takes a little bit to get used to
3. PING Heppler Fetch Putter Adjustable Length 32"–36"
Key Features
Adjustable shaft
High MOI
Multi material construction
Ping is a putting manufacturer with a ton of history.
Perhaps one of the most famous golf putters of all time is the Ping Anser putter.
This was a very simple blade style putter that was one of the most popular putters for amateurs and professionals for many years.
Ping has come a long way since its days with the Anser.
With all other golf companies moving towards these larger mallet putters, Ping has made their adjustments and now offers plenty of alternative options to the Anser.
One of our favorite new designs from Ping is the Heppler Fetch putter.
This is a very unique looking club head, but when you take a few putts with this model, you will see what puts it at the top of the list.
There is a holed out section on the putter to help improve forgiveness and the overall look when it comes to alignment and performance.
In addition, the clubhead is made with several different materials.
The multi material construction means that the putter will feel great in addition to performing.
However, these lines don't just look good, but they actually cause your eyes to look at the putter a certain way.
The Heppler line tends to be one of the easiest Ping golf clubs to line up.
When you look at the putter's overall forgiveness combined with the easy alignment, you can see why it is such a great choice for left hand low golfers.
One thing that many left hand low players struggle with is alignment.
Sometimes when that left hand gets lower on the shaft, it can be hard to tell if you are lined up to the hole properly.
Luckily, with the Ping Heppler Fetch in your hands, you won't have a problem getting things set up and looking down the hole at the perfect line for your putt.
Last but certainly not least, we love this putter because it has adjustability in the golf shaft.
If you find that the left hand low putting style makes it so that your putter needs to be a little shorter or longer, this is a perfect choice.
There is no need to head to the golf club repair shop when you can simply adjust the putter on your own.
Pros
Color contrasting design
Very easy to line up
Great soft classic Ping feel
Adjustable golf shaft
Cons
4. TaylorMade Spider EX Putter Single Bend
Key Features
Multi materials
Adjustable weighting in the club head
Pure Roll 2 insert
The TaylorMade Spider golf putters have quickly become known as some of the best putters in the game of golf.
In fact, since the original release of the Spider years ago, more and more options have come to market.
The Spider EX Single Bend is our favorite choice for the golfer with the left hand low putting style.
This is a newly engineered putter that has lots of feel, stability, and very low dispersion.
Essentially, this all means that you will find the consistency that you need from a putter like this in your bag.
One of the easiest things about the TaylorMade Spider golf putters is the alignment.
When you look at this from a top-down angle, you can see that it is not a problematic putter to line up.
In addition, the golf putter head is made with several different materials to ensure varying levels of feel and performance.
For instance, it is essential to have a lightweight feel at impact, but you also need some weight to the head, especially when on fast greens.
It is also great when putters have a soft feel, but they need a high MOI as well.
TaylorMade did a great job of combining these types of materials to get players exactly what they need in a putter.
We are also impressed with the ability to move a few weights around and completely change the feel of the golf putter.
If you are not sure that left hand low is for you and you may want to switch between different putting styles, you will like what the TaylorMade Spider has to offer.
This is a versatile and quality option that will last for years to come.
Pros
Very easy to line up
Great feel at impact
One of the better looking putters
Cons
Quite a few Spider putters to choose from, decisions are more complicated
5. Pinemeadow Golf PGX MB Putter (Right), Black
Key Features
Matte black finish
Simple design
Great pricing
Last but certainly not least on the list of the best putters for left hand low style is the Pinemeadow Golf PGX MB Putter.
This is a design that is known for having a great feel and performance while keeping the price way down.
Pinemeadow is more of a value brand of golf equipment, but they do a great job of giving golfers exactly what they need.
Our favorite thing about this golf putter is the finish on the clubhead.
The matte black design will reduce glare and make it much easier for your eyes to focus on the ball.
If you are not sure that the left hand low putting style will benefit you, this is a great affordable putter to try it out on, and then you can make more permanent decisions.
As we mentioned, the grip of your putter when swinging your left hand low is quite essential.
If you don't have a proper grip, you can expect that the putter will be challenging to adjust to.
The newly designed TaylorMade Spider Grip is on this PGX MB putter, and the grip has been very well received.
Even though you will save a ton of money when going with a PGX putter, ensure you adequately protect the matte black finish with a headcover.
Pros
A great looking golf putter
Comes with headcover
New Grip provides both feel and control
Cons
Putter head coloring will chip if not adequately protected