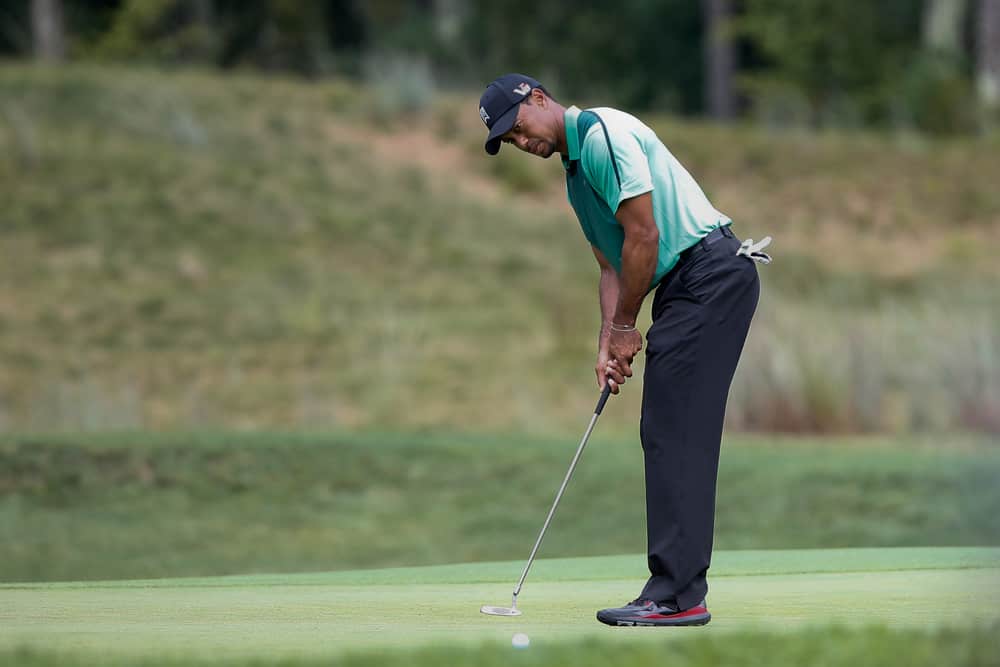 When you sign up to be a PGA Tour player, you won't get to choose the weather you play in.
As long as the golf course is playable, you will have to spend the day on the course.
Poor weather will completely throw off some golfers, but others will thrive playing in it.
Bad weather can include rain, wind, cold, and even high heat.
Anything that is not a perfect day on the course will qualify as bad weather.
We have found five of the best golfers ever to play in bad weather conditions.

5 Best Golfers in Bad Weather
1. Tom Watson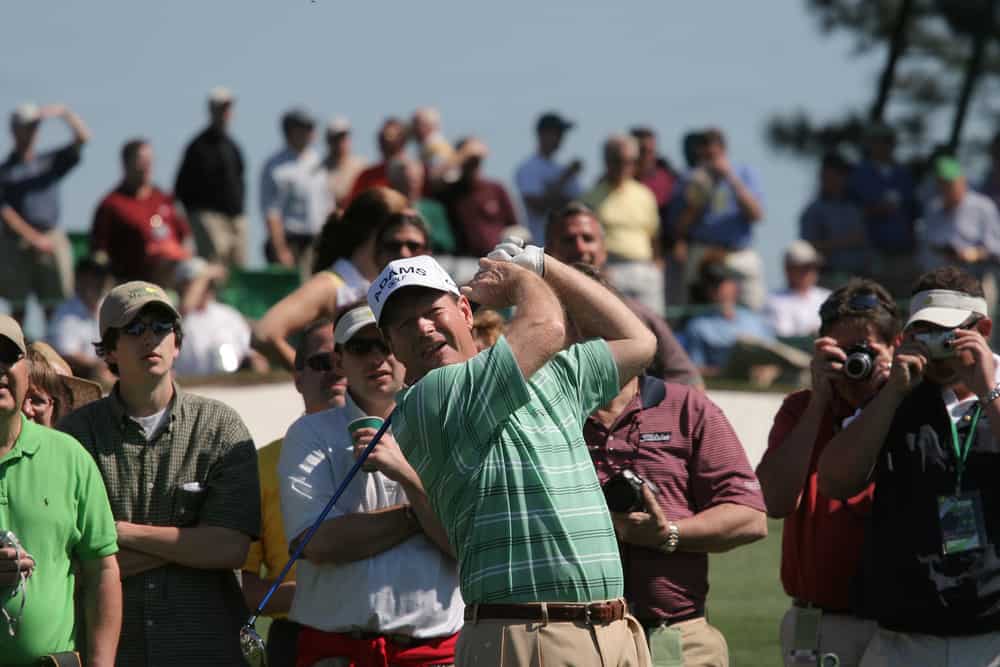 Tom Watson is not just one of the greatest players of all time, but he is also a great person.
Watson has long been a fan favorite because of his calm demeanor, his respect for the game, and his dedication to charity.
Watson also knows how to let the weather be and simply make adjustments to his game.
He has never let a rainy day on the course cost him a tournament.
Watson was really in his prime during the 1970s and 1980s.
This is when he was one of the leading players in the world and continually sat at the top of the money lists.
At times, he was ranked as the best player in the world, even while competing in the era of Seve Ballesteros.
Another impressive thing about Watson is that he has spent many years as a professional golfer.
He has continued to play in major championships and often competes and places even being much older than the competition.
There were times when Watson took some victories from Jack Nicklaus, and that made the Watson, Nicklaus, and Palmer trio even more entertaining to watch.
In total, Watson has eight major championships, five of which are Open Championships.
You can't win the Open Championship without knowing how to compete in the wind.
Those link-style golf courses are incredibly exposed and open to the wind.
Players need to be able to hit shots of all different heights, and their short game must be very strong.
Adapting to these weather conditions and changing your game accordingly is something that Watson has truly mastered.
Tom Watson is a true ambassador of the game of golf.
He will often speak up about equipment changes and issues.
He wants to preserve the history of the game and keep players competing for the love of the game and not the love of money.
2. Tiger Woods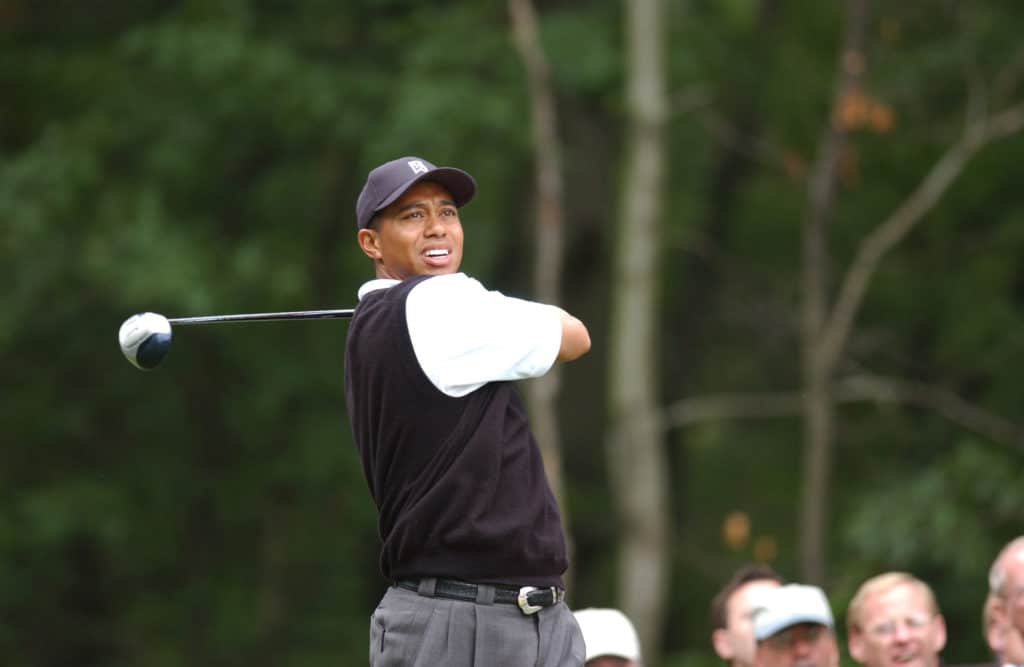 It is probably no surprise that Tiger Woods makes the list of the five best golfers in bad weather.
The reality of this is that Tiger Woods is one of the best golfers to ever live.
He is mentally stronger than many other golfers, and when he was in his prime, the world of golf truly had never seen anyone quite like him.
Today, Tiger still plays, and he plays well.
However, his game is not quite the same as when he was winning week in and week out.
During this time, there was nothing that could stop Tiger.
Analysts always tried to talk about how weather conditions and wind and golf course conditions could impact Tiger's game.
The reality of it was that he seemed almost invincible.
What we know about this is that Tiger truly has a stronger mental game than anyone else.
When the weather got tough, he simply changed his swing and his game to compensate for the conditions.
Tiger would not get annoyed with the weather or let it impact his scoring, and this is what truly sets him apart as one of the best golfers in bad weather.
Tiger spent his childhood almost being programmed to become a golfer.
He has just as many PGA Tour wins as Sam Snead, and he is truly a Hall of Fame player.
His junior career included many tournaments where he had to compete in weather situations which were less than ideal.
Tiger was able to collect 15 Major Championships, and those would not have occurred without some rounds of golf in the wind and the rain.
Unfortunately, with the way Tiger goes after the ball, there was eventually going to be a bit of a downfall in his game.
Tiger Woods has had some back surgeries, and he took several years off from competing.
He has since returned to the game and has even won another Major after this comeback at the 2019 Masters Tournament.
Regardless of your opinions about Tiger and his personal life, there is no question that he can play a solid round of golf, even in the pouring rain.
On days when the course is windy, Tiger is able to hit these stinger-type shots which cut directly through the wind.
Not only are his shot-making skills impressive, but he has the ability to pull off these shots when the pressure is on.
As far as money is concerned, Tiger Woods is one of the wealthiest golfers in the game.
He has amassed a fortune through his golf tournaments and sponsorships.
This is something that will likely continue for many more years as we still see Tiger make appearances on Tour.
One thing you can say about Tiger is that he is not a fair-weather golfer.
3. Ernie Els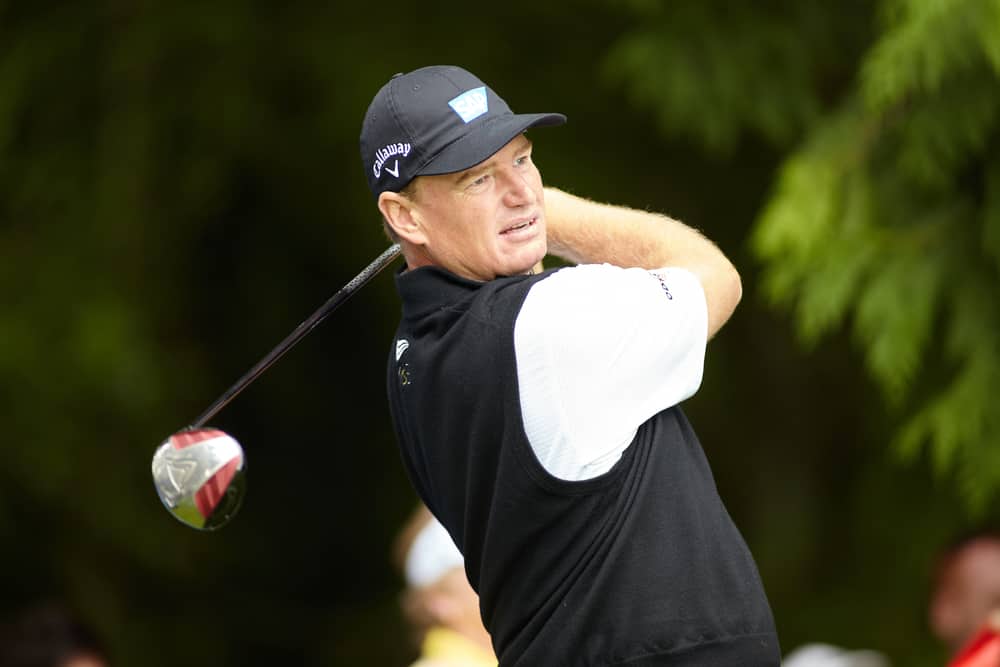 Ernie Els is an impressive golfer and person.
He has accomplished quite a bit in his golf career, but he has also done quite a bit to make the world a better place.
Some characterize Els as having a smooth swing and being one of the more relaxed golfers on the course.
It seems as though nothing phases him, even when the poor weather rolls in.
The nickname which so accurately describes Els is "The Big Easy".
Ernie Els is 6 feet, 3 inches tall, yet when you watch his swing, everything looks so fluid.
He truly has one of the best tempos that the world of golf has ever seen.
One thing about poor weather that is worth mentioning is that some players are going to change their swing to accommodate.
They will start swing faster and harder to try and force the ball to do what they need it to do in the poor weather.
This is something that Els never did, and it is probably a large reason he has always done so well in the rain and wind.
Ernie Els has a few Major Championships under his belt and a total of 71 career victories.
Two of his Major Championship are the Open Championships at Muirfield and at Royal Lytham.
The exciting thing about these two Opens is that they happened ten years apart.
Ernie Els is not just a fan of playing golf, but he is very involved in life off the golf course as well.
He has a golf course design business and several charities, and he also writes for Golf Digest magazine.
You can look back on these 71 victories that Els has, and you will see that he can handle himself regardless of what the golf course throws at him that day.
4. Paul Lawrie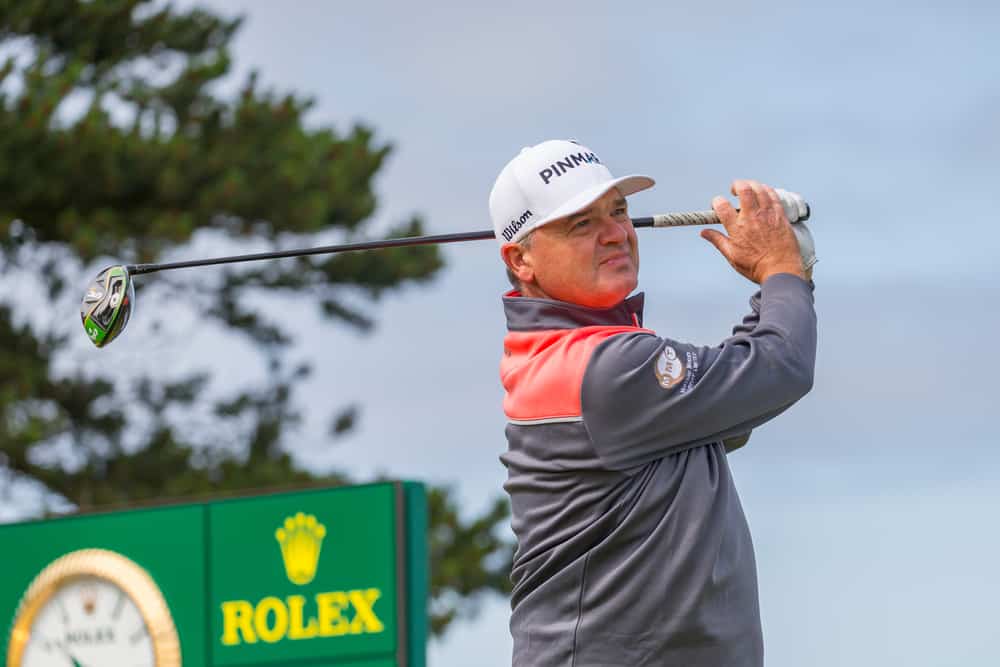 If you live in Scotland, the game of golf is serious business.
Paul Lawrie was born in Scotland, and as you can imagine, in those early years while he was learning to play the game, he played in some less-than-ideal weather conditions.
The good thing about this is that it prepared him for life on the PGA Tour and having to play through challenging weather conditions.
Lawrie was a player who sort of flew under the radar but was able to make a good living for himself out on the Tour.
In his early years, he had a hard time making much of an impact on the leaderboards.
However, in 1999, Lawrie won the Open Championship at Carnoustie, and this really helped him set his career in motion.
If you have noticed, most of the poor-weather golfers on our list have won an Open Championship at some point.
It seems as though this is a requirement for adding an Open to your list of wins.
One thing to remember about the Open win for Lawrie is that he came back from ten shots behind to be the eventual winner, which is the largest comeback in PGA Tour history.
At this point, Lawrie has decided to retire from his career in professional golf.
He has had many impressive tournaments on the PGA and European Tours, but he is one of those players who can move up and down the leaderboard quickly.
Overall, there is one thing we can say about Lawrie's game, and that is that, when the weather got ugly, he never seemed too bothered by it.
5. Brandt Snedeker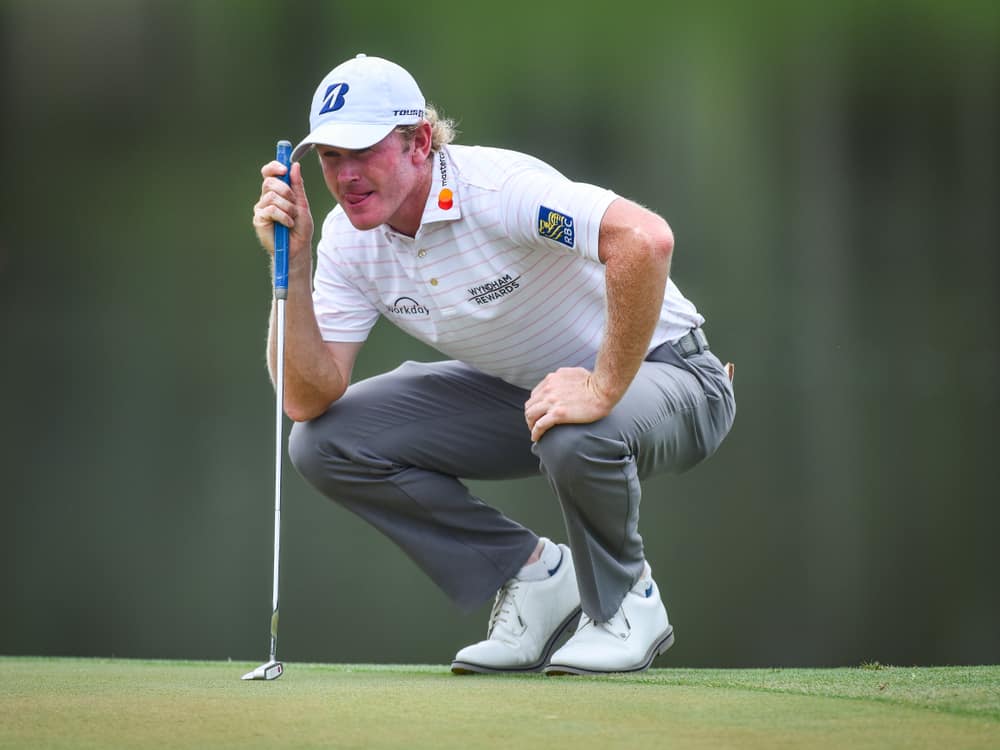 Last but certainly not least is Brandt Snedeker.
Brandt is the youngest golfer on our list, but he has had some impressive finishes in poor weather conditions.
If you search for some of Snedeker's poor-weather rounds, you will find times when there was both wind and rain, and he kept moving forward to play well.
We won't say that Snedeker always wins, but he knows how to throw out some really good numbers even when the weather is not on his side.
One of the impressive things about Snedeker are his quotes related to bad weather.
He once mentioned that the weather was so bad, he just had to throw out everything he was working on and just fight and grind to stay in it.
That mental strength and attitude are probably what leads him to shoot those low-scoring rounds during poor weather.
Snedeker also manages to block out weather conditions on the bad days.
He will try and convince himself that the weather is, in fact, fine.
This helps him to stay on track as opposed to letting his game be affected by something he can't control.
In his years on the PGA Tour, Snedeker has shot ten rounds below 60, something most amateur players can only dream of.
Conclusion
Golfing in poor weather is challenging.
Not only are you trying to keep your golf score from blowing up, but you also have to pay very close attention to your equipment and your clothing.
When it starts raining, jackets, rain pants, umbrellas, and towels will have to come out of the bag.
There is an art to managing all of this equipment without allowing it to distract from your game.
You will have to learn how to keep your hands dry, your grips dry, and still focus on getting the ball in the hole.
When you are trying to focus on a putt with a wall of water falling off your hat, you will have a lot more respect for the guys who have won in these conditions.
Whether you encounter wind or rain the next time you head to the course, try to channel the inner thoughts of these five great players.