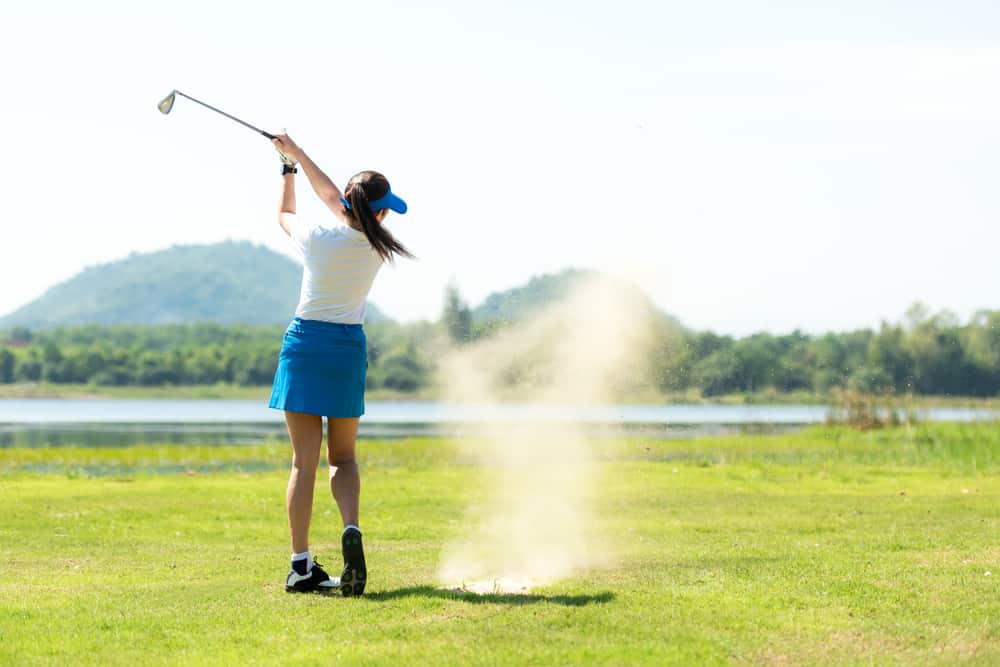 A cut shot is a common golf shot that many players hit.
If you have been out on the course with friends or family and heard someone refer to hitting a cut shot, you may be wondering what this means.
As always, there is a ton of golf terminology for the average player to learn.
In addition to knowing this golf terminology, you must also understand how to hit the different types of golf shots.
A cut shot is a golf shot that any golfer can learn how to shoot.
If you have some basic skills and abilities, you will be able to incorporate the cut into your golf game and potentially use it to score lower.
First, let's determine what a cut shot in golf is and whether or not you know how to hit one.

What Is A Cut In Golf?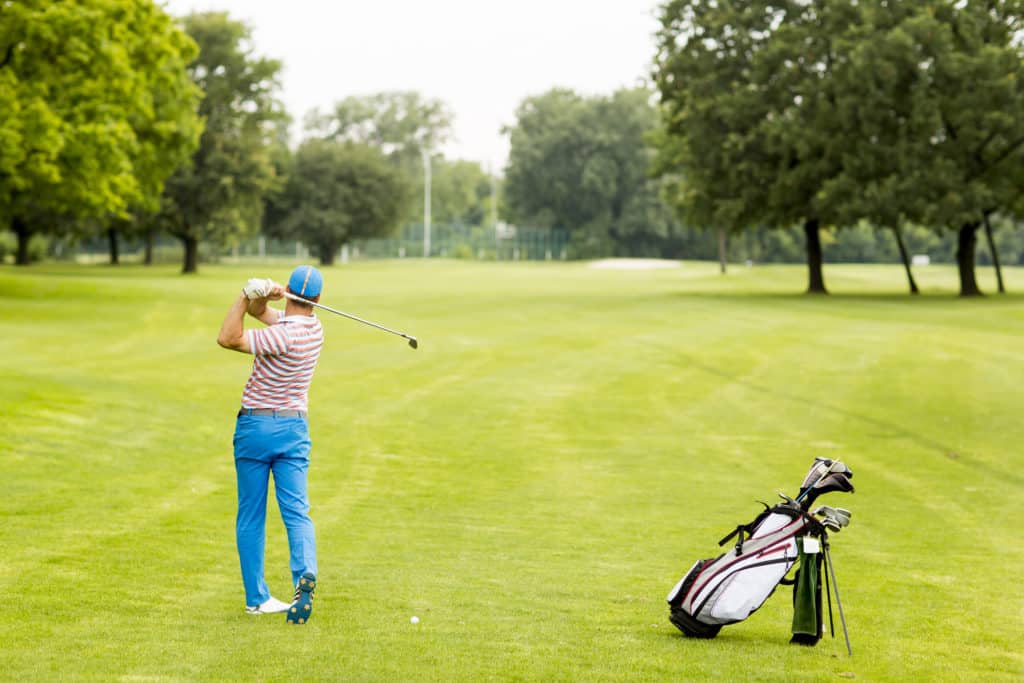 A cut in golf is a shot that turns to the right.
The ball flight of a cut typically starts down the target line and then makes a slight right turn.
The tricky thing about a cut is that there are other shots that are also known to turn to the right.
If you ever hit a fade or a slice, you know that that ball starts straight and then turns to the right.
This is, of course, when considering the right-hand golfer.
For a left-handed golfer, a cut shot is one that turns to the left.
Now you may be wondering what sets a cut apart from a slice or a fade.
The one thing that the cut shot has that the other two left-to-right ball flight shots do not have is the intention.
A cut shot is something that a golfer intends to hit.
This is typically why you will hear lower handicap players talk about hitting cut shots.
When a golfer needs to hit a pin that is on the right side of the green, and they want to have it fall towards that pin, they will hit a cut.
Sometimes when a player slices or fades, it is unintentional.
The fact that these shots are not something that a player planned for makes them a bit different than a cut.
Most of the time, when trying to hit a cut, a player will adjust their stance and their swing to get this proper ball flight.
Cut and fade can be used interchangeably as long as the intention is still accurate.
Players who intend to hit this shot will have a much different result than those who hit the shot by accident.
In addition, the ball flight of a golf shot that was planned is usually quite a bit more consistent and higher.
Now that you know what a cut shot is, it's time to learn when to hit them and hang out with them.
When To Play A Cut Shot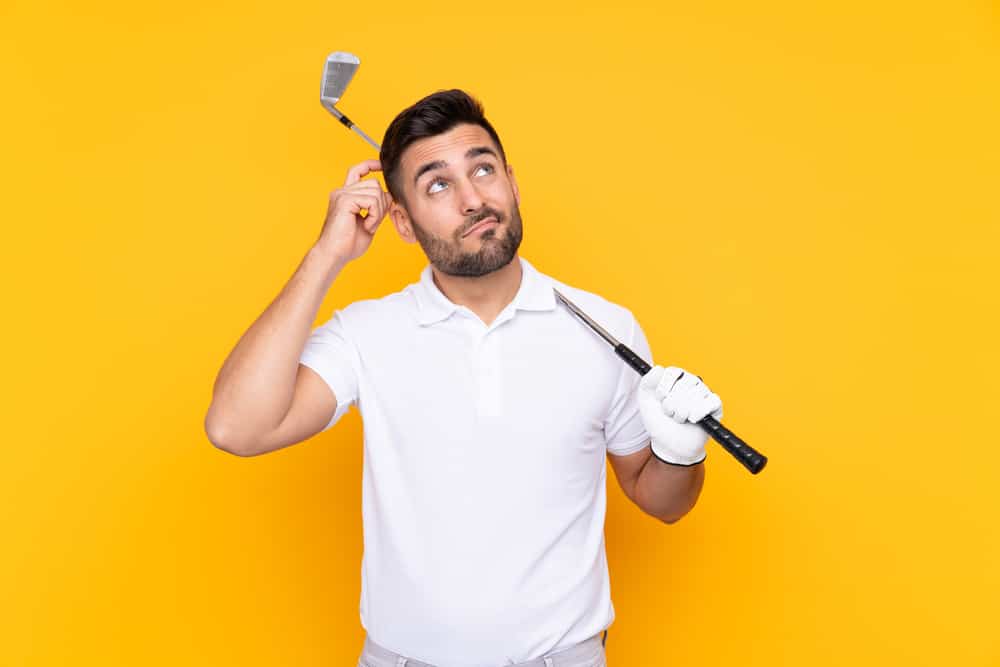 If you are a golfer who is relatively new to the game, you may still be in that stage where you just want to hit the ball straight.
Don't worry as this is common for all new golfers.
However, eventually, you are going to learn that being able to work the ball and hit it in several different directions is going to help you score.
There are some locations and positions on the golf course that you cannot get to unless you know how to turn the golf ball.
The great thing about learning to play different types of golf shots is that you will also learn how to fix your swing should you start hitting the ball left or right unintentionally.
Think about the idea that if you can hit a ball to the left intentionally, you can fix it if you are unintentionally hitting the ball to the left.
Now, golf is not an exact science, so this won't always work, but the concept is a good one and something that you should keep in mind.
It is a good idea to consider when you should or should not play a cut shot.
Just because you know how to work the wall does not mean that you need to do it on every single hole.
Let's take a look at the most opportune times to hit a cut shot.
1. Dog Leg Right
A dogleg right is a golf hole where you will hit your drive out straight, and then the hole makes a turn towards the right.
Depending on whether this is a par four or a par five hole, you may have to learn to hit your drive with a bit of a turn to it.
Sometimes hitting the ball straight off the tee and then trying to hit your approach from that point will mean you are blocked out by the trees or that you drive the ball through the fairway.
To be able to play any type of dogleg right hole, you should learn how to hit a cut shot with your driver or a 3-wood or 5-wood.
For golfers who get really good at being able to hit a cut shot, this turn can end up shortening the hole considerably.
Think about a golf hole that requires you to drive the ball 210 yards just to make the corner.
Now let's say you are able to turn the corner. Your approach shot to the green could be 20 to 30 yards closer than it would have been had you not been able to turn the ball.
2. Pin Tucked Back
If you play a lot of golf, you know that the pin location will change from one day to the next.
Sometimes when a golf pin is located tucked behind a bunker, or there is a tree branch blocking the pin, you may need to hit a cut shot to get back to it.
Of course, the center of the green is typically a notch in regardless of the ball flight that you take.
Most golfers would like to get as close as possible to the pin in order to have the shortest putt.
Leaving yourself a 40-foot putt as compared to a five-foot putt is certainly a much different way to try and make par or a birdie.
Golfers who are able to hit a cut shot can attack pins regardless of their approach angle.
Maybe your drive or your second shot was not placed in the fairway exactly where you wanted it to be.
You can recover and hit any type of shot you want as soon as you are able to work the golf ball.
So many players wait until they become really good at golf to learn how to work the ball and hit cuts or draws or fades.
However, great teaching professionals will teach even the newest players how to work the ball.
It is something that you will need to learn eventually, so you may as well learn it now.
3. Getting Out Of Trouble
Another great reason to learn to hit a cut shot is to help get yourself out of trouble.
Let's face it.
Most players will encounter some kind of trouble during the course of 18 holes.
You may find yourself behind a tree or completely blocked out of green.
Maybe there is a bunker blocking your way to the pin.
Regardless of the trouble that you are in, you can use this cut shot to help you get out.
If you watch professional golfers on the PGA Tour, you will see that they can hit all different types of shots to get around trees, obstructions, and other hazards.
Getting out of trouble means that you can take what could look like it would be a double or triple bogey and make it into a bogey.
Having the ability to turn a really bad hole into a hole that is just one over par will be what eventually makes you a great player.
The cut shot tends to be relatively easy to control.
Once you learn how to hit it, it's something that you will always have in your arsenal.
In addition, players who get really good at hitting cut shots can hit them low or high.
Keep this in mind the next time you end up behind a tree or have a branch that you need to hit a shot under.
You may start seeing the golf course in a completely new light because of your ability to hit these different types of golf shots.
How To Hit A Cut Shot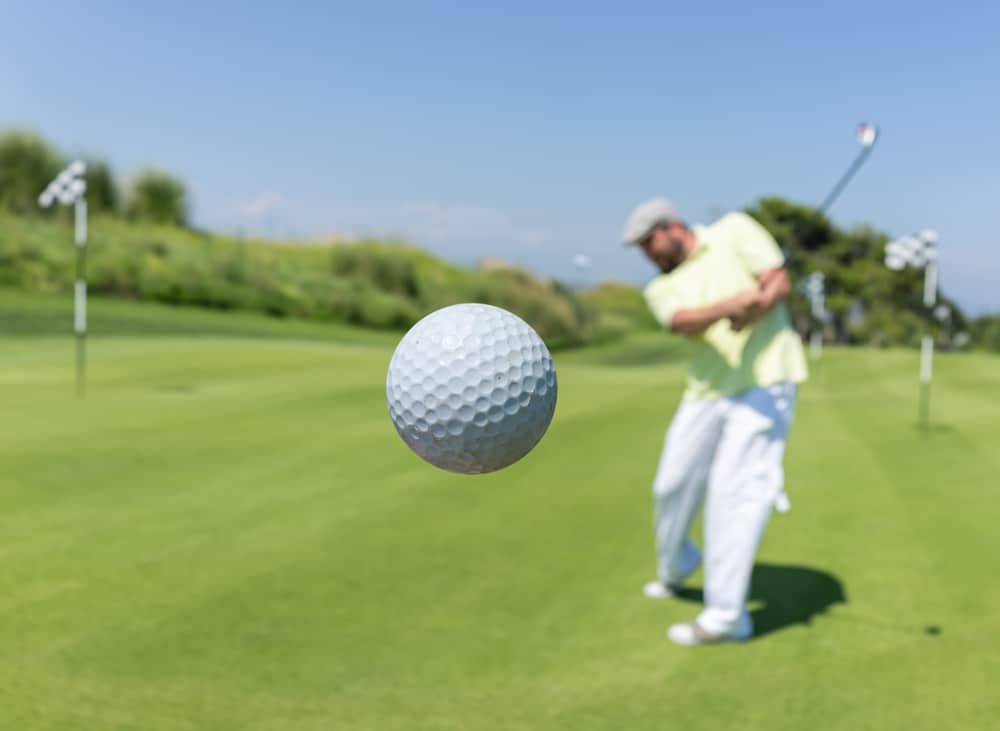 Now that you understand where to use a cut shot and why golfers use it, it's time to learn how to hit a cut shot.
Hitting a cut is not something that you're going to want to learn how to do out on the golf course.
Take some time at the driving range to practice and to feel confident with this type of golf shot before you take it out on the course.
The first time to use the cut shot is not when you are tucked behind a tree where the only shot you have is a cut.
As with any new shot in golf, you must have some confidence to be able to pull it off.
1. Aiming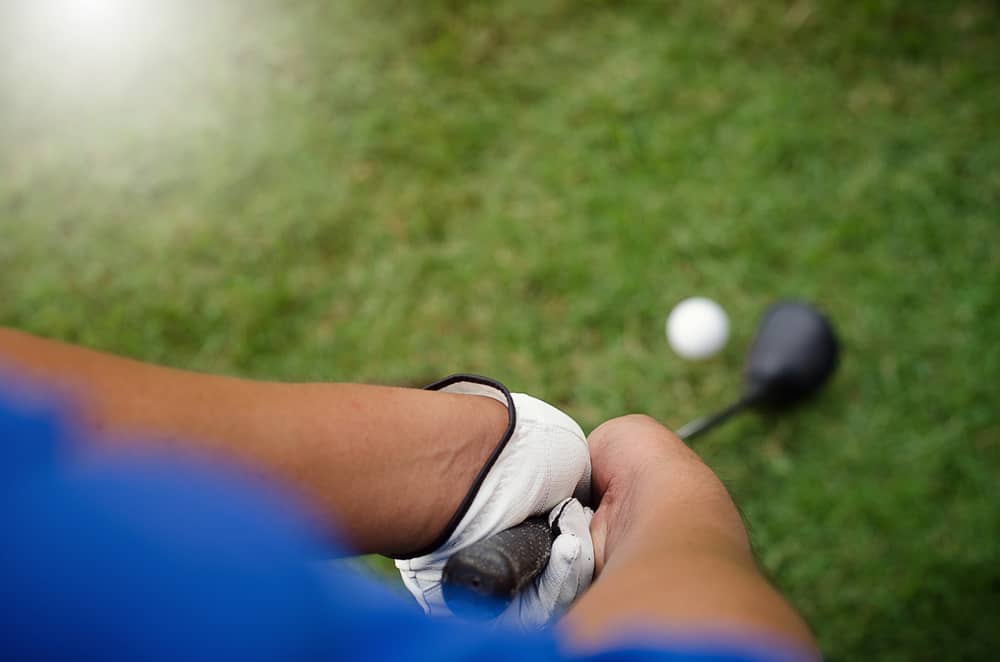 The first step in learning how to hit a cut is to learn where to aim.
Since we know that this shot will travel from left to right, we want to aim slightly left of our target.
For the most part, golfers will find that an area about 10 to 15 yards left of the target will be the perfect location.
It's essential to keep in mind that where you're aiming does not put you into trouble.
You may have the intention of hitting a cut shot, but we all know that this does not always work out in golf.
Therefore, don't aim yourself into trouble only to hit it straight and be in a worse situation.
For instance, if the golf flag is on the right side of the green, aim to the left of it but don't give the green away.
This way, if you don't hit the cut shot and the ball just travels straight, you will just have a longer pop-up, but you won't have to chip up onto the green.
2. Body Alignment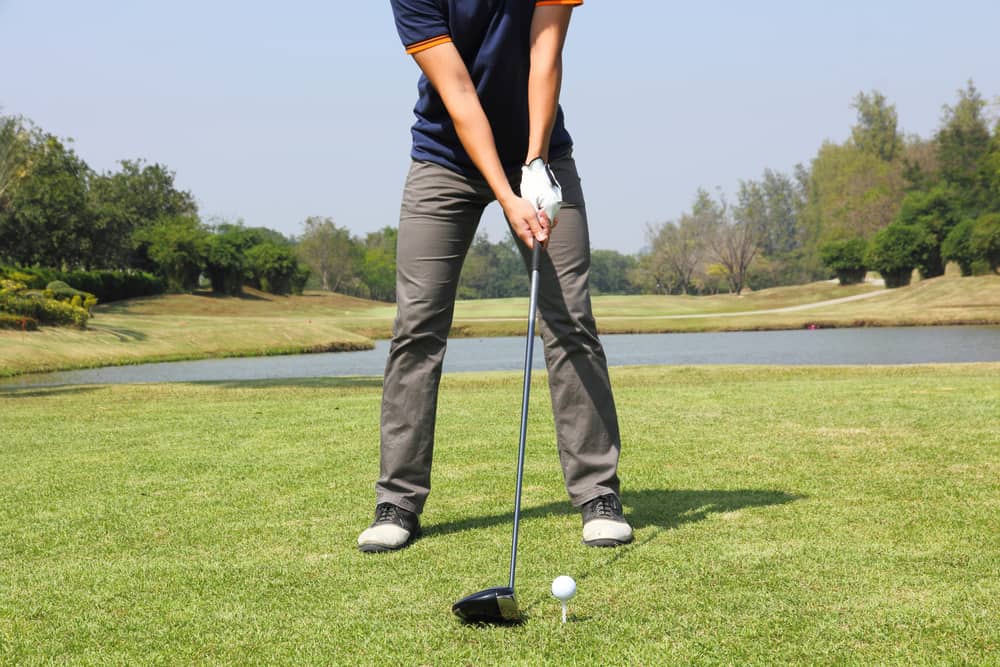 The aim for the cut shot is easy, but now we have to talk about the body alignment.
Body alignment is not relatively as easy as the aim.
Typically, when we aim a shot, we aim our shoulder line, hip line, and feet line parallel to the target on the line.
However, with the cut shot, your body is going to be aligned a bit differently than you would expect with a typical straight golf shot.
First, start with your body completely lined up to this line that you have determined to the left of the target.
Once you are in this position, as if you were aiming towards the left side of the green to hit a straight shot, take your stance and open it a bit.
Those who are new to the game will find opening the stance is relatively simple.
Simply pull back your left foot a few inches.
You will notice that your body now seems kind of open to the target.
When you do this, you are going to want to actually move your foot backward.
Do not turn your toe out, as this will not have enough of an effect on the openness of your stance.
Your feet will no longer be on a parallel line as the left foot will be dropped back.
This is not going to work for a left-handed golfer.
The left-handed golfer would have to pull the right foot back in order to be opening their stance and ready to hit a cut shot.
When you open your body up like this, your hips are also going to open.
This is acceptable and part of what will help you actually get this left to right ball flight that you were looking for.
At first, this may feel a bit awkward, but you will eventually get used to the feeling.
In addition, it is essential to make sure that the ball position has not changed.
Keep that ball position directly in the center where you originally had it.
3. Shoulder Line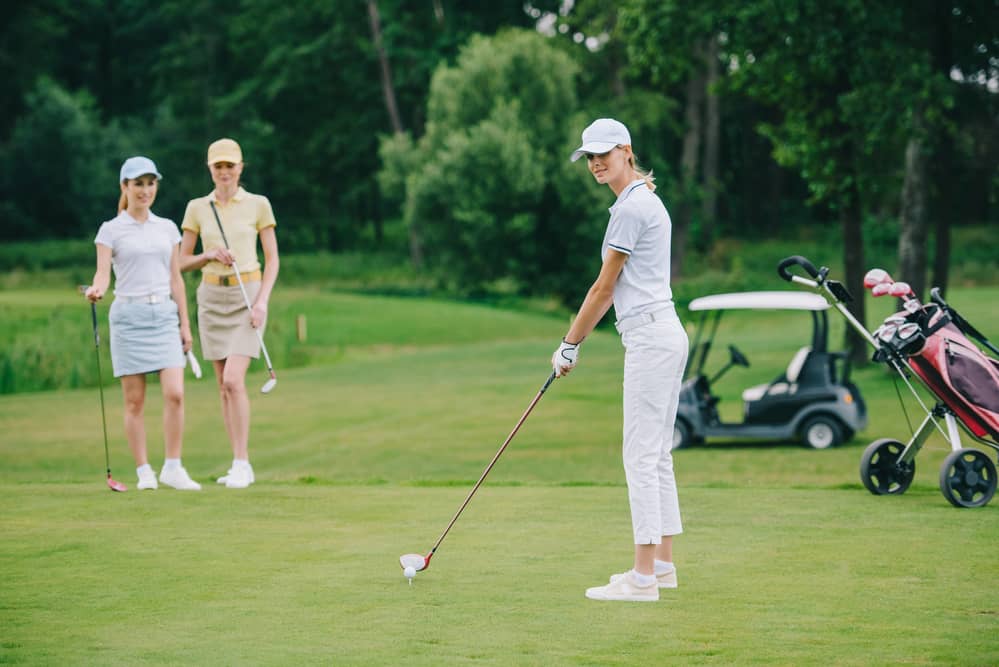 Now that your alignment and body are set up and ready to go, it's time to think about the club face.
As you have probably already imagined, to hit a cut shot, your club face needs to be slightly opened.
It would be impossible to hit a left or right shot on demand with a closed clubface.
The amount that you open your club face will be something that you need to experiment with.
For righties, slightly turning the club grip to the right will be enough to open the face and hit that nice high cut shot.
4. The Swing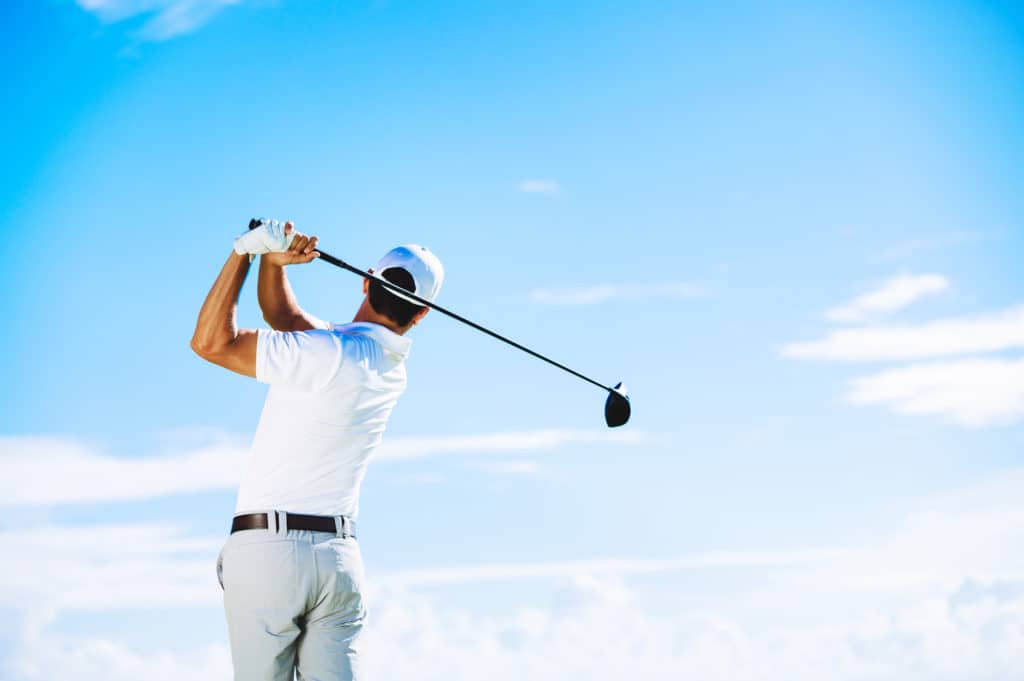 This is the part of the cut shot that most golfers try to overcomplicate.
The best way to learn to work the golf ball on the golf course is to adjust your stance and set up and then take your normal swing.
The more you can take your normal swing, the easier it is to repeat it and the better player you will become.
You don't need 12 different golf swings to become a great golfer.
In fact, you only need one swing and then several different setups and alignments.
Once you are in this position, you should take your regular golf swing.
Do not try to manipulate the golf ball in any way.
In addition, you must swing with a full and complete finish where the club ends up nice and high.
So many players are going to try and force the cut shot.
If you try and do this, the left-to-right ball flight that you see will probably be much more pronounced, and it won't work to get you close to your target.
Instead, trust that you're set up in your stance or sending you towards the target and setting you up for a perfect cut shot.
The best players in the game know that they can trust their swing and that if the setup has changed, the ball is going to fly in a different direction.
When you hit your cut shot, make sure that you are swinging as you normally would with this open stance and slightly open club face, and you will be quite happy with the results you get.
It does pay to take some time at the driving range and work on the specifics of the cut shot.
You will quickly notice that a slight change in the clubface angle or the openness of your stance will impact the shot greatly.
If you don't want to hit a large cut, you must learn how to make a minor adjustment in your swing.
Conclusion
Hopefully, you now feel as though your ability to hit a cut shot is greatly improved.
This is something that you can learn to hit regardless of your handicap.
The most important thing is getting out there and practicing with this ball fight and learning how to improve.
If you can make the adjustments in your game now, you will start to see the benefits almost immediately.
Start to take control of your golf game and what you are able to do on the course.
In the end, the results will be impressive because of your ability to control your own golf game.