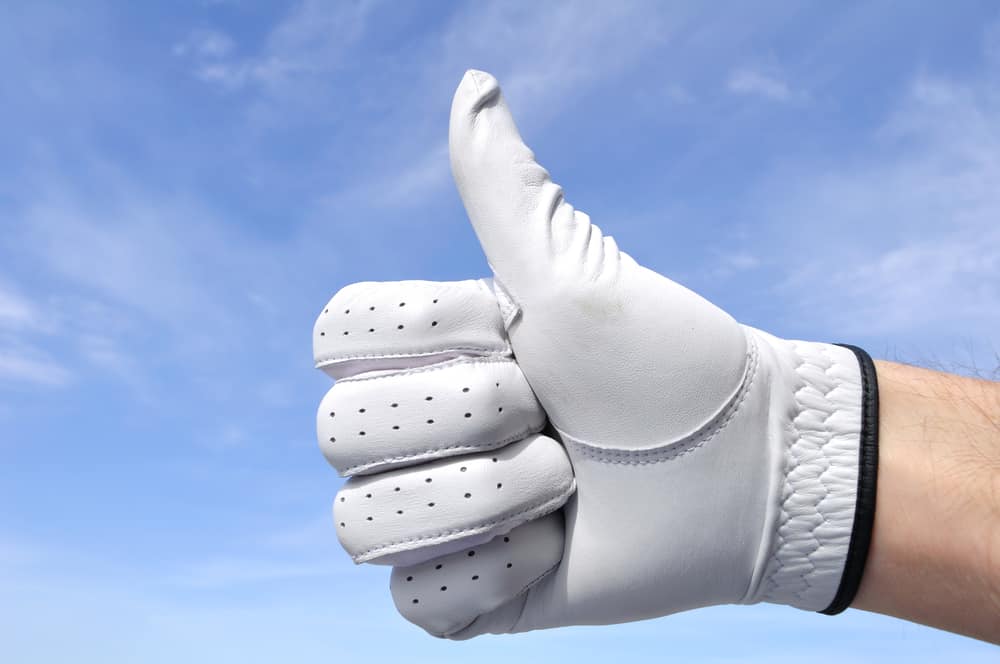 Golf gloves can do a great job of keeping our hands protected and our grip on the club as secure as possible.
Without an excellent golf glove, you will find that the club can slip and move in your hand.
The problem with some golf gloves, however, is that they are rather thin and can sometimes get holes in them.
If you want to make sure your golf gloves stay in good shape for a long time, you must purchase something durable.
Some golf gloves are great for feel, yet they can easily get a hole in them.
If you want to make sure your golf glove feels great and performs, choose one from our list of the top ten most durable golf gloves.

Most Durable Golf Gloves (Top 10)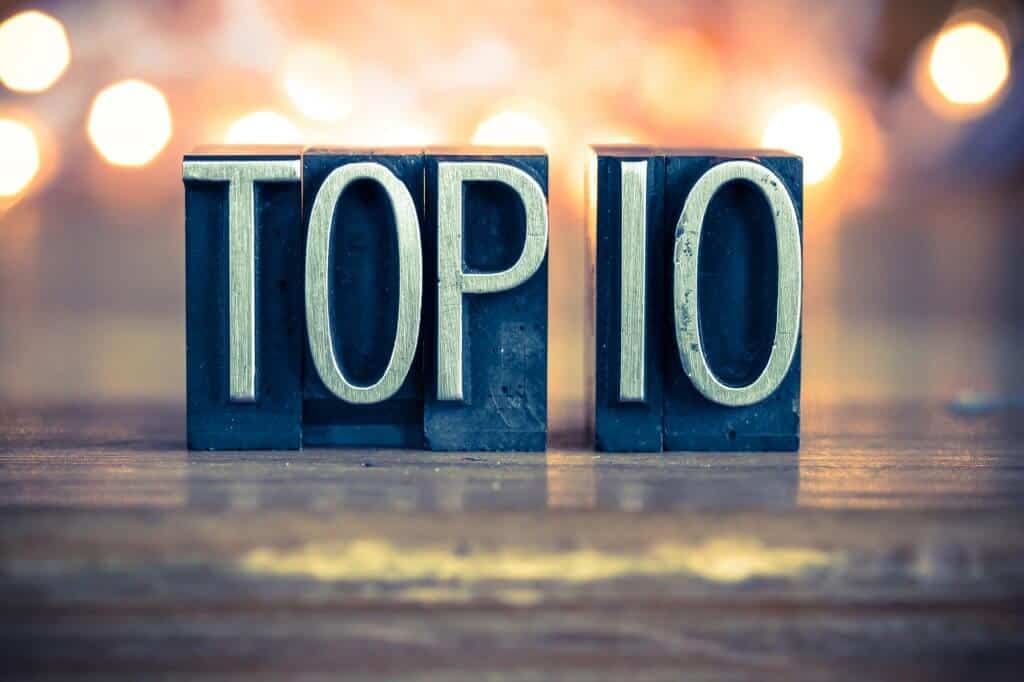 1. Zero Friction Men's Compression-Fit Synthetic Golf Glove (2 Pack), Universal Fit One Size
Key Features
Comes in a two-pack
Palm patch for durability
Universal fit
The Zero Friction Men's Compression Fit Synthetic Golf Gloves are some of the most durable on the market.
With this pack, you will get two gloves that are going to have a snug fit around your hand.
The compression fit ensures that your hand feels stable and secure while inside the glove.
The black mesh Lycra fabric on the gloves gives it more breathability, even with it being a compression-style glove.
One of the things that help to make sure you don't have to replace this glove so quickly is the palm patch.
This is a durable extra layer that keeps the glove from developing a hole.
Pros
It comes with two gloves
Has good breathability
Palm patch for comfort and durability
Cons
No option for the single glove pack
2. BIONIC Gloves –Men's StableGrip Golf Glove W/Patented Natural Fit Technology Made from Long Lasting, Durable Genuine Cabretta Leather
Key Features
Made for durability
Great for arthritis
Help keep hand cool
Bionic golf gloves are premium golf gloves made for those who need some extra support on the clubs.
The Bionic gloves are a bit thicker than other gloves on the market, and this helps to ensure that your hands stay protected as well.
The Bionic gloves also help to make sure that your hands don't get tired as you make your way through the round.
The natural curvature gives you some great feel on the club and allows your hand to sit as it naturally should.
Bionic gloves tend to cost a bit more money than other gloves, but the durability makes it a fair value long term.
Pros
Feel good on your hand
Plenty of support
Breathable materials
Cons
More expensive than other golf gloves
3. Swordfish Golf Gloves (2 Pack) – Durable Design, Premium Cabretta Leather
Key Features
Premium Cabretta leather
Polyurethane fiber for reduced moisture
Very comfortable
The Swordfish golf gloves come as a two-pack, and they are made with premium Cabretta leather material.
The glove is designed to protect against both tears and holes developing in the glove.
The Swordfish Golf Gloves are known for being very comfortable and soft.
Even though the materials are long-lasting and a bit thicker than other models, you still get some great feel with these golf gloves.
Pros
Breathable
Good value
Comfortable
Cons
Swordfish logo is rather large
4. FootJoy Men's WeatherSof Golf Gloves, Pack of 2 (White)
Key Features
Extra padding in thumb and palm patch
Breathable mesh
Secure closure
The FootJoy Men's WeatherSof golf gloves are designed to stay tight on your hand and offer you a secure connection with the club.
FootJoy makes some of the best gloves in golf, and this FootJoy WeatherSof is one of the best values that you can find.
Not only will the glove feel good and perform as it should, but it will last a long time.
As nice as it is to play with the thin leather gloves from FootJoy, sometimes they only last for a round or two.
This won't be the case with the Weathersof as it should have a very long lifespan.
Pros
Advanced performance leather
Secure closure
Breathable even on hot days
Great value
Cons
Feel is not as good as premium Footjoy gloves
5. Callaway Golf Men's Weather Spann Premium Japanese Synthetic Golf Glove
Key Features
4-way stretch
Stretch binding cuff
Reinforced palm
The Callaway Golf Men's Weather Spann is a premium golf glove designed to offer both performance and stability when worn.
The reinforced palm of the Weather Spann means that the glove is also going to last for quite some time.
If you are tired of trying to find a glove that feels good but also lasts you for many rounds, the Weather Spann could be your answer.
We love the stretch binding cuff on the glove that helps to make sure your glove and hand don't get wet while you are playing.
The cuff will absorb moisture and make sure that the fit on your hand is just as secure as ever.
Overall, the fit of the Callaway Weather Spann seems to be better than most.
The 4-way stretch and synthetic knuckles are a benefit that other gloves just don't have.
Pros
Great feel
Stretch in the knuckles
Good choice in a variety of weather conditions
Cons
Price can be a bit higher depending on which size you choose
6. MagiDeal Professional Men's Durable Blue Golf Glove Left Hand Full Finger Mitten Non Slip Excellent Grip Size XS-XL
No products found.
Key Features
Durable and long-lasting
Soft feeling
Elastic mesh in fingers
The MagiDeal Professional is not a glove that you hear all that much about.
However, if you are looking for durability, it is one that is certainly worth considering.
The MagiDeal gloves are very durable and can help to ensure that you have a glove for months to come.
The open mesh design on the back of the gloves means that even in the warmest weather, you will stay cool and comfortable.
Towards the base of the MagiDeal glove, you can find some flexible loop tape that will help to provide a very secure fit.
Overall, the MagiDeal is a very high-quality and good feeling golf glove that doesn't seem to get the attention it deserves.
If you care about durability, this is the way to go.
Pros
Provides excellent grip on the club
Durable
Lightweight and breathable
Cons
7. 2021 TaylorMade Stratus Soft Glove
Key Features
Good mix of materials
Tear-resistant design
4-way stretch
The TaylorMade Stratus is a new release from TaylorMade, and it is going to be a great choice for those who are looking for durability in a golf glove.
The combination of materials is partly what gives this new release a bit more functionality than other options on the market.
Since the Stratus has a mix of leather, Lycra, and synthetic materials, it can easily address the different pain points in the golfer's game.
The Stratus features a strategically placed micro-perforation to allow for more airflow.
This means that, regardless of the weather conditions you are playing in, the Stratus will likely be a good fit for your game.
Pros
Great multi material construction
4-way stretch material
Allows for quite a bit of airflow
Velcro closure will hold up over time
Cons
Premium pricing because of the new release
8. KIRKLAND SIGNATURE Golf Gloves Premium Cabretta Leather, Medium-Large, 4 Pack
Key Features
Premium Cabretta leather
Resists moisture
Strong closure tab
The Kirkland brand is also known as the Costco brand.
Costco is well known for providing high-quality products at a lower price because of volume.
Selling more volume allows these Kirkland gloves to be a much better value per piece.
The Kirkland Signature comes in a four-glove pack, and they are built to last for quite some time.
This is a pack of gloves that you purchase once, and then you don't need to purchase gloves for quite some time.
The premium Cabretta leather construction means that these will last for quite some time.
In addition, the gloves also ensure a great feel and connection with the club.
Pros
Moisture resistant
Easy to close
Premium leather construction
Cons
It helps to know you like them when you get 4 at once
9. Under Armour Men's UA Iso-Chill Golf Gloves
Key Features
Polyester and elastane materials
Soft material
Durable in grip pad
The Under Armour Men's UA Iso-Chill Golf gloves are an excellent choice for golfers that have trouble with sweaty hands.
Sometimes when your hand sweats, your golf glove is going to wear out quite a bit faster.
This happens because of the oils and moisture in your sweat.
One way to prevent this from happening is to choose a glove that can handle moisture.
The Under Armour Iso Chill golf gloves will wick the sweat away and dry your hand very fast.
This not only secures your connection with the club but also allows for your golf glove to last for quite a bit longer.
The Under Armour Men's UA Iso Chill is a premium golf glove made for those players who want a mix of feel and durability.
You will love the ventilation and comfortable feel that this glove provides over time.
Pros
Soft Cabretta leather
Wicks sweat away
Tour Cool Fabric pulls heat from your skin
Cons
Not an excellent choice for winter golf
10. Mizuno 2020 Elite Golf Glove
Key Features
Contoured to fit a player's hand
Flex mesh
Double-stitched thumb
One of the things you will notice about durable golf gloves is that they are not often made for the better player.
Better golfers tend to go with the more premium and thinner golf gloves because of feel.
We have found that the 2020 Elite Golf Glove from Mizuno features a very high-quality glove without sacrificing on feel.
One of the things you will notice about this glove is that the double-stitched thumb will provide a secure and durable fit.
If you have had trouble in the past with a glove falling apart, you will enjoy what this product has to offer.
In addition, there is a flex mesh material that could be a good choice for breathability and flexibility in the hand.
Regardless of your handicap, the durability of this glove will make it one worth considering.
Pros
Increased stitching for more durability
Comfortable glove
Professional grade leather
Cons
Some notice that it is a bit narrow in the palm area
Are Durable Golf Gloves Worth the Money?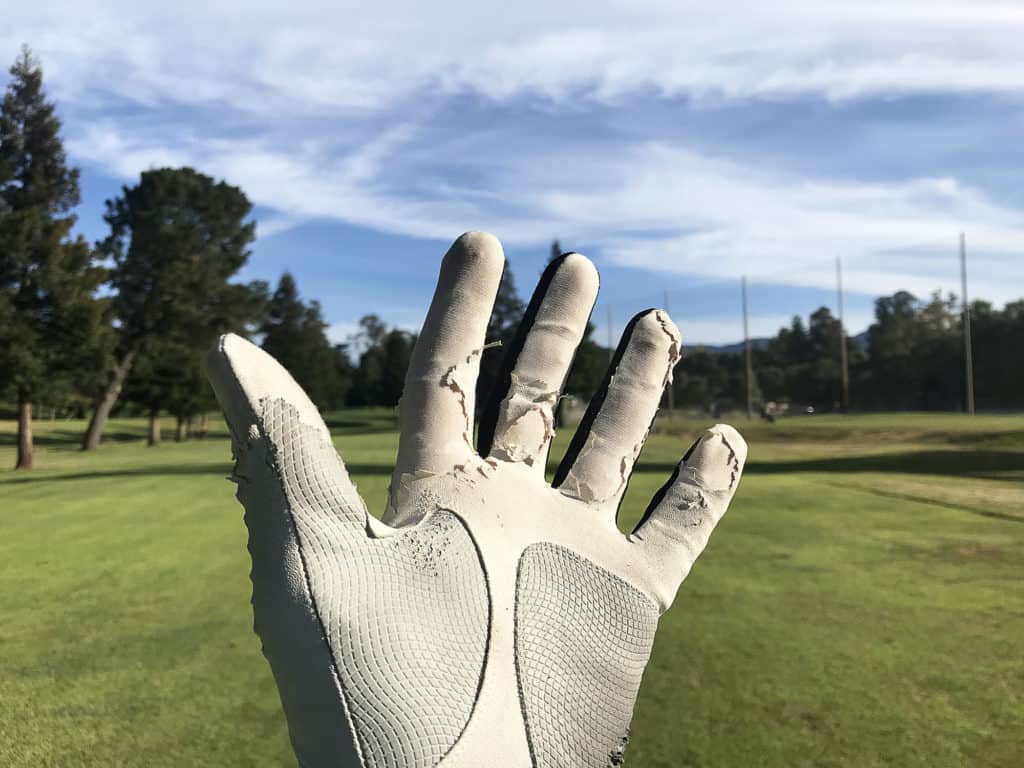 It is easy to find cheap golf gloves.
The problem is that they often don't provide any longevity.
This means that you will spend money but only get a few weeks of use out of them even when washing them.
Many golfers then wonder if it makes sense to purchase something that gives you both a great feel and durability.
Most of the durable golf gloves that we have shown you are not all that much more expensive than the cheap gloves.
However, they will provide a better value.
Getting a glove that is going to last you for a few months as opposed to a few rounds is certainly worth the money.
The durable gloves are made thicker in the areas where it matters the most.
This tends to be in the palm of the hand.
Some golfers also struggle with creating a hole in the thumb of the grip as well.
As soon as your glove has these sort of wear-and-tear marks, it is undoubtedly time to replace it and move on to a new glove.
Durable golf gloves come at a price, but most players find that price to be well worth it.
After all, our only connection with the club is that which we make with our hands.
Your grip needs to provide you with stability and comfort, and the golf glove is a perfect way to get this done.
Always look to see if you can find a great deal on gloves and then purchase as many as you can when they are on sale.