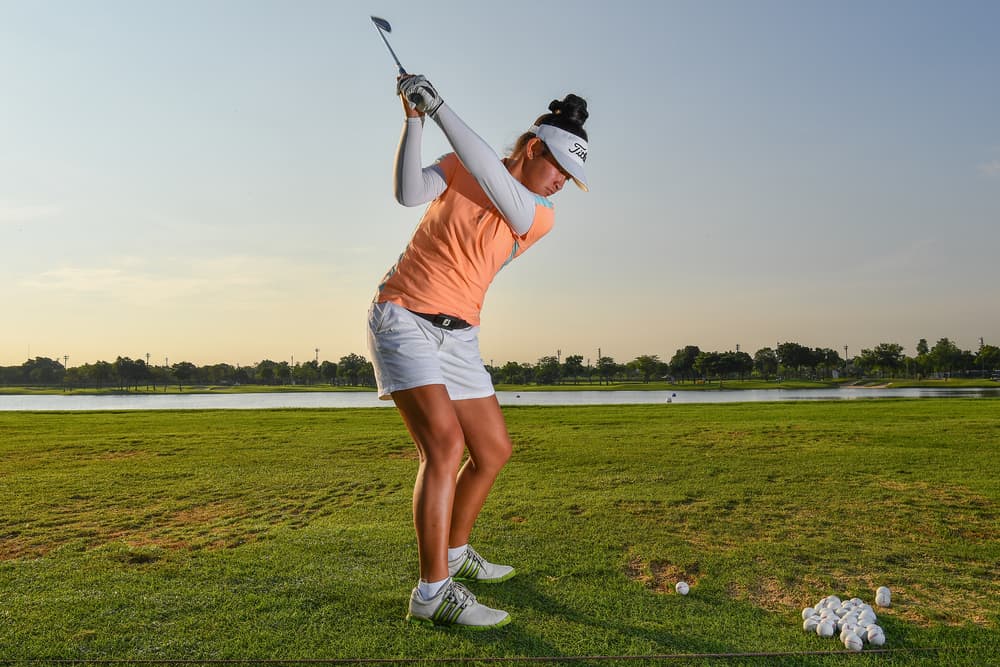 Hitting golf shots high is quite important.
If your iron shots are not high, then when they land on the green, they will not stop and stay where they are supposed to.
You will be left missing a lot of greens and having to hit shots back onto the green in order to stay in play.
The ability to hit high iron shots has become even more important in recent years with the lowering of loft that we are seeing in most manufacturers' golf irons.
When the loft is lowered, the golfer will find that the ball can travel further, but sometimes the ball flight is not quite high enough.
Many times, it is not the equipment that is preventing you from hitting high golf shots.
Often, it is the swing and the player.
If you want to learn to hit your irons higher, here are a few steps you can take to ensure that this happens.

How To Hit Irons Higher (Step By Step)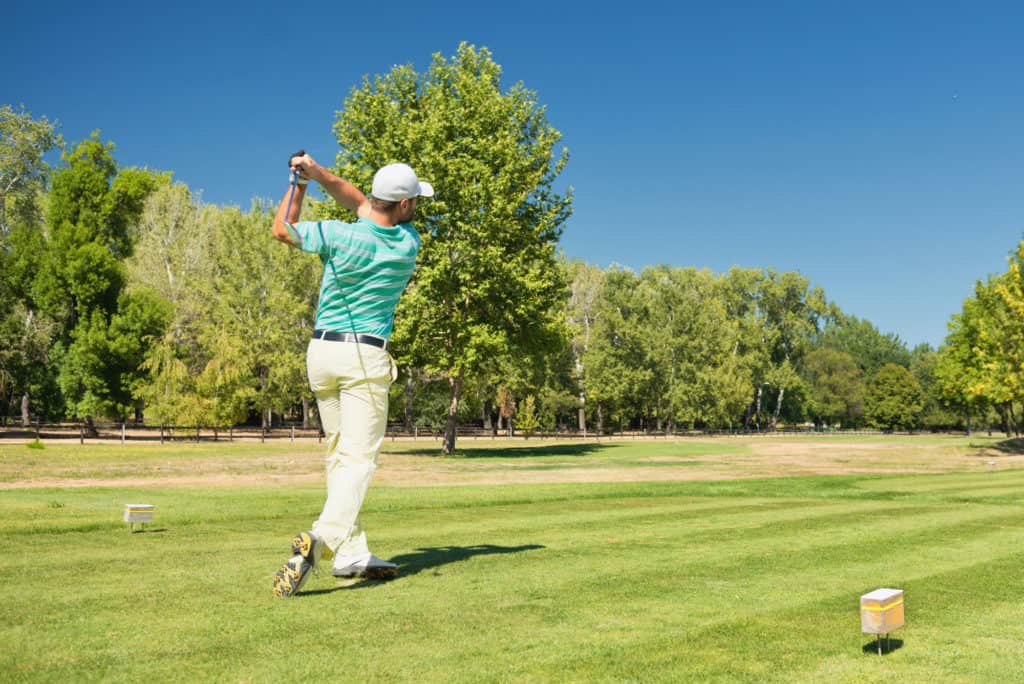 Each golfer has different swing features, benefits, and strengths.
What works for your golf game will very likely not work for a friend of yours.
Therefore, these step-by-step instructions need to be tailored to work for your individual game.
If you are not sure how to hit irons higher after reading this guide, then it may be a good time to go for a golf lesson and see if a professional can help your game.
Here are the steps that any golfer can take to start learning to hit their irons higher.
1. Set Up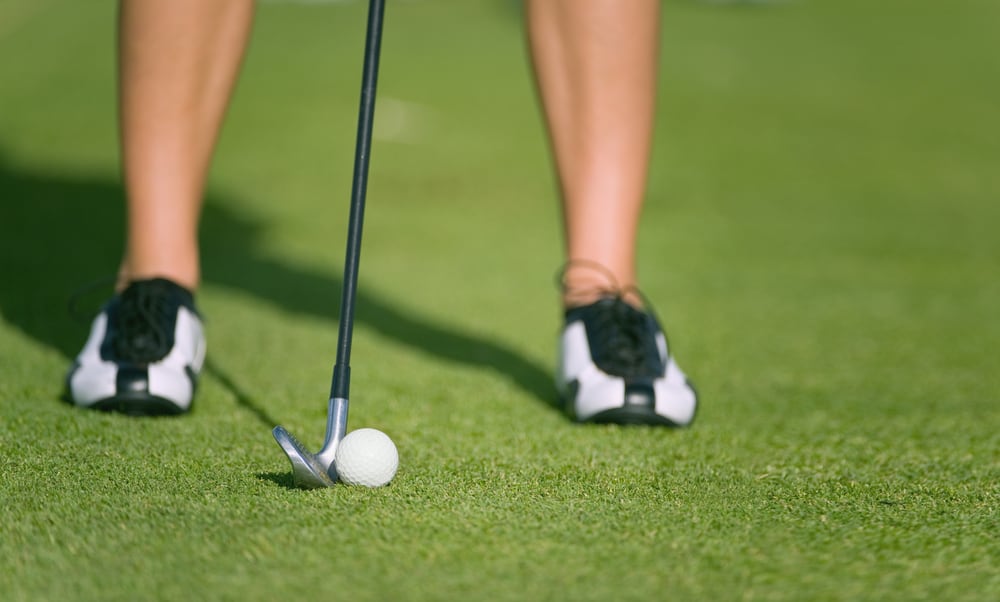 The first step in learning to hit the ball high is to make sure that your setup is great for a high shot.
You will quickly learn that if you want to get height on your golf shots, you will need a steep golf swing.
The steeper golf swing promotes a more upright angle of attack, and the end result is a golf shot that flies quite a bit higher.
However, if you take a shallower approach to a golf ball, chances are you are not going to get the same amount of ball flight.
The higher ball flight from the steeper angle is something that will apply to any of the irons, from the pitching wedge to the four iron.
One of the first steps that players can take to promote this steeper angle of attack is to stand slightly closer to the ball.
When you think about the makeup of a golf iron, you can see that, when you stand further away from the ball, the club gets shallower.
The shallow angle can sometimes help with ball speed, but it is not an excellent thing for ball flight.
Practice standing slightly closer but still allowing yourself enough room that you can swing the club fully.
You won't want to get in a position where you are locked into place and can't get the club to swing completely around you.
You will know you are standing too close to the ball if you start to hit behind it.
This is typically a sign that you don't have enough room to get the club to swing through.
2. Ball Position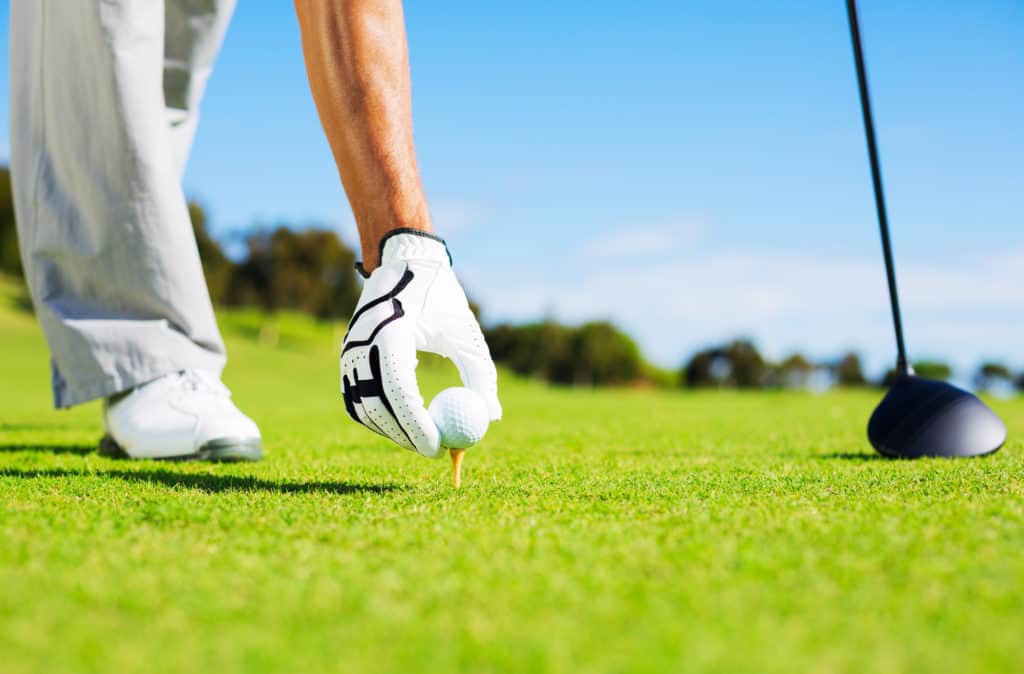 The ball position needs to be toward the front of your golf stance.
For hitting higher lofted iron shots, you will want to promote a little bit of an upward path as you swing through the golf ball.
The best way to do this is to place the ball in the front of the stance, and you will naturally hit the ball a little on the way up as opposed to on the way down.
Don't take this to an extreme and play it where you would play your driver.
Simply ensure that the ball is not being played off your back foot, and make sure that you have a ball position that will promote a higher ball flight.
Some golfers have this idea in mind that the shorter irons should be played off the back foot.
This is not necessarily the case, and you should work toward playing most shots from the middle or slightly forward of the middle.
In the end, this could be what helps your golf swing get the results that it needs.
A simple change in ball position tends to be one of the easiest things to adjust in your swing, yet it can have a huge impact.
3. Weight Distribution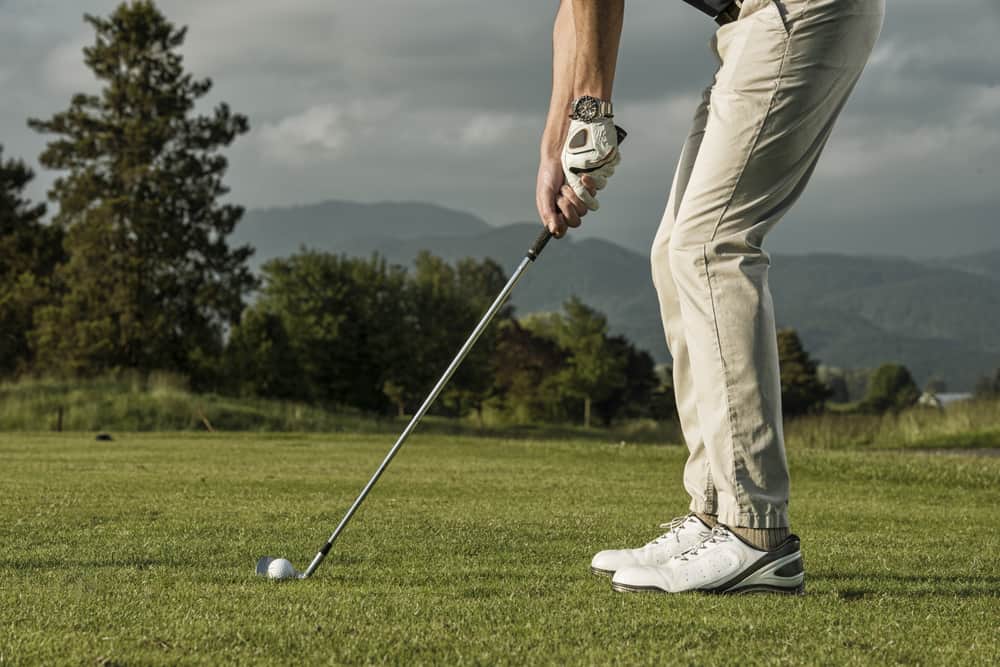 Another way to ensure that you hit your irons higher is to make sure that you have your weight distributed properly at setup.
The weight distribution is the way that your weight is balanced between your left and right legs before setup.
At first, you must make sure that you have more weight on your right side than on your left side.
By starting with a little extra weight on the right side (right-handed golfer), you will have the ability to turn and get the right side a bit more loaded up as you swing.
Weight distribution is very tricky because it takes a while to find the correct balance and to get into a position that can work for your golf swing.
You will want to make sure that you are still leaving some room on your right side to be able to turn back and transfer some more of your weight.
In other words, if you load up the right side too much, you will struggle to have anywhere to turn or to go when it's time to take the club back.
When the weight distribution is favored on the right side, this essentially gives the golfer a head start on their transition and movement in their golf swing.
When the weight is on the right, it is a much more powerful position to hit from, and in addition, the ball flight can be quite a bit higher as well.
Weight distribution can be tricky, but you will eventually learn where things are going to be best balanced.
4. Club Face Angle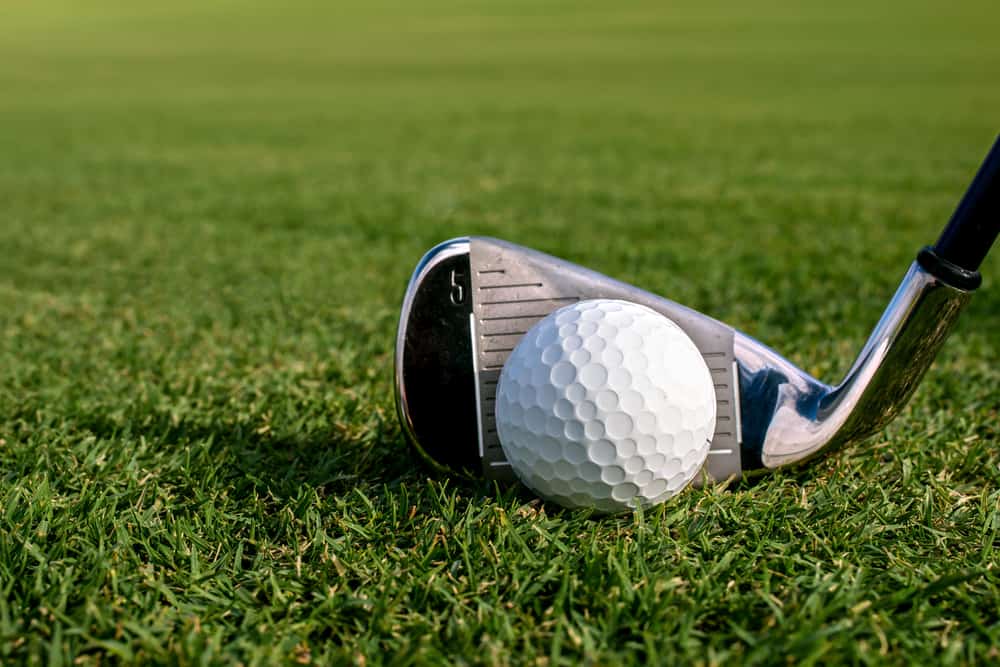 In order to hit the ball high, you will not necessarily need to open the angle of the club face with the club, but you will have to make sure it is at least square.
So many golfers tend to close the club face of their irons.
This is done because it is thought to reduce a slice, but slicing the ball is not going to happen every time, and closing the face does not always fix it.
You are much better off learning to hit a golf ball with a square face than trying to overcompensate and learn to hit with a closed face.
Simply keep the face square and learn how this works as you come through impact.
For those golfers who want to hit very high-lofted shots, sometimes it can make sense to open the club face up a bit.
However, when you do this, other changes need to be made in the swing as well.
For instance, if you open the club face but you don't change your stance in any way, chances are the golf ball is going to head to the right, and it will be a rather ugly shot.
For now, when trying to hit the golf ball high, simply let the club face sit square.
If the club face is square, you can get the height that you need by making the other adjustments that we have mentioned to both your stance and your overall golf swing.
5. Weight Transfer And Load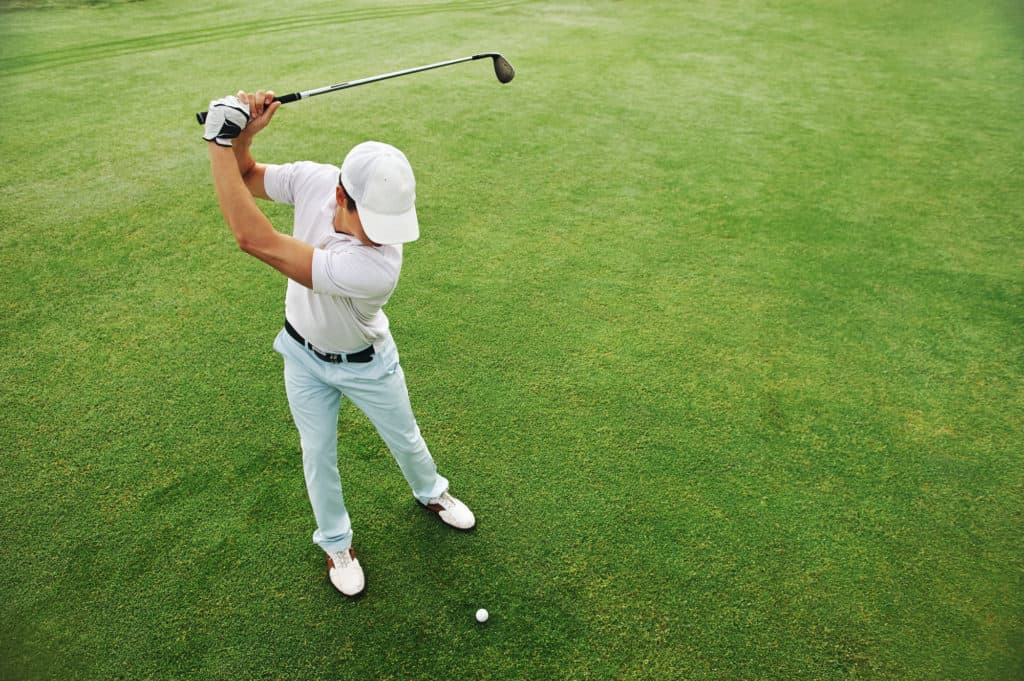 If you want to hit your iron shots high, you must transfer your weight to your back leg as soon as your swing starts.
Part of the takeaway for a high-lofted shot includes a transfer of weight to the right side.
Many players will refer to this as loading up as you can feel the power and the weight load up on your right side.
This is best accomplished by turning as opposed to any lateral movement or sliding.
If you happen to slide around, you could hit behind the ball, and your consistency will not be nearly as good.
The weight transfer onto the back right side is what allows you to gain power and that slightly higher ball flight.
Some golfers will start with their left shoulder a little bit higher than the right when they address the golf ball.
This slight change in shoulder angle is sometimes enough to help players feel the right side loading up and know that they are in the right position.
Again, all of these changes in the setup and stance are going to be subtle because, if you happen to exaggerate the action, you could end up creating more problems and less consistency overall.
Try to make minimal changes because, in golf, this will still lead to some awe-inspiring results.
6. Steep Angle of Attack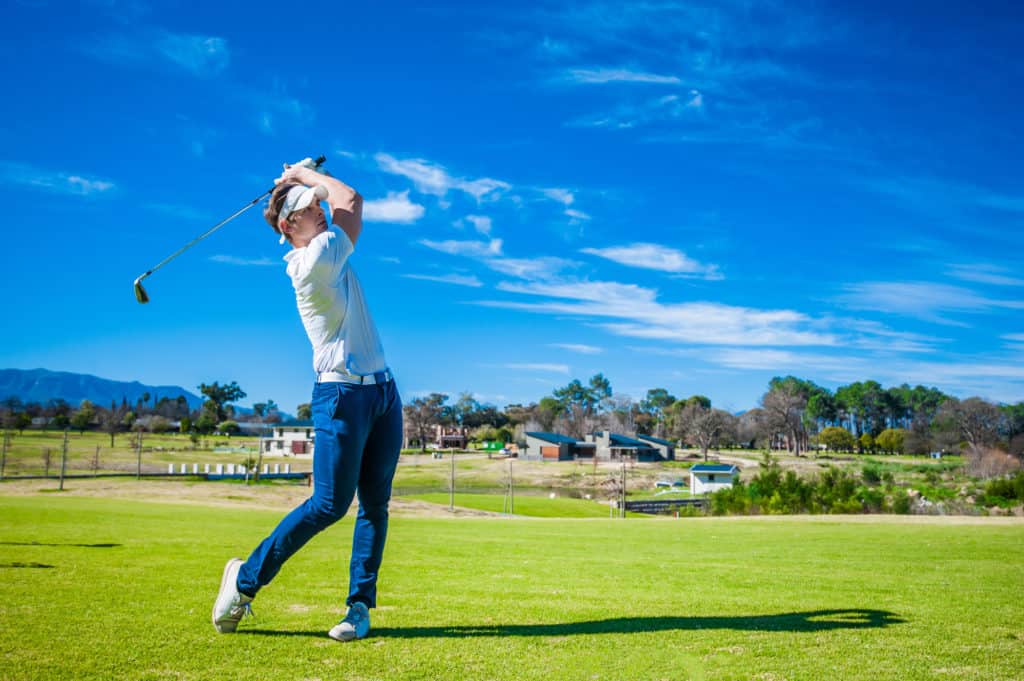 When hitting a high golf shot, it is best to have a steep angle of attack.
In order to get this steeper angle, your swing has to be a bit more upright, and you are going to feel as though your hands are quite high in your backswing.
At the top of the swing, you should feel as though you have a lot of extension and that the club is up high and away from your head.
This steep angle of attack is essential, and it makes sense when you consider the physics of ball flight and how the club and ball are going to be impacted.
A steep angle of attack is something that can get exaggerated, and it can lead to you hitting some slices if you are not careful.
As with all guides and different golf techniques that we discuss, it is often a good idea to perfect the concept on the range and then move to the golf course.
The steep angle of attack still requires you to rotate your body, turn your legs, stay in balance and release the club.
Don't confuse this idea with hitting straight down on the ball or chopping at the ball a bit.
The steep angle of attack is essential for that higher ball flight and increased lift on your iron shots.
Keep that weight loaded up and get your hands high above your head on the backswing, and you will be able to accomplish this without any issues.
7. Steady Impact Position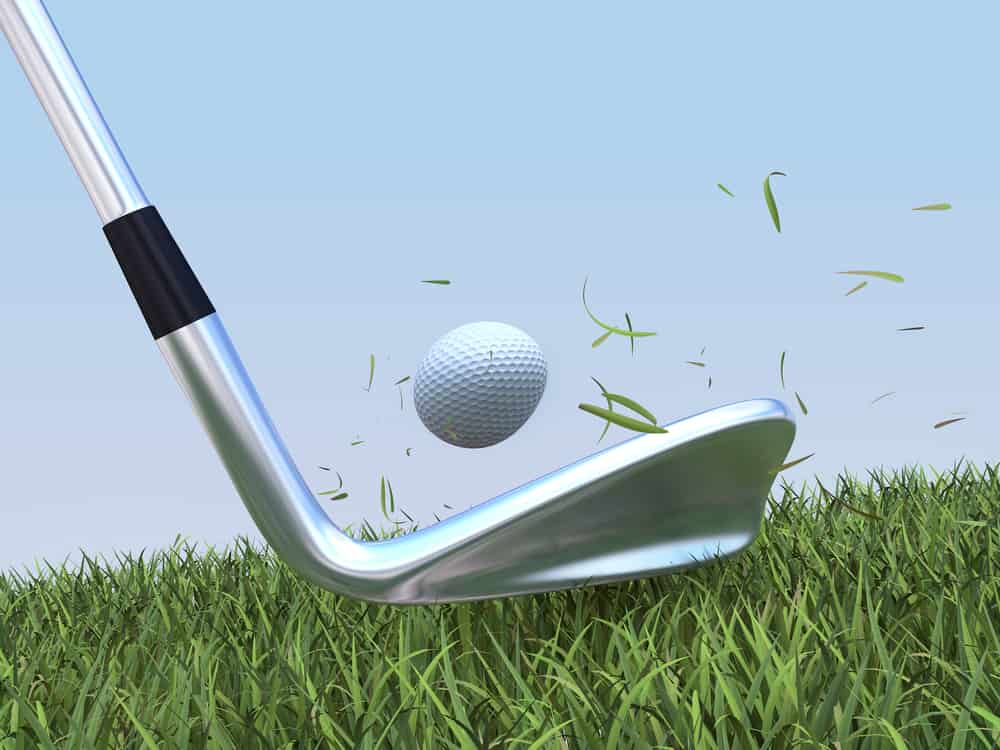 Sometimes when a golfer tries to hit the ball higher, they will get into the impact position and then try and lift the ball up and into the air.
This is not effective.
It is best when you get to impact to have a steady position where your shoulders stay level or let the right shoulder dip slightly.
If you are going to try and feel a lift at impact, the golf ball will not be hit well, and the results will be quite a bit less distance and maybe even more trouble keeping the ball straight.
A steady impact position is something that allows a golfer to use as much clubhead speed as they possibly can as well.
To hit a golf ball high, you will need to compress it, and this takes a lot of clubhead speed.
To compress a shot and get these higher shots, always make sure you are balanced and prepared at impact.
The weight should be turning through, but when you make your first contact with the ball, a good portion of it is likely going to be on the right leg.
As you complete the swing, the weight will complete its transfer to the left side.
Those who hit the ball high and are successful with their end results will be standing on their left foot at the end, completely balanced and ready to stare down their perfectly straight golf shot.
8. High Finish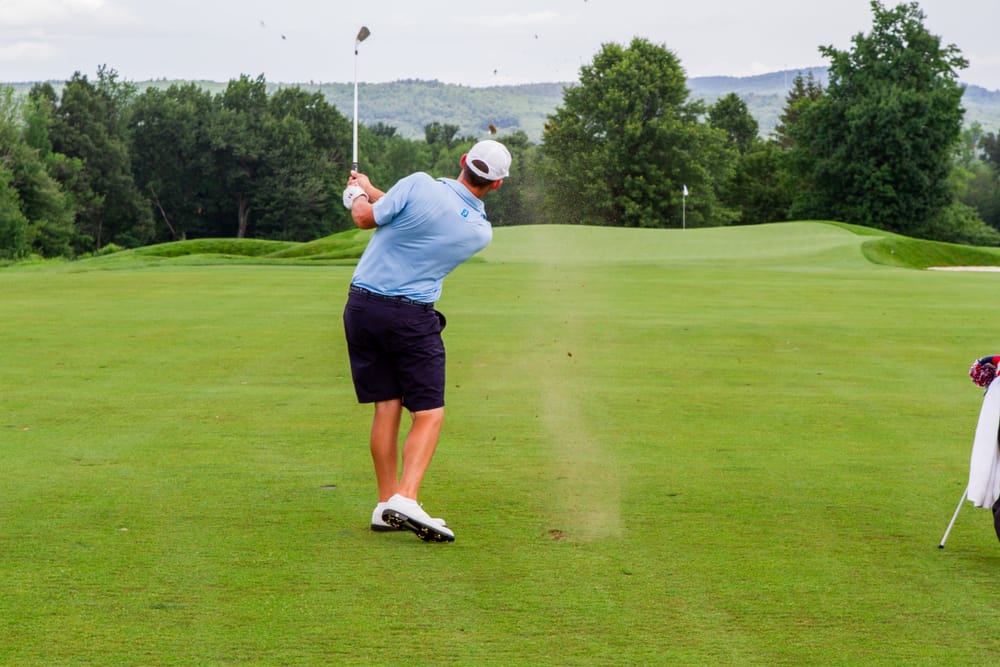 Last but certainly not least is a high finish for the golf club.
If you have completed all the other steps in this process, the high finish will be pretty easy to achieve.
You will want to keep your hands, arms, and body moving toward the target so that the ball can end up high and soft.
The higher finish takes many players a long time to figure out and master.
Most golfers get hung up on the general concept of hitting the golf ball, and they forget that there is more to it than this.
If you have the proper clubhead speed and all of your positions are good, swinging with a high finish is going to be quite easy to accomplish.
The high finish also allows you as a player to get the necessary feedback you need about your golf shot as you watch it travel toward your target.
If you finish and are fighting for your balance, or you feel that the club won't go higher than waist high, you can learn what may have caused these issues.
When you complete the setup for a high iron shot, it should lead to a good takeaway.
When the takeaway is completed properly, it should lead to a good backswing.
Finally, when the backswing is completed properly, you will also see a good impact and finish position.
As you can see, so much of this comes into play because the setup is good to begin with.
A golfer who is serious about the game needs to spend the time working on setup and making sure that it is consistent and solid each time they swing.
Overall, you will be impressed with the differences in ball flights that you can get by sticking with these tips.
Benefits Of Hitting High Iron Shots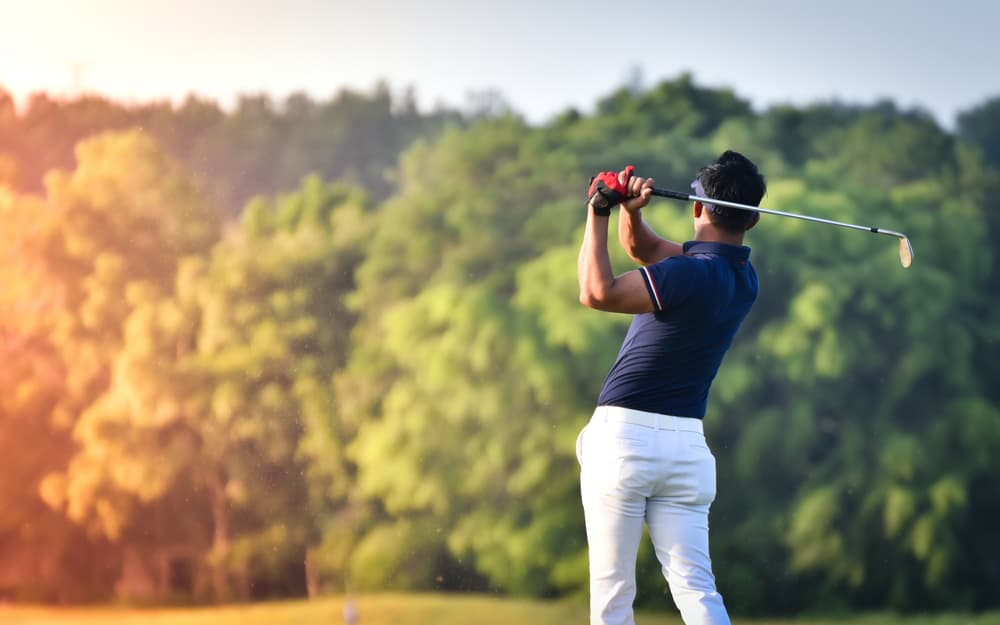 Now that you have all the necessary skills to hit high iron shots, you may be wondering why the high iron shot is such a great benefit.
There are a few ways that hitting high iron shots can help you get the results that you would like to see in your golf game.
1. Get Over Trouble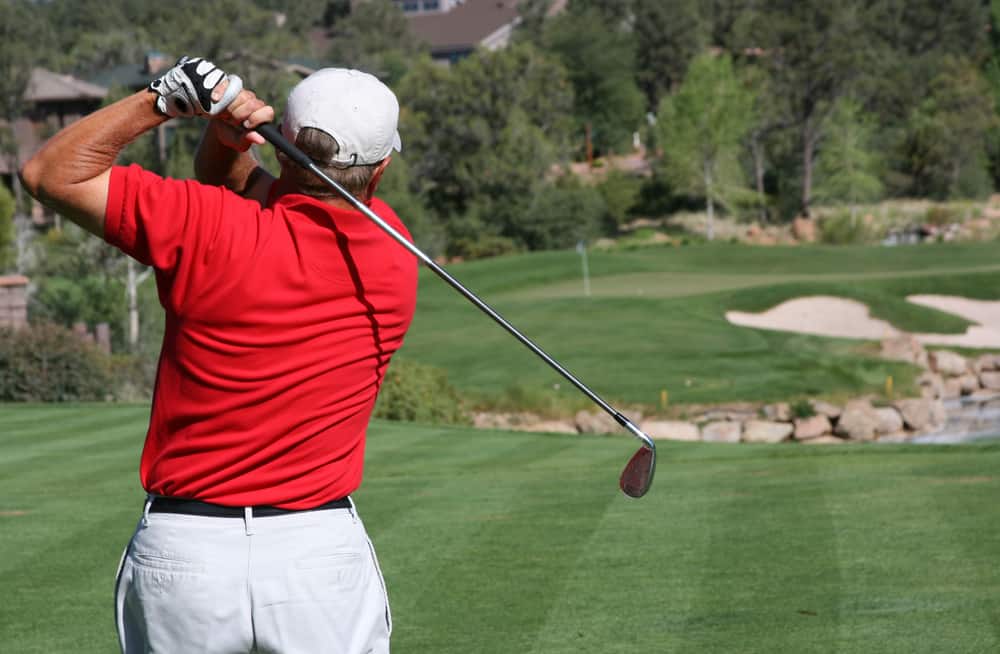 There are specific hazards on the green that are going to require height to get over.
Whether this is an elevated green, a large bunker, or a water hazard that will need you to take the ball quite a bit higher than normal, you will need a high-lofted iron shot at some point to get out of trouble.
Some golfers like to play a variety of bump and run type shots that run their way around the greens.
However, this is not always going to work, and it pays to have a variety of different shots that you can choose from.
2. Stop The Ball On The Green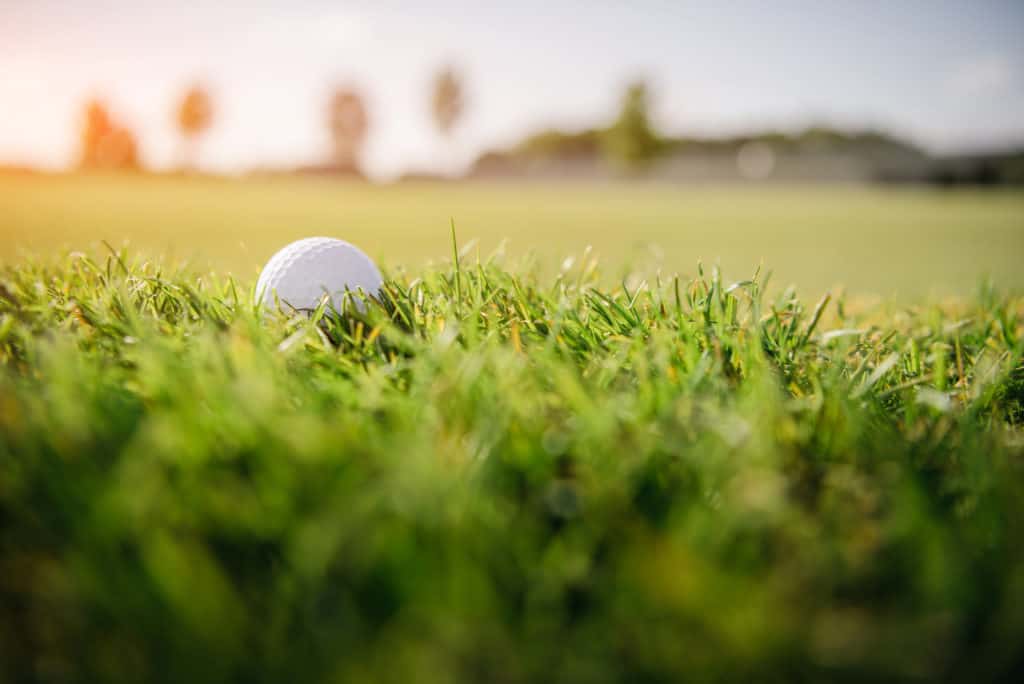 Perhaps the most critical reason behind for a golf iron shot high is to be able to stop it on the green.
Greens are going to have a good amount of speed to them, and they are often sloped.
If you are playing a golf course that makes it difficult for the ball to stop on the green, the ball flight of the shot is going to need to be high.
Higher ball flight iron shots will get to the green and stop or even spin back a few feet.
To get to an accurate position where you can sink the ball in one putt, this is necessary, and it will make it much easier to score if you are able to hit these high-lofted iron shots.
3. Take Advantage Of Downwind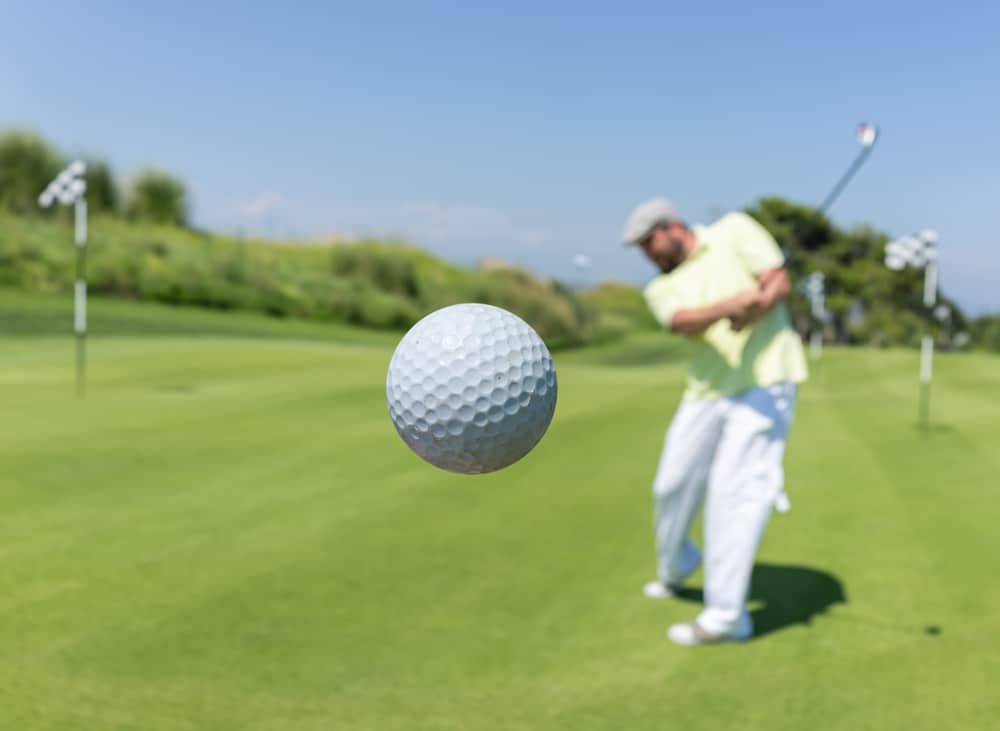 Last but not least, it is good to hit high-lofted iron shots to take advantage of downwind golf holes.
When you are playing on a windy day, there are likely going to be some holes where the wind is in your face the entire time.
If you want to take advantage of the holes where the wind could help you, it pays to be able to hit a shot relatively high.
You can get the ball up in the wind and let it ride down toward the target.
This is an important technique when you are learning to be more accurate on the golf course.
Overall, it takes some time to learn how to play the wind, but having the ability to manipulate the ball flight of your shots will certainly help.
Conclusion
In the end, hitting high-lofted iron shots is a process that all great golfers will learn.
Although you may stick with a more centralized ball flight most of the time, it doesn't hurt to know how to hit the ball high.
The higher the iron you can hit, the better you have of pulling off the exact shot you need.
It's a good idea to learn how to hit iron shots low so that you have various performance options available to you.
This is the only way to eventually become a low handicap player.