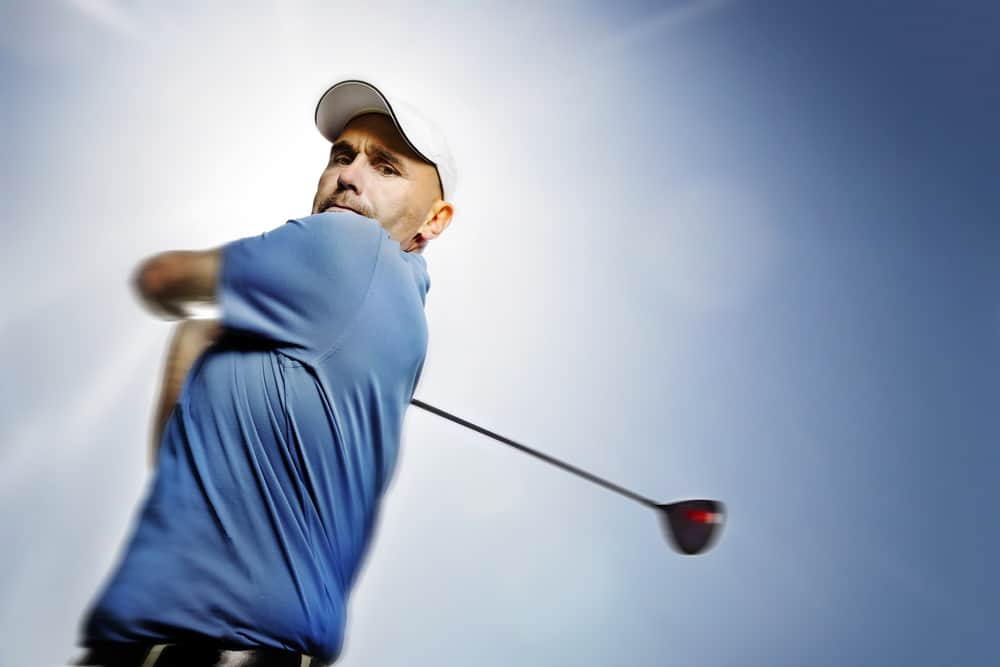 If you have spent any time around the game of golf, you know that it can be different for each player.
Golfers of all sizes will have to manage the equipment and the courses that they have access to.
Big guys can be considered those who are taller, have some extra weight on, or have large upper body muscles.
The way that big guys can swing the golf club will often be a bit different than those who are smaller in size.
The most important thing to remember is that the golf swing is not the same for every golfer.
It is essential to find a system that works for you.
Here are twenty tips that we have found to work quite well for the golf swing of big guys.

Golf Swing For Big Guys (20 Tips)
1. Custom Fitting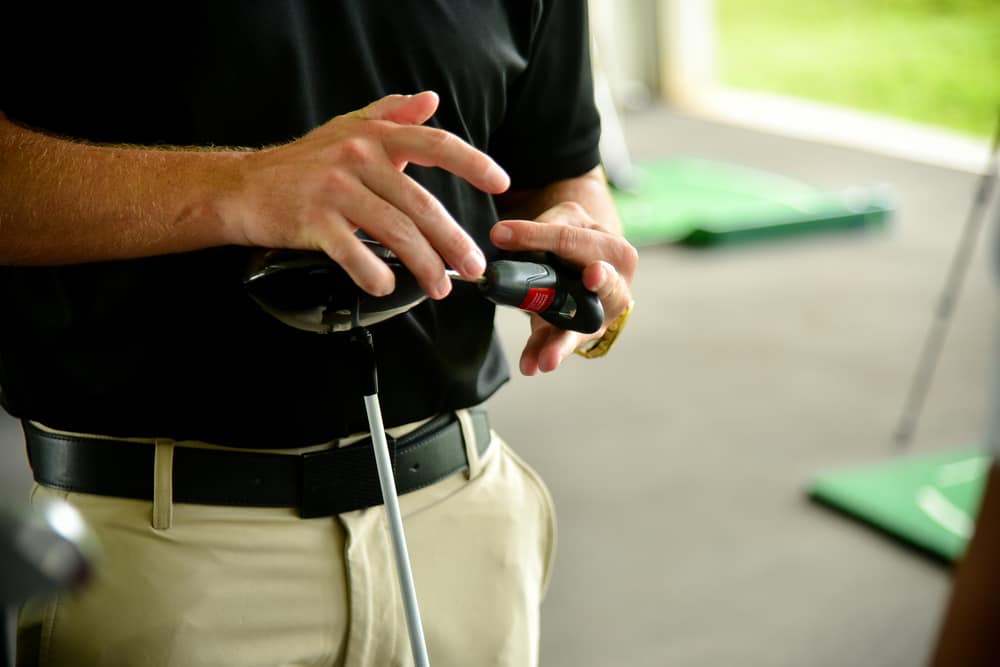 Ensuring that you have the right equipment in your golf bag is the first step in becoming a great golfer.
If your golf equipment is not built for your needs as a bigger guy, you can experience issues with the clubs breaking.
In addition, big guys tend to have quite a bit of power, and that power should be used to help improve performance, not inhibit it.
Go for a custom golf fitting and get the right clubs in your bag.
2. Work On Balance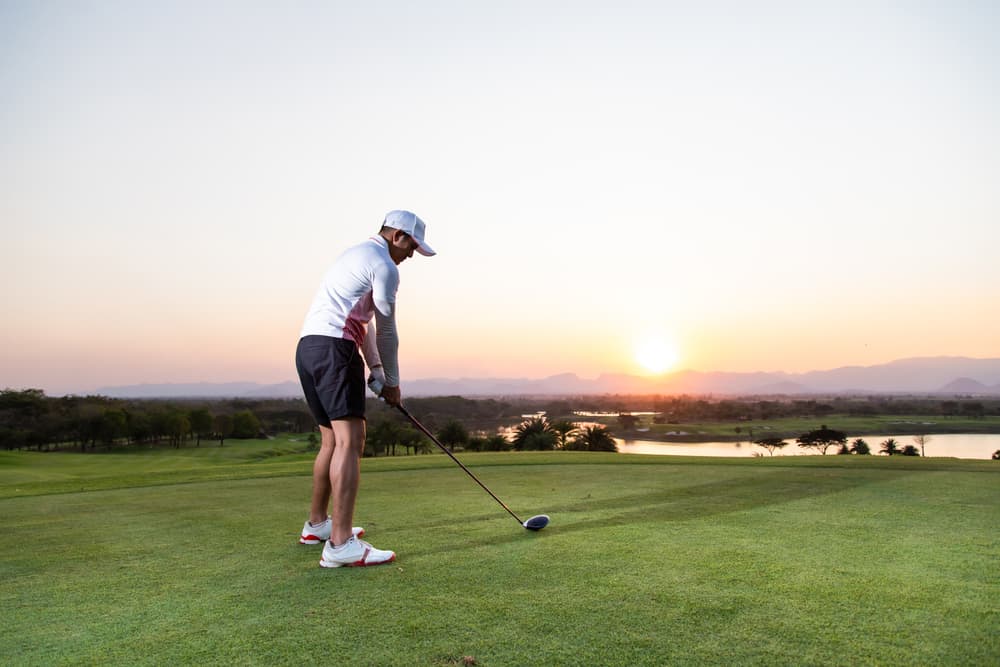 Regardless of your size, it is essential to have outstanding balance in your golf game.
Working on balance ensures that you will be able to use your power and still hit quality shots on the center of the clubface.
Sometimes working on balance includes heading to the gym and strengthening leg muscles.
In addition, balance can have to do with coordination, timing, and tempo.
Never swing outside of your abilities, and you will have a much easier time staying balanced when you swing.
3. Check The Weight Of The Clubs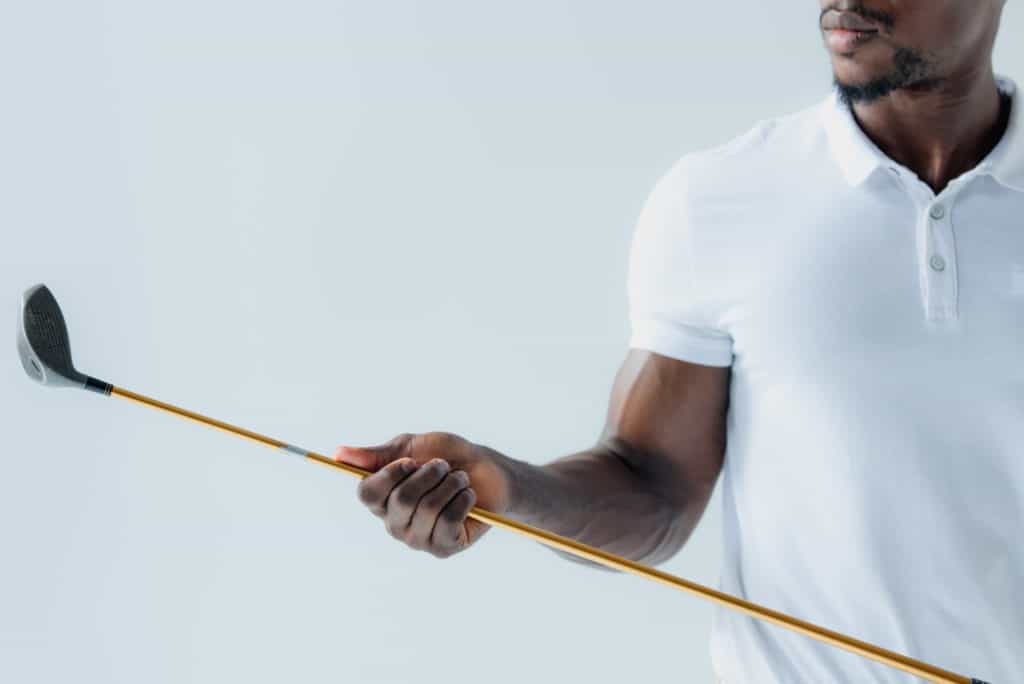 Big guys are likely going to need heavier golf clubs.
The overall weight of a golf club is typically quite light.
If the weight of a golf club gets too light, it can cause issues with the swing speed, tempo, and coordination.
The custom fitting will help you learn if your clubs are the proper weight for your game.
If they happen to be a bit too light, you can add some lead tape to the club heads to help control their abilities and get them to hit the ball just a bit further.
Remember that a fast swing speed is good, but it needs to be in control as well and sometimes this takes a slightly heavier golf club.
4. Less Movement Away From The Ball Is Better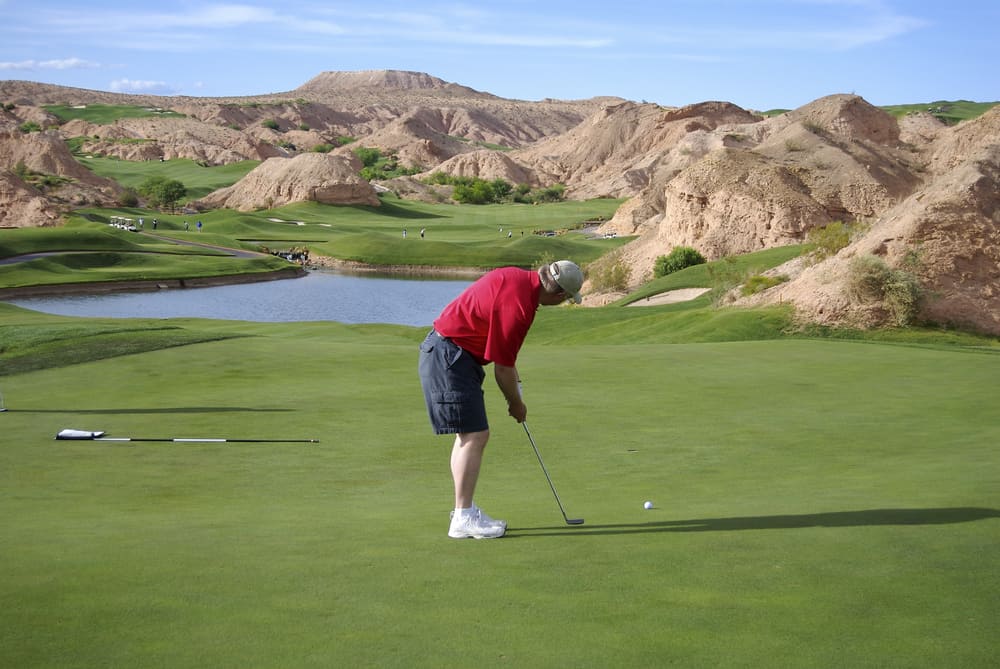 Some golfers make a large movement away from the ball when they swing.
You can witness their head moving back and behind the golf ball to try and load up power.
For big guys, the less movement in the swing, the better.
Try to stay more centered over the golf ball and make an efficient turn.
Moving away from the ball means that you will have to move back towards the ball, and this is where inconsistency issues will show up.
5. More Flex In Arms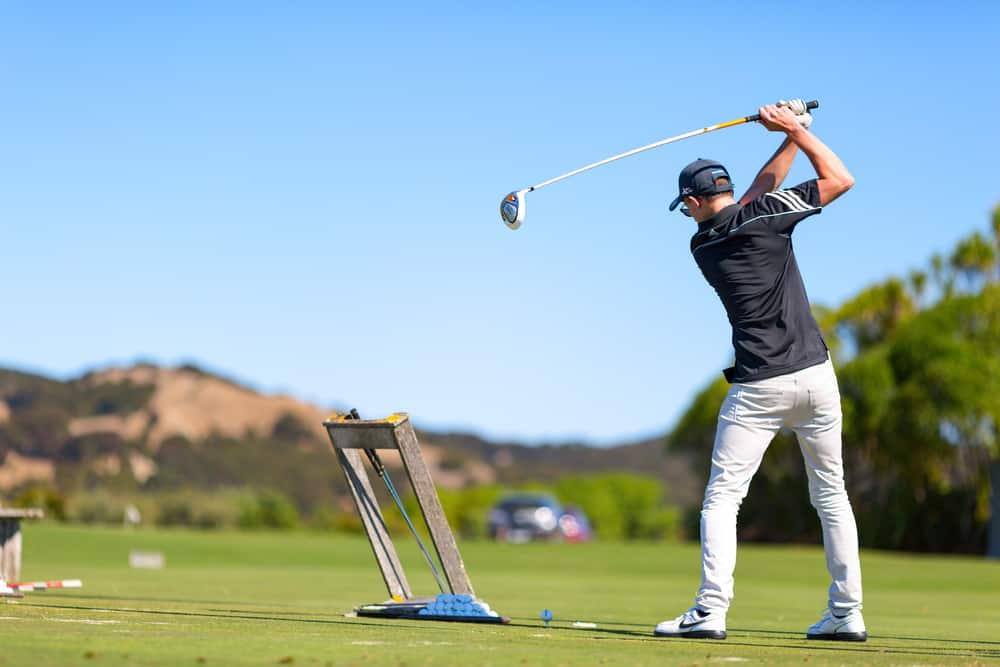 One of the most common misconceptions in the world of golf training is that the left arm needs to be held straight at all times.
Some big guys will have a hard time doing this and keeping the club on the proper plane.
As long as you feel as though your arms are extended through the impact position, you should not have a hard time making consistent contact with the ball.
Remember that the idea of a left arm straight is more of a guideline than a hard rule.
Golf swing needs to be adapted to work for the player with the club in their hand.
6. Check Setup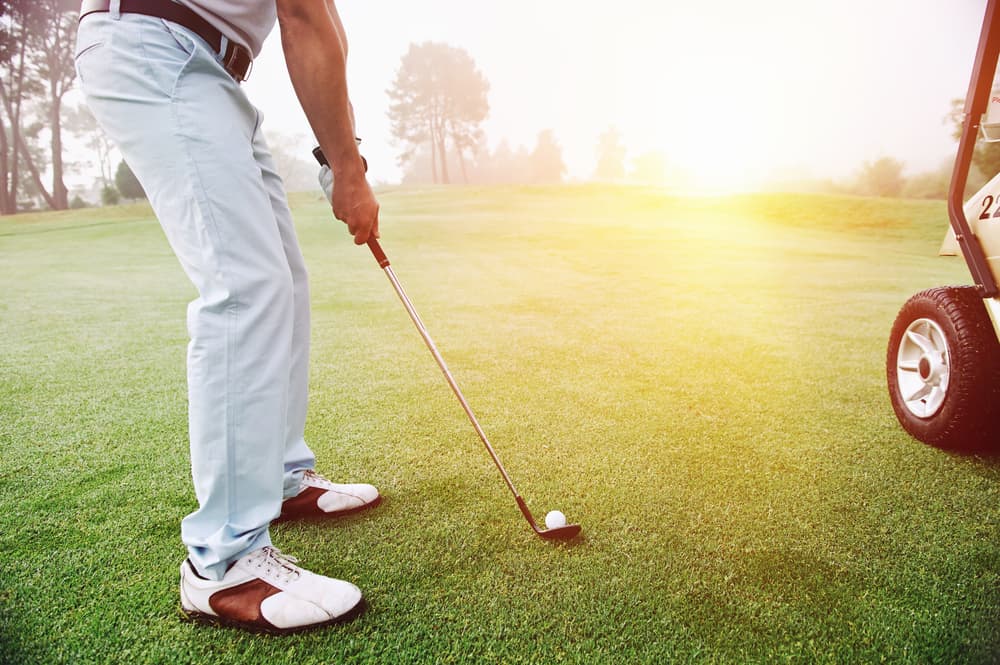 Big guys will have to adjust their setup to ensure the proper golf swing.
Setup will include the distance from the ball, hip direction, shoulder direction, hand placement, and more.
If your body restricts you from getting into certain positions at setup, you may have to make some adjustments to your overall golf swing.
Try to get your setup as square and comfortable as possible.
Some big guys have to allow their left toe to open a little towards the target as this can sometimes be the only way to properly rotate through a golf shot.
7. Ensure Proper Posture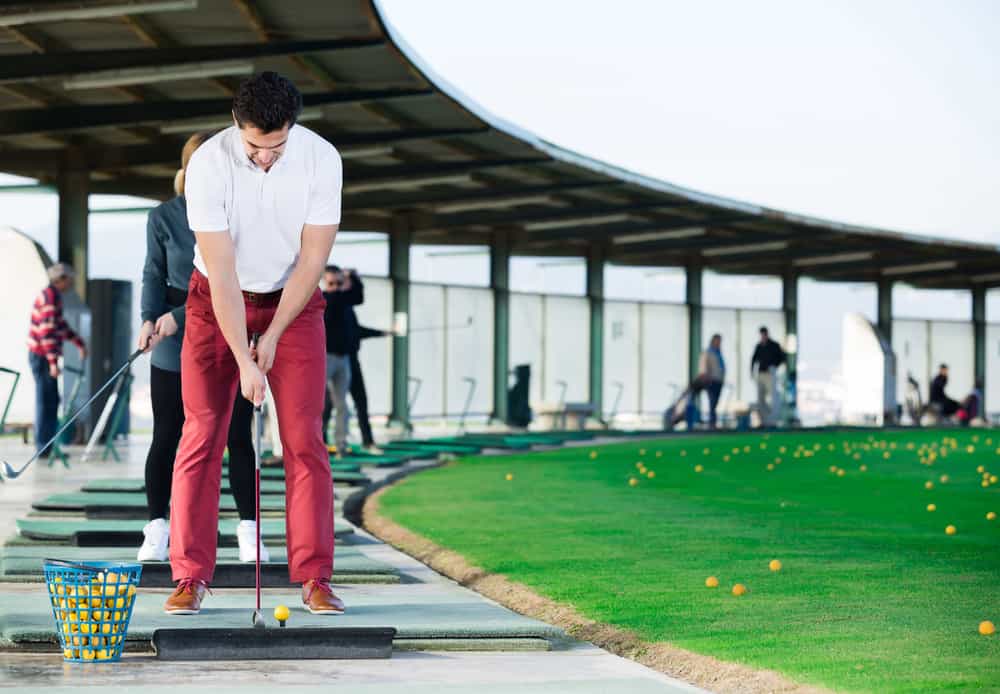 The posture is another important part of a golf swing for big guys.
Many big guys reach for the ball way too much.
In golf, a golf ball can get close to you, and it will help to ensure that your swing can stay on the proper plane.
When you reach for the ball, it throws your spine angle off.
Reach for the ball enough that you have room to take the club back on the proper swing plane, but don't overdo it to the point that you have your arms extended at setup.
When you are reaching for a golf ball, it becomes difficult to get the proper ball flight.
8. It Doesn't Have To Be By The Book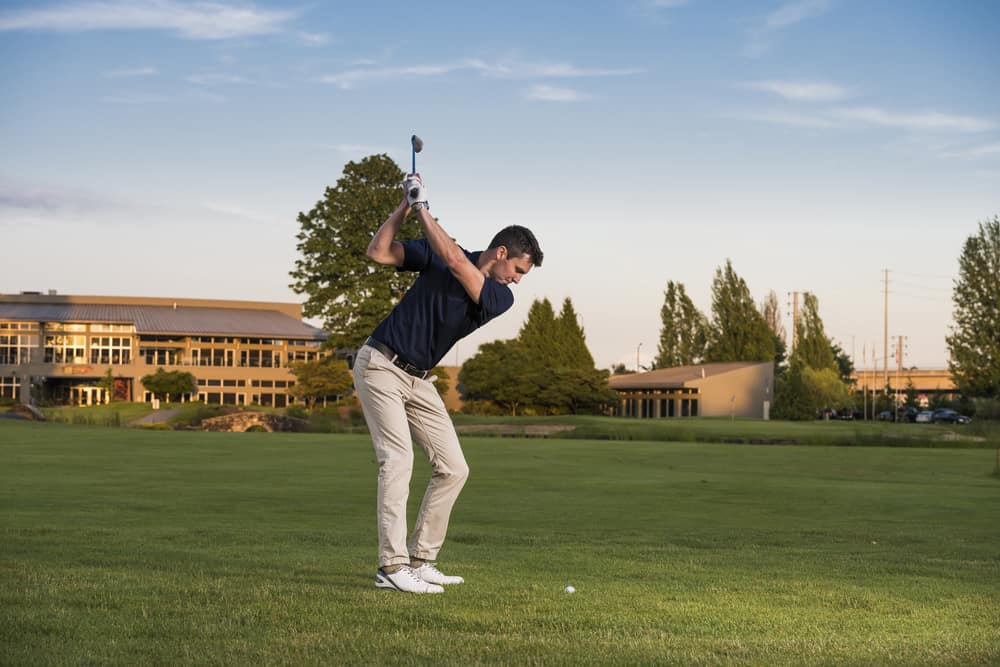 If you have ever watched a round of golf where professionals are competing, you most likely noticed that their swings are pretty different.
There is a perfect golf swing, but this does not mean that all golfers will be able to obtain it.
Big guys can use unconventional methods and still get the same great results.
The most important thing to consider is that the methods you choose are consistent.
Inconsistency is one of the biggest issues for the bigger golfer, and keeping your motion the same with each and every swing is essential.
9. Less Swing More Power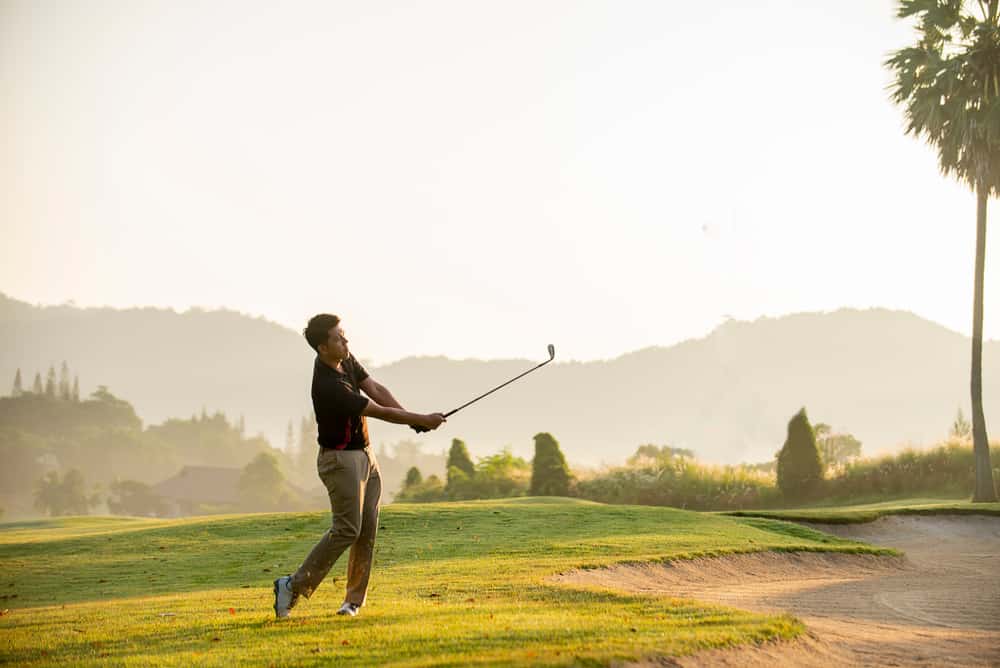 There are some advantages to being a bigger golfer.
You should be able to take a smaller and more compact golf swing and still generate a ton of power.
In fact, big guys are better off making a more compact motion and accepting the power that comes along with that.
Chances are the distance is not going to be an issue as long as the club head is applied to the ball properly.
Try to get yourself to understand that more swing does not always mean more power.
10. Spend Extra Time Around The Greens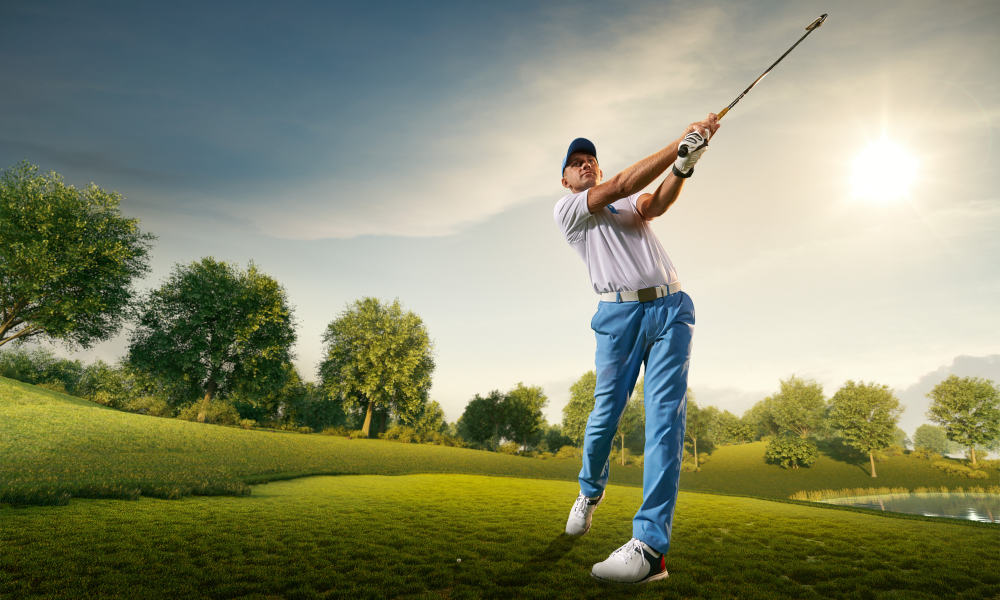 Big guys can struggle when it comes to the short game.
The short game can require finesse and perfection as well as a soft feel.
With big guys, these things can be a bit more difficult to achieve.
Therefore, it makes sense to spend some extra time working around the greens.
Learn how to hit small shots that land softly.
Ensure that the grip is not too tight on the club and that your movements are a bit more fluid than they would be with a driver or iron in your hands.
Big guys can become great around the greens, but it will likely take a bit more practice.
11. Ensure A Weight Transfer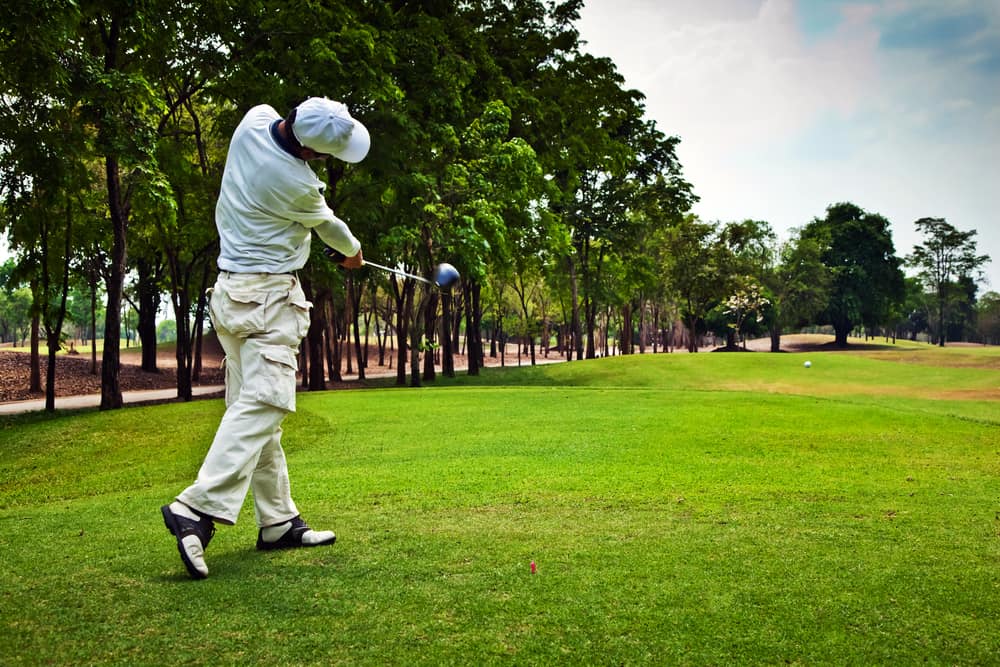 Try not to get so focused on the motion of the golf club itself that you forget to incorporate your body into the golf swing.
Golfers need to ensure that they have a proper weight transfer from the setup to the back foot through the follow-through.
Try to practice swinging with a weighted medicine ball or a weighted golf club.
Feel the pull through impact and how you must transfer your weight to be able to hit the golf ball while in balance and stable.
Ensuring a proper weight transfer means that golfers will have a more efficient golf swing.
12. Focus On Perfect Grip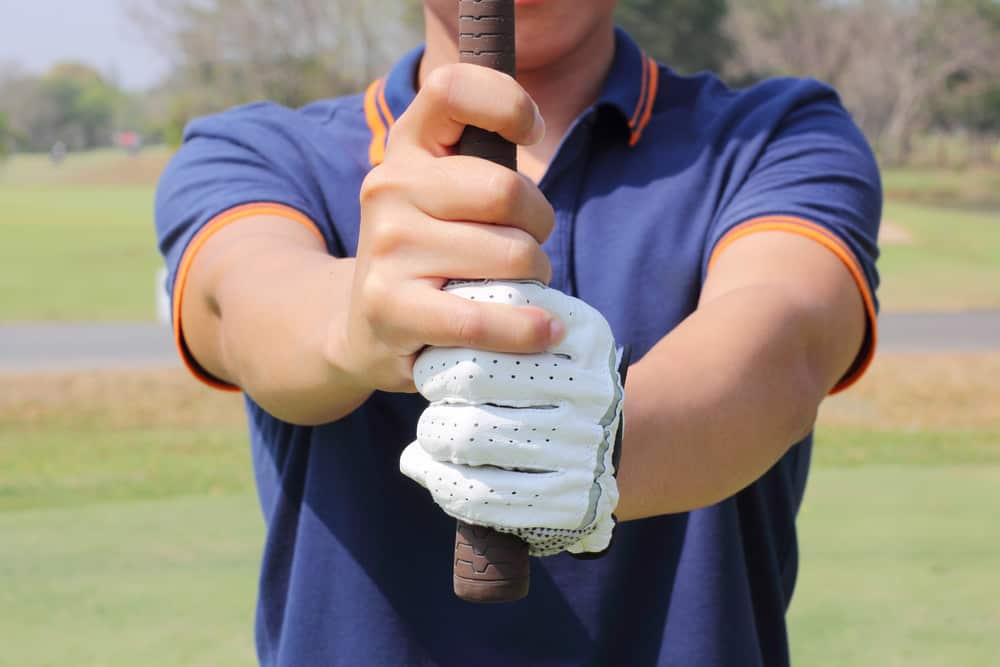 It really does not matter what your size is; you can work on perfecting and improving your golf grip.
The golf grip is the only connection we have with the club.
Our grip can impact the swing path and plane of our clubs, and it is essential to get it right.
Big guys should consider getting midsize or oversized grips on their clubs.
The smaller grips sometimes get the hands overly involved in the golf swing.
This will cause a lack of power and consistency in the shots.
13. Try Not To Manipulate Clubface With Hands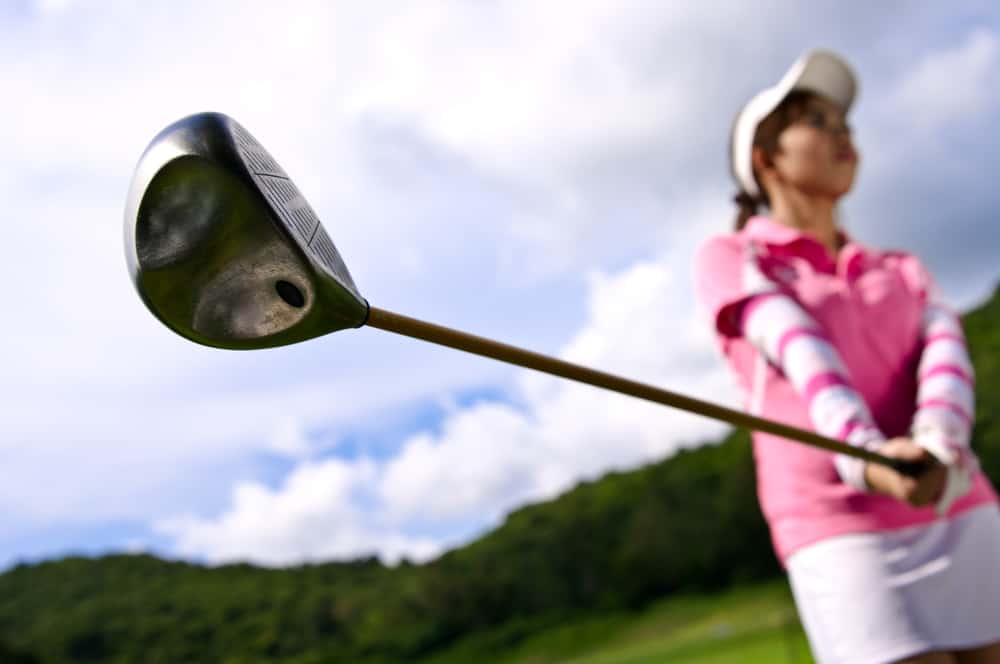 Many big guys will try and use their strength and power to manipulate the face of the club.
Instead of taking the proper swing, they kind of slap at the ball in hopes of hitting it straight.
With golf, this is very hard to repeat.
It is better to try and put your strength to the side and work on fundamentals.
Get the club into the proper position, transfer the weight and finish facing the target.
This is much easier to repeat than turning a golf club in your hand while you are playing.
14. Low And Slow Takeaway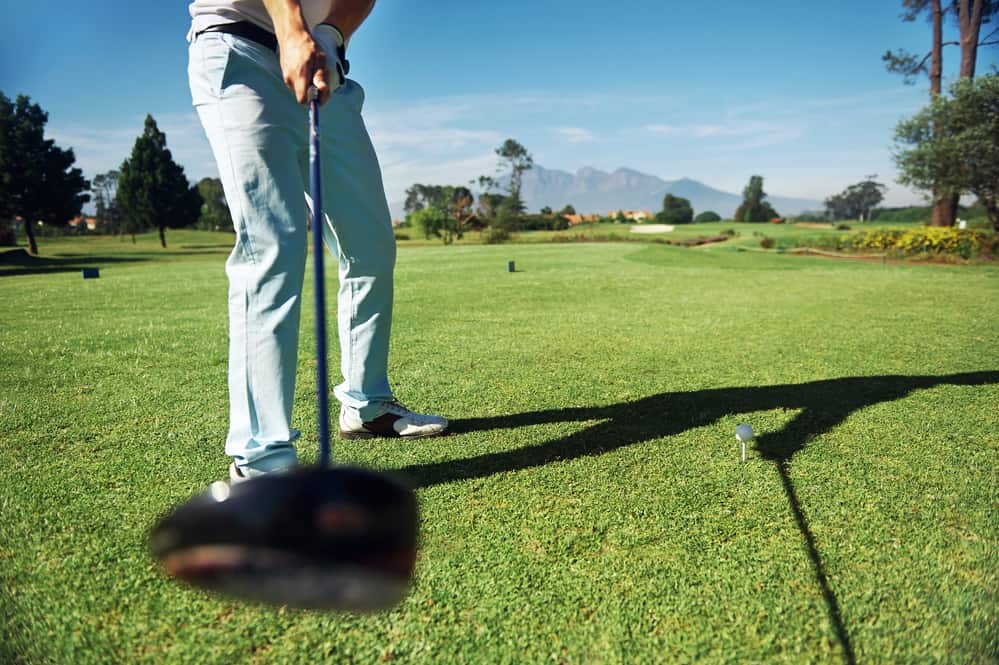 The low and slow takeaway is one of the best golf swing tips for any player.
When you take the club back low and slow, you will help to ensure a better tempo and a better swing path.
The low and slow takeaway does not need to be dramatic, simply don't whip the club back with your hands as soon as your setup feels right.
Try to make this a bit more of a calculated move, and you will see much better overall results.
Many golfers feel as though the low and slow takeaway helps them feel the club is a bit heavier in their hands, and this helps to ensure that tempo is quite a bit better.
15. Steel Shafts
Big guys should almost always use steel shafts in their clubs.
There is no question that a big guy can get enough power. The bigger issue is typically about control.
Steel shafts in irons and wedges will help players develop much more control and consistency in their game.
Steel shafts come in a variety of weights and lengths.
This just further proves the point that a custom fitting for golf clubs is probably going to be a necessity for big guys.
The steel shafts will help the club stay on the plane and release at the right time.
16. Length Does Not Need To Be Parallel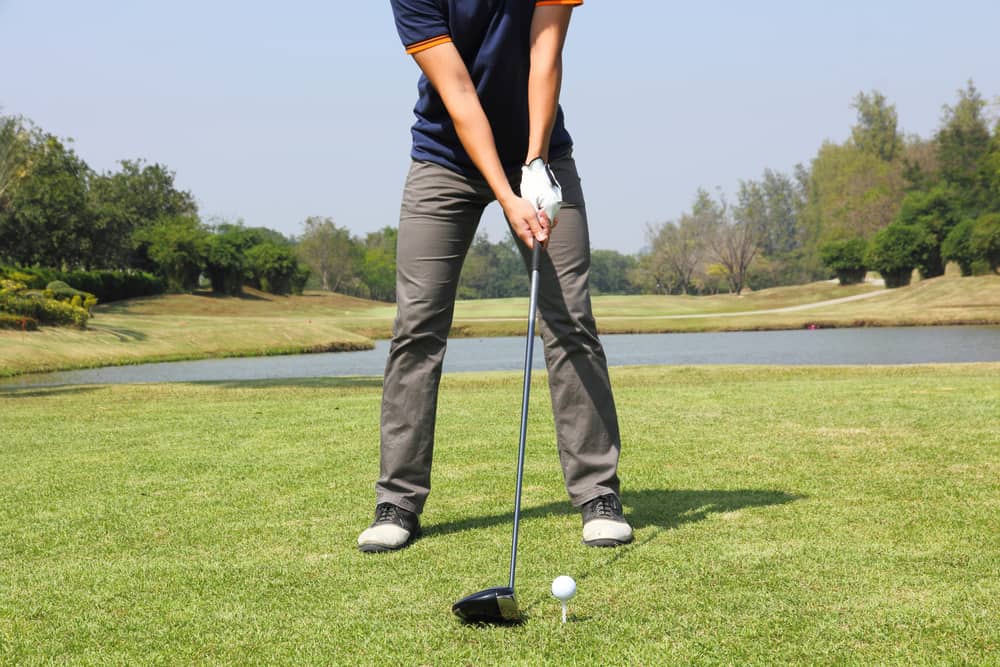 Every golfer wants to know how far they need to swing the club back.
The more you talk to golf professionals, the more they will tell you that this is not the most important aspect of the golf swing.
Ensuring that the club is on the proper plane is much more important than the length of the swing.
If you are struggling with the length of your golf swing, give up the idea that you need to get to parallel at the top.
Many big guys don't have the range of motion to get to this position, and you can still play a really great game of golf without getting to the parallel position in the swing.
17. Try Stack And Tilt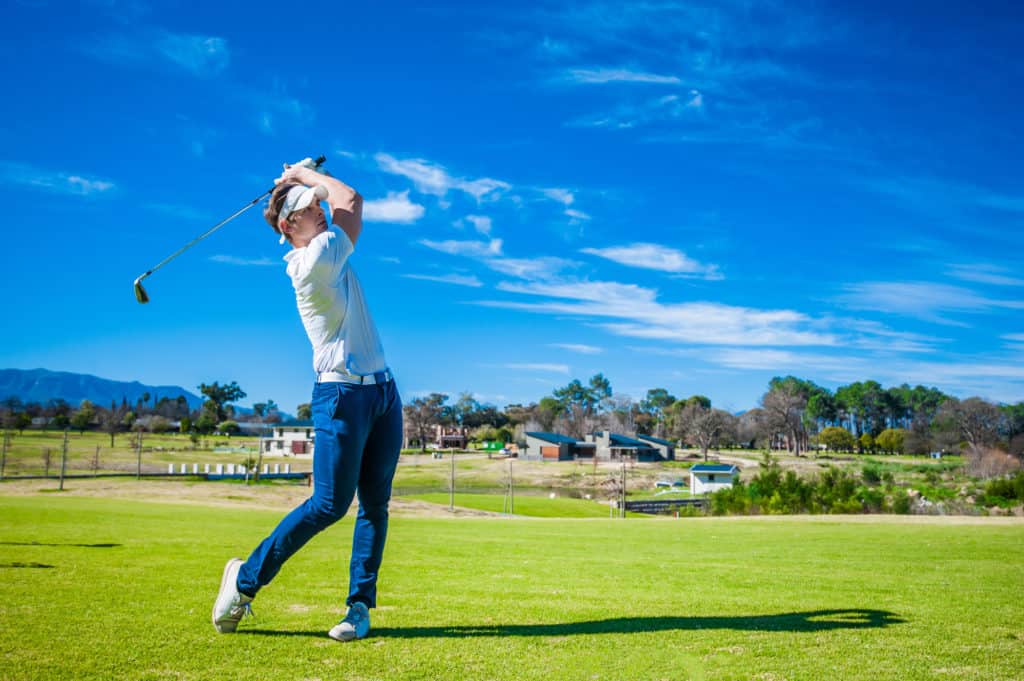 The stack and tilt golf swing is a bit different than a traditional golf swing as the weight stays mostly fixed on the left foot of the swing.
The stack and tilt method is an entirely different golf technique that will force you to feel as though you are relearning your golf game.
However, for a newer golfer who also identifies as a big guy, the stack and tilt method can generate quite a bit of consistency.
Try to watch some videos of golfers using the stack and tilt method and see if it could help your swing and motion.
18. Don't Always Choose The Driver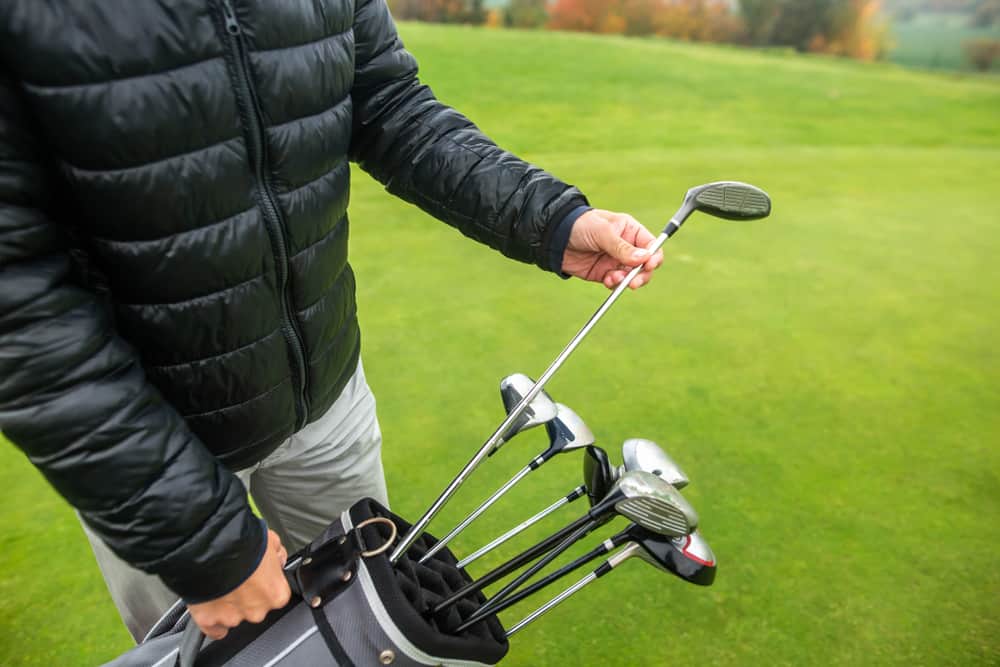 As we have mentioned several times, consistency tends to be an issue for big guys.
If you stand up to the tee box each time and try to hit a big shot with the driver, you could struggle with consistency and control.
There are other clubs in the bag you can use from the tee.
Try taking a fairway wood or a hybrid on a shorter par 4.
If there is a hole with quite a bit of trouble on it, don't be tempted always to choose the driver because, in the long run, it won't help you to get the extra yards.
19. Improve Golf Muscles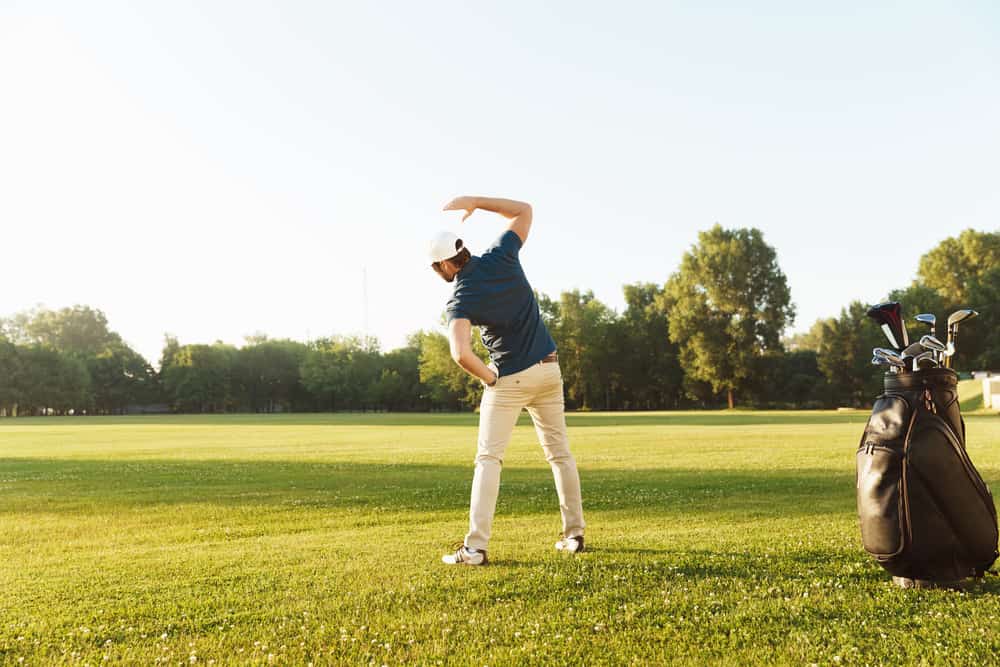 Certain muscles help golfers perform.
If you are using these muscles, you will become a more accurate player.
Big guys need to ensure that they are working out the proper muscles to help them be better golfers.
Talk to a golf coach or fitness trainer about what exercises you can do to improve golf power and flexibility.
Each sport will have different guidelines, and golf is certainly unique in that it uses so many muscles in each and every swing.
20. Loosen The Grip When Putting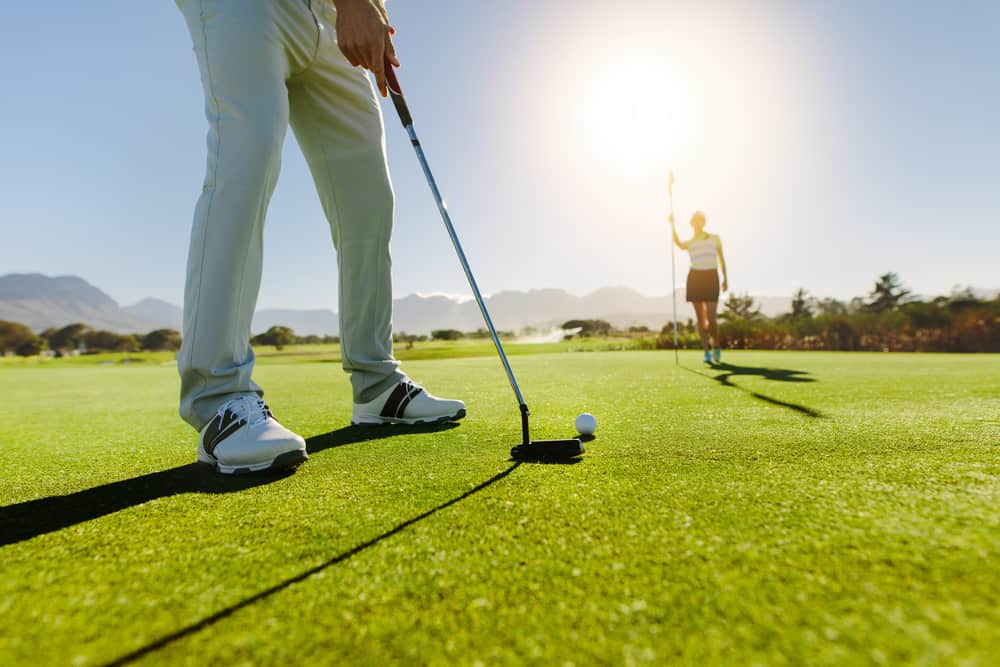 Last but not least is the putting stroke or putting swing.
Big guys tend to overpower everything around the green, and that includes putting.
One of the simplest ways for big guys to get better at putting is to loosen their grip.
When you grip the club too tightly, the overall result of the stroke is likely to be less accurate.
Putting takes feel and finesse, and to accomplish these things, you will need your hands to be soft on the club.
Loosen the grip and focus on keeping that loose grip throughout the impact of the putt as well.
Although these tips are geared towards big guys, they are going to help any golfer looking to improve their game.
Conclusion
For many years, golf was not considered a sport that big guys would want to participate in.
The golfers who were making money on tour looked more like runners than anything else.
However, the world of golf has changed quite a bit, and now there are plenty of opportunities for players of any size.
One thing that has made this possible is the introduction of different shaft technology.
Big guys now have shaft materials and makeups that will work for their power and their swing.
Having to accommodate your swing to work for the equipment you have is very difficult.
However, this is no longer the case.
In addition, golf has become more of a power sport, and that is giving big guys a distinct advantage.
There is no question that big guys can get more power as long as they can correctly apply it to the golf ball.
Taking time to learn the proper fundamentals will ensure that your power is being used the right way.
Once you incorporate feel into the short game, there will be no stopping you.