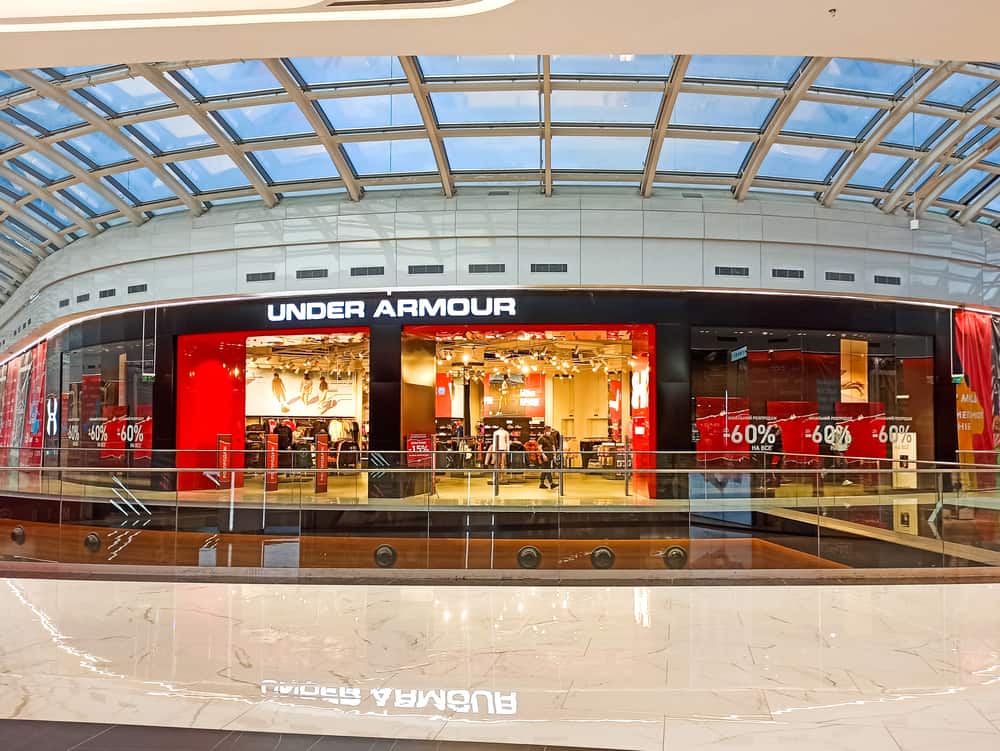 Playing golf in the winter months is not always the most enjoyable.
Golfers typically try to cram as much golf in as they can during the summer, but this is not entirely possible in some areas of the country.
This is where it becomes important to be prepared for winter weather conditions.
The winter weather means that you should look into brands that have cold weather gear available for people to use.
One of those brands is Under Armour.
If you are looking into some Under Armour clothing to get you through the winter season, we have all the information you will need.
Now is the time to prepare to get yourself through a winter golf season.

Does Under Armour Keep You Warm?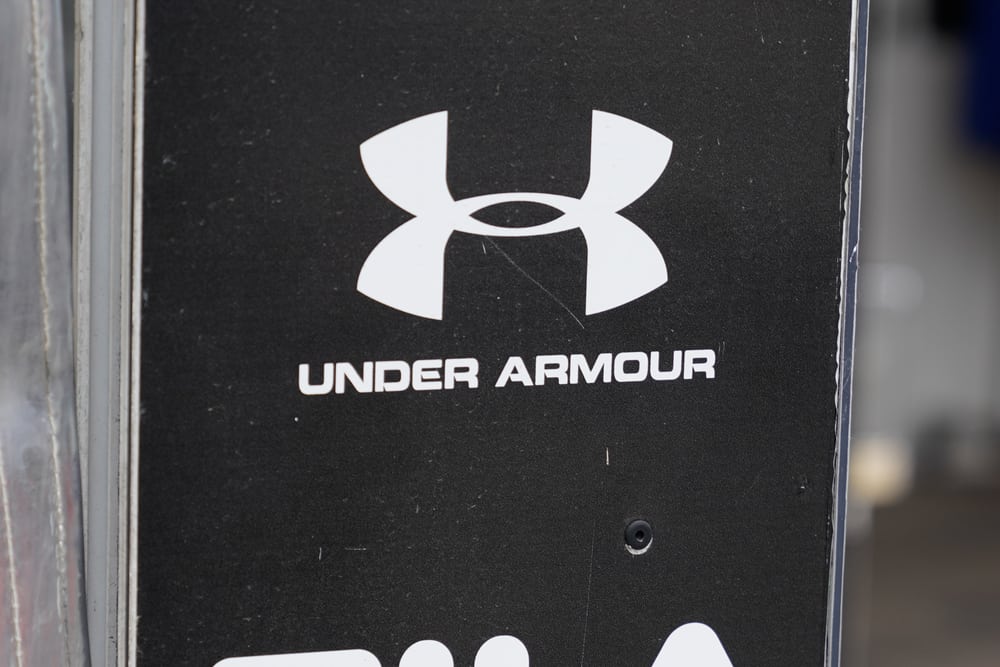 Under Armour will keep you warm if you are taking advantage of the Cold Gear technology.
Under Armour is a brand name and the brand creates quite a few different articles of clothing.
The Under Armour clothing is for any sport from skiing to golf to biking.
However, each of their different fabrics has unique performance benefits.
You should be able to find Under Armour gear made specifically for playing golf, and that is the best bet to go with.
The Under Armour gear made for golf will allow you to swing your golf club freely without your clothes and gear getting in the way.
Under Armour Cold gear has a unique fabric makeup that is designed to give players the warmth they need while absorbing moisture.
There are, of course, situations where you could end up getting too warm and then sweating because of the equipment you have on.
Under Armour does a great job of trying to keep this from happening and keep players much more comfortable in the gear that they have on.
Overall, Under Armour will keep you warm as long as you are wearing the proper equipment and at the right time.
What Temperature Is Under Armour Cold Gear For?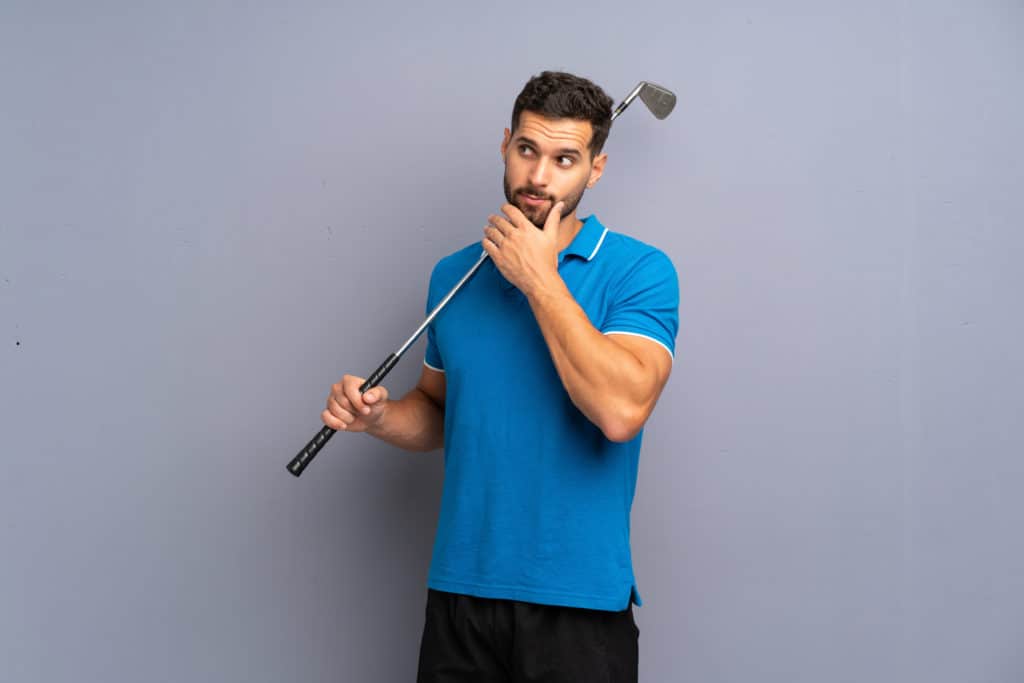 Under Armour cold gear is designed to be used in temperatures that are less than 55 degrees Fahrenheit.
Many golfers will play well into the winter months when temperatures drop below 40 degrees.
For the most part, golf courses will stay open in the winter, but there could be delays if there is a frost.
Some courses may also ask you to walk as opposed to ride the course so that the grass does not get damaged in any way.
Overall, the temperatures that Under Armour Cold gear helps with are those days when the air is damp, and there may even be a bit of a wind chill.
However, if the course is dry and you feel up to it, this is a great time to get out there and enjoy some golf on a course that will likely not be all that crowded.
Under Armour Cold gear is worth the investment if you live in an area where it is cold during the winter and fall.
Many golfers have a golf club membership that they pay for all year long.
If you are paying for a membership but can't use the golf course, things can get really frustrating.
You can fix this by wearing golf gear that helps you extend your golf season.
Tips For Playing Winter Golf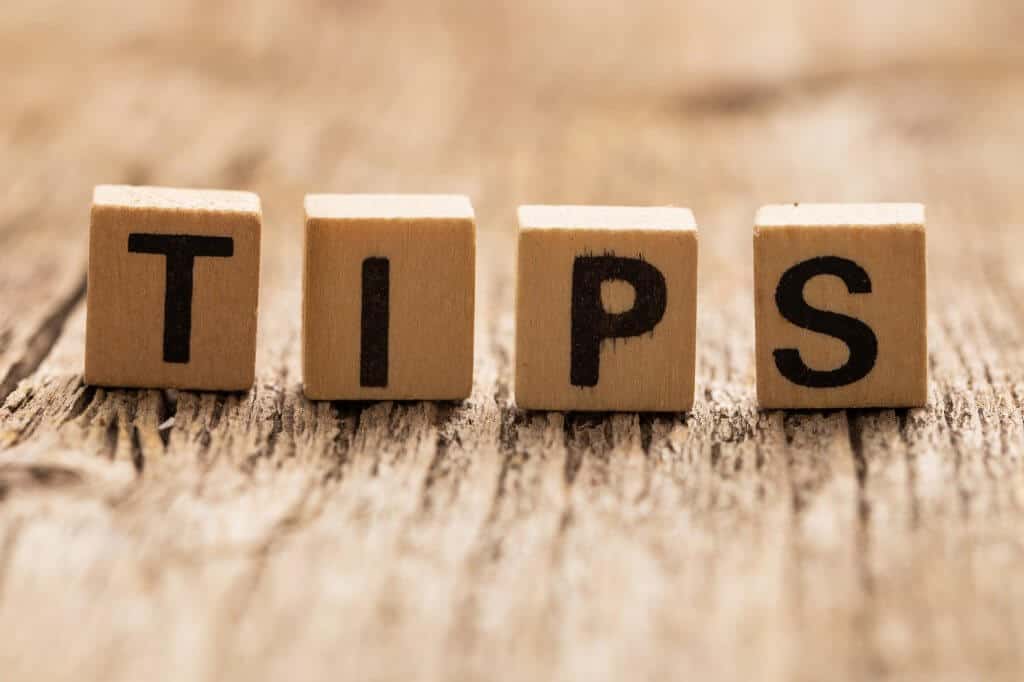 If you know you want to play some golf this winter but are worried about how to stay warm and enjoy your days on the course, we have some suggestions for you.
Here are some of the best tips for staying warm during winter golf.
1. Walk The Course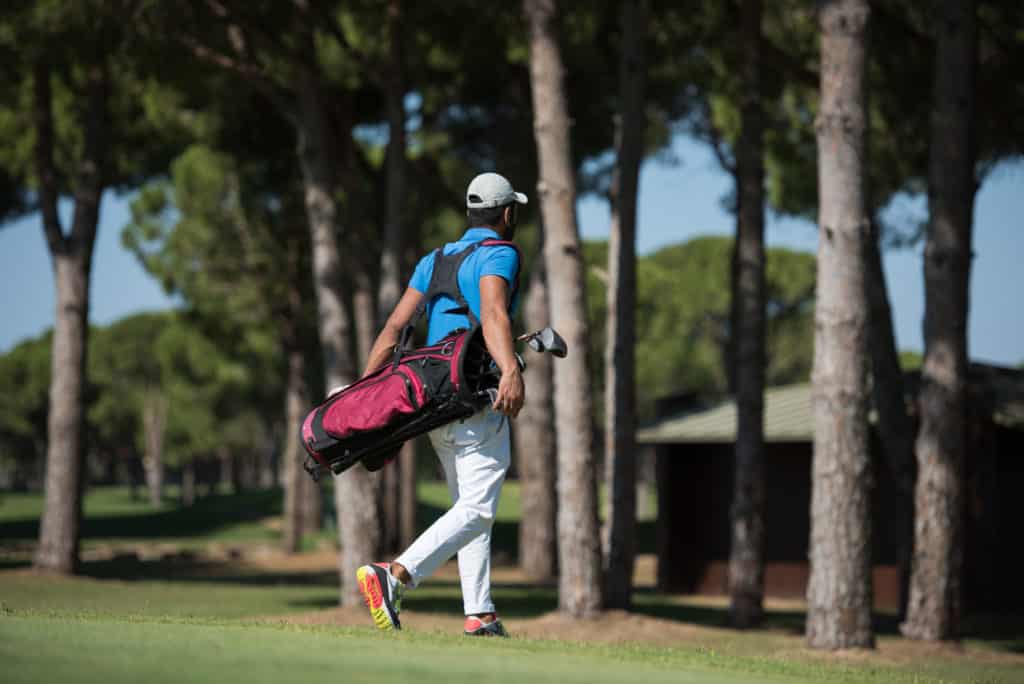 One of the best ways to stay warm during winter golf is to walk the golf course.
Walking the golf course will keep you warmer as you are burning calories and moving your body.
In addition, you will be able to avoid the wind chill that you get from riding the golf course in a golf cart.
Walking the golf course is a great way to stay in shape over the winter as well.
Even though there are not traditionally as many ways to burn calories in the winter, golf can still be one.
Overall, walking the golf course typically helps players learn how to improve their mental game as well.
Walking the golf course makes it much easier to focus on your golf shot and think about what you are doing prior to hitting.
With riding the cart, you will probably be distracted and talking about other things as you get closer to your golf ball.
If you can make a habit of walking the golf course during the winter, chances are you will have no problem walking it during the summer months as well.
The transition from riding golf to walking is going to be a big one, and it will probably change the way you think about the game of golf.
2. Winter Gloves
The worst part of winter golf is when your hands get cold, and you can't get them warmed up.
This happens quite quickly, and it is from not having the proper gloves on your hands.
Therefore, a good pair of winter gloves is a great option to consider.
Winter golf gloves are heavier than a typical golf glove, but they are still made to be worn as you play golf.
In addition, the winter golf gloves are going to be worn on both hands.
By wearing the golf gloves on both hands, you should be able to feel that you have a good connection with the club and that each of your hands feels warm and in control.
Golfers who play golf in the winter months should purchase a set of winter golf gloves and put them in their bags.
If you have a pair of winter golf gloves in your bag, you will probably find that it is a quick fix for those cold temperatures and when you first make your way out on the golf course.
When you are playing, and the temperature starts to warm up, the winter gloves will help you feel as though you have some control over how your hands feel.
3. Hot Hands
Hot Hands are like little hand warmers that you can keep in your pocket during a round of golf.
The Hot Hands end up making your pockets feel like mini heaters.
With the Hot Hands in place, you can reach into your pocket and feel as though you are warming your hands each time.
The Hot Hands should last for about the duration of your round.
It is hard to have a great feel on your iron and wedge shots when your hands are freezing.
Sometimes this little bit of warmth from the Hot Hands will be all that you need.
4. Rain Gear
Great golf rain gear can be expensive.
However, if you purchase the rain gear for those wet days on the golf course, you may as well use it for the cold weather, too.
Golf rain gear is intended to allow players the ability to easily swing the club and get through the golf ball, even while being covered in gear.
Therefore, the rain gear is a layer that you can easily add to your clothing, and it helps to keep you quite a bit warmer.
So many golfers have jackets designed for golf, but not too many companies sell pants built for the warmer weather.
It makes sense to consider golf rain gear as this is a pair of pants that you can easily get on and off as the weather changes.
You will have no issues walking or swinging with your rain gear on, and it just increases the amount of warmth that you have.
In addition, if the weather gets rainy or windy, the rain gear knows just what to do to keep you comfortable and protected throughout your round.
5. Hat
A hat will help you regulate your temperature on the golf course.
If you need scientific proof of this, you can consider how they put hats on babies in the nursery at the hospital.
This is done because a lot of the heat that we have in our bodies will leave through our heads if we let it.
Therefore, it makes sense to have the proper golf hat in your bag at all times.
Many players will use a winter hat that is built to be a bit more like a snow or ski cap.
Companies such as Titleist and Callaway make these hats and offer them for sale with all the other hats that they provide for golfers.
You would be amazed at how much of a difference a hat can make for golfers who are playing in the winter months.
Baseball style caps are the second-best option, but if you have the chance to wear a winter style hat, it makes quite a bit more sense.
6. Warm Up Prior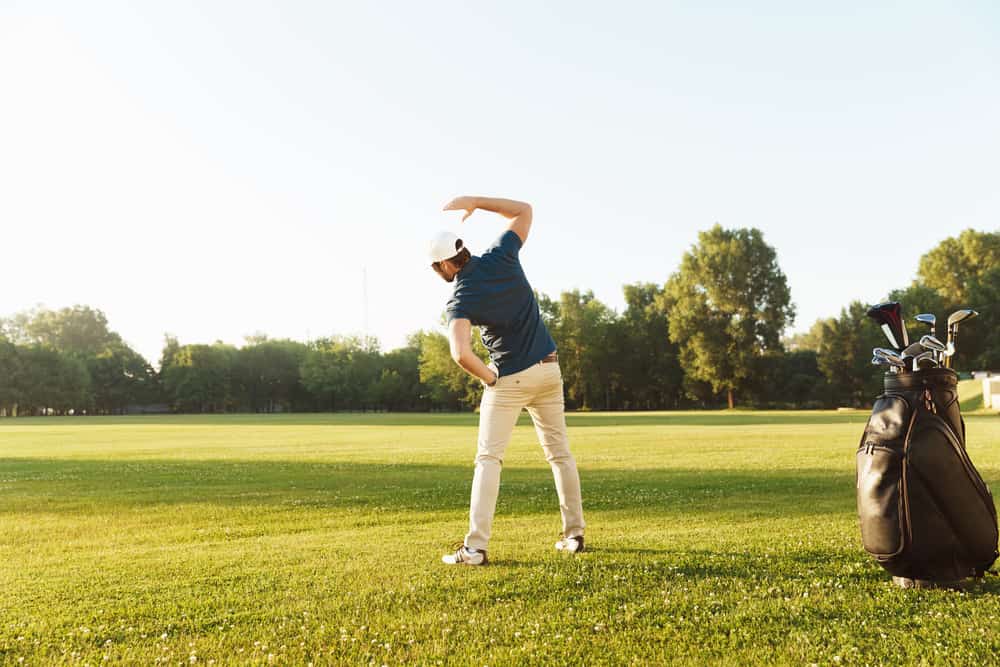 When you don't warm up before a winter round of golf, you could end up hurting yourself.
When the weather is cold, our bodies do not react as quickly, and they are much stiffer and tighter.
To avoid complications with this, it makes sense to warm up prior to your round of golf.
This can be as simple as stretching or hitting 20 golf balls at the range, but the bottom line is that you must take a few swings and get yourself warmed up and ready to hit again.
Warming up prior to a golf round is essential to help you avoid injury and get your body adjusted to the temperature.
The goal is to get to the first tee without feeling like you are cold.
Standing on the first tee of a golf hole and shivering will likely not result in a great round of golf.
Leave the driving range feeling adjusted to the temperature and ready for a great day on the golf course.
7. Golf Cart Cover
If you play golf in the winter and ride in a golf cart, you will get a bit cold.
Golf carts go fast, and the cold wind blowing on you can be a lot to take in.
Therefore, a golf cart cover could be an excellent option to consider.
Golf cart covers will enclose the interior of the golf cart, and then you can even use a small heater.
This makes it so that you have a heated escape that follows you around the golf course.
Many players find this is the only way to stay warm on those really cold days.
There is, however, a downside to this golf cart cover option, and that is that you will continue to be warm and cold throughout the day.
Just when you feel like you are warmed up in the cart, you need to jump out and hit your shot.
Then when you feel as though you adjust to the outside temperature, you get back in the cart and realize it's freezing outside.
If you do well with changes in temperatures that happen quite often, then the golf cart cover could be a good option to consider.
If a golf cart cover ends up helping you get a few extra rounds of golf in throughout the course of a year, it is well worth the money you will pay.
You will just need to decide what type of winter golf experience will be the best option for you and your golf friends.
8. Lower Compression Golf Ball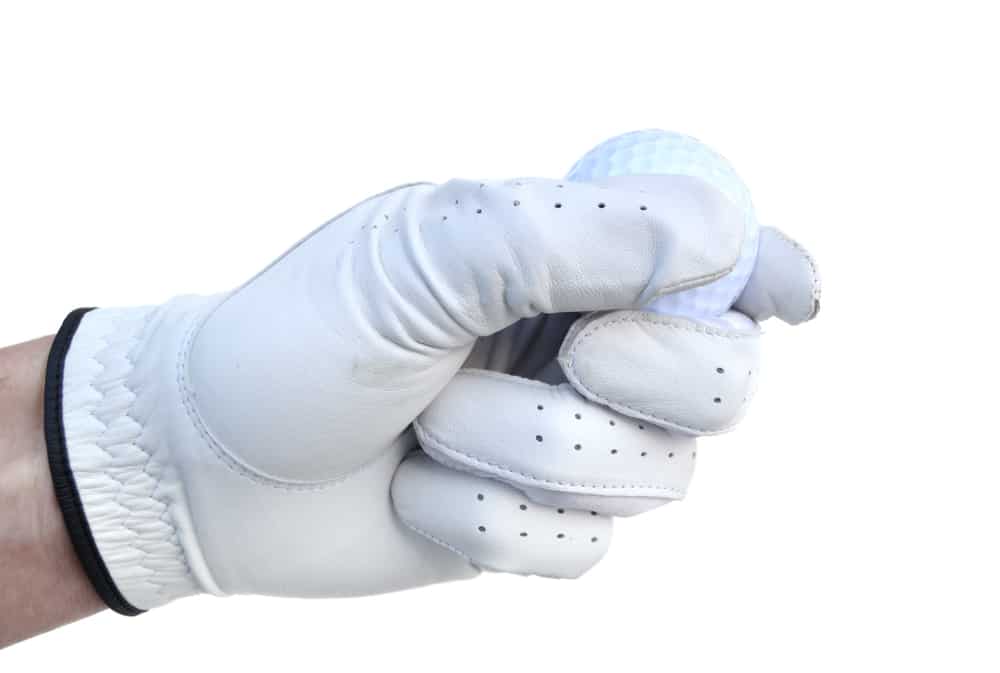 A lower compression golf ball is easier to compress.
Slower swing golfers typically use a low compression golf ball to help them hit the ball a longer distance.
However, when it is cold in the winter months, even faster swinging golfers may lose a bit of club head speed.
The lower compression golf balls make it easier to compress the ball and get the distance that you may be missing because of the cold weather.
Golf balls fly further in warm weather, and golf swings tend to be more fluid in warm weather.
Plan for a few extra yards that you are going to need.
If you have 140 yards into a hole, and this is typically an 8 iron, you may want to hit the 7 just to see how it is going to help you.
Most of the time, winter golf is considered a bonus, so don't get overly upset if the ball is not traveling as far as you had hoped it would.
In the end, you will likely get quite a bit more distance as the summer months come back around.
Is Under Armour Worth It?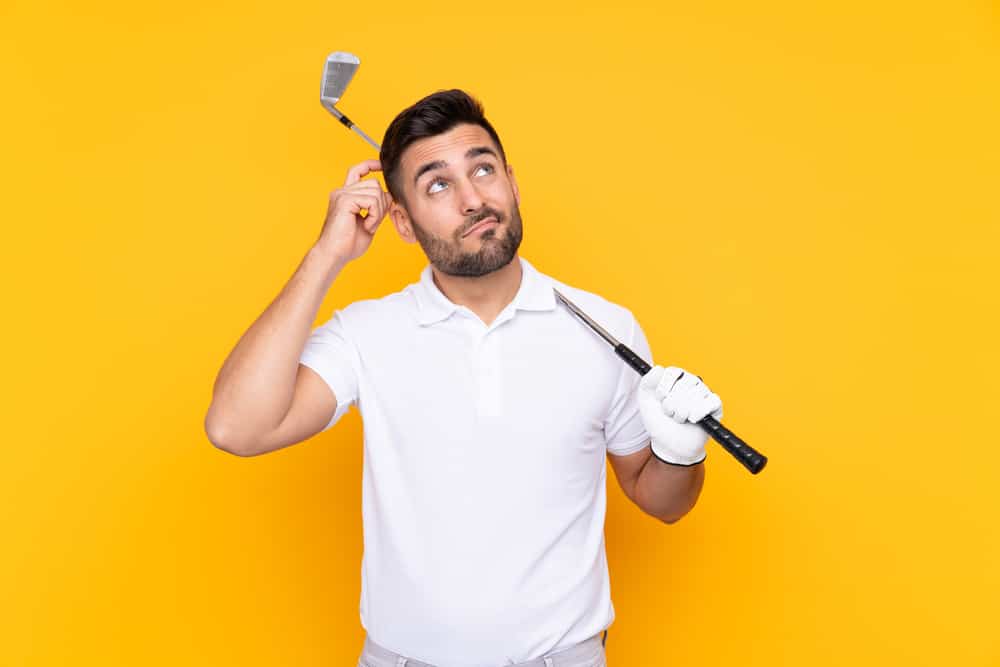 Under Armour produces a line of golf clothing that is designed to help you extend your golf season.
If you want to play more golf in the late fall, winter, and early spring, having the Under Armour Cold Gear will be worth the money.
Make sure that you get some clothing that will fit you properly and help you feel comfortable on the golf course.
Under Armour will not be worth it if you simply purchase the brand but don't pay attention to the fabric technology.
A cotton jacket and an Under Armour cold Gear golf-specific golf jacket will be completely different.
It is essential to choose a size that allows you to swing the golf club with ease and be able to hit the shots that you need to hit the most.
Quite a bit of the cold weather gear that is offered to golfers is considered to be a bit more restrictive, and therefore, it inhibits a golfer's swing.
Under Armour does not do this as it keeps the athlete in mind the entire time.
Conclusion
Hopefully, you now understand that some Under Armour technology will keep you warm while others will actually help you stay cooler.
It is a good idea to ensure that you have the proper gear in your golf bag if you plan on playing golf in the cold.
Cold weather golf can be just like mild temperature golf when you are prepared with the proper equipment.
Golfing in cold weather can also bring in some scores that are a few strokes higher.
Not only are players dealing with weather conditions, but the golf course is typically not in as good of shape either.
The best thing you can do as a player is to stay prepared and stay within your own abilities.
Don't try anything out of the ordinary on those days when the temperature is below 40 degrees.