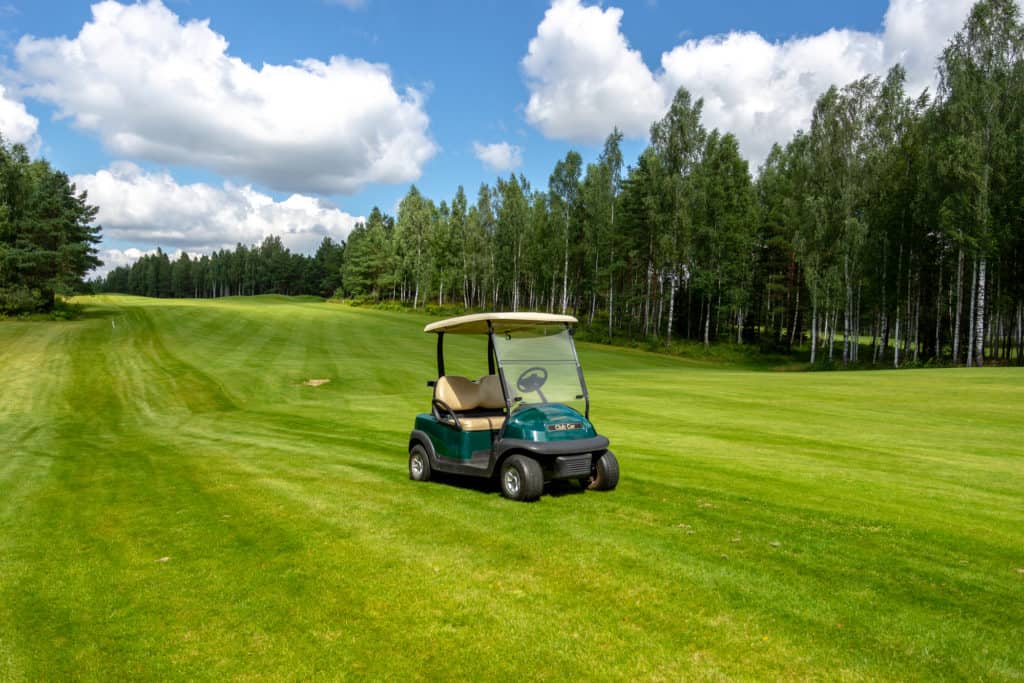 The Big Three golf cart manufacturers each have benefits and disadvantages that make them worth your consideration as builder and provider of your golf carts and their accessories.
For example, Club Car and Yamaha are quite different from each other in many ways and each is an interesting buying option for the right cart owner.
As a result, it is important to examine what each manufacturer provides for potential cart owners like you.
In each section below, we'll examine typical cart specs for each manufacturer, examine the benefits and downsides of each, take a look at their accessories, and examine other factors that may influence your purchase.
Club Car Versus Yamaha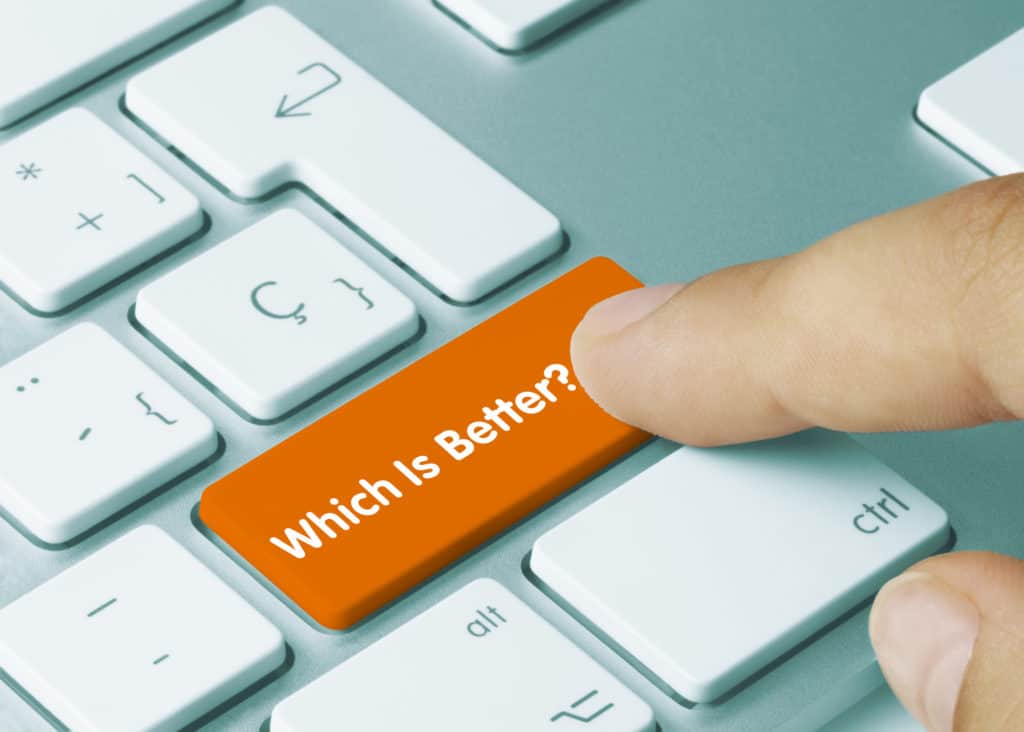 Club Car is one of the oldest still-existing cart manufacturers on the market and is, in many ways, still a leader in the field.
Starting in the 1950s, they have helped to develop many of the innovations you might think of as basic in golf carts today, such as electrical motors and various accessories.
They continue to create some of the most important advancements in the golf cart market today, providing buyers like you with many of the finest golf carts on the market at prices that may seem high but which are fair.
Yamaha, by contrast, is a relative late comer to the golf cart market when compared to the other major golf cart manufacturers.
Though they had been producing a variety of products for years before golf carts, they finally got into this vehicle market in 1978.
As with many of their other items, such as tools and musical instruments, Yamaha is known for their low prices and somewhat streamlined options.
These inexpensive prices don't mean that their products are of low-quality, however.
They often provide a buyer-friendly option that is still worth consideration for potential golf cart buyers or those buying any other product produced by this manufacturer.
An In-Depth Look at Club Car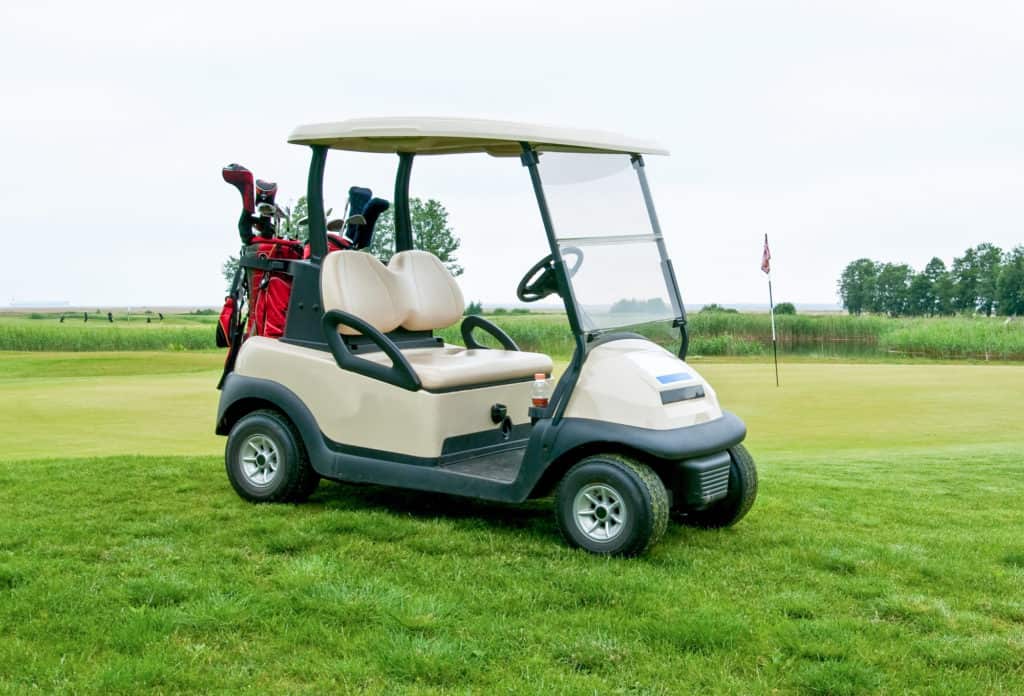 The Club Car brand's dedication to innovation and high-class design has helped them stand out for decades as the most trusted brand on the market.
Unlike other manufacturers, who have come and gone by focusing on cheapness over class, Club Car has consistently stayed on top of carting trends.
Often, they set new trends and push the carting market into bold new areas in ways other manufacturers either fear to do or lack the creativity to manage.
In this way, they have many benefits which make them well worth your consideration as a buyer, particularly if you have a little bit more money to spend.
1. Benefits of Club Car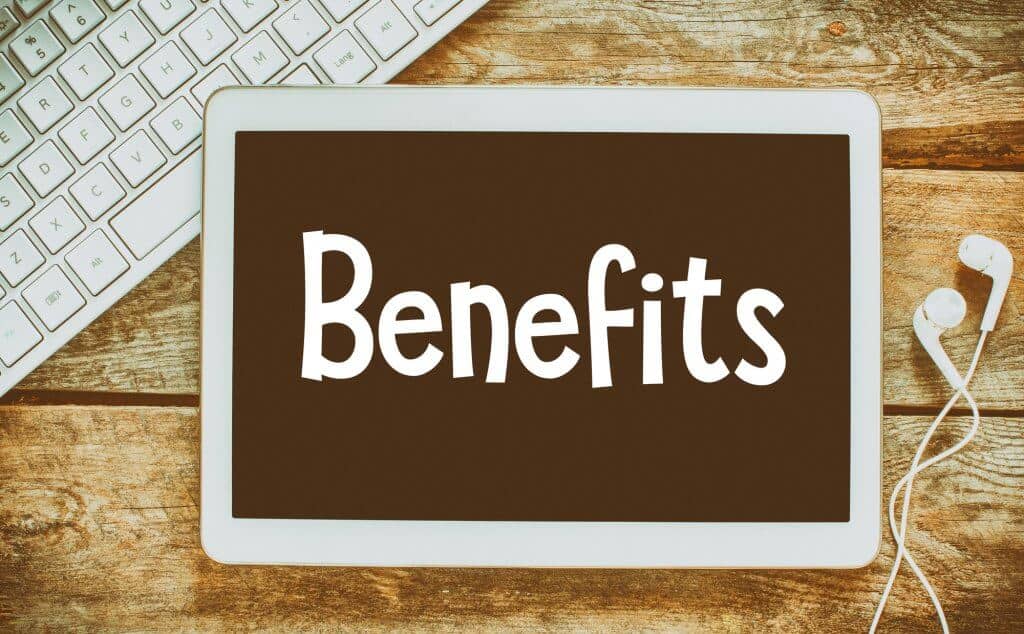 Club Car is respected as a manufacturer who uses only the highest-quality parts, the strongest materials, and the most up-to-date innovations.
They focus on the power of their carts, the quality of the materials they use in each build, designs that are among the strongest in the market, and technological advances.
Over the years, they have innovated many unique concepts, such as integrating Bluetooth into carts, various types of electronic products, and a myriad of other unique design elements which put them a step above both Yamaha and EZGO for technological advances.
Even better, Club Car has a variety of other products you can use to enhance the quality of your carting experience, such as turf care products that keep your lawn stronger.
They also provide a surprising number of mass transportation options if you are interested in people movers.
They even have carts and vehicles available for food and beverage vendors, which further expands their potential benefits.
Combined with their higher quality of cart manufacturing and their continuing innovations, Club Car is a great option for those who want their cart to be the best possible option for their needs.
2. Downsides of Club Car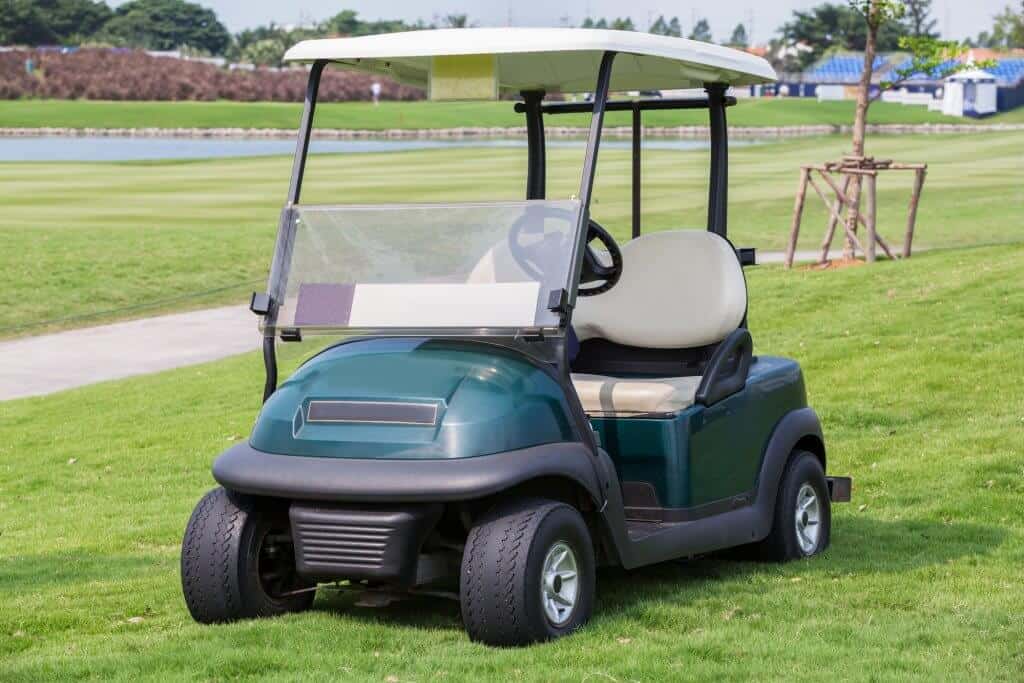 After looking at the upsides of Club Car carts, you may believe that this manufacturer is easily the best option for your needs.
That may be true for many buyers, but it's far from absolutely true for everyone because this manufacturer does have a few weaknesses that must be considered.
For example, all of the benefits outlined above do raise the price of your carts considerably, which can be a major downer for those who want to get started with their golf carts right away.
Even worse, the high-class technology that defines many Club Car models can also end up being a major downside.
Unfortunately, all of the technical innovations integrated into Club Car models means they often have a harder drain on your battery when compared to other models.
Though the benefits do tend to outweigh this possibility, it is something to consider because the drain may rob hours of battery power.
Generally speaking, you're probably going to get a slightly lower battery life out of more basic Club Car models and even from high-quality Yamaha carts than you are higher-spec Club Cars.
3. Specs of a Club Car Cart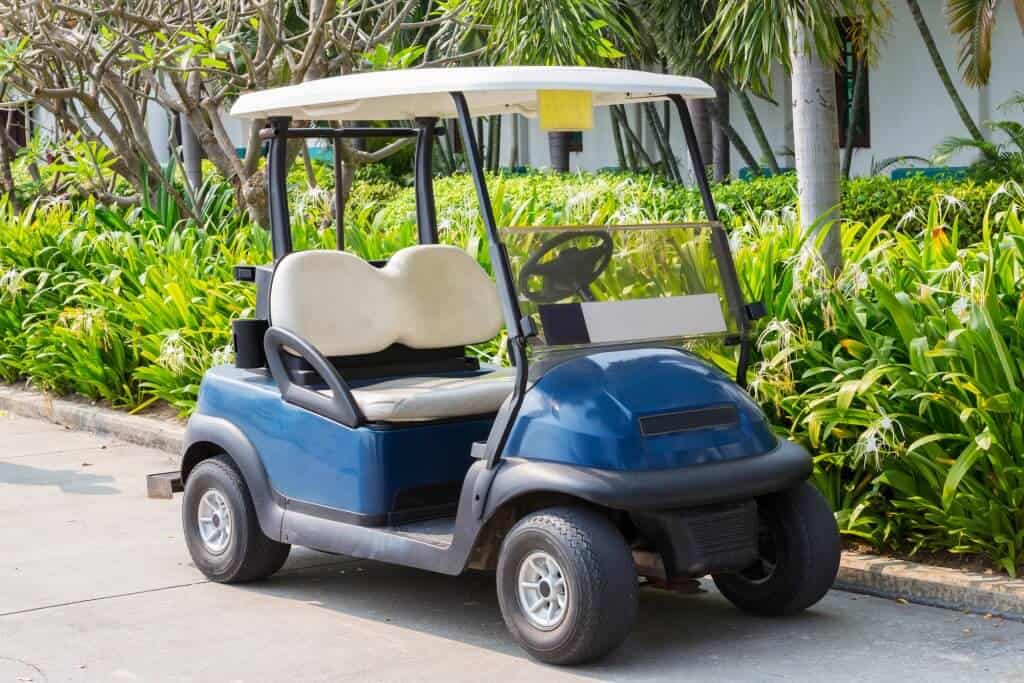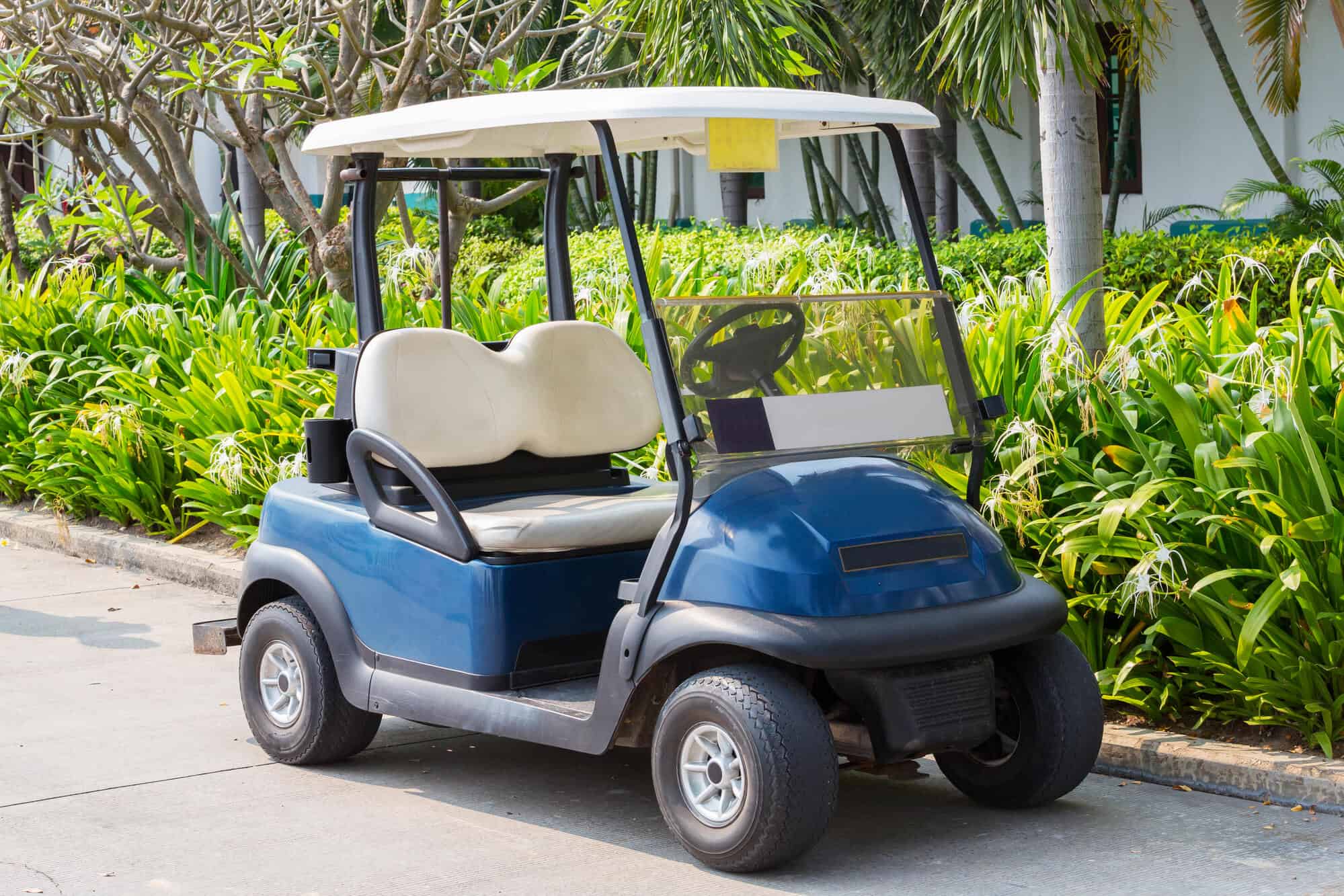 Let's examine one of the more standard Club Car carts on the market to give you an idea of what kind of specs they possess: the DS Player.
This cart is one of the standard models for Club Car, though it can be upgraded as needed to make it more luxurious and comfortable.
In many ways, the DS Player represents an average Club Car option, not too much on the high end of the buying field but not on the bottom either.
First of all, let's take a look at its overall size.
It is about 91.5 inches long, 69 inches tall, and 47.5 inches wide.
Electric models weigh about 498 pounds, with gas weighing 619.
Each of these options has a clearance of about 4.5 inches off the ground.
The DS Player's power capabilities depend on the type of cart you buy, as electric models are going to be a little less powerful than gas models.
The DS Player Electric utilizes a combination of six- and eight-volt batteries to produce around 3.2 horsepower.
The on-board computer helps to keep it charged more fully and prevents the cart from any type of riding or powering issues.
The gasoline model of the DS Player has a single 12-volt battery and a 286-cc single-cylinder engine that is capable of 9.5 horsepower, with a balance between power and push that is nearly 50/50.
The frame on both is all-aluminum, utilizing an I-beam style that provides maximum protection from various types of wear and tear.
4. Accessories to Consider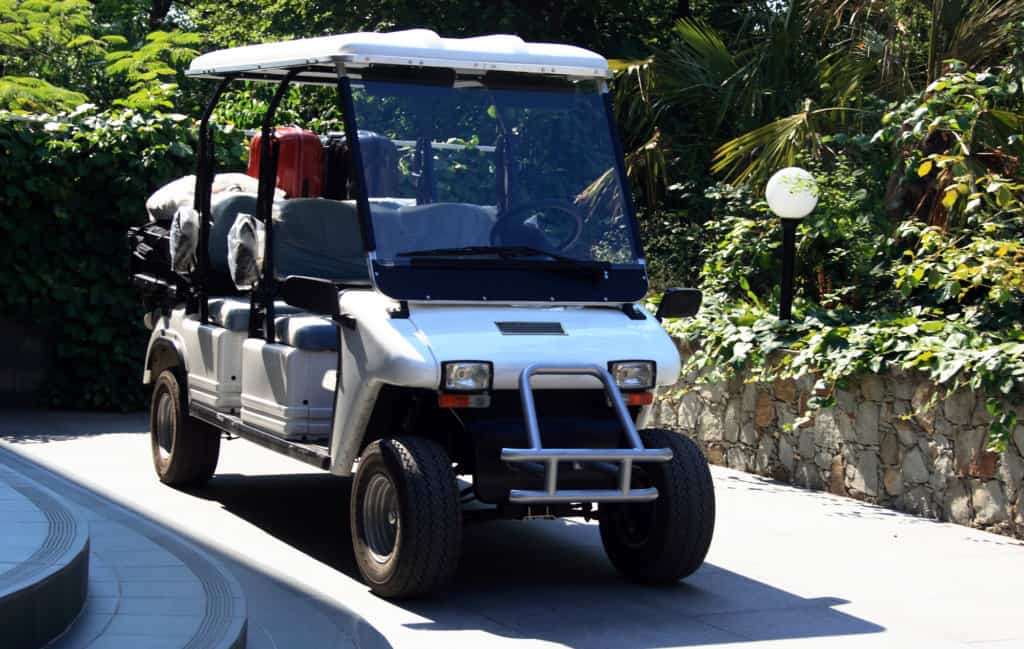 Club Car is well known for their high-quality cart features and accessories, each of which provides many benefits for the cart driver.
Let's examine a few of the most common of these options to give you a better idea of what to expect when you buy this cart.
Doing so will make it easier for you to find the high-quality options you deserve if you plan on buying from this manufacturer:
Golf bag protectors to keep your gear safe
Headlights and taillights for maximum protection
Windshields that protect you from wind and rain
Side mirrors for safer driving
Rearview mirror for more protection
Battery chargers for specific cart models
Upgraded rims for maximum strength
Broader tires for winter driving
Cup holder sets to keep your drinks safe
Enhanced exhaust kits for gasoline carts
Bushing kits for better suspension
Wiring harnesses for other types of electronics
Understand that each of these accessory options will add to the price of your Club Car cart, thus increasing the investment you will need to make.
As a result, it is a good idea to pay close attention to a good balance of the capabilities here to make sure you don't pay too much.
Some of these accessories might seem like a better idea than they are strictly necessary, though some items, like broader tires, are a great option if you plan on taking your cart into new types of riding situations.
An In-Depth Look at Yamaha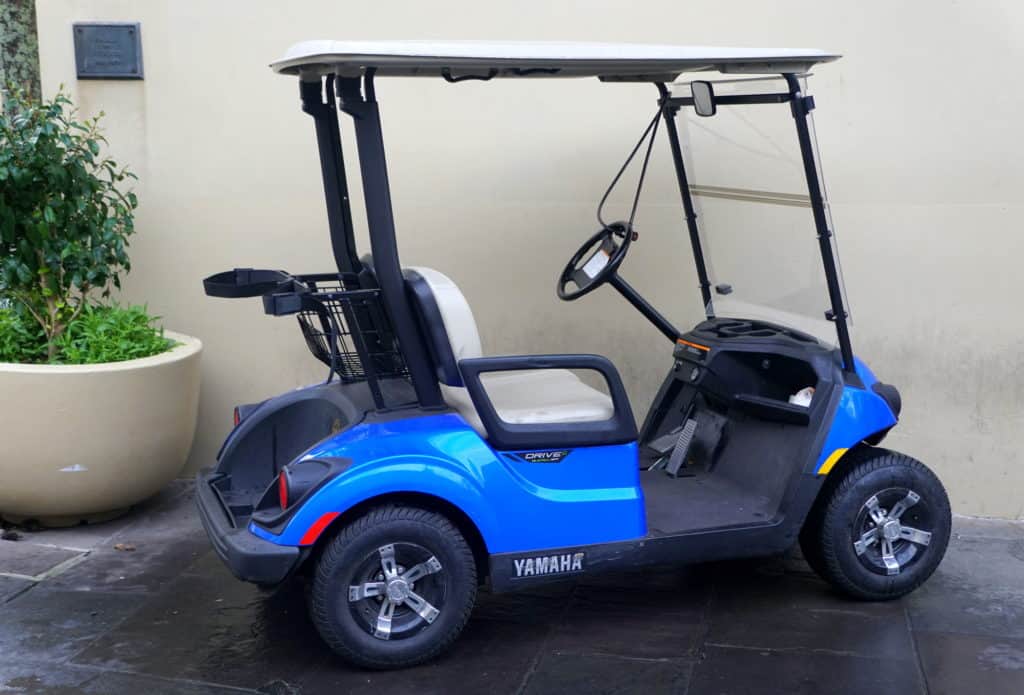 Yamaha is a respected manufacturer of many types of products, ones that are often defined by their surprising quality in spite of their inexpensive price.
That said, Yamaha products aren't always among the best on the market, though they are competitive and worthwhile, and the same truth may extend to their carts.
We're not saying that Yamaha produces bad carts.
They wouldn't be one of the top three cart manufacturers in the world if this were the case, but the overall quality may seem lower than Club Car.
However, there are many advantages you can get when going with this manufacturer, so don't rule them out as a buying option just yet.
1. Benefits of Yamaha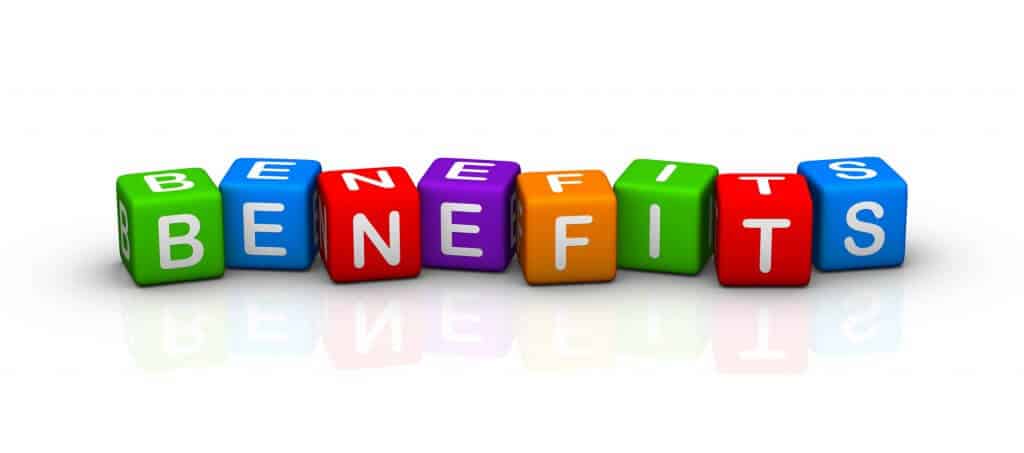 The most obvious benefit of the Yamaha golf cart brand is the pricing, which can be anywhere from hundreds to thousands of dollars less than Club Car.
The lower price all depends on factors such as the extra elements you add to your cart, the design of its engine, and its overall power.
Yamaha uses an interesting upgrade design which makes it easier for you to change up your cart and produce different looks.
In this way, it is possible to upgrade your cart from the most basic model and produce a high-quality look and style that is hard to beat.
Integrating these options into your cart's body will help to make it stack up with other options, though perhaps not by as much as you may want.
Interestingly, electric Yamaha carts are also more efficient than other types because they lack the bells and whistles of other options.
As a result, they typically use around 10–15 percent less electricity than other types of carts, meaning that each charge is going to last longer.
Their gasoline powered carts are also surprisingly powerful and efficient, as well, averaging around 28–38 percent more mileage to the gallon than other manufacturers.
For those who want to save money on powering their cart, this benefit is huge and can put money back into your pocket.
Even better, the Yamaha gasoline cart has a surprising amount of power compared to other types of carts, which we'll examine in more depth later on in this article.
2. Downsides of Yamaha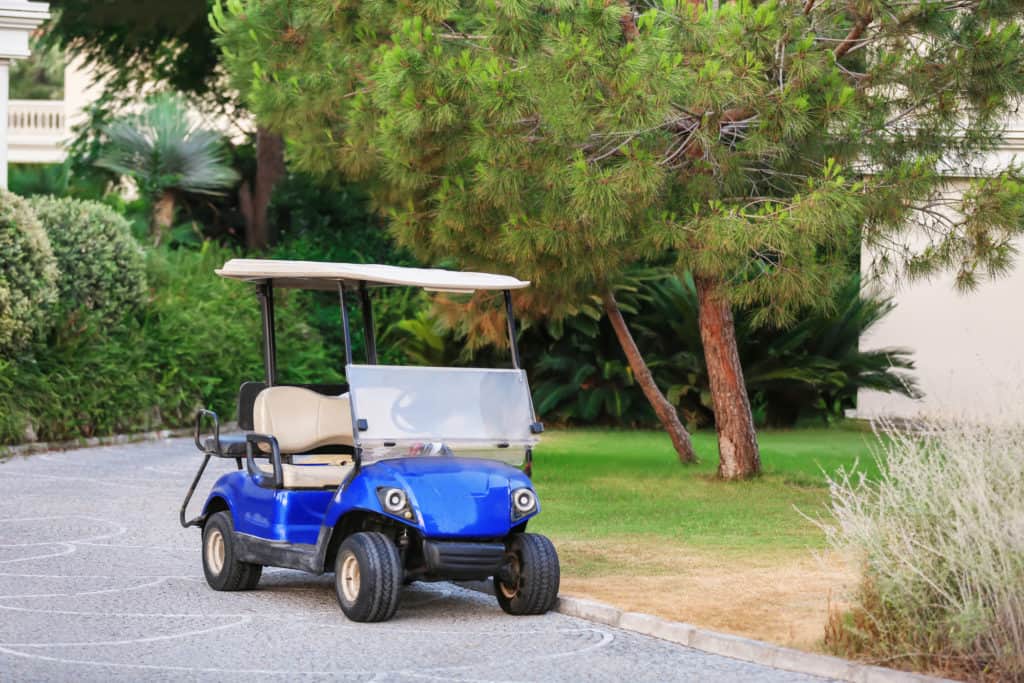 Although Yamaha carts are surprisingly strong when compared to Club Car, they do have some downsides which need to be considered.
First of all, your basic Yamaha cart is going to be much more stripped back than even the least expensive Club Car option.
You're going to get a cart that can ride smoothly and not much else, which may limit your choices for design elements.
On this same note, you're not going to get nearly as many color options as you would with Club Car, which is frustrating for those who want more personalization options for their cart.
Furthermore, the company doesn't produce nearly as many electrical carts, which means you may end up having fewer buying options if you want an electrical model.
Keep these factors in mind when buying to avoid making a purchasing decision which ultimately lets you down.
3. Specs of a Yamaha Cart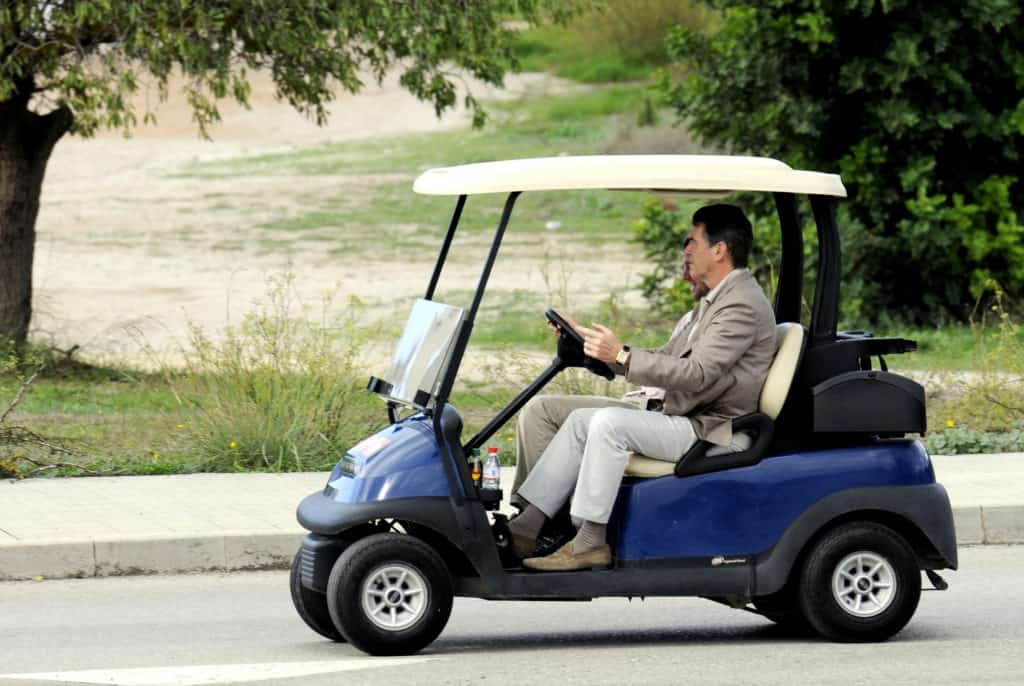 The specs of a typical Yamaha golf cart are quite easy to understand, and we're going to be looking at a G29 to get an idea of what to expect.
The G29 is a lot like the Club Car cart we examined earlier, as it represents a standard option for the manufacturer, one that is easy to tweak.
First of all, this model is about 94 inches long, 47 inches wide, and with a height of about 46 inches, very comparable to the cart models produced by Club Car mentioned above.
Typically, this gasoline model is capable of about 8.5 horsepower with a 12-volt battery.
Electrical models of the same design have about three or four horsepower, depending on where you drive.
These specs are very comparable to those of the Club Car, meaning that, if you want to buy a high-quality cart for less money, Yamaha is probably your best bet here.
4. Accessories to Consider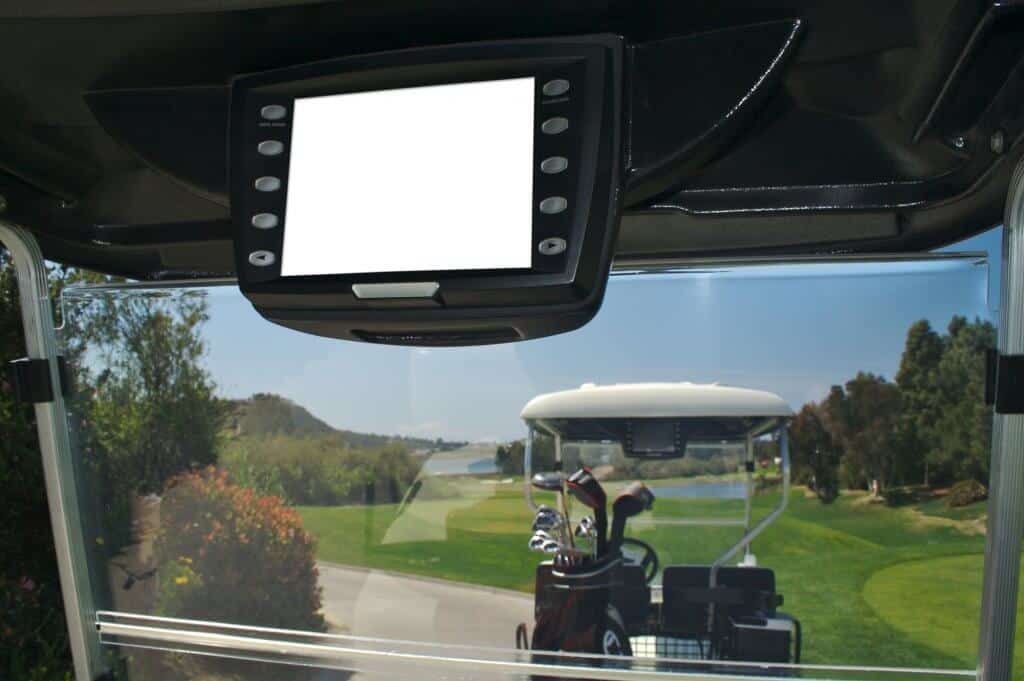 Yamaha focuses heavily on various types of accessories to produce a high-quality style for their carts that is often quite hard to top.
In some ways, they top Club Car for the variety of accessories, though the quality of some of these items may not be quite on the same level as Club Car's.
It's the same type of dynamic that defines the company's carting aesthetic: inexpensive options that still provide some value.
Here are just a few of these accessory options that you can consider for your cart:
Beverage cooler to keep your drinks cool on the course
Cooling fans that help to prevent you from getting too hot
Cart enclosure system that keeps you protected from weather issues
Carpet kits that make your golf cart more comfortable
Heaters that make winter driving more relaxing
Dual gutter top design that keeps water away from riders
Baskets to store items like purses, wallets, and more
Brush guards to protect your clubs from damage
Fender flares to guard your cart's design
Rocker panels for further body protection
These accessories are just the tip of the iceberg when it comes to high-quality upgrades for your Yamaha cart, meaning that you have many choices to make to keep your cart looking great.
The cool thing about this manufacturer is that you can pay less for your basic cart and then integrate these changes to its design to get a stronger and higher-quality cart.
As a result, it is possible to make your cart nearly as attractive and unforgettable as Club Car's options may be for some.
Remember, though, that the differences between their designs cannot be completely overcome in this way.
Making a Buying Decision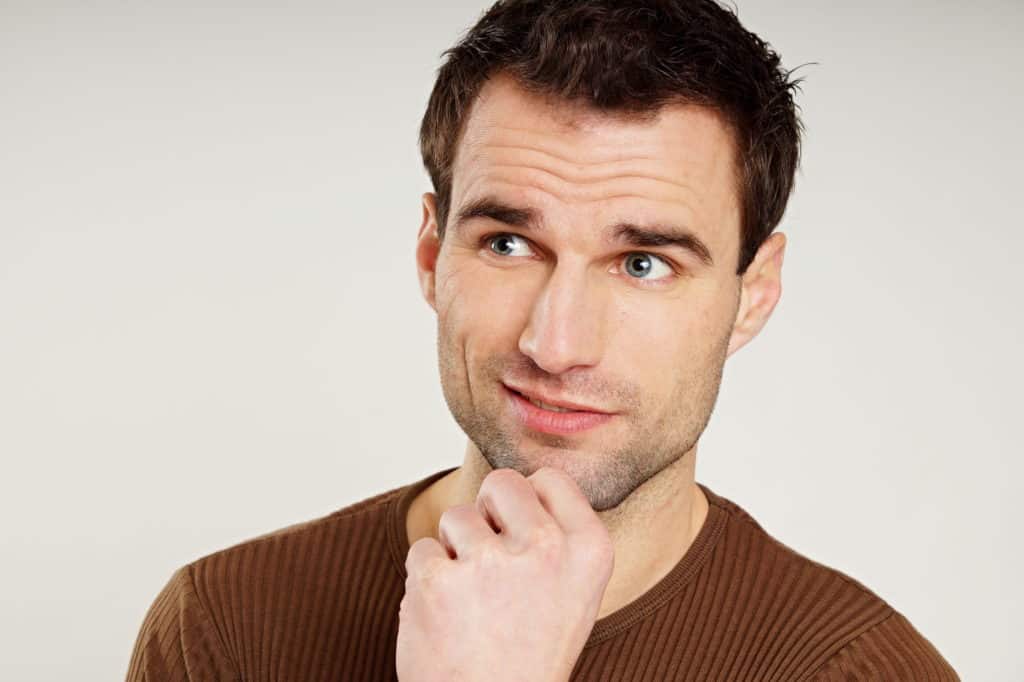 By now, you should have a pretty good idea of what each of these manufacturers has to offer you as a buyer.
Club Car tends to be focused more on upper-class carts that are designed with quality, style, and luxury in mind more than affordability.
By contrast, Yamaha focuses on carts everybody can afford, focusing less on expensive upgrades and more on functionality.
The differences between these two approaches is quite extensive and can be frustrating for those who want to buy the best cart for their needs.
Start out by asking yourself a few questions to get an idea of what to expect when you're buying a golf cart.
First of all, do you need to spend a lot of money on a golf cart, or would you rather save your cash for a rainy day?
If you have the money to buy a Club Car model and think that its high-quality luxury items are worth the price, it is hard to turn them down.
Often, Club Car carts are purchased by golf courses that serve a higher level of clientele because they want them to have the best carting experience possible.
By contrast, Yamaha is probably a better choice for the average person who wants a golf cart they can ride around their yard or in a golf cart community.
Don't forget that Yamaha does have many accessories you can buy later and install yourself if you want to upgrade its style.
The specifications between the two major golf carts produced by these manufacturers aren't that different, as you've seen, meaning you can get a good amount of benefit from either one.
Yamaha gas carts might have a very slight edge over Club Car's in some ways, due to their slight power advantages in some areas.
Ultimately, we can't say whether one manufacturer is better than the other because that all depends on your wants and needs as a buyer.
Honestly, we believe that either cart manufacturer is a great choice for a buyer depending on what model they buy and the amount of money they have to spend.
Make sure you read through this list a few times before you make a decision on which cart you purchase for yourself.
We suggest heading to a dealer of these carts and riding them around for a while. Doing so can give you a better feel for not only their benefits and downsides but how they ride, as well.