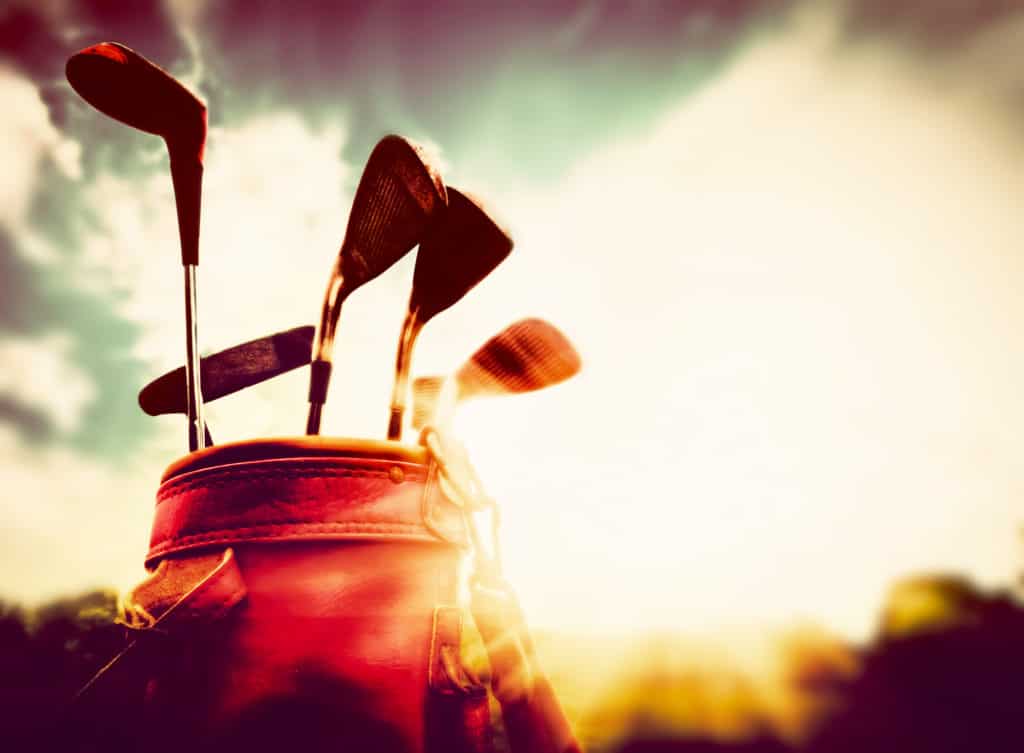 A hard case is the best way to keep your golf equipment safe the next time you travel.
If you have a hard time handing your sticks over to the TSA, the hard travel case is the way to go.
With these cases, the chances of your golf clubs breaking are significantly reduced.
Here are our top ten best hard case golf travel bags.

Best Hard Case Golf Travel Bag (Top 10)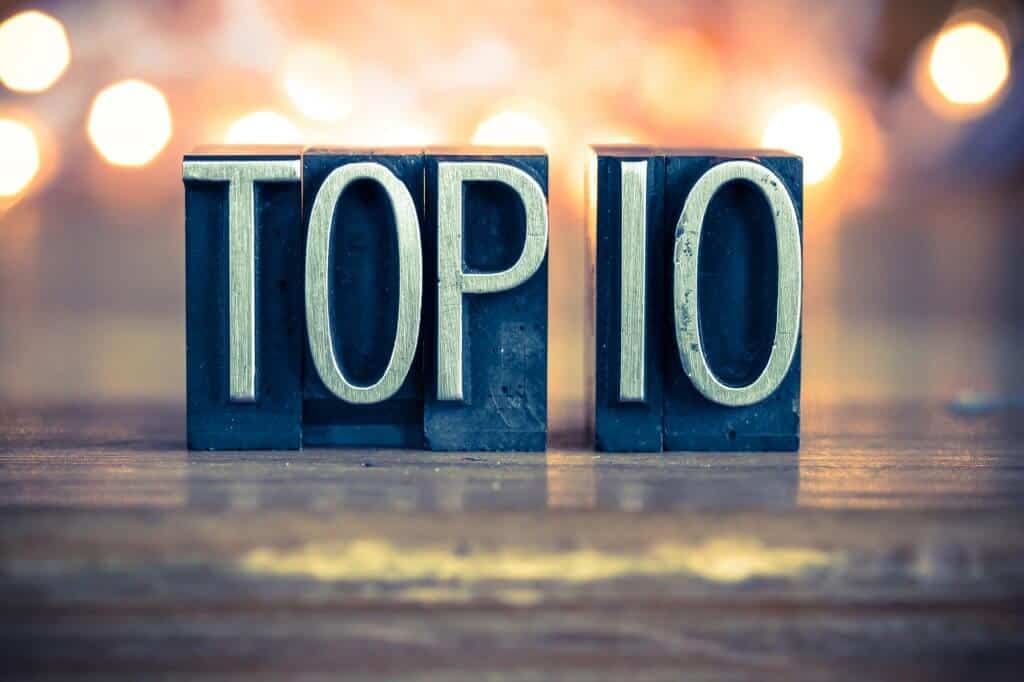 1. Samsonite Primo Deluxe Hard Side Golf Travel Cover
Key Features
Fits clubs longer than 48 inches
Fits 10.5-inch golf bags
Easy to push and pull
At the top of our list is the Samsonite Primo Deluxe Hard Side Golf Travel Cover.
Samsonite has long been a leader in luggage and travel solutions, and their golf products are quite well known.
This particular model is made with a very light polycarbonate shell that keeps you from having to lug a heavy bag while still looking quite nice.
We love that the Samsonite is available in several colors so you can choose a bag that will stand out from the crowd.
The bottom of the travel bag has four multi-directional spinner wheels.
If you are rolling along and need to change directions, that won't be an issue for the Samsonite.
Inside this golf travel bag, there are straps to help you hold everything in place.
You can fit a 10.5-inch golf bag in here, so some larger cart bags may struggle.
As far as the length of your clubs, this Samsonite will accommodate almost all stock drivers.
Pros
Easy to maneuver
Available in several colors
Tall
Does a great job protecting clubs
Cons
2. SKB Deluxe Staff Travel Case
Key Features
Holds drivers up to 49 inches
Closes very securely
Lifetime warranty
The SKB golf travel bags are built for quality with a design that even the airlines won't worry about damaging.
With the SKB golf travel bag, you will get a lifetime warranty and coverage for any damage that happens to your golf clubs.
We love the way the SKB travel case locks so that you can make sure nothing falls out of the case and all dirt and debris stay out as well.
SKB is known for making military cases and containers, therefore their products are designed to withstand rugged conditions.
If you have ever had a golf travel bag left out in the rain, you know what a mess it can make of your equipment.
With the SKB, you won't have to worry about water getting inside the case.
The latch is easy to operate, and TSA will be able to inspect and lock your case up with ease.
Pros
Very easy to maneuver
Tough and durable
Can hold drivers up to 49 inches
Easy-to-use locking system
Cons
3. Plano Golf Guard DLX Golf Guard (Black)
Key Features
Large interior
Easy-to-maneuver wheels
Great pricing
If you have been shopping for a golf hard travel case for a while, you may notice they are quite expensive.
The hard cases are much more expensive than the soft cases because of the protection they offer your golf clubs.
Luckily, there are options out there like this Plano Golf Guard which gives you lots of technology for a very fair price.
The Plano has lots of room on the interior and can accommodate a golf bag up to eleven inches in diameter.
This is not the tallest hard case on the market, so if you are playing a driver longer than 46 inches, you may need to consider another bag.
You will have lots of room on the interior of the Plano to fit your shoes, golf balls, and whatever else you may need on your trip.
The bag is easy to pull around with the comfort grip handles, and although the shape is a little bulky, it works out well for golfers who like to bring a lot of gear.
Pros
Large roomy interior
Easy to use handles
Five year limited warranty
Cons
A bit bulky
Not as long as other travel bags
4. CaddyDaddy Golf- Enforcer Hard Top Travel Cover
Key Features
Hardtop
Extra protection
Lockable zipper
The CaddyDaddy is a bit of a hybrid model.
This is not a full hard case; instead, it has a hardtop, but the rest of the bag is soft.
There are some great advantages to this style travel bag.
For starters, the most essential part of the clubs is going to be protected with the hardtop.
This travel case is considerably lighter than other options considering its makeup.
The pricing is also better on a hybrid model like this than it is on a full hard travel case.
The Caddy Daddy products have great internal and external features.
You will find lockable zippers and internal straps to help you keep your golf bag in place.
The all-weather fabric on the bag will keep your clubs protected even in the area where it is not covered with the hard shell.
If you are not sold on the idea of a full hard travel case, this is a great option to consider.
Pros
Lighter in weight
Still offers great protection
Much lighter
Cons
Not a full hard travel case
5. Forgan Golf Hard Side Travel Case & Cover TSA Approved
Key Features
Internal compression straps
Holds 48-inch clubs
Spinning wheels
The Forman Golf Hard Side Travel Case is an option which very closely resembles the Samsonite golf bag.
The Forgan is a solid black ABS Plastic that is very strong.
With how durable and tough this model is, it's hard to believe how lightweight it is.
We love the fact that you get four spinning wheels which all rotate 360 degrees.
This helps to make sure that, whichever way you are heading, your clubs will quickly and easily follow.
Two plastic handles make pulling or pushing this golf bag relatively easy.
The Forman has many of the same features of the Samsonite, but it costs considerably less.
The overall weight of this bag is going to be fifteen pounds.
You will need to keep in mind when traveling with a hard case; you may have to pack a couple fewer golf balls to stay under the weight limit.
Pros
Tough outer shell
Wheels make it easy to pull
Lightweight considering the durability
Fair pricing
Cons
Does not come with a warranty
Won't fit very wide cart bags
6. SKB 2SKB-5020W ATA Double Golf Travel Case
Key Features
Very large
Fits two golf bags or a very large bag
Protects clubs very well
The SKB ATA Double Golf Travel Case is much larger than almost any other golf travel case on the market.
If you have a huge staff bag you need to travel with, or if you have several sets of clubs you need to transport, this is a perfect option to consider.
With the SKB ATA Double, you can fit drivers with lengths up to fifty inches and golf bags up to twenty inches.
Of course, this case, combined with two bags, is going to be considered an oversized item, but it still may work out to be a good deal depending on your situation.
Again, we love that the SKB makes sure their latches seal seamlessly.
You won't have to worry about water, dirt, or dust getting inside your case during your travel.
There is a TSA integrated lock that comes with the SKB double as well.
Pros
Keeps clubs clean and dirt out
Large enough to accommodate two bags or a very large bag
Lifetime warranty
Cons
Heavy and bulky
Could result in extra fees from airline
7. Golf Travel Bags The Vault
Key Features
Locking latches
Premium handles
Rollerblade wheels
The Guaradium Vault from Golf Travel Bags is a serious protector of your equipment.
If you are concerned with your clubs being damaged in a soft case, this is a bag that will undoubtedly give you some confidence in how well-protected your clubs are.
The inside of this hard case golf travel bag is quite large.
You will be able to fit your shoes and extra golf balls around the sides of your bag.
The length of the Vault is about the standard, and it will hold drivers 46 inches and smaller.
If you are a very tall person and have your golf clubs extended, you may have some trouble getting them to fit.
The wheels on the Vault are roller blade style, so you won't be able to turn them in all different directions, but you still get plenty of maneuverability.
You are going to get extra padding inside this golf travel case.
Padding and straps help keep the bag secure in the case and will ensure you arrive with your set fully intact.
Pros
Premium handles
Wheels make it easier to move around
Locking technology
Excellent protection for clubs
Cons
A little shorter than some other choices
8. Bag Boy T-10 Hard Top Golf Club Travel Cover
Key Features
Hardtop
Anti-burst strap
In line skate wheels
The Bag Boy T-10 is not a full hard case, but it has a very high level of protection worth mentioning.
The T-1 has a hard ABS top that will keep your golf clubs in great shape.
Around the outside of the travel bag, there are straps to keep everything in place, while the inside straps keep the clubs in place.
The inline skate wheels make this bag very easy to maneuver.
The great thing about a hard top bag is that you get a lightweight travel bag that still has lots of protection where the golf clubs need it the most.
You will also get two large shoe pockets with the Bag Boy T-10.
Most travel bags do not have pockets, and things can get disorganized rather quickly.
This is a nice feature to have.
The Bag Boy T-10 is reasonably priced, mostly because it is partly soft-sided.
Pros
All-weather polyester body
Hardtop
Easy to maneuver
Good organization
Cons
Not a complete hard-sided golf bag
9. Founders Club Golf Travel Bag Travel Cover Luggage for Golf Clubs with ABS Hard Shell Top
Key Features
Hybrid golf travel cover
Easy to maneuver
Large exterior pockets
The Founders Club Hybrid Golf Travel Cover is another option that has a crush-proof top but soft sides.
The soft sides will keep the weight down on the bag, but the 600D Polyester body will help to make sure your clubs stay protected.
We love that the Founders golf bag can hold golf clubs up to 50 inches in length.
If you are a taller player, this is certainly a bag you will want to take a look at.
The outside of the Founders bag has two pockets where you can put shoes or rain gear.
If you need easy access to some of your gear as soon as you get to your destination, you will be able to with this bag.
There are options for locking zippers as well.
Another thing we love about the hybrid bag is that it can fold down relatively flat.
One of the downsides of a hard-sided travel case is that you will have to find room to store it when you are not using it.
With the hybrid, you will still have to store it, but finding a small spot to keep this eight-pound bag is not a hard thing to do.
Pros
One year warranty
Skid-resistant base
Inline skate wheels
Padded base
Available in lots of colors
Cons
10. Sun Mountain Club Glider Meridian
Key Features
High-end travel bag
Easy to access
Lots of club protection
The last bag on our list is not exactly a hard travel case, but it will undoubtedly offer your clubs lots of extra protection.
The wheels on the Sun Mountain are a bit different than some of the other options on our list.
They are pivoting caster wheels.
You will have no issues wheeling the Sun Mountain wherever you need to go.
The biggest thing that sets this bag apart is the leg mechanism.
The leg mechanism will fold down from the back of the bag so you won't have to store this directly on the ground.
When it comes time to fill your bag or empty it, you will not have to be sitting on the floor of your hotel room.
The fabric on the outside of the Sun Mountain is a 1200 Denier Polyester.
This fabric is twice as strong as other soft-sided options on the market.
The total weight of the bag is 11.8 pounds, but with how easy it is to maneuver and wheel, you won't have any trouble if you like lightweight travel bags.
The heavy-duty zippers will help to make sure all of your belongings stay inside the bag when you hit the road.
This is one of the most popular and best-selling golf travel cases, and it truly offers the same incredible protection that a hard case would.
Pros
Straps to keep everything in place
Stand to hold bag off of the floor
Lots of padding
Made with high-quality fabric
Cons