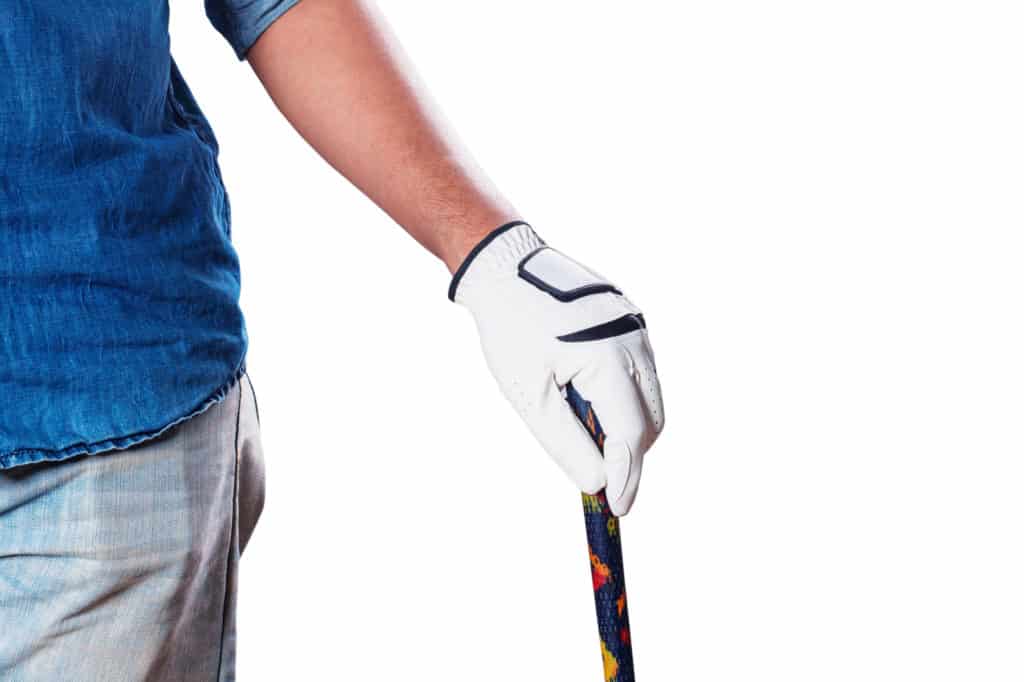 Golf grips come in a variety of sizes.
You may hear about jumbo and midsize and oversized grips quite often, but there are still companies that make undersized grips as well.
Undersized grips are sometimes referred to as ladies' grips, but this is not always the case.
Just because a grip is undersized does not mean it is precisely for ladies; it is just typical for women to have slightly smaller hands.
We have put together ten of the best-undersized golf grips available.
If you think your large grips are affecting your golf game in any way, these would be great options to switch to.

Top 10 Best Golf Grips for Small Hands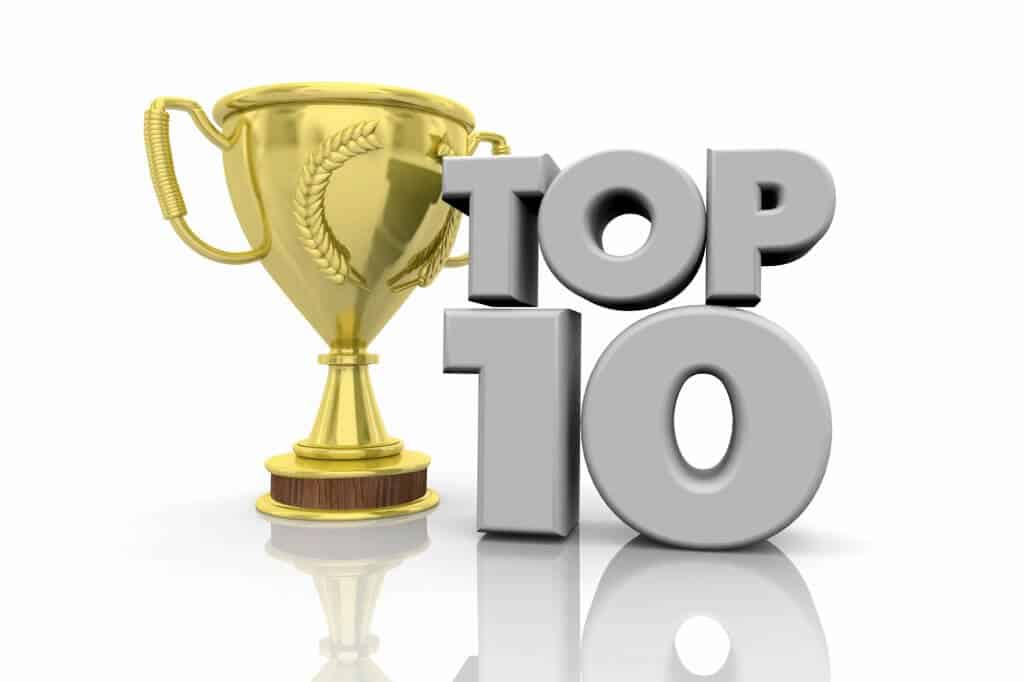 1. Lamkin Crossline Undersize 13 Piece Golf Grip Bundle
Key Features
Comes with 13 grips
Easy to install
Great feel/durability
The Lamkin Crossline Undersize 13 Piece Golf Grip Bundle is an excellent choice for the golfer with smaller hands.
With this set, you will be able to regrip all of your golf clubs, so you have some consistency across your entire set.
The Lamkin Crossline provides a great feel because it is not a cord grip, yet it still has lots of traction.
You will notice your hands have an effortless time staying in a place with these grips.
Adding grip pressure because of slippery grips is a bad thing for any golfer's game.
Luckily, with the Lamkin Crossline, you will get plenty of traction and tension.
Sometimes when you switch to a smaller grip, you will be tempted to hold the golf club tighter.
Having this extra traction from Lamkin helps to ensure this does not happen.
The Lamkin Crossline is black and white in color, so they should match with most shaft/golf club color combinations.
This type of grip is widely used on the professional tours in addition to many amateur golfers.
Pros
Comes with a full set
Black color helps them from getting dirty
Great traction
Cons
The grip is a little firm
2. Winn Dri-Tac Undersize Grip Kit (13-Piece)
Key Features
Very tacky
Comes with everything needed to change grips
All-weather play
The Winn Dri-Tac Undersize grip kit is an all in one solution for the golfer with smaller hands.
This grip kit comes with 13 grips, the double-sided tape, the grip solvent, and even a clamp for your vice.
If you have never changed your own golf grips, this is a product that will help you easily complete this process.
The Winn DriTac is known for being one of the tackiest grips on tour.
For many years, Winn was making grips that were soft and easy on the hands.
Golfers with arthritis or hand issues loved the Winn grips except for the fact they were a bit slippery.
That is when Winn introduced the DriTac series of grips.
These are made with a polymer material which allows you to have excellent traction in any weather condition.
The spiral wrap makes it much easier to get a good feel and grip on these.
Another great thing about the Winn Dri Tac is that it is very lightweight.
Winn uses their new WinnLite technology to help eliminate over half of the weight of the previous Winn models.
Less overall weight on a golf club is going to lead to more clubhead speed.
A better connection with the club and more speed are hard to complain about!
Pros
Tackiest grip out there
Easy to install, comes with all supplies
A spiral pattern for excellent traction
Cons
Very soft feel in the hands, too soft for some players
3. Golf Pride Tour Velvet Undersize 0.580 Ribbed – 13 pc Golf Grip Kit (with Tape, Solvent, Vise clamp)
Key Features
Ribbed
Complete grip change kit
Classic grip
The Golf Pride Tour Velvet is one of the most popular golf grips around.
If you bought a golf club recently from a manufacturer, chances are it has a Golf Pride grip on it.
This particular undersized model also happens to be a ribbed golf grip.
The rib on the bottom side helps some golfers feel as though the club sits in their hands a bit easier.
When you install a ribbed golf grip, you will have to be careful that is put on the club properly.
This Golf Pride Tour Velvet Undersized kit comes with the 13 grips, double-sided tape, grip solvent, and the rubber vise clamp.
If you want to complete this project the minute you get your grips in the mail, you can easily do so.
Many golfers like the Golf Pride Tour Velvet because it has a good mix of traction and grab.
It is not all that hard on your hands, and they tend to hold up over time as well.
Pros
Great long term quality
Complete grip
Ribbed design for added control
Cons
Not all golfers want the ribbed design
4. Golf Pride Tour Wrap 2G Undersize Black 13 Piece Golf Grip Bundle
Key Features
One-piece grip
Leather feel
Heavier grip
The Golf Pride Tour Wrap 2G is a one-piece grip that gives the look and feel of a true wrap.
This grip is made to feel and look like leather, although it is made with a rubber material.
The rubber helps give this grip much more tackiness.
If you like the durability and quality of the Golf Pride Tour Velvet, but you want something with a bit more tack, the 2G is a great choice.
Another positive thing to mention about the Golf Pride grips is that they are generally very reasonably priced.
This kit is not complete, so you will still need the tape and solvent to complete your regripping process.
Installing a wrap grip on a golf club can be a real project.
The good news is that, although these Golf Pride 2G look and feel like a wrap, they are a one-piece grip.
You will be able to slide the grip on with one push, and it makes this process much easier.
Pros
One-piece grip
Very tacky feel to the grip
A bit heavier of a grip than some other choices
Cons
Does not come with solvent, tape, etc.
5. Set of 13 Karma Velvet Tour Pro Golf Grips – Undersize
Key Features
Very low pricing
Rubber blend
Non-slip technology
Sometimes regripping your golf clubs can be quite expensive.
When you consider that you have thirteen clubs and a putter, the costs will add up fast.
If you take your grips to a local club fitter, chances are you will pay $10–$15 per club.
When you do your own regripping, you will get a much better price.
This set of 13 Karma Velvet Tour Pro Golf grips is priced so low, it's hard not to give these a chance on your golf clubs.
The Karma Velvet Tour Pro is going to be a very similar feel and performance to the Golf Pride Tour Velvet.
The surface of the grip is non-slip, so your hands stay in place while swinging.
The only issue with these grips is that they may not last as long as the name brand Golf Pride.
For the price these are offered, that slight difference in quality may be worth it.
Pros
Very popular option
Pricing is incredibly low
Similar to Golf Pride Tour Velvet
Cons
Long term durability is not as good
6. KINGRASP Velvet Solid Color Ladies 13 Golf Grip Set
No products found.
Key Features
Available in several colors
Comes as a set of 13
.056 round size
The Kingrasp Velvet Solid Color grips are called ladies' golf grips, but they are an undersized option that works great for golfers with small hands.
These Kingrasp Velvet come in several colors, so you can find a set that matches well with your clubs and your style.
This is a thirteen grip set which comes at a very fair price, but it does not have the tape or solvent included.
The grip is going to be very similar to a Golf Pride Tour Velvet.
It has a nice mixture of texture, feel, and tackiness as well.
Regardless of if you are a man or a woman, when looking at smaller golf grips, you want to pay attention to the size, and the .056 round is a great size for the smaller hand.
If you have been struggling with your current golf grips, the price on these gives you almost no choice but to try out a new option.
Pros
Very low pricing
Comes in several colors
Golf Pride Tour velvet style
Cons
Does not come with a complete regripping kit
7. Champkey Multi Compound Golf Grips Set of 13 
No products found.
Key Features
Great feel
Comes in many size/color options
Multi compound technology
The Champkey Multi-Compound grips give players a great mix of traction and feel.
If you ever feel like there are days where you wish your club had more grab, the Champkey is an excellent option to consider.
You will have areas on this grip that feel like the Golf Pride Tour Velvet and other areas that are more like a cord style grip.
Champkey Multi-Compound grips are offered in many different colors and sizes.
You will have to find the right match for smaller hands.
Overall, these are considered to be a knock-off grip for the Golf Pride Tour Velvet.
Their pricing is much lower than the Golf Pride, but the performance is very similar.
One of the things people like best about the Multi Compound is that it gives you some excellent playability even in challenging weather conditions.
When it starts to rain, you can grip the club a bit further down and have no trouble getting that extra support you need.
This is an excellent option to consider if you can find the size/color combination you need for your hands.
Pros
Good pricing
Great features on the grip
Available in many colors
Cons
The bottom part of the grip is a little rough
8. 3 pcs – Adams Tour Series Gray Ladies Size Golf Grips
Key Features
Set of three grips
Gray in colors
Great pattern for traction
The Adams Tour Series Gray Ladies Size Golf Grips are a set of three undersized grips.
We like this option for golfers who need to replace the grips on their wedges or fairway woods but do not need an entire set of new golf grips.
The grip is a very high-quality design with a non-slip pattern.
Your hands will be comfortable with the Adams grip, but they will also hold very tightly to the grip and not slip.
The Tour Series grips are the higher end grip for Adams, so they are designed to last quite a bit of time as well.
If it has been a while since you changed the grips on your wedges, this is a perfect set to purchase and test out.
If you end up liking the feel and performance, you could add them to the rest of your clubs.
Pros
Anti-slip on the grip surface
Nice gray color
Sold as a set of three—very fair pricing
Considered to be premium grips
Cons
Does not come with grip solvent or tape
9. 13 Majek Ladies Tour Pro Turquoise Undersize Golf Grips
Key Features
Made for quality/value
Bright coloring
State-of-the-art rubber blend
The Majek Ladies Tour Pro Turquoise is a set of undersized grips that have quite a bit of playability and durability.
Majek is starting to make a name for themselves when it comes to golf accessories.
They did some research with UCLA to determine a rubber-blend compound for these grips.
What they came up with was a product that is long-lasting, durable, and gives golfers some great feel.
The turquoise color of these grips stands out quite nicely, but it does tend to get dirty at times as well.
Overall, this a comfortable and tacky golf grip which should last on your clubs for quite some time.
Pros
Very fair pricing
Unique color
State-of-the-art rubber blend compound
Advanced non-slip design and pattern
Cons
Not offered in other colors
10. Adams Tour Series Black Ladies Size Golf Grips and Grip Kit + Utility Hook Blade (13 Grips, Grip Tape, clamp, Grip Removal Hook Blade, Instructions)
No products found.
Key Features
The complete kit even has a hook tool
Black color works for men and ladies
Tour Series for quality
Last on our list is the Adams Tour Series Black Golf Grips.
These are said to be a ladies' golf grip, but that is just because of their size as the black color will work on men and ladies' golf clubs.
This is a complete kit offered at a tremendous value.
In addition to the grips, you will also get the grip tape, clamp, grip hook, and instructions to complete the process.
If you have never regripped a golf club, Adams will help lead the process with this excellent grip kit.
The grip itself has a non-slip surface and a very similar feel to the Golf Pride Tour Velvet.
If you want something that performs in all conditions and will hold up for years to come, Adams is a great choice.
Keeping your golf grips tacky, clean, and new is essential to getting the swing speed and performance you want.
Pros
Great feel
Complete kit with instructions
Very low pricing
Black color works for men and women
Cons
Still need to purchase grip solvent