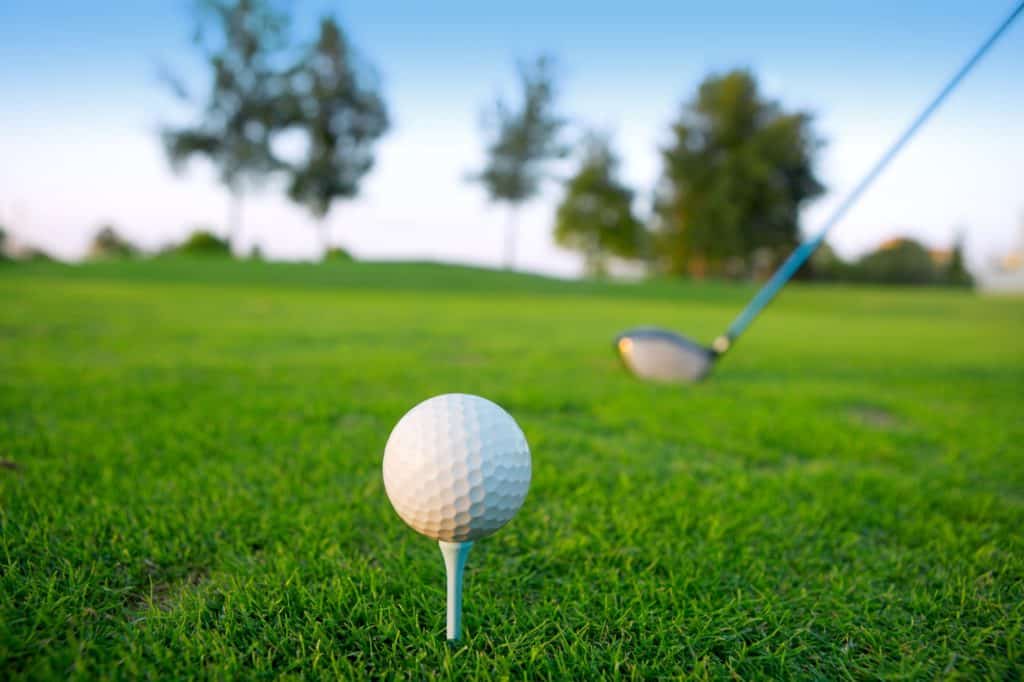 With a swing speed of 85 mph, you are considered to have moderate swing speed.
Eighty-five mph of speed should give you a drive in the 200-240 yard range.
Most likely, a regular shaft will fit you perfectly, but several players will do quite well with a senior shaft.
In this guide, we have put together our favorite drivers on the market for an 85mph swing speed.

Top 10 Best Drivers for 85 MPH Swing Speed

1. Taylor Made M6 Driver
Key Features
Speed injected face
Twist Face
Lots of ball speed
The TaylorMade M6 Driver was one of the longest clubs that TaylorMade ever released.
The most exciting thing about the M6 is the speed injected face.
Every face on every golf club has certain parameters that it must stay within to be considered legal by the USGA.
Most companies will find a number very close to this limit and then just manufacture everything to this level.
There is no chance of the driver being considered illegal or non conforming, but there is also a chance that it is not exactly at the legal limit.
TaylorMade decided they wanted to make sure that every driver that leaves their warehouse is as close to the legal limit as possible.
That is why every clubhead is speed injected to make sure it is as high performing as it could possibly be.
The results are a very forgiving high-speed driver that has made distance and forgiveness much easier for the average golfer.
The M6 has an adjustable face, and the regular shaft in this club is not all that strong.
If you are a borderline regular shaft, you may have no trouble with the M6.
If you are a golfer that slices the golf ball, the M6 is available in the Draw model, where the clubface is slightly closed.
Overall this is about as high performing a driver as you can find, and the price recently dropped as well.
Pros
Fairly price
Very high ball speeds
Lots of forgiveness
Cons
2. Cobra F9 Speedback
Key Features
Highly adjustable
Very forgiving
Longest driver Cobra has made
The Cobra F9 Speedback is one of the longest and highest performing drivers that Cobra has ever made.
Cobra is very well known for their ability to make forgiving golf clubs, where they have lacked is the distance category.
Golfers that have a swing speed of 85mph need all the distance they can get.
The new F9 has tons of distance with the new aerodynamic clubhead shape.
The carbon fiber crown has helped to reduce the overall weight of the golf club and provide even higher levels of performance.
The Cobra is also a very reasonably priced driver which pushed it even further up our list.
If you happen to be unsure if you want a regular or senior shaft, this driver comes in both options.
The senior flex is going to be a little lighter than the regular.
If you have a decent amount of strength, it will make sense to go with the regular shaft.
Pros
Lots of adjustability
Carbon fiber lightweight crown
Tons of ball speed and distance
Cons
The new Speedzone may be a bit longer
Cobra F9 Speedback vs Taylor Made M6 Driver
3. Cobra F-Max Superlite
Key Features
Very lightweight
Extra forgiving
Available in offset or straight neck
The next driver on our list is yet another Cobra.
The F-Max Superlite is going to be for the higher handicap golfer that needs some forgiveness in addition to the distance.
The F Max is one of the lightest golf drivers on the market.
Not only did Cobra make the club head and the shaft extremely lightweight, but the grip is also lightweight as well.
The face on the Cobra F Max is the forged E9 Technology.
This is a very thin face that has allowed for extra ball speed and distance as well.
We love that you can choose between the offset or the straight neck design with the Cobra Superlite.
The offset design is going to help golfers that need a bit of extra forgiveness when it comes to slicing the ball.
The Superlite is not adjustable like the F9 is, so if that is something you enjoy, you may want to go with the Cobra F9 driver.
Pros
Very lightweight shaft
Easier to get faster clubhead speeds with a light shaft
Thin E9 face for the extra jump off the club
Available in offset or straight neck
Cons
Not for the lower handicap player
4. Callaway Mavrik Max
Key Features
FS2S Titanium face
Internal Jailbreak bars for ball speed and forgiveness
Designed with Artificial intelligence
The Callaway Mavrik driver is the newest and most technologically advanced Driver from Callaway.
If you want the best of the best, this is it.
The Mavrik Max is a slightly different club than the standard Mavrik.
We like the Mavrik Max best for the golfer with an 85 mph swing speed.
With the Mavrik Max, you get a slightly larger clubhead and sweet spot, and you get some extra adjustability.
The slightly larger club head is going to make things quite a bit easier if you should end up slightly missing the center of the clubhead.
The Mavrik Max is a very long golf club with high MOI.
The only real issue you will find with the Mavrik Max is that it is expensive.
Any driver offering this much technology and distance will sit at the top of the market for a little while.
Pros
Low spinning
Lots of ball speed and distance
Designed using artificial intelligence
Highly adjustable
Cons
5. Callaway Rogue Driver
Key Features
Jailbreak bars
High MOI
High-quality shafts
The Callaway Rogue Driver is another high performing option from Callaway.
This is a bit older than the Mavrik, but technology is still very relevant.
The Rogue has some considerable distance and forgiveness; it just doesn't have the same sound or feel that the Mavrik has.
On the bright side, it has much better pricing.
The Rogue features the same Jailbreak technology that gives golfers an excellent jump off the clubface.
If you have a swing speed of 85mph, any help you can get when it comes to that speed at impact is going to be quite helpful.
The Rogue features a carbon composite crown, which helped save it a bit of weight and make it even more forgiving as well.
The Rogue was a great release for Callaway, and if you are playing with a driver that is more than three or four years old, there is no question you will see increased distance with this club.
Pros
Carbon composite crown
Lots of forgiveness
High MOI
Cons
Sound and feel are not as great as the newer releases
6. TaylorMade M2 Driver
Key Features
Geocoustic tuning
Speed pocket
Low center of gravity
Sometimes a golfer with an 85mph swing speed is tired of having to chase the latest technology to grab a few extra yards.
Luckily with the TaylorMade M2, you will not have to spend very much money, and you may find yourself with some extra distance.
The M6 driver is our top choice for the golfer with the 85mph swing speed, but much of the same technology that is in the M6 is also in the M2.
The M2 driver has an adjustable loft sleeve and a very low center of gravity.
A low center of gravity in a driver is going to give you lots of extra launch off the tee and more distance as well.
Some players think that they want their ball to fly lower so that it rolls more and goes further.
This is not the case.
You need your golf ball to stay in the air as long as possible if you want to get the most distance.
Then when the ball lands, you will want a low spin club that allows the ball to release and roll down the fairway.
Golfers should aim to hit the ball high and hope that low spin gives them plenty of roll.
The M2 has all of these qualities, and it makes for a very high performing golf club.
Pros
Speed pocket technology
Great feel
Lots of distance
Lower pricing
Cons
Technology is a few years older
No adjustable weights
7. Callaway Epic Flash Driver
Key Features
Flash face technology
Jailbreak Bars
Triaxial Carbon Crown
The Callaway Epic Flash Driver was all the talk last year.
At the time, it was showing higher ball speeds and better performance than many of the other drivers on the market.
The Flash Face and Jailbreak Bars turned out to be an excellent success for Callaway, and they ended up incorporating a lot of this technology on their new clubs.
This driver is very appealing, and it works quite well for the 85 mph swing speed.
With this swing speed, you are going to want to make sure you purchase the Epic Flash and not the Epic Flash Sub Zero.
The Epic Flash is a bit easier to launch and much easier to control for the higher handicap player.
Inside this Epic Flash, you will find Jailbreak Bars that help to stabilize the entire club head and focus the impact load on the clubface.
This means that when you hit this club in the center of the clubface, you will see distances you have probably never seen before.
We recommend this driver most for the lower handicapper that has a slow swing speed.
Pros
Very lightweight
High ball speeds
Great feel
Adjustable
Cons
Not quite as forgiving as some other models out there
8. Cleveland Turbo Launcher Driver
Key Features
Turbocharged cup face
Higher speeds
Lower weight
The Cleveland Launcher Turbo driver is a new release from Cleveland that has been proving that Cleveland can compete with the big names.
Similar to Cobra, Cleveland has long been known for their forgiveness as opposed to their distance.
This has changed with the Launcher Turbo.
Cleveland has paired a very high performing shaft with a lightweight and fast club head.
The result is more distance than we have seen in a Cleveland Driver in a very long time.
The HiBore Crown the Cleveland is so well known for has remained as part of this new driver.
The Launcher is not an adjustable golf club, but it does have a very low center of gravity.
Making the driver not adjustable helped Cleveland save some weight.
The extra weight savings will help golfers with 85mph swing speeds get the extra distance they are looking for.
If you ever struggle with the launch on your Driver, Cleveland is capable of providing very high lofts as well.
For golfers that are borderline between regular and senior, you will be fine to switch to the regular with this club in your hand.
With the weight savings and the performance, it is not difficult to release the regular shaft in the Cleveland Turbo Launcher.
Pros
Shaft made explicitly for the driver
Higher launching
Low center of gravity
Cons
Not adjustable
Lower MOI than some other brands
9. Wilson Staff D7 Driver
Key Features
Comes with ball marker and divot tool
Superlight design
Great distance
Wilson is known for their forgiving and easy to hit beginner's golf clubs.
However, they make some really great clubs that will work for all handicap levels.
The D7 is a great driver for a player with an 85 mph swing speed.
This driver has plenty of distance because of it's lightweight and simple construction.
If you are used to a classing design in a driver this is a great choice.
You will have two loft choices a 10.5 and a 13 degree.
The 13 is going to be very high launching and it could end up costing you a few yards.
We think the 10.5 should be plenty of loft for the 85mph swing speed golfer.
One of the things we really liked about the Wilson D7 was the feel and the sound.
This is overall a great driver that is underrated but high performing.
Pros
Good price
Lightweight
Plenty of distance
Cons
Ball speeds not quite has high has some other choices
10. PGX Offset Driver
Key Features
Very low price
Offset design
Black clubhead for low glare
Last on our list is the PGX Offset Driver.
This driver is both offset and lightweight.
If you are a higher to mid handicapper golfer with a swing speed of around 85mph, you may see some success with this golf club.
In addition, if you happen to slice the golf ball, this is a great choice.
Golf drivers are expensive, and with all the research and development that goes into them, it is no surprise.
However, not everyone wants to drop a mortgage payment on a new driver, and we don't blame them.
If you have some older technology or a golf club that is not working for you, you may want to consider this PGX.
Pros
Anti slice technology
Very low pricing
Black clubhead looks good
High launching
Cons
Must be careful and use headcover or paint will chip
Not adjustable
Not great for a golfer who doesn't slice