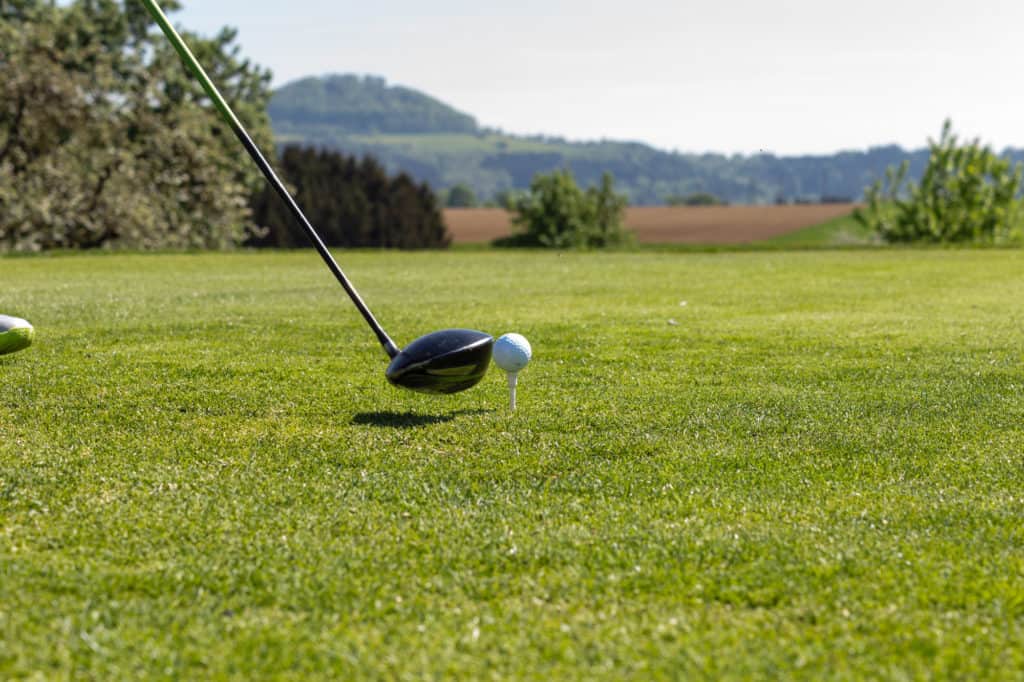 If you love your driver but think that a better shaft might be a smart decision, there are lots of great choices available.
Changing out a driver shaft is not difficult with the help of a local golf shop.
You can purchase some shafts for just a fraction of the cost of a new driver.
In this guide, we put together our favorite driver shafts for distance.

Top 10 Best Driver Shafts For Distance

1. Project X New HZRDUS Smoke Black 6.0 70g Driver/Fairway Shaft Stiff Flex
Key Features
Low spin
Low launch
Stiff/heavier
At the top, our list is the Project X HZRDUS Smoke Black Driver Shaft.
This shaft will also work in a fairway wood, and it is a stiff flex.
Seventy grams is a bit heavy, so this is going to be best suited for a golfer with a bit of clubhead speed.
If you have not heard of Project X HZRDUS, it is one of the top-performing shafts currently on the market.
The Project X is a low spin and low launch shaft.
The lower spin is going to help your driver get plenty of roll when it lands.
TaylorMade and Callaway are using the Project X Smoke shafts in their drivers as well.
The most important thing that people say about the Project X is that they have a great feel.
Some shafts with poor feel will vibrate and feel tough at impact.
The Project X Smoke feels excellent, and you truly feel like its helping you to improve your distance.
This particular model is a stiff shaft as 70 grams is best suited for a golfer that needs a stiff shaft.
The Project X Smoke Black comes in several different flexes and weights; its just a matter of finding a golf shaft that will fit your swing.
Pros
High-quality shaft
Lots of distance
Sleek black finish
Suitable for higher swing speed players
Cons
Priced higher than some other golf shafts
2. Fujikura Vista Pro 55 Graphite Shaft
No products found.
Key Features
Well known shaft
Lightweight for speed
Comes with TaylorMade Adapter
The Fujikura shafts are well known for both distance and overall performance.
These shafts are very widely used in all of the top manufacturer's clubs.
This particular set comes with both an adapter and a grip.
Most of the time, when you purchase a shaft replacement for a club, the grip is not included.
The Fujikura Vista Pro 55 comes with a Golf Pride Tour Velvet in the men's standard size.
This will help save you a few dollars.
A fifty five-gram shaft is going to be best suited for a medium to fast swing speed player looking for some extra distance and launch.
With the included adapter, you can get this shaft to fit on an M1, M2, M3, and M4 driver.
The M4 is not a very old club, and if you happen to have a broken shaft or want something with some added performance, this is an easy and affordable fix.
When the shaft is attached to the clubhead, you will have about a 45.5-inch shaft.
This is standard or a little bit longer than standard, which is another factor that will help you get some extra distance.
Shafts with adapters can be much easier to install and update as you will not have to match the tip size.
The Pro 55 Graphite shaft comes in either the senior or regular flex.
The weighting is a perfect match for the mid handicapper.
Pros
Comes as a set with grip included
Good length shaft
Perfect weighting for mid handicapper
Cons
Only comes with TaylorMade adapter
3. UST New 2018 Proforce V2 HL (HIGH Launch) Golf Shaft 
Key Features
Choose weight
Choos flex
Higher launch
The UST Launch is an excellent option if you are struggling with getting enough height on your drives.
Some people think that getting the ball flight lowered will give you more distance.
This is not true.
If you want to hit the ball a long way, it must travel in the sky for a very long time.
When the ball lands, you will want some roll, but it does not need to stay low the entire time.
The UST shaft is a new high launch version that will help you keep the ball in the air for a long time but still get plenty of distance.
The UST Launch uses what they call Recoil Technology to make sure that the ball has a spring-like effect when it leaves the clubface.
You can choose between fifty or sixty-gram weights in the UST shaft.
This will work best for the mid handicapper with medium swing speed.
We love that you have so many flex options with the UST.
If you happen to have a hard time releasing a stiff shaft, you can choose between the regular or the senior.
There is even a UST shaft for the lady golfer looking to improve her launch and distance in the driver.
The ProForce Tip Technology helps to keep the ball flight consistent.
The end of the shaft is designed to give a golfer the right amount of control in the hands.
You always want to make sure you are swinging a shaft that helps you feel in control of your golf swing.
Pros
Increased carry for increased distance
High ball speeds
Spring-like effect for distance
Cons
Both are high launch options that not every player will need
4. Mitsubishi Rayon Kuro Kage Silver 70 .335 Graphite Wood Driver Shaft – Extra Stiff – 76g
Key Features
Extra stiff shaft
Built for high swing speed players
Premium feel
The Mitsubishi Rayon Kuro Kage shafts are about as high end as they come.
This particular option is suited for the highest swing speed golfers.
An extra stiff shaft requires that you can swing over 115 miles per hour consistently with your driver.
If you don't have this ability, then this shaft will make golf much harder on you.
The Kuro Kage comes with a dual-core titanium nickel wire in the tip section.
This titanium nickel will help increase stability at impact.
This not only helps with stability, but it will help with feel as well.
To make this shaft very high performing, Mitsubishi used fifteen present more carbon fiber.
Carbon fiber is a material being used in golf clubs and shafts more and more because of its high performance and low weight.
Even though this is a high-end players golf shaft, it is also very low spin.
You will get the added roll on your driver and have an easier time controlling the ball as well.
The fact that this shaft is 70 grams makes it a good fit for the faster swinging player who also has quite a bit of strength.
You would be hitting your drives well over 265 yards to see a real benefit from this shaft.
There are many Kuro Kage golf shafts available if the extra stiff shaft is not a perfect fit for your game.
Pros
Great for the strong, fast swinging player
Has lots of stability and control
70 grams of weight for ball flight control
Cons
Not for medium or slow swinging players
5. New 2019 Aldila NV NXT 75 R/S Flex
No products found.
Key Features
Comes with adapter
Comes with a grip
High-quality shaft
The Aldila shaft has been around for a very long time.
They make several different models and choices and have been widely used in Cobra, Titleist, Taylormade, and Callaway shafts.
This particular shaft is the NV NXT 75.
With this purchase, you will also get a TaylorMade adapter and a grip.
The grip is a Golf Pride Tour Velvet that will fit a standard hand size.
The shaft itself is a fifty-five-gram regular flex shaft.
If you are looking for something lighter that will give you a bit more of a jump off of your clubface, the Aldila can be a good choice.
Although this Aldila shaft is an excellent choice for a majority of players, it has not always been known for distance.
Aldila is widely thought of as making some of the best feeling and most forgiving golf shafts on the market.
If you are worried about the feel of your driver changing with a shaft replacement, you should not be concerned with this club in your hand.
The Aldila is only going to make the performance and distance on your driver even better.
One of the things that we love most about the Aldila is the fair pricing.
You can transform your driver into a completely new golf club for a very fair value.
Pros
Priced fairly
Package set
Comes with grip
Cons
Only available in the Regular shaft
6. Fujikura Ventus 5 Shaft for Taylormade
Key Features
Available in several flexes
Latest technology
High Inertia Tip
Have you ever wondered how a driver could possibly cost $500?
This shaft will help explain that to you.
It is not just the clubhead in a golf club that is going to cost you money, but it is also the shaft.
The golf shafts that we have reviewed so far have all been very reasonably priced.
Their technology is probably within the last three years or so.
When you switch and start looking at the latest and greatest releases for golf shafts, the pricing will increase significantly.
The Fujikura Ventus is a very expensive but very high performing golf shaft.
This golf club has a high inertia tip that will help you increase your distance and get more speed.
This is the shaft used in the newer TaylorMade drivers.
If you know anything about TaylorMade, you know that ball speed means a great deal to them.
They are committed to making some of the longest drivers on the market, and that is partially possible because of the Ventus shaft included.
Although you will pay quite a bit more for a shaft like this, you will be pleasantly surprised by its long term performance and abilities.
Pros
Very current technology
High ball speeds
Very stable tip
Available in several flexes
Cons
7. New Aldila NVS 65 Graphite Driver Shaft Stiff Flex .335
Key Features
Higher ball flight
Stiff flex
Tip Stiff
Next on our list is another option by Aldila.
Hopefully, by now, you can see that Aldila makes some very high quality and affordable golf shaft options.
This particular shaft is a stiff flex shaft with a .335 tip.
With the NVS, you will get the same performance as the original NV, but you get a much higher launch.
The higher launch is going to help you keep the ball in the air longer to ensure that you get more distance.
This is a 65-gram shaft with a stiff flex perfect for the mid to lower handicap golfer.
The tip of the shaft is a bit stiff, which will help increase the moment of inertia and the control as well.
If you have yet to try an Aldila shaft, this is a great way to see if there could be some benefits to your game for making the switch.
Pros
Stiff flex mid weight
Perfect for the mid to lower handicap
Lots of launch
Cons
No options for other flexes
8. Aldila Rogue MAX 65 R-Flex Shaft + Callaway Epic Flash/Mavrik Tip
Key Features
Regular flex
65 Grams
Comes with the tip for Callaway golf clubs
Next on the list is the Aldila Rogue Max 65.
This is a regular flex shaft that comes with the Epic Flash or Mavrik Tip already installed.
If you happen to need a replacement shaft in your Epic of Mavrik drivers, this is a very affordable way to do so.
Another great thing is that you will get a grip already installed on this shaft.
When you take the shaft out of the box, it will be ready to go and put it into place.
Pros
Comes with tip and grip installed
Regular flex 65 grams
Great for modern high performing shaft
Fair price
Cons
No option for stiff or senior flex
9. Mitsubishi Rayon Kuro Kage Black HBP 2nd Gen 50
Key Features
Senior flex
Very lightweight
A great option if you need to go to a senior shaft
This is the second Kuro Kage shaft to make our list.
If you are a senior golfer who has started to lose a bit of distance in your swing, the Mitsubishi Rayon Kuro Kage could help you get some back.
This shaft has lots of carbon fiber features to help make sure you are getting extra speed without adding excess weight.
The Kuro Kage is 57 grams, which is considerably lighter than other options on the market.
You will notice too that your drivers should be more accurate with this shaft as it is quite forgiving as well.
Golfers who need to adjust because of lost clubhead speed should not also feel as though they have to give up on the technology that is out there.
Pros
Very good technology for seniors
Lightweight carbon options
Reliable and consistent performance
Cons
Built for the senior golfer, will not fit all players
10. New Mitsubishi Bassara E42 x5ct Driver/Fairway Shaft Regular Flex
Key Features
Regular Flex
Low price
Lightweight
Last but certainly not least on our list of options is the Mitsubishi Bassara.
The Bassara is not as well known as the Kuro Kage, but it is also a high performing and capable option.
If you are looking for a more affordable golf shaft to put in your driver for distance, this is a great choice.
Not many options will be priced lower than this.
You can use the Mitsubishi in a fairway wood as well if you so choose.
This is a full-length shaft, so when it is installed, it will be 45 inches.
If you need something shorter, you can make adjustments when you have it put on your club.
You will not get an adaptor or a grip with the Bassara, so you may need a local club fitter to help you complete this project.
Pros
Lightweight
Regular flex
Easy to launch
Low price
Cons
Feel is not as great as Kuro Kage
Hopefully, our list has helped you narrow down the best options for you when it comes to putting a better shaft in your driver.
If you want extra distance, you must make sure you choose an option that works for your swing speed and your strength as well.