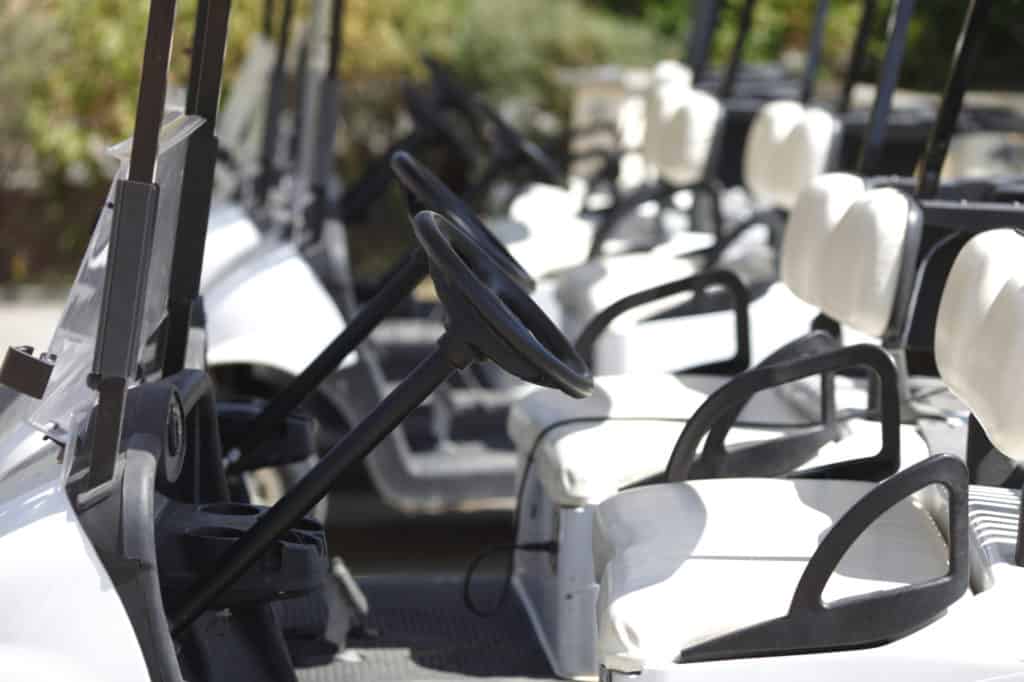 Club Car is one of the leading golf cart manufacturers in the world and has produced many, many different models over the years.
Their two leading lines are likely the Precedent and DS.
The differences and similarities between the two are often surprising and may not be as diverse or as conclusive as you may think.

So read on to learn more about these different golf cart models.
What is the Difference Between Club Car Precedent and DS?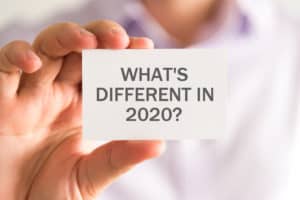 The Club Car Precedent
The Club Car Precedent is the newest and most modern golf cart produced by Club Car.
While the DS is still being built for some markets, the Precedent has taken over most of them.
As a result, it has a broad array of features that separates it from the original DS.
And its power levels and other features are all quite different, which could affect your purchasing decision when choosing a cart.
Throughout the next few sections, we'll discuss some of the biggest features of the Club Car Precedent – specifically the i3 – and what makes it stand apart.
We'll also go over some of its performance elements to give you a better idea of its power.
Myriad of Technological Features
One of the most exciting things about the Precedent i3 is that it has a myriad of technological features that you may not expect on a golf cart.
Each of these features is worth breaking down separately, to give you an idea of what to expect.
Over the next few sections, we'll go over each of these elements to provide you with an insight into which are right for your golf carting needs.
Electronic Scorecard
When you're out on the golf course, it is often very annoying to have to keep track of your pencils and paper to manage your score.
However, the Precedent has an electronic scorecard that you can not only use to keep track of your results but also email to yourself to create a record of your wins.
GPS Messaging
The GPS on the Precedent allows you to message other golf courses and even other riders using this type of golf cart.
You can also use it to keep track of your cart's location if you take it out into the woods and end up getting lost or turned around while in there.
3D Flyovers
Knowing the lay of the land is critical in a golf cart, whether you're on the golf course or back in the woods.
As a result, you may want to consider the 3D flyover option from this cart.
It provides you with an easy-to-understand ability to track your cart and your location at all times.
Tournament Software
If you plan on joining a tournament with your golf cart, you may want to consider the tournament software available on the Precedent.
These programs help to track your score, show you live leaderboards, and make it easier to see where you stand in a competitive environment.
Specifications
Like many types of golf cars, the Club Car Precedent comes in electric and gas models.
And while electric carts still maintain a market edge over gasoline, the latter type is always a popular option for many people.
The differences between their two power levels aren't extreme but should be understood because you may end up wanting to update your cart later to make it a low-speed vehicle.
Electric Models
When you purchase an electric Precedent model, you get an eight-volt battery that has a single-point watering system.
This option is a good one because it ensures that you don't have to do a lot of maintenance on your battery.
It also makes it easier for you to track your water levels, change out your battery, and perform other maintenance steps that you may need to consider for your cart.
This battery is capable of 3.3 horsepower – or 2.4 kW – and has a maximum output of 13 horsepower – or 9.6 kW.
This factor may seem confusing but essentially means that an electric Precedent emits three horsepower at all times, minimally, but that it can also go up to 13 horsepower when pushed to its maximum strength.
That level of power is pretty competitive for the golf cart market.
Lastly, the engine is capable of seven different speeds and reaches speed between 5-19 miles per hour – or 8-30.6 kilometers per hour.
To keep your battery secure, a 48 VDC, 13.5-amp DC solid-state charger is available.
Use this charger between extensive rides to ensure that you not only get the most out of your battery but to make sure you don't run into any complications on the course.
Gasoline Model
Beyond the fact that these Precedent models use gasoline, they are also more powerful than electric varieties.
For example, they have a 404 cc Subaru four-cycle engine with electronic injection and an overhead cam.
That level of power may be surprising for a golf cart, though it is nowhere near what you can get with more high-powered and faster vehicles of a similar type.
For example, the engine has a 14 horsepower output – or 10.3 kW – and is rated for 3,600 RPM.
That power is mostly useful for navigating tougher hills because this model has a lower top speed – 15 miles per hour – than the electric model – 19 miles per hour.
Conversely, this model has a higher bottom rate – 12 miles per hour – than the electric model – five miles per hour.
The fuel tank capacity is about 4.6 gallons – or 17.4 liters – and should be easily more than enough for a few rounds of golf.
Remember: these smaller engines are usually more fuel-efficient than a larger automobile engine.
As a result, they are capable of ratings of over 50 miles per gallon and sometimes higher.
The same is true of the Precedent – it ranges from 42-50 miles per gallon, depending on riding conditions.
The Club Car DS
The Club Car DS was created to produce a long-lasting golf cart that was easy to take care of and maintain at all levels.
Its success helped make Club Car one of the best-known manufacturers of golf carts in the world.
And, for years, the DS was considered the best and most crucial golf cart on the market.
However, Club Car has focused heavily on the Precedent in recent years.
And while that cart has more of a luxury feel to it, the DS is an excellent choice for those who don't want to spend a lot of money on a golf cart.
It's not cheap – just not expensive – and still provides a pretty high level of benefits for riders.
Understanding why the Club Car DS is a popular model can help you better understand whether you want this model or another one like it when buying a cart.
Common Features
When discussing the features of the Club Car DS, it can be tough to outline everything that has been utilized over the years.
Due to its intense popularity and its ease of us, there have been many, many models in this line that had many different features.
So let's take a look at some of the most common of these.
Typically, we're focusing on more modern models because they'll be the easiest to find.
Connected Seatback
Though it may not seem immediately obvious, the Club Car DS has one very visually-distinctive feature – the connected seatback.
Though not all models have this feature, most modern ones do possess it.
This element is designed to produce a more comfortable seat and a relaxing ride, which helps to make golfing and golf cart use more engaging for riders.
360-Degree Bumper
Protecting a golf cart is often tough because they are so often out in rough conditions and used by some people as a near off-road vehicle.
As a result, the DS has commonly used a 360-degree wrap-around bumper that makes them much safer and easier to use.
Just as importantly, this bumper also protects the engine and any other area that may be impacted during a collision with this vehicle.
Glove Compartment
Though this may seem like a fundamental feature, not every golf cart on the market has a glove compartment.
The Club Car DS was one of the very first to utilize this unique design element.
As a result, they helped to kickstart a trend that many others have followed.
Here, you can place extra golf balls or any licensing and registration materials that you may need for the cart.
Rain-Guard Roof
Intriguingly, the Club Car DS also has one of the first rain-guard roofs designed for golf carts.
The sturdy plastic shell used for this cart helps to collect rain and direct it off of the roof.
In this way, the cart doesn't get anywhere near as damaged and is usually strong enough to resist a myriad of other problems.
For example, a DS golf very rarely, if ever, has a leaking roof.
Specifications
Like the Club Car Precedent, the DS has electric and gasoline models.
And like in our previous section, we'll talk about both here.
However, we're going to change things up a bit by focusing on more elements to create a more diverse array of performance knowledge.
In this way, you should find it easier to decide which of these carts is right for your needs.
Engine Power 
The gasoline model of the Club Car DS has a 286 CC single-cylinder engine.
This model also possesses an overhead value and a pressure-lubricated and air-cooled design.
Typically, they can produce around 9.5 horsepower at 3,600 rotations.
That's a pretty sharp decline from the Precedent and one reason why that model remains a more popular option.
However, you can still get around 12-15 miles per hour from the engine.
By contrast, the electric motor produces 3.2 horsepower off of a combined set of six 8-volt batteries.
This is the same configuration as you find in the Precedent's electrical model.
And the speed level is about the same – you get seven levels of control and a top range of 19 miles per hour.
So, interestingly, the performance of the engines of the Precedent and DS is very similar.
So what is the ultimate performance difference between the two models?
Honestly, nothing.
The most significant change, as we mentioned before, is the more luxury-based style of the Precedent.
It provides far more bells and whistles than the DS, though it still performs in the same fundamental way.
The choice to pay extra for the Precedent is yours to make, but make sure you understand other specifications here first.
Exterior
What is particularly interesting about the Club Car DS is that almost every model has the same dimension, colors, and chassis material.
For example, the chassis is always 69 inches tall, 47.25 inches wide, and 91.5 inches long.
They also have a ground clearance of about 4.5 inches, which may need to be increased with a lift kit if you ever plan on taking your golf cart on rougher roads.
Likewise, the chassis always uses an all-aluminum design with an I-beam style.
This style of support is prevalent for golf carts and was partially made popular by the spread of the Club Car DS.
Aluminum is also used on the Precedent for the same reason – and beyond that, aluminum is also a rust-free metal, meaning that your cart will stay strong in a variety of different weather conditions.
As for the style options, you are limited to white, beige, and green for your plastic covering.
That's why it's so hard to tell the difference between the DS and the Precedent – they have very similar color schemes.
The same is true of the canopy – expect only white or beige.
These limitations don't mean that you can't pay extra to enhance your cart's style with additional elements – but expect to pay pretty good money for this benefit.